An outsider's guide to basic Myanmar's women's attire.
By JARED DOWNING & NYEIN SU WAI KYAW SOE | FRONTIER
Illustrations JARED DOWNING
AFTER OUR guide to male fashion last week, Yangon's least fashionably-conscious magazine spoke with one of the city's best-dressed people: Fashionista Ma Pyone Thet Thet Kyaw, founder of the Virya Couture fashion studio on 39th Street. She shared with Frontier some of her top tips for dressing like a Myanmar lady.
Please note, this rough guide is somewhat Bamar-centric and will suffice for places like Yangon and Mandalay, but it is in no way representative of all Myanmar attire, which can vary wildly depending on the ethnic group or geographic location.
The basics
The bad news is that while men can get away with buying pre-made clothes, women should have their outfit tailored if they want to look halfway-decent, said Pyone Thet Thet Kyaw.
The good news is that there is an abundance of quality tailor shops throughout the country. If you're a foreigner looking for a quick, single set of Myanmar clothes, find an English-speaking clothier (such as Virya Couture) and place an order for:
– A fine cotton longyi (htamein) that ends at your feet when tied at the waist, outfitted with interior hooks to make tying easier.
– A matching top (ingyi) – either in pattern or colour.
– A matching silk shawl (pawar) for formal occasions.
(Your top might button down the centre or fold over to one side of your chest. Make sure the fold of your top aligns with the fold of your longyi.)
This ensemble should not cost more than around K100,000 and works for business meetings, weddings, and even court appearances resulting from illegally riding a motorbike around Yangon.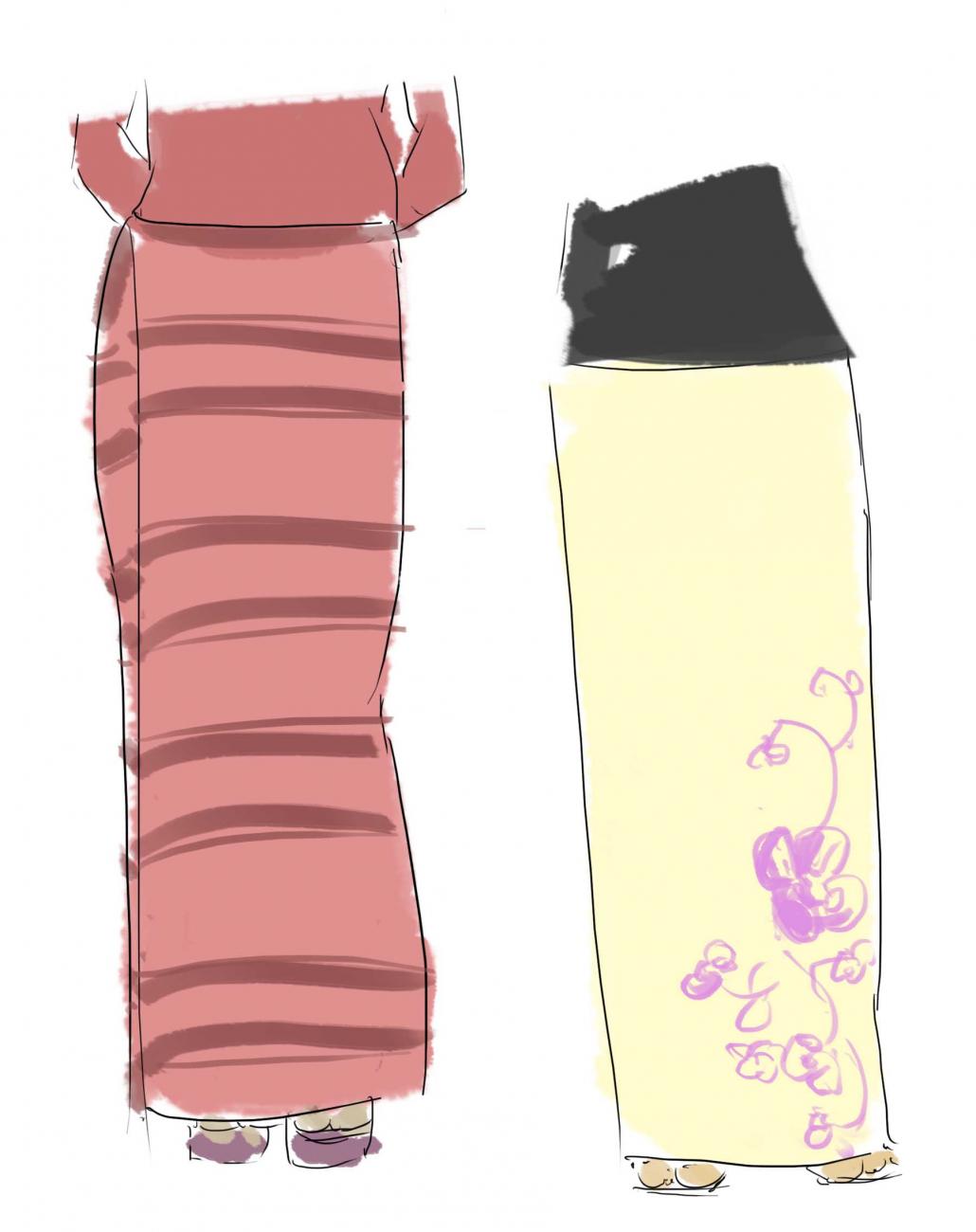 Longyi (htamein)
The htamein, or female longyi, is a colourful full-length skirt tied around the waist.  In general:
– The colours and patterns tend to be brighter and more elaborate than the male longyi.
– They tend to be worn in primary and secondary colours.
– Popular designs include stripes, flowers and vines, and a distinctive wave pattern known as acheik.
– You can wear them with the fold either to the left or the right, although people from southern Myanmar usually opt for a righthand fold. 
One can tell the quality of a htamein by the material (usually cotton or silk) as well as the embroidery.
There is nothing wrong with a good machine-embroidered htamein, which should cost between K10,000 and K30,000. However, the most decadent htamein sports elaborate acheik waves embroidered by hand, and some are even made with real cloth-of-gold. These can take months to weave and cost up to US$2,000, said Pyone Thet Thet Kyaw.
Some colours and patterns represent certain ethnic groups or geographic regions, although one does not have to hail from a pattern's homeland to wear it. Daw Aung San Suu Kyi, for example, often wears Kachin style htamein (possibly because the best cotton comes from Kachin, said Pyone Thet Thet Kyaw).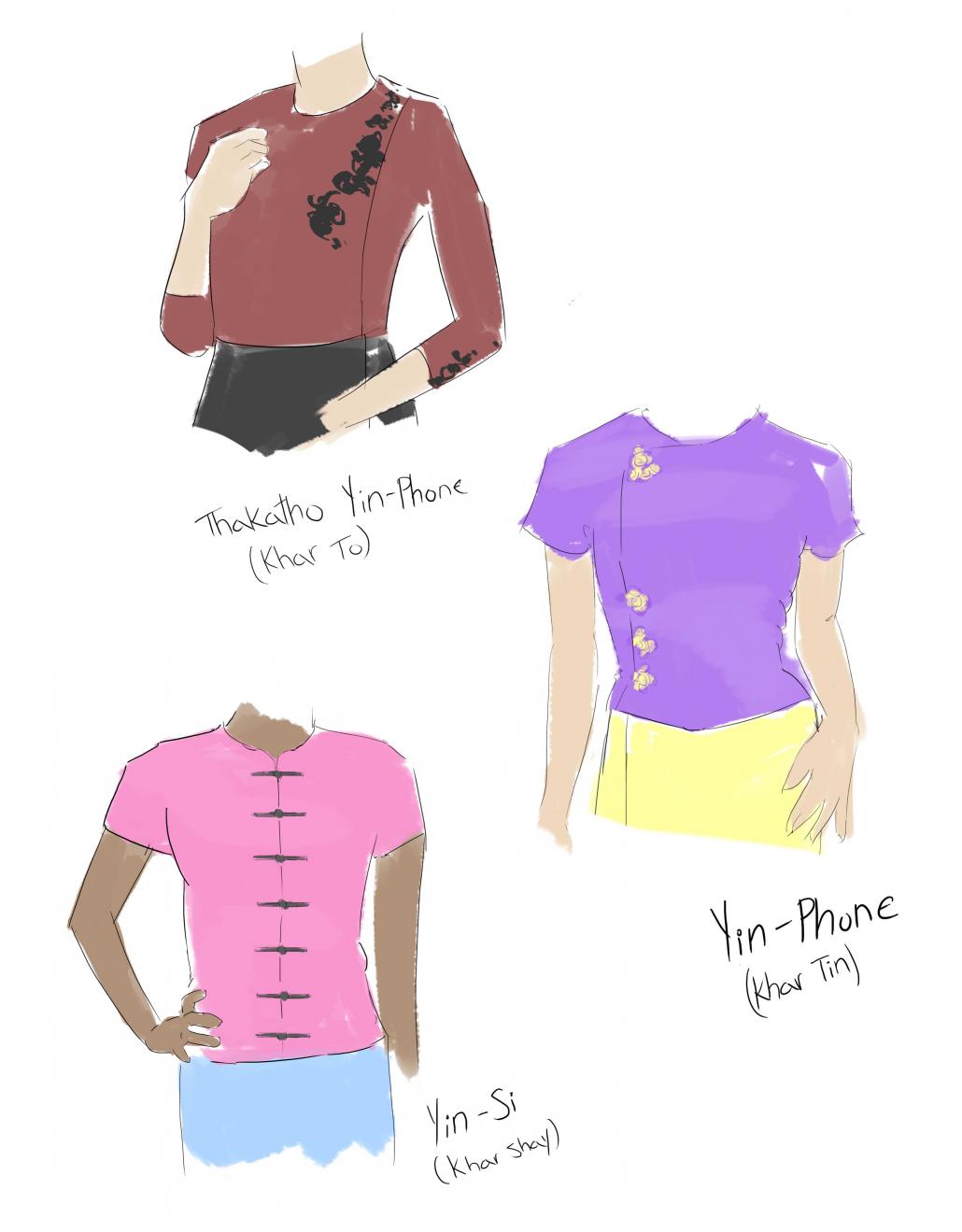 Top (ingyi)
Ingyi simply means "top."
Unlike the relatively straightforward male leh gadone, an ingyi can be as colourful and elaborate (and as expensive) as the htamein, with elaborate embroidery, embellishment and even pearls, gemstones and faux flowers sewn into the fabric.
It is acceptable (but not required) to wear an ingyi with an identical pattern as the htamein (making the two seem like a single piece).
There is a wide variety of ingyi styles, but they often fall into three very rough categories:
– Yin si, which buttons straight down the torso from the neckline.
– Yin phone, which one folds across the torso to be buttoned on one side.
– Tekkakatho yin phone or "university yin phone", a proper, somewhat old-fashioned style which buttons directly from the shoulder down one side of the torso. (Tekkatho yin phone is the preference of Daw Aung San Suu Kyi and is often called "Daw Suu yin phone".)
Of these, there are three general lengths: khar to (shortest), khar tin and khar shay (longest).
– Khar to ends exactly at the waist. Even though khar to is the highest cut, it is considered the most "ladylike" because it allows women a tiny range of motion to avoid exposing bare skin.
– Khar tin, the middle length cut, ends at the hips.
– Khar shay ends below the hips, allowing a high range of motion. Khar shay is best suited for physical labour and casual social environs.
Again, make sure the fold of your ingyi aligns with the fold of your htamein.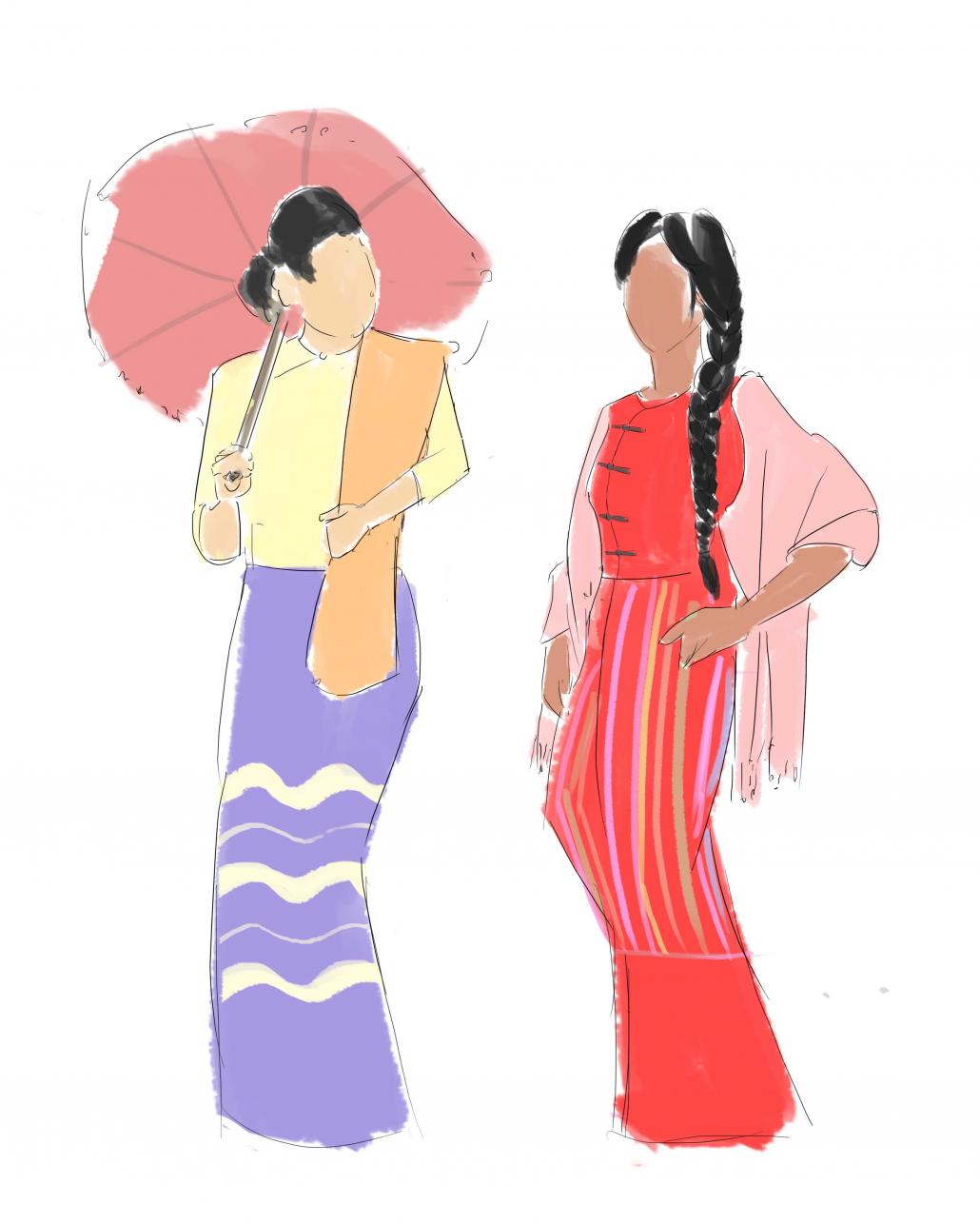 Shawl (pawar)
The simple pawar, or light shawl, is enough to formalise an ordinary htamein/ingyi ensemble for weddings, monastery donation ceremonies, business meetings and other fancy situations.  
The material, usually silk, can be opaque or transparent. There is generally no wrong way to wear pawar, although many people drape it over one or both shoulders, or over one arm ("royal style").
­­Jewellery and bobbles
Shiny buttons, small bells and glittery sequins are popular additions to an ingyi. For yin phone tops, elaborate pan kyalthee ("flower button") scrollwork is especially popular.
"These clothes have a lot of colourful things already, so people wear a lot of twinkly stuff to stand out," said Pyone Thet Thet Kyaw.
However, she added that she prefers more elegant designs. "I like the simple stuff. Ingyi with simple handwork, that's it. Let the traditional patterns come out."
In addition to rings, necklaces and ordinary jewellery, a woman might wear gold and silver foot chains to fancy occasions. But keep precious stones off the feet. In 2006, then-dictator Senior General Than Shwe's daughter caused a stir at her wedding by wearing diamonds on her shoes – an egregious display of wealth.
Historically, earrings have been very important for Myanmar women. Elaborate ear-piercing ceremonies during which a girl inherited one or two pairs of earrings that she would wear for life were once common. However this tradition is fading in urban areas.
For the final Myanmar touch, pin a flower to your hair. Common noggin flowers include roses, orchids and jasmine.
Dressing to mourn
Wearing black is not required at a funeral, however one's colours shouldn't be too bright and festive. It is also considered inappropriate to wear makeup and new clothes while paying respects.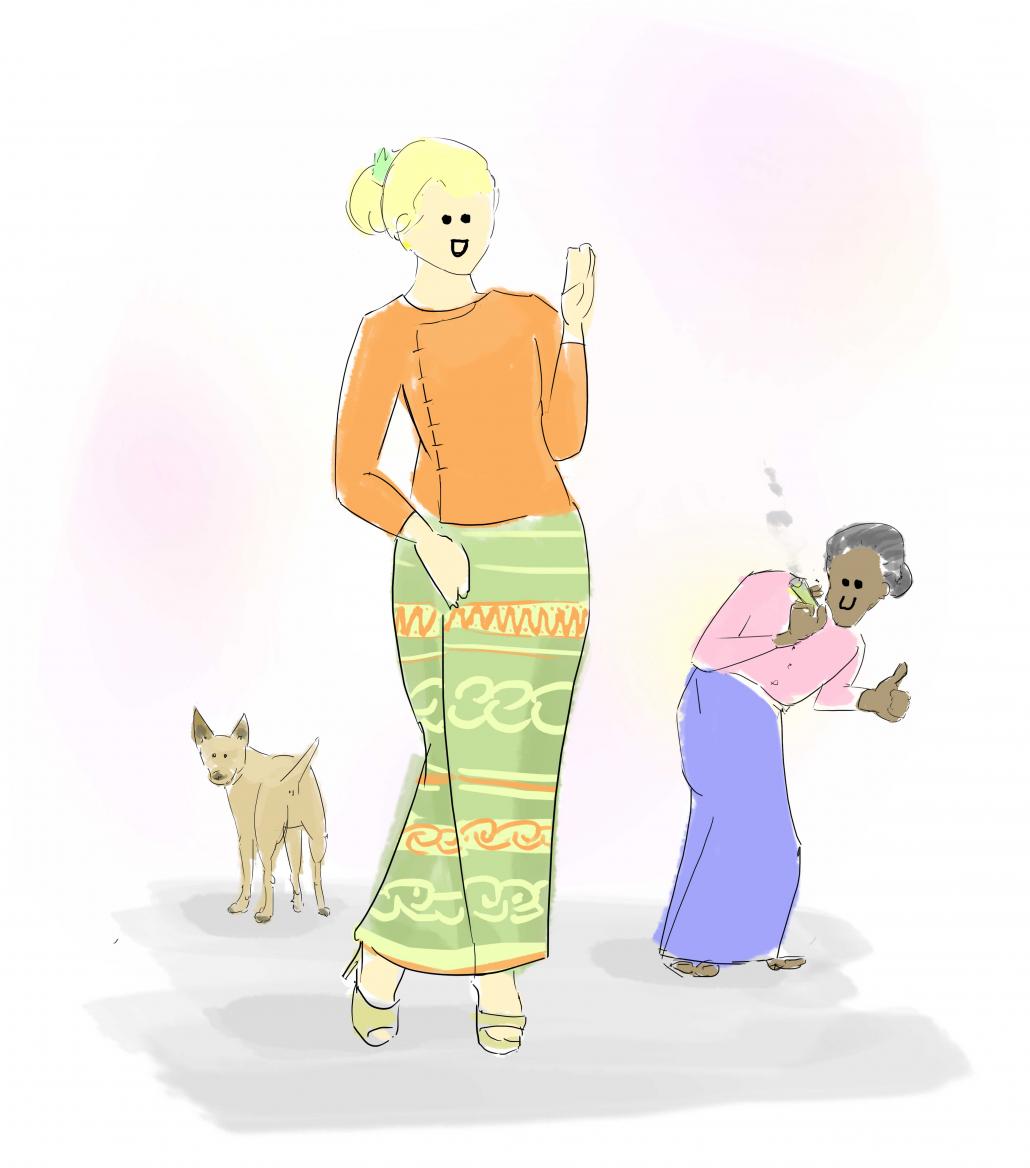 Who wears it best?
In Pyone Thet Thet Kyaw's opinion, the best-dressed woman in Myanmar is Daw Aung San Suu Kyi. The Lady favours pearls and Kachin and Mandalay patterns with a style that is both subtle and distinctive.
"If she wears, say, a Kachin pattern, suddenly all the shops will be flooded with that Kachin pattern," Pyone Thet Thet Kyaw said.
Blushing brides
Many Myanmar brides wear a sleeveless bodice under a transparent ingyi. The bodice was very common in the early 20th century and is now preserved in wedding dresses.