As bombing attacks intensify across the country, some workers are finding themselves increasingly caught in the crossfire.
By FRONTIER
Ko Ye Aung has worked in the finance department of a Yangon Electricity Supply Corporation township office for well over a decade. His job is to distribute meter units that measure electricity use to households and bring the bill when it comes time to collect. It's a simple job – one he never imagined would put his life at risk.
But then came the February 1 coup, and a public campaign to boycott all payments to the military regime.
In the initial chaos after the military takeover, when many workers joined the Civil Disobedience Movement, electricity offices hadn't even tried to collect bills. But this couldn't last forever – not when power generation was costing the regime hundreds of billions of kyat a month.
In May, the junta began dispatching bills to households in an effort to recoup some of the cost. When many people refused to pay, the military responded by sending YESC staff door-to-door to collect the money and has been cutting off electricity for households who refuse to pay.
Various armed groups responded by bombing YESC township stations and attacking staff. Suddenly, Ye Aung, who asked not to use his real name for the safety of his family, and his colleagues were a potential target for the resistance.
On May 25, bombs exploded at the YESC office in Yangon's Shwepyithar township, as well as an electricity office in Ayeyarwady Region's Pathein township. In the months that followed, more offices were bombed; based on local reports, at least 15 have been attacked since May. Workers have also been targeted, with a bill collector shot dead in Mandalay on July 11 and three staff killed in Yesagyo, Magway Region, while reading electricity meters on the evening of September 6.
"I was shocked when I heard the news – I was shaking," said Ye Aung about the last few months of attacks. "It started with the bombing of the Shwepyithar township office. Since then, there have been bombings at a lot of YESC offices."
Since the coup, workers like Ye Aung have faced a near-impossible choice: join the Civil Disobedience Movement and lose their income and housing, and face potential arrest by the junta; or risk losing their lives at the hands of anti-junta forces who have taken to attacking people they see as regime collaborators.
Ye Aung's family split the difference. His wife, who also works for YESC, joined the CDM in February, and Ye Aung decided to stay on at his job.
"We are living in government staff housing," he said. "My wife lost her job because of the CDM. I could not join the CDM, for my family. If I did CDM, we would have to move out of our house and we would have nowhere to go."
But Ye Aung says he now lives in constant fear.
"I don't want to go to the office every morning. My workplace is like a killing field," he said. "I'm worried about when a bomb will explode."
Precisely who is behind these attacks is not always clear. In response to the military's brutal crackdown on peaceful demonstrations from late February, some protesters began forming urban guerrilla, or UG, groups to carry out attacks aimed at undermining the regime. Many are aligned with the opposition National Unity Government, which in May formed the People's Defence Force, but do not answer to it.
Ko Nay Min is a member of a 10-person UG group based in Yangon that he says has been carrying out bombings to disrupt the military attempts to consolidate power.
Nay Min is also a member of the PDF. He said there are other PDF members collaborating with UGs on attacks against regime targets, but they are not doing this at the direction of the NUG.
"The junta is trying to consolidate their power," he said. "So we attacked the government's offices to stop their governing process."
Civilian personnel like Ye Aung now go to work knowing they can be caught in the crossfire at any time.
"I never thought I would face such a situation," he said. "I did not imagine working in areas that get bombed. I am afraid, but I have no choice. If I quit my job, our family would have no place to live. This is the worst time in my life."
'Both sides are just as dangerous for me'
When the military announced its plan to reopen schools on June 1, they quickly became part of the battlefield. "At a time when there were few people on the streets, the military was trying to reopen schools to crush the CDM movement," said a member of the Yangon University Students' Union.
In May alone, more than 103 schools and educational institutions were attacked, according to a report released by Save the Children on June 11. Many of them were bombed with hand grenades or improvised explosive devices. The report said that the Tatmadaw have occupied at least 60 schools and universities since March.
When schools reopened on June 1, very few students and teachers were in attendance.
Many teachers had joined the CDM in the early days of the coup and in the weeks before the reopening more than 125,000 were suspended from their jobs for refusing to return to work.
But others, like Ma Thazin, felt they had no choice. The 30-year-old primary school teacher said she returned to work under pressure from her parents. "I joined the CDM at first. During those times, I had to hide. Some employees were arrested in our township," she said. "My mother cried every day, because she was afraid of me being arrested. She told me to go to work. I couldn't take it anymore and went back to work."
Thazin, who asked to use a pseudonym for fear of her safety, returned to Yangon in early May and resumed her duties. Though no longer at risk of arrest by the junta, she still felt danger hanging over her. On May 24, when the school opened to receive enrollments, she saw proof of the public's resentment firsthand.
Bricks had been thrown at the school, she recalled. "I was afraid. I didn't dare to stay in school because no one was there. When I reported it to the department, the ward administrators came to help."
In May, a bomb exploded in front of a newly reopened high school in Thingangyun Township while some teachers were inside.
"I was shocked when I heard the news," Thazin said. "I cried too. I didn't know what to do."
In other areas, teachers returning to work have been subjected to physical violence. On June 3, a primary school assistant teacher and principal were stabbed in Pantanaw Township, though they survived the attack.
Fearing attacks on the school, Thazin fled back to her parents' home on June 4. But out of fear of retaliation by the junta, she returned to her job again on June 8. (All schools were closed in early July due to the COVID-19 outbreak, and the regime has not announced when they will reopen.)
"I can't run," she said. "In our village, there is a dalan (informer) who reports on CDM participants. Both sides are just as dangerous for me. So, I went back to our school and waited to see what would happen."
In response to these attacks, the regime stationed soldiers at schools to act as a deterrent. However, the presence of soldiers in schools also put teachers like Thazin in a difficult situation.
"People call us dalans because they see us together with soldiers," she said. "I am very ashamed. It isn't good for the children to be near the soldiers."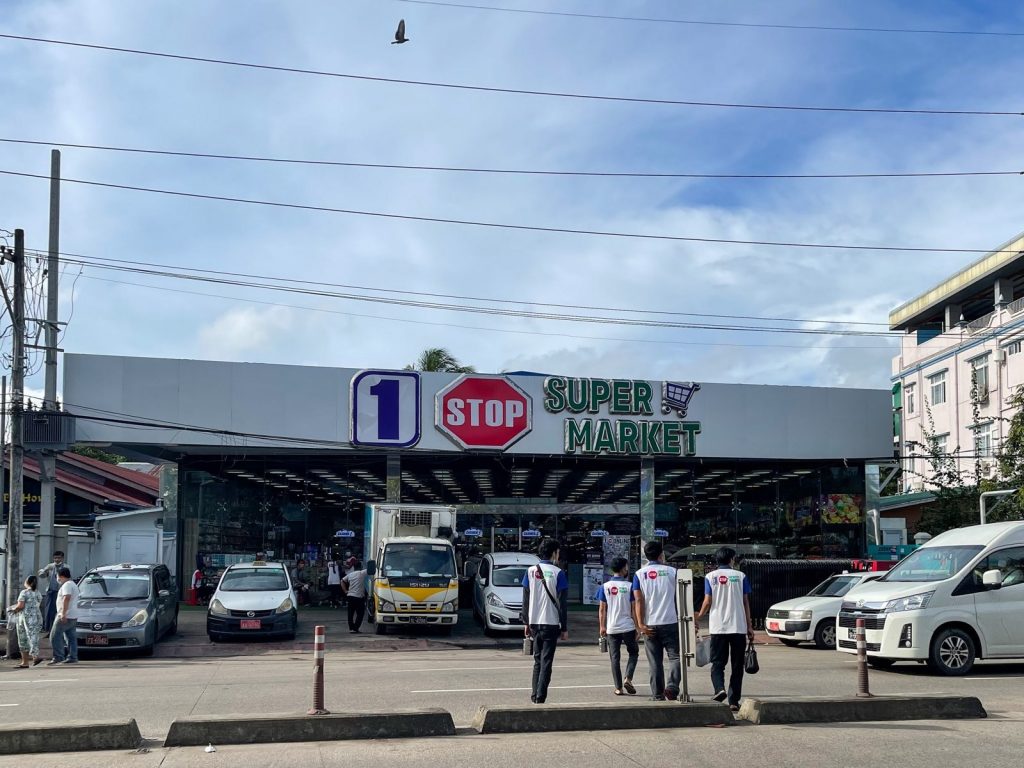 'We need to do a job to earn a living'
On March 24, a "silent strike" was held in in cities like Yangon, Mandalay and Monywa. Activists urged people not to leave their homes, and called on all markets, restaurants and retail stores to temporarily close. Most complied, but 1 Stop Mart, a chain of convenience stores, stayed open, and the public outcry was fierce.
"After that, a lot of people didn't buy from our store," said Ma Yadanar (not her real name), a sales clerk at a 1 Stop Mart in Yangon.
In recent months, digital vitriol has turned into real-world attacks. At around 3am on the morning of June 20, three different stores were set on fire. No one has claimed responsibility for these fires.
"The fire broke out when the shop was closed," said Yadanar. "But the staff are housed in a dormitory on the top floor of the 39th Street branch. One staff member injured his leg jumping out of the office."
Since then, employees say they fear for their lives, and the company has tightened its security procedures.
"We have to make sure there are no bombs in the cargo area," she said. "We need to search for bombs and suspicious items between products by hand every day."
Frontier could not independently confirm these details with 1 Stop Mart.
"A lot of staff want to resign, but we can't. We need to do a job to earn a living," said Yadanar, adding that 1 Stop Mart employees earn around K170,000 a month, the equivalent of less than US$100.
For Yadanar the public hatred of 1 Stop Mart follows her outside the workplace as well.
"Once on the way to work, I was hit by a car," Yadanar said. "Some shops and restaurants don't sell food and products [to 1 Stop Mart employees] if they are wearing their uniforms. We are afraid to wear our uniform. We feel like it's not safe. When I go to the store, I no longer wear a uniform – I go in regular clothes and change into my uniform when I get to the shop."
"We don't commit any crimes," she said. "We do not support the military council. We also protested in February. The company policy comes from our boss. But people punish us for it."
Like Yadanar, Ko Thura Myo, who works in the electrical engineering department of a YESC township office, is also too scared to wear his work uniform these days.
"None of the staff in our office dare to wear uniforms," ​​he said. "I go outside with my casual clothes on and I keep my staff ID in my bag for safety."
The junta's response of stationing troops at government offices has made many employees feel even less safe.
"People don't understand," Ye Aung said. "When I go and collect the meter bill with soldiers, they hate us more … Soldiers will not always provide security for us. One day, when they are not with us, we will be in danger."
Ko Thura Myo said that the worst part about soldiers setting up camp at his office is that he and his electrical engineering staff now have to work 24 hours a day in shifts.
"They don't trust us," he said. "And we don't trust them."
Between a rock and a hard place
According to the NUG's code of conduct, People's Defence Forces are not allowed to attack schools, hospitals, religious buildings, markets and other public spaces. The NUG's Ministry of Defence could not be reached for comment about the attacks.
But NUG human rights minister Dr Aung Myo Min insisted that the revolutionary forces couldn't attack public places.
"If armed groups attack schools, hospitals and harm civilian people, it is a war crime," he said.
When the NUG declared a "people's defensive war" against the junta on September 7, it reiterated its prohibition on certain types of attacks. The initial announcement ordered PDFs to safeguard the lives and properties of the people, and was quickly followed by the publishing of a military code of conduct that forbids the harming of civilians.
However, some see military-run utilities as a legitimate target in the struggle against the junta. Nay Min said that YESC staff who had refused to join the CDM were involved in collecting taxes that would go towards the military's budget, thus making them potential targets.
"Some revolutionary groups attacked the YESC office," he said. "But the revolutionary forces did not cause any serious damage to civilians."
Nay Min said that while many attacks on government offices were carried out by revolutionary forces, some bombings that had harmed civilians had been carried out by Pyusawhti, pro-junta vigilante groups formed by civilians who support the coup.
Nevertheless, the majority of attacks on government offices and civilian administrators have been claimed by anti-junta forces.
According to a NUG Ministry of Defence report, there were 94 bombings and 74 assassinations across Myanmar in August by various actors. At a briefing for diplomats on September 9, a regime official claimed that 799 people had been killed and 726 injured in targeted attacks.
Regardless of who is behind the attacks, public workers like Ye Aung continue to be caught in the crossfire. Although the electrician said he didn't blame the attackers, he urged them to understand the struggle of people just working to feed their families.
"I have to continue working because of my livelihood – I can't join the CDM," he said. "Revolutionary groups should attack dalan but they should sympathise with us."
But Thura Myo from the department of engineering warned that the coming months could put utilities staff at even greater risk, because lists of houses who have not been paying their electricity bills will reach township offices.
"No one wants to cut off electricity. But if there is pressure from above, some will do it. And then they will be attacked by people," he said.
"I have made a decision. If we're instructed to cut off people's electricity, I will resign – I won't be able to bear it any longer."