Yangon Region will host two of the most hotly contested ethnic affairs minister races in November, with prominent MPs and activists seeking election to represent the Rakhine and Karen communities.
By YE MON | FRONTIER
In recent years, Ko Tin Htoo Aung has regularly found himself across the negotiating table from U Zaw Aye Maung.
As chair of the labour rights group Arakan National Network, Tin Htoo Aung has helped ethnic Rakhine who are engaged in labour disputes. Zaw Aye Maung is the Rakhine ethnic affairs minister for Yangon Region, but also holds the regional government's labour relations portfolio.
For Tin Htoo Aung, these negotiations were disappointing in more ways than one. "Everyone knows that he [Zaw Aye Maung] favours the business owners," he said. "He accused the workers of lying in most of the cases."
But Tin Htoo Aung believes Zaw Aye Maung should not have been there at all. As Rakhine ethnic affairs minister, he should have been working for the development of the Rakhine community in Yangon Region, not resolving labour disputes.
In November, Tin Htoo Aung hopes to take Zaw Aye Maung's job. He's nominated himself as an independent candidate and told Frontier on August 3 that, if he wins, he will be a very different ethnic affairs minister to Zaw Aye Maung, a two-term incumbent who will instead be seeking election as Rakhine ethnic affairs minister in Ayeyarwady Region.
Rather than helping employers and workers resolve disputes, he'll be providing support to his ethnic Rakhine community only – much as he has done with the Arakan National Network.
"In Yangon Region, there are about 60,000 migrant workers from Rakhine but the current minister has failed to protect their rights," he said. "He has been a minister for 10 years but there have not been any big improvements in their situation."
The race for Yangon Region's Rakhine ethnic affairs minister will be one to watch, with Tin Htoo Aung set to face off against U Oo Myint Kyaw from the ANP and Amyotha Hluttaw lawmaker Daw Htoot May (Rakhine-11), who is standing as an independent because the ANP has refused to allow her to resign so that she can run for rival Rakhine party the Arakan League for Democracy.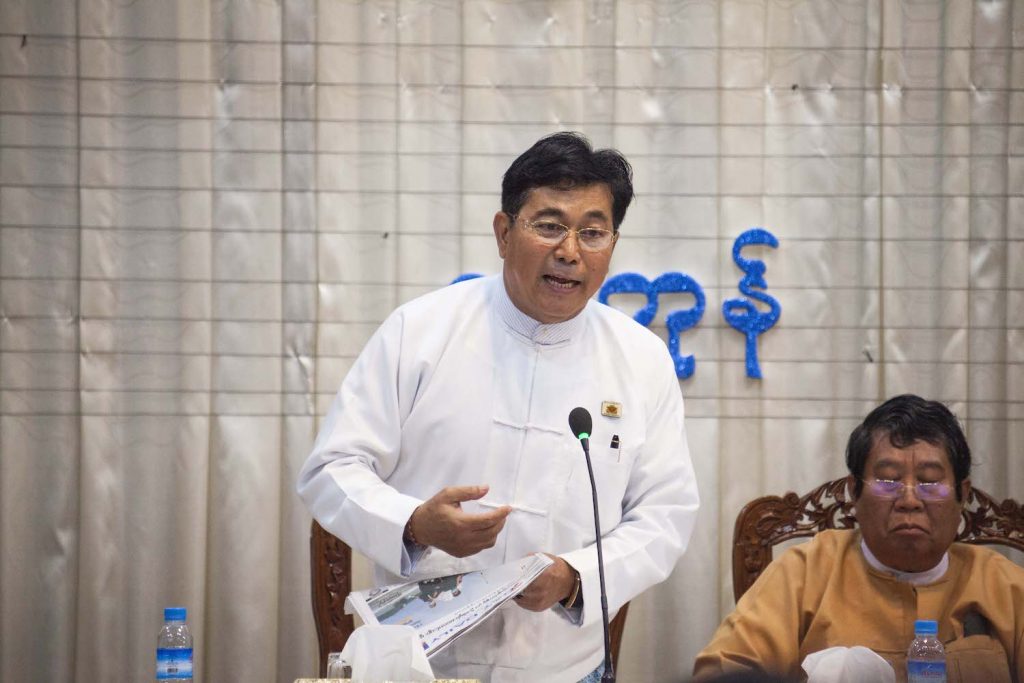 But Zaw Aye Maung's perceived failure is likely to be as much about the nature of the post as his approach to the role.
The 29 ethnic affairs minister positions in state and region governments are an unusual feature of Myanmar's political system.
They are designed to reflect Myanmar's ethnic diversity and ensure minority groups are represented; under the constitution, any ethnic minority that has at least 0.1 percent of the national population – 51,400 members at the time of the 2014 census – within a single state or region in which they are not the majority and do not already have a self-administered area are entitled to an ethnic affairs minister.
The ministers are elected by members of their ethnic group, who cast an additional ballot on election day. No new ethnic affairs minister positions have been created since the current 29 were devised in 2010, despite the 2014 census revealing the prevailing nationwide population estimate of 60 million to be eight million too high.
Ethnic affairs ministers are also the only directly elected members of government at any level, and as a result they are often, though not always, from a different party than the rest of the regional government. Zaw Aye Maung, for example, ran as an Arakan National Party candidate but served in a Union Solidarity and Development Party-led government from 2011-16 and then a National League for Democracy administration since 2016.
The constitution, though, does not specify what the ministers are meant to do. The 2010 Region or State Government Law meanwhile says only that they should "carry out the National Races affairs within the relevant state or region" and can also be assigned other duties by chief ministers under section 10(b).
There's barely more clarity in the 2015 Ethnic Rights Protection Law; section 15(a) says ethnic affairs ministers are assigned their duties by state or regional governments to protect the rights of ethnic nationalities, while section 16(a) says the ministers need to scrutinise any violations of "ethnic rights".
The Ethnic Rights Protection Law defines "ethnic affairs" as meaning the development of social life, including language, literature, art, culture, customs, religion, heritage, and "peace", and obtaining the rights of ethnic nationalities as outlined in the 2008 Constitution. Confusingly, the constitution does not specify any particular rights for ethnic minorities.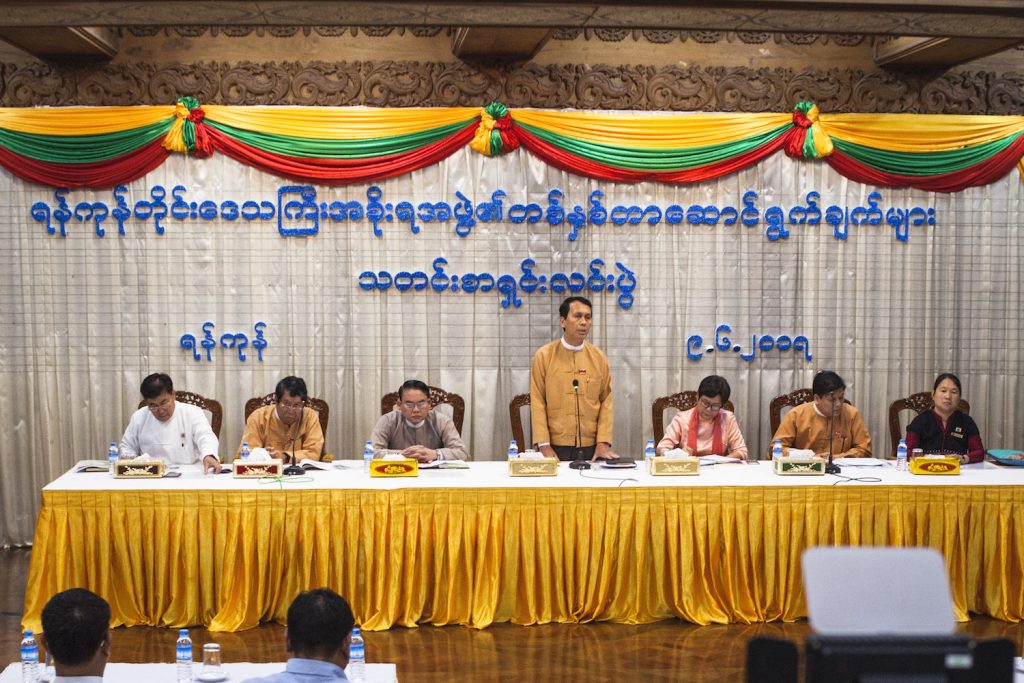 In practice, many ethnic affairs ministers have spent more time on other portfolios. Yangon Region's other ethnic affairs minister, Naw Pan Thinzar Myo (Karen, National League for Democracy), is also the regional government's spokesperson and is responsible for tourism development.
Like Zaw Aye Maung, Pan Thinzar Myo will be not be trying to defend her seat. Hoping to take her place is Amyotha Hluttaw MP Naw Susanna Hla Hla Soe (Yangon-10, NLD) and veteran activist Naw Ohn Hla, who is seeking her parliamentary debut as a candidate for the United Nationalities Development Party. Joining them in the race will be Mahn Than Win Oo from the Kayin People's Party.
Like Tin Htoo Aung, Ohn Hla told Frontier that ethnic affairs ministers should not be assigned other duties so they can concentrate exclusively on the concerns and welfare of their ethnic communities.
"I think the previous and current ethnic affairs were not able to do enough for their people," Ohn Hla said on July 29. "The ethnic affairs minister positions are not just for show; they have been elected by the people. If I win the election, I will seek the authority to do more for my people."
In particular, she said she would work for the social, cultural and political rights of the Karen. As an example, she cited the regional government's refusal to allow her and other activists to mark Karen Martyrs' Day in August last year. Ohn Hla led the commemoration anyway, and was later jailed for 15 days.
Karen activists and groups say Pan Thinzar Myo and her predecessor, Saw Tun Aung Myint, chair of the KPP, could have done more for the Karen people in Yangon Region. Their main contributions seem to have been organising events for prominent – but apolitical – days on the Karen calendar, such as Karen New Year.
Saw Albert Cho, a Karen activist in Yangon, said the community was happy with Pan Thinzar Myo's project to publish a book about Karen history but believed that she could have done more for the Karen people, including their economic development.
"Naw Pan Thinzar Myo told the Karen that there were constraints on what she could do for her people, but that doesn't mean we should be satisfied with her performance," he said.
A similar mood prevails among some members of Yangon Region's Rakhine community.
Htoot May told Frontier on August 5 that the community was dissatisfied with Zaw Aye Maung because he had failed to keep election promises, including to build a youth centre.
Htoot May said the Rakhine and Karen communities in Yangon Region needed ministers who could make concrete improvements in their lives.
"The current minister has served in the position for nearly 10 years but he did not perform well. The Karen ethnic affairs minister [Naw Pan Thinzar Myo] has acquired land to build a centre for her community members, but the Rakhine ethnic affairs minister failed to build a youth centre [that he promised]; that's why I decided to seek election," she said.
Susanna Hla Hla Soe told Frontier on August 3 that the Ethnic Rights Protection Law needed to be amended to strengthen the role of ethnic affairs ministers.
"The important thing is to avoid losing the role of ethnic affairs minister. The main priority of the ministers is to serve their community and they need to remember that the people voted for them," she said.
Such an attitude could put the winning candidate at odds with the rest of the regional government, which the next president will appoint in late March 2021.
A spokesperson for the ruling National League for Democracy, Monywa Aung Shin, said ethnic affairs ministers need to adhere to the policies of the relevant state or regional government and their roles involved more than serving their own ethnic communities.
"Their duties depend on the chief ministers," he said. "Ethnic affairs are important but [the ministers] need to do other things in accordance with the Region or State Government Law."
But Tin Htoo Aung insists that if he wins the election, he will focus only on Rakhine affairs. "The Rakhine ethnic affairs minister needs to focus on the Rakhine people: on their labour rights, healthcare, culture, art, sport and education."