It's surprisingly cheap and easy to tour Myanmar's highways and byways with the recreational motorcycling community.
Words & photos JARED DOWNING | FRONTIER
IT HAS been almost two years since I bought the 1992 Honda Steed motorcycle my girlfriend named "Big Shwe."
Big Shwe has leather saddlebags, chrome crash bars and burgundy accents on the tank, and that bike and I have blasted all over this country. We've wound along mountain trails outside Hsipaw, kicked up dust on the highway to Bagan and rumbled across the Ayeyarwady Delta to Ngwe Saung beach, girlfriend riding pillion and the rear rack laden with suitcases. On dry weekends we wander the roads around Hlaing Tharyar and Dala, discovering obscure pagodas and old cemeteries, then cross the Hlaing River in time to join my friends at a pub and try to convince them to ride with me next time.
They find it hard to believe that biking in Myanmar is affordable, safe and legal, but it is. For as little as US$500, you can buy a motorcycle (a real one, not a scooter) and glide through the Myanmar countryside like Bruce Springsteen.
What to buy, where to keep it
Myanmar's first Harley-Davidson dealership opened in Mandalay last year and offers new, imported bikes. For a machine that doesn't cost tens of thousands of dollars, the MJT Motorcycle Showroom in Bago, which imports second-hand bikes, is a great place to start.
Many of the bikes sold by MJT (where I acquired Big Shwe in November 2017) were apparently bought by Japanese men going through mid-life crises, judging by how little they have been ridden. Big Shwe was made in 1992 but had only about 7,500 kilometres on the odometer.
(The MJT showroom is on Highway 1 on the western outskirts of Bago. Look for its sign on the left when you pass Bogyoke Aung San Road, just before a branch of KBZ Bank).
Most manual, cruiser-style motorbikes in Myanmar have an engine capacity between 250cc and 400cc, which is just about right for the country's roads. Lighter bikes can be uncomfortable for long rides and heavier machines can be hard to drive on curves, hills and mud.
Honda is the most popular pre-owned brand, especially the 400cc, twin-cylinder Steed, which sells for between K1.2 million and K1.5 million. The larger-bodied 400cc Honda Shadow, which sells for between K1.5 million and K3 million, is also popular, as are the 250cc Rebel and 200cc Phantom models, which usually sell for less than K1 million.
Recent and old models of the British-made 350cc Royal Enfield are also popular, as are  German-made BMW GS hybrid bikes, which are expensive but handle well on the highway and off-road.
Motorbikes are illegal in the Yangon municipal area, but it is not against the law to leave one parked on the street under a tarpaulin. The traffic police usually work until about 7pm, after which you can drive around town with little risk of being pulled over and possibly fined. If the motorbike is unlicensed it might be confiscated. However, the motorbike ban is not rigorously enforced north of Parami Road, so if you are planning a ride, leave the bike at a parking lot, side street or friend's house on the northern edge of Yangon and head out the next day.
Maintenance and accessories
Ideal Mechanic Shop on the northwest corner of Dhammazedi and Inya roads is a good place to have your machine serviced. The English-speaking owner is a biker who has extensive experience working on big bikes and has a network of parts suppliers.
Essential equipment for safety's sake is a helmet and a thick jacket. In Bago you can find cheap Thai helmets, but what you spend depends on what you think your head is worth. There is also a motorbike accessories shop in Bago, stocked with Chinese-made helmets, clothing and parts, of variable quality. The Harley-Davidson and Ducati shops in Mandalay carry genuine, brand-name clothing and parts. Otherwise you will need to travel to Bangkok to outfit yourself.
Finding people to ride with
There are biker clubs throughout Myanmar and they often arrange group rides. There are "bike week" festivals in Bago and Mandalay (which despite the name are held on weekends) as well as some international events, such as the forthcoming Distinguished Gentleman's Ride, scheduled for September 29, in which participants will ride from Pyin Oo Lwin to Taunggyi wearing cheap suits and fake moustaches.
The best way to meet other bikers is to speak to the management at the Ducati or Harley-Davidson dealerships, or reach out to one of motorcycle groups on Facebook, such as the Honda Steed club. If you don't speak Burmese you may need help from a Myanmar friend.
Follow the law
Motorcycling is always risky, and Myanmar is not an ideal country in which to learn. However, a combination of YouTube instruction videos and practice rides on slow, sleepy village roads will give you the skills you need.
Despite the risks, biking on Myanmar highways is generally no more dangerous than anywhere else. You need to be prepared to encounter tractors, bullock carts and wayward pedestrians, but people are used to sharing the road with motorbikes and traffic speeds rarely get above 80 kilometres an hour.
Again, after 7pm you probably won't be harassed for riding in Yangon, although it is technically against the law. But there is no law against cruising in the countryside, provided you have an International or Myanmar driver's license. If you don't have one, it probably won't be an issue, but you will be riding at your own risk.
Registering your bike can be a little complicated. Most second-hand bikes on sale at dealerships such as MJT are not registered, and those that are registered are more expensive. You can probably get away with riding an unlicensed bike, but again, do this at your own risk.
There is at least one way to register a pre-owned motorcycle: Shan State, for whatever reason, offers quick and painless motorcycle registrations, and indeed, most bikers in Yangon have Shan plates on their machines. If you don't want to ride your bike to Shan, there is a network of drivers who will transport it there, register it and bring it back to Yangon. For advice, contact social media communities such as Honda Steed Club Myanmar, Myanmar Bikers or a Yangon-based club like the Burma Red Dragons.
I was able to register my bike at Kalaw after driving it to the Shan capital, Taunggyi, for the Balloon Festival. The process was quick and cost about K1.5 million, although it was registered in the name of a Myanmar friend.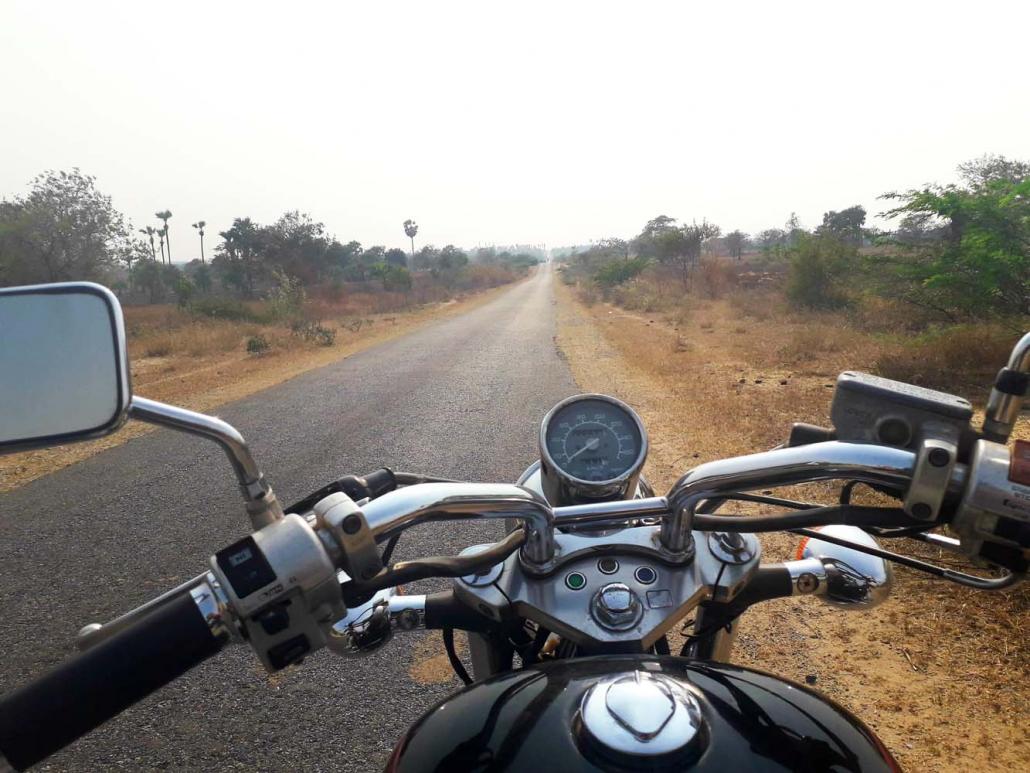 DAY TRIPS FROM YANGON
Outside Yangon, exploring just about any of the side roads in Hlaing Tharyar and Dala townships, to the west, or Thanlyn, to the east, will reward you with smooth, scenic day rides past shady orchards and sleepy villages and sweeping views of paddy fields. These roads tend to be narrow but they are usually paved and smooth because they are not subjected to the heavy use of the main highways to Pathein, Bago or Hpa-an.
Hlaingtharyar to Dala
The road leading south from Hlaing Tharyar is a little bumpy but soon settles into a straight, mellow ride tht crosses the Twante canal and ends at Dala. You can put your bike on the Dala ferry to return to Yangon but it's best to do this after sundown to avoid attracting the attention of the traffic police.
Hlaingtharyar to Maubin via Htantabin
Driving through Hlaing Tharyar is always a pain because of heavy traffic, but the small roads heading north towards Htantabin are smooth, shady and beautiful. Continue across the Hlaing River past farmland stretching to the horizon and cross the river again to end at Maubin.
Dala to Letkokkon Beach
This four-hour round trip to the coast on the eastern side of the Ayeyarwady Delta on the Gulf of Mottama is a favourite for the Yangon biker community. The trip takes you through grassy wetlands and ends at Letkokkon Beach, which is also popular with Yangon day trippers.
LONGER JOURNEYS
Yangon to Hpa-an
The road east from Yangon to the Kayin State capital, Hpa-an, is one of my favourites; it crosses the lowlands of Mon and Kayin states until the Dawna Ranges appear in the distance. When you cross the Sittaung River look for the pylons of the bridge that the Allies destroyed in February 1942 as they retreated towards Rangoon ahead of the invading Japanese.
Yangon to Taungoo
The route to Taungoo, the seat of the Taungoo dynasty from 1510 to 1539 and 1551 to 1552, follows an old highway used by freight trucks, motorbikes and farm wagons. The trip to this town in Bago Region can be busy, but several sections have been paved in recent years, making it a great way to explore the towns and villages that you miss when barelling along the Yangon-Mandalay highway.
Kalaw to Pyin Oo Lwin
The ride to Kalaw in Shan State takes a day and you might want to consider having your bike shipped ahead. If you begin your journey in Kalaw after the rainy season you will be rewarded with a ride through what is sometimes called the "Tuscany of Myanmar", named after the stunning patchwork of crops as far as the eye can see. Caution is needed on the winding mountain roads that require advanced riding skills and road discipline, so don't consider this journey for your first outing.
Mandalay to Bagan
If this leisurely ride through the central dry zone is timed correctly, you will be able to watch the sunrise at U Bein Bridge, cruise through King Anawratha's ancient domain and then catch the sunset over the pagoda-studded plain at Bagan. Ignore the Google Maps directions and take the southeast route through Myo Thar and Myingyan.
Yangon to Pyay
I am yet to do this ride, but the journey along the Ayeyarwady to one of Myanmar's oldest cities, and the gateway to the Pyu Ancient Cities of Halin, Beithano and Sri Ksetra, which were added to UNESCO's World Heritage List in 2014, is at the top of my list for the coming dry season. Email me if you'd like to join.