Mong La, on the border with China, has a reputation for debauchery but a recent visit revealed a dank, depressing town.
By OLIVER SLOW | FRONTIER
Photos BRENNAN O'CONNOR
A few miles from the checkpoint at the entry to Special Region 4, endless rice fields make way for a cluster of large, gaudy buildings. The street life comes alive, too, as workers ply their trade by the roadside, groups of gamblers hurry into a casino and young men hang out in a shop front, playing pool.
This is the first glimpse from the Myanmar side of Mong La, the capital of Special Region 4 in eastern Shan State. The region is controlled by drug lord Sai Leun (also known as Lin Mingxiang), the leader of the National Democratic Alliance Army-Eastern Shan State, which signed a ceasefire agreement with the government in June 1989.
Mong La may be on Myanmar soil, but its focus is very much on China. The yuan is the only accepted currency, Chinese is the predominant language and Mong La operates on Beijing time, 90 minutes ahead of Myanmar time. The road from China is smooth but the approach from the Myanmar side feels like sneaking through a back door, a bumpy track that leaves vehicles trailing huge clouds of dust in the air.
Mong La is notorious for prostitution, gambling, general debauchery and a big market in wildlife and animal parts, and has been variously called Myanmar's Las Vegas, "Sin City" and "Wild East". Everybody has their own impression. Mine during a recent visit was of a post-apocalyptic Vegas. I walked around with a perpetual grimace.
Arriving early in the morning after a picturesque three-hour drive from Kengtung, I handed over far too much money to a surly hotel clerk for a room with a blood-stained bed and a cockroach-strewn floor, and set out to explore.
The original purpose of this report was to find a "human side" to Mong La and to document the town through one of its residents. But after more than half a dozen interviews, this proved to be more difficult than anticipated.
There was 20-something Ko Kyaw Oo, from Kengtung, selling vegetables in the central market. He spends weekdays in Mong La, where he said he can earn double what he can make in Kengtung. He had no interest in commenting on the town's seedy reputation and neither did the young women working day jobs in restaurants who said they were in Mong La for the money and nothing else.
Others were more forthcoming about what they liked about the town.
A group of Chinese teenagers arriving at their hotel proudly proclaimed that they were visiting for one reason. "The girls, of course!" they said. The "girls" were also the main attraction for the motorbike taxi rider from Lashio who had arrived two months earlier.
"I do not like this town, it's boring," he said. "But I do like the girls; Chinese girls, very sexy," he added, before launching into a detailed list of the things he liked the Chinese girls to do to him.
In short, no one with an interesting story worthy of telling.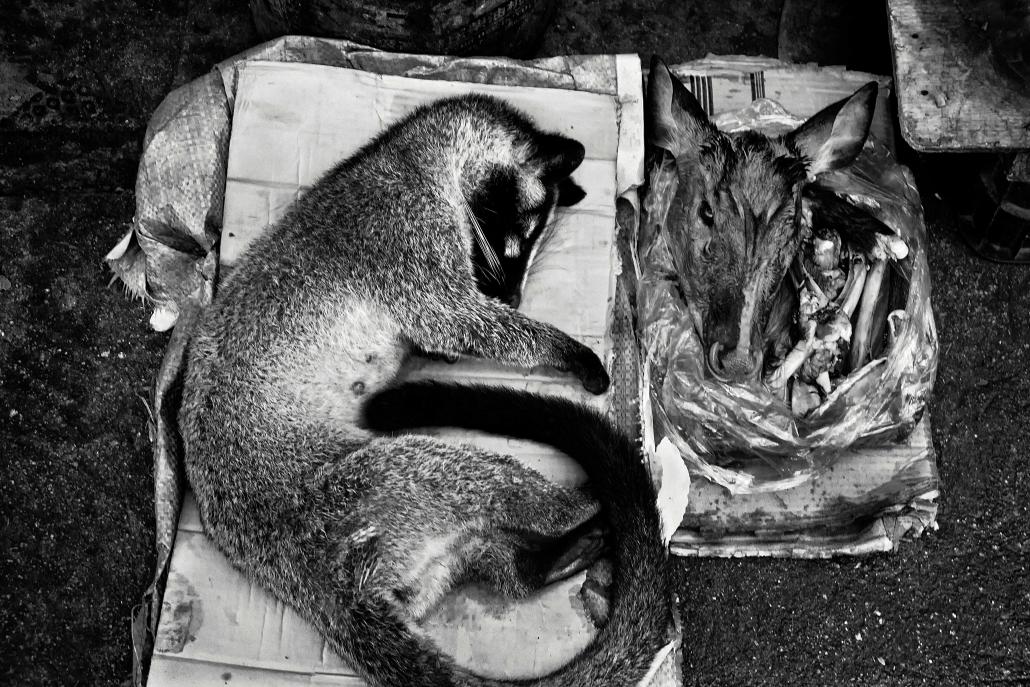 Mong La reached its peak about 15 years ago, when it was renowned for its ladyboy shows, Russian prostitutes and a "human zoo." But in 2003, Beijing is reported to have sent in the People's Liberation Army to crack down on Mong La's casinos after high-ranking cadres lost billions of yuan in the town's casinos. One report said the daughter of a senior Chinese official had gambled away more than US$1.6 million in government funds.
Sai Leun responded by moving the casinos further away from the border, where many remain, and central Mong La became a ghost town. It has recovered some of its disreputable reputation, but is not at its peak of about 15 years ago.
The town is fairly quiet during the day. "The men are waiting for the ladies," my guide said, though there's activity during the day at the central market, where anything from flowers to sex toys to wild animal parts are openly on sale.
Vendors proudly vaunt products that include tiger's paws, elephant tusks and pangolin scales, all of which are popular among Chinese for their purported medical qualities. At one stall, the bottom half of a tiger's leg was displayed on a piece of tarpaulin. The stall owner said the leg, on sale for 1800 yuan (about K360,000, or $280) could be used to cure unspecified illnesses. Asked where she had acquired her grisly merchandise, which included parts from many wild animals, the women pointed to the distance and said, "From the village", and refused to elaborate.
Mong La is one of the largest open wildlife markets in Southeast Asia, says Chris Shepherd, the deputy director for TRAFFIC, Southeast Asia. Until recently, it mainly acted as a hub for animals and birds from throughout Myanmar, but has expanded to include ivory from Africa, Tibetan antelope horns from China and parts and skins from big cats, such as tiger, leopard and clouded leopard.
Tiger parts counted by TRAFFIC during a survey conducted in Mong La between December 2013 and January 2014 included eight intact skins, 37 claws, 29 teeth and seven skeletons.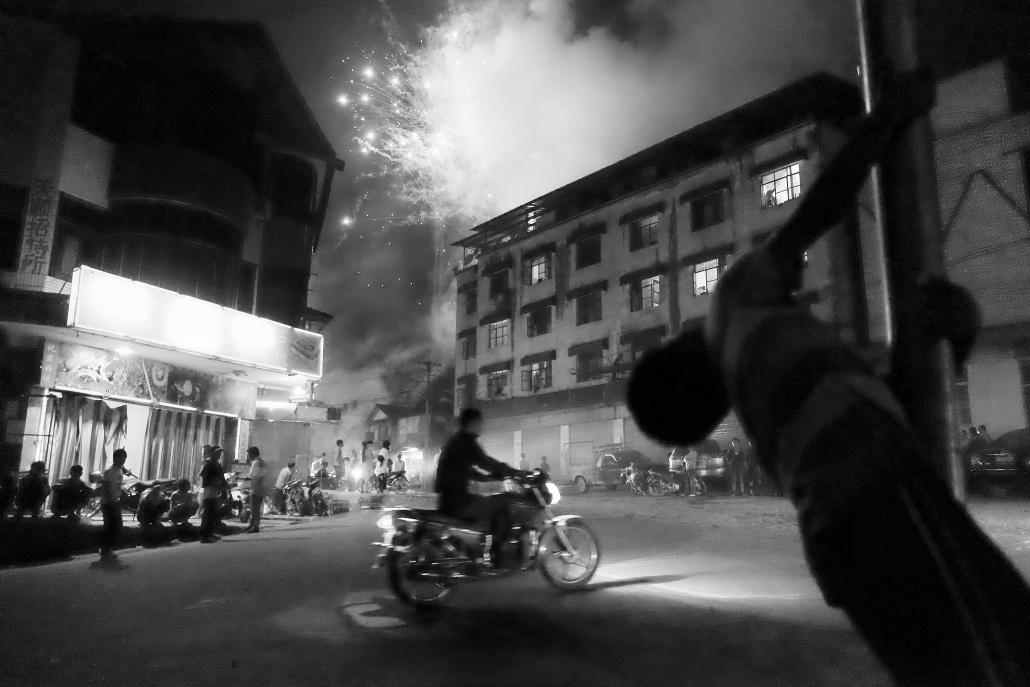 "Increasingly, this market is a place of trade for species from around the world," said Mr Shepherd. "No crackdowns have been made to date. The Special Region status makes government efforts near impossible at this time. Perhaps efforts should be made on the border itself by the Chinese officials, who could work towards reducing the cross border transportation of the illicit wildlife parts," he said.
There were live animals on sale, too. Dozens of chickens crammed into wooden boxes, two owls flinching nervously as men tapped on their cage, and a father laughing hysterically as his daughter poked a clearly terrified monkey in its cage. It was dank and depressing and I couldn't wait to leave.
Mong La is busier by night, but little improved. The garish neon lights of the town's buildings wink at the night and groups wander in and out of casinos and nightclubs.
In the square, crowds of men and women sat in restaurants playing mah-jong and drinking beers. Groups of women approached the tables, handing out business cards with images of light-skinned, buxom women.
"Do you want to see the casinos?" my guide asked as we passed a group of scantily-clad women lining the street near our hotel.
"No, I think I just want to go to bed," I said.