By NAW BETTY HAN | FRONTIER
YE PYAR GONE — The official death toll from a devastating landslide in Mon State has risen to 75, according to government officials, but residents say they believe at least 40 more bodies may still be trapped under a thick layer of mud.
Meanwhile, a government geological team surveying the area in the wake of the disaster has reported there is no risk of further landslides, despite residents of the Paung Township village saying they feel unsafe and want to leave the area.
The disaster was sparked by days of torrential rain that sent a section of Malat Mountain crashing down onto homes in Ye Pyar Gone village, about 5 kilometres north of the town of Mottama.
At least 25 homes and five vehicles were immediately inundated with mud at around 8am on August 9, prompting more than 150 rescuers from the fire department, police force and relief groups to begin a search for survivors.
The official death toll has steadily risen over the past week and stands at 75, according to the township administrative office.
Township administrator U Zaw Moe Aung said there were no plans to halt the search but that there was little hope now of finding anyone alive.
Residents estimate that more than 100 people were living in the area where the disaster struck, and that at least 40 people are still missing, including some bystanders and people who were travelling on the Yangon-Mawlamyine Highway.
"My sister's family were all killed in the landslide – we've found the bodies of four of them and two are still missing," said Ye Pyar Kone resident U Aung Win Oo. "It's already been a week so I can't expect that they are still alive. I just want to recover their bodies."
Following the disaster, the Ministry of Agriculture, Livestock and Irrigation despatched a team of geologists from its Irrigation and Water Utilisation Management Department to assess whether the area was at immediate risk of further landslides.
While the team has not yet issued its report, Ministry of Agriculture, Livestock and Irrigation deputy permanent secretary U Myo Tint Tun said that the team had told the ministry that neither Ye Pyar Kone nor other villages near Malat Mountain were at risk.
The team, which also included experts from the Yangon-based Myanmar Geosciences Society, examined six areas near the landslide zone on August 13 and 14, he added. A full report is expected in the first week of September.
"Their report is not ready to publish yet but the team reported to the ministry about their general findings. They confirmed that no more landslides would happen in the area," he said.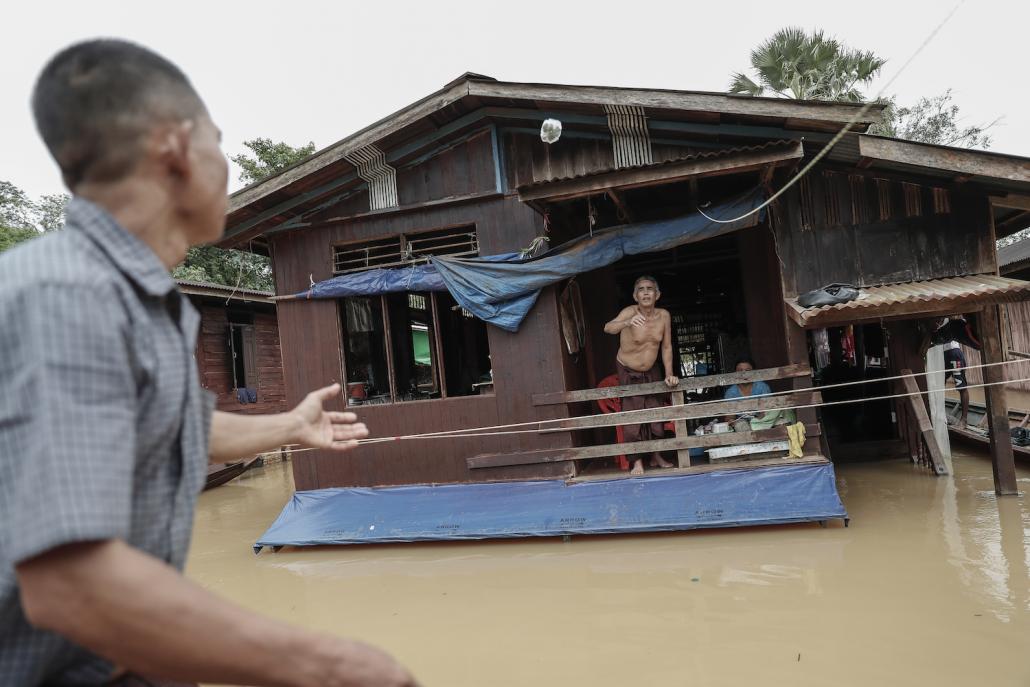 One consequence of the team's findings is that the area is unlikely to be declared a disaster zone, which would require the evacuation of residents. Mon State Chief Minister Dr Aye Zan said on August 13 that the state government would wait for the geologists' report before making any announcement about danger levels around Malat Mountain.
"Whether we allow people to stay near the mountain will depend on the report and rehabilitation processes," he said.
But some residents said they are afraid to remain in the area.
"I was fortunate to escape from the landslide but my neighbours died," said U Khin Maung from Ye Pyar Kone. "I feel so sorry for them and I am afraid a landslide will happen again."
Numerous residents told Frontier that while the region receives a significant amount of rainfall each monsoon they had never experienced severe landslides.
According to a report from the Regional Integrated Multi-Hazard Early Warning System, nearby Mawlamyine has an average annual rainfall of 4,638 millimetres, including 1,140 in August alone. Its monsoon seasons have been getting wetter, on average, and extreme weather events are also increasing, both factors that the report said could lead to increased occurrences of flooding and landslides.
Local Pyithu Hluttaw representative for Paung, Mi Kon Chan (National League for Democracy), said illegal excavation at the base of the mountain for the expansion of residential compounds had likely contributed to the disaster.
"The ground at the base of the landslide area is soft [because of the excavations]. Combined with the recent heavy rain it led to the landslide," she said.
Heavy monsoon rains and flooding have forced at least 110,000 people to seek refuge at temporary evacuation sites, according to the United Nations Office for the Coordination of Humanitarian Affairs, with Mon and Kayin states and Bago and Taninthayi regions the worst affected. From a peak on August 13, the number of displaced had declined to 97,000 on August 15 as some of the floodwater had receded.
From August 10 to 12, Vice President U Henry Van Thio, who chairs the Natural Disaster Management Committee, visited flood and landslide-hit areas of Mon State and met some of those affected.
Speaking at a review meeting for disaster-affected areas held at the Emergency Management Center in Nay Pyi Taw on August 15, the vice president said it was important to investigate the cause of the landslide at Malat Mountain and to work with experts to identify prevention measures that can be undertaken in the future.