The decision to create a Ministry of Ethnic Affairs has been welcomed by many but some worry it will reduce the influence of ethnic MPs in the Union Parliament.
By MRATT KYAW THU & SOE THAN LYNN | FRONTIER
A proposal by the incoming National League for Democracy government to create a Ministry of Ethnic Affairs has drawn a mixed response from prominent members of ethnic minorities.
Ethnic Affairs was the only new ministry included in the proposal tabled by President-elect U Htin Kyaw in the Union Parliament on March 17 for a far-reaching restructuring of the bureaucracy.
The decision to create the ministry was masterminded by NLD leader Daw Aung San Suu Kyi and will be important to her goal of achieving unity with ethnic groups as the nation moves towards a federal system.
The challenge of national reconciliation was put under the spotlight when the national ceasefire accord aimed at bringing an end to nearly 70 years of civil conflict was signed last October. The accord was signed by only eight of the 15 ethnic armed groups that had been involved in peace talks with the outgoing government.
Ethnic Affairs will not be the country's first such ministry. In 1955, during a period of great tension between the Bamar and ethnic communities, the U Nu government created a Ministry of National Unity headed by a Kachin, Samar Duwa Sinwa Naung.
A proposal tabled in the Amyotha Hluttaw in March 2013 to establish a Ministry for Ethnic Affairs was defeated 88 votes to 76. In July 2014 the Pyithu Hluttaw approved a draft Protection of Minority Rights bill, aimed at protecting the rights of indigenous minorities.
Ethnic affairs under Thein Sein's government
Under the Thein Sein administration, there was a total of 29 ministers of ethnic affairs in the state and regional governments. They represented specific ethnic constituencies and most had been involved in promoting the literature of their communities and other cultural activities.
Arakan National Party member U Zaw Aye Aung, who was re-elected as Minister of Rakhine Ethnic Affairs in the Yangon regional government last November, declined to be drawn on the importance of the portfolio.
Amyotha Hluttaw MP U Jay Yaw Gu (National Unity Party, Kachin-1), a Lisu, said the ethnic affairs ministers had not been able to achieve as much as they had hoped, despite doing their best.
"Now that a Union level Ministry of Ethnic Affairs has been created, it is expected that the affairs of ethnic nationals will be taken care of effectively," he said.
Few of the 29 ethnic affairs ministers at state and regional level are well known, including by their constituents.
"We had no Union minister despite us being ministers and that made our work difficult," said U Khun Than Myint, the former minister for Pa-O ethnic affairs in Kayin State.
ANP Pyithu Hluttaw MP U Pe Than, (Myebon, Rakhine), welcomed the decision to create the ministry because it meant that state or regional ministers would have a Union level minister to review their work.
"For a state minister, no matter how hard he works, if he does not have a Union level minister to whom to submit his work, he is like an orphan," Pe Than said.
"The ministry will work for the development of the land for ethnic nationals, their history, their culture and their literature. From that, they can work towards the goal of a federal system."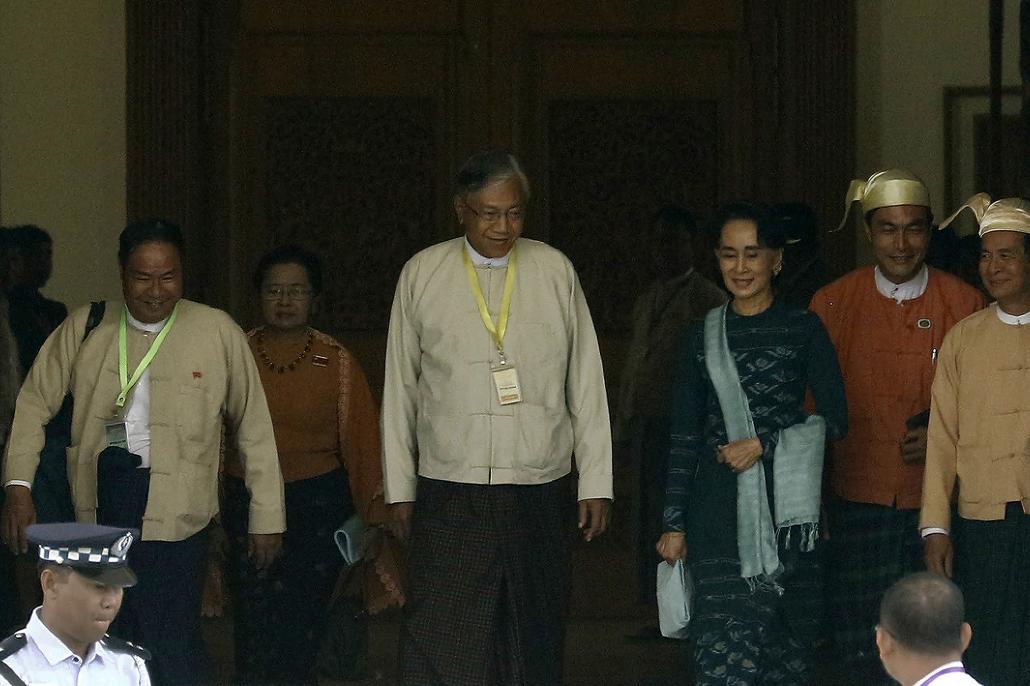 Federal and ethnic demands
The 2008 Constitution has no section about creating new ministries and some analysts say the lack of clarity means a Ministry of Ethnic Affairs will have little effect on attempts to achieve a federal system.
"I'm almost certain [the ministry] will not be involved in politics," said Salai Mang, a Chin analyst on federalism. "They are formed for literature and social affairs. If I have to comment, it is hard to say if it [the ministry] is good or bad," he said.
A worry for ethnic minorities is that the ministry may reduce their influence in parliament. Critics have raised concern that the affairs of ethnic people will no longer have a platform in parliament and will be moved into the ministry. If that happened, they said, the Ministry of Ethnic Affairs would have little impact on the federalism issue.
U San Yu Kyaw, a columnist who is often critical of the 2008 Constitution, said the Ethnic Affairs Ministry would be under the president "which means working under the administrative pillar".
He said it would be better if all issues involving ethnic affairs were discussed in parliament because that was where the members of ethnic groups were represented.
Who will be the minister?
The decision to create the ministry has led to speculation among ethnic leaders and political party leaders over who will be appointed minister.
In the new parliament, Suu Kyi has appointed Mon, Chin, Rakhine, Kayin, and Kachin to important positions. President-elect Htin Kyaw is a Mon, and Vice-President-elect U Henry Van Thio is a Chin. U Aye Thar Aung, a Rakhine, has been named deputy speaker of the Upper House, while U Mahn Win Khaing Than, a Kayin, is speaker of the Lower House, and its deputy speaker is U Ti Khun Myat, a Kachin.
Notably absent from the list of appointees is a Shan.
"He or she [the ethnic affairs] minister should be someone who is competent and is genuinely interested in ethnic affairs," said Pe Than, He suggested that suitable candidates to head the ministry include the head of the Shan Nationalities League for Democracy, U Khun Htun Oo, ANP chairman Dr Aye Maung, and U Naing Ngwe Thein, chair of the Mon National Party.
As discussions continue on a national ceasefire agreement, some analysts say the ministry could play an important negotiating role between armed ethnic groups and the new government.
Federalism analyst Salai Mang expressed concern that the ministry might not be effective in representing the interests of ethnic nationals.
"The ministry should basically focus on reforming the political environment for ethnic people and on federalism; I'm worried that it's being created to placate ethnic people," he said.