The military and its allies are turning to pamphlets and newspapers to spread hate speech and disinformation, targeting areas that have been under an internet blackout for months.
By ANDREW NACHEMSON and FRONTIER
In late November, as military helicopters droned over their heads, residents of rural Sagaing Region were treated to an unusual sight. Instead of bombs, thousands of pieces of paper fluttered to the ground in a different type of attack.
The falling pamphlets claimed that the Organisation of Islamic Cooperation, a favourite bogeyman of the military and Buddhist nationalists alike, was working with the overthrown National League for Democracy to incite Buddhists to kill each other in Myanmar. The OIC was funding the NLD and "runs it behind the scenes", the pamphlet claimed.
"The OIC is spreading propaganda, insulting religion and financing the killing of monks and Buddhists. Today, more than 10 percent of Burma's population is Muslim. They will be happy that Buddhists are killing each other," it stated, attempting to draw on long-running anxieties over Muslim influence and population growth.
The 2014 census estimated that there were around 2.2 million Muslims in Myanmar, making up about 4.3 percent of the population. That percentage has almost certainly fallen since then, as some 700,000 Muslim Rohingya were violently driven from the country in 2016-17.
Disproving such claims should therefore be easy, but the pamphlets are being dropped in areas of Sagaing Region where the military regime has imposed an internet blackout in response to fierce resistance from civilian militias.
At least 22 townships – most of them in a contiguous zone stretching from southern Sagaing region through northern Magway region and into Chin State – have been without internet since late September.
Although other areas of the country do have internet access, users still have to navigate various restrictions – often with the help of VPNs – that the military introduced after it seized power in a coup last February.
Amid these restrictions, the pamphlets dropped in Sagaing reflect a growing effort by the junta to leverage offline distribution methods to spread hate speech, disinformation and propaganda, much of it aimed at inflaming religious tensions.
This propaganda is hardly new. In 2017, Myanmar's military was accused of using Facebook to stoke hatred against the Rohingya Muslim minority during a campaign of mass murder and rape that some allege may amount to genocide. The OIC, an intergovernmental organisation meant to represent Muslim nations on the international stage, has been frequently cast as a shadowy cabal intent on causing chaos in Myanmar. While many supporters of the NLD also bought into anti-Rohingya and anti-OIC narratives, the pro-military figures usually went a step further, accusing the OIC and NLD of being in cahoots.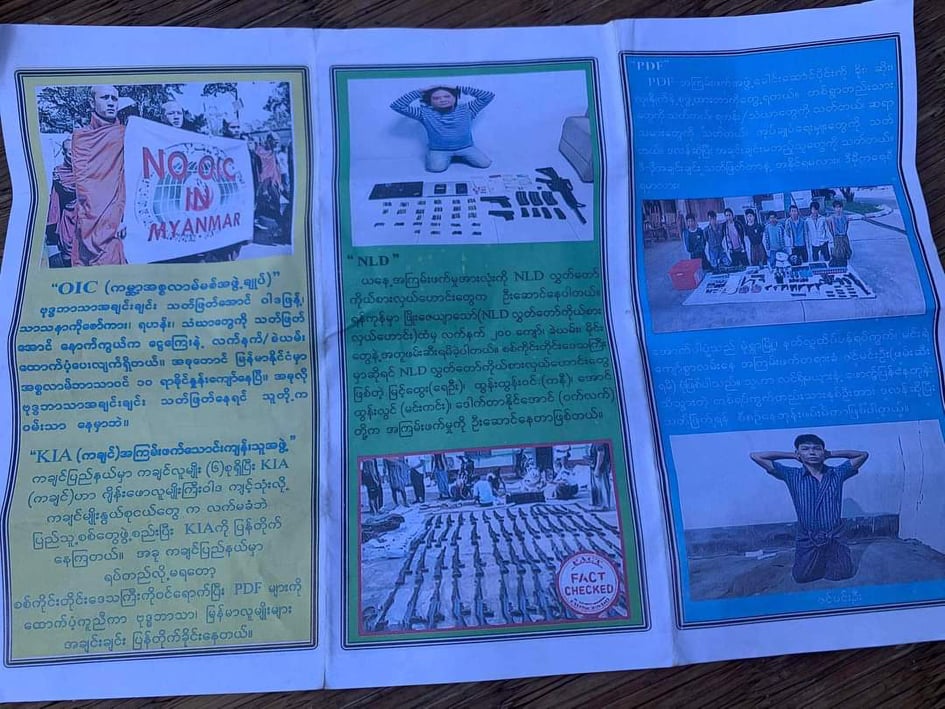 Disinformation falling flat
This time, though, most of the military's lies, including those published in state media, are falling on deaf ears.
Ko Maung Maung Pi, a communications officer for a People's Defence Force based in Pale Township – one of the townships affected by the internet blackout – said the junta has not only been spreading propaganda by dropping leaflets from helicopters but also posting fliers in public places, and sometimes handing letters out to pedestrians.
"I want to say that the people already know the truth, so I see their actions as unwise. This is not the way to build public trust… What they are doing is brainless," he said.
Maung Maung Pi said pamphlets were dropped from helicopters on November 30 and December 15 and distributed by hand on December 30. He said other fliers spread different propaganda narratives, such as one that accused the Kachin Independence Army of killing Buddhists. The KIA is an ethnic armed group that has strongly opposed the coup and has been reportedly training and fighting alongside PDFs – civilian militias formed in the aftermath of the coup to fight the junta – in northern Sagaing Region. Many of its leaders and supporters are Christian.
"The KIA is no longer able to stand on its own due to militia attacks in Kachin State and is now supporting PDFs in Sagaing Region to kill Buddhists," one pamphlet said.
As Frontier reported in July, in a seemingly coordinated effort, pro-military accounts spread false narratives on Facebook claiming that ethnic armed groups like the KIA were massacring PDF volunteers, in an apparent attempt to sow discord in the resistance movement and discourage more civilians from seeking training with ethnic armed groups. Similar messages aimed at undermining civilian support for PDFs appear to be moving offline in areas without internet.
A civilian in Sagaing's Myaing Township said that the first time military helicopters dropped the pamphlets, he picked one up and read it out of curiosity. "I didn't feel anything after reading those letters," he said, adding that it was easy to dismiss the religiously inflammatory allegations, because they seemed totally out of tune with what people could see was actually happening.
"What we are doing now is rebelling because they overthrew our elected government. It is not a religious revolt," he said. He theorised that the military has begun dropping pamphlets from helicopters because security forces don't feel as safe distributing information on the ground.
Mr Daniel Bastard, Asia-Pacific director for Reporters Without Borders, said these campaigns reflected the regime's lack of sophistication when it comes to propaganda.
"The generals clearly rely on old-style propaganda, which consists in hammering their narrative, regardless of the medium. In this regard, I'm not sure a large part of the Myanmar population actually 'buys' the junta's disinformation," Bastard said.
He said he doesn't think disinformation in print media is more dangerous than other forms.
He said digital media remains "potentially much more dangerous" because algorithms on social media platforms like Facebook "tend to create information bubbles that automatically exclude counter-narratives and fact-checking". Bastard said this dynamic "proved disastrous" during the Rohingya crackdown and called for global social media platforms to be "more transparent and responsible regarding their algorithms".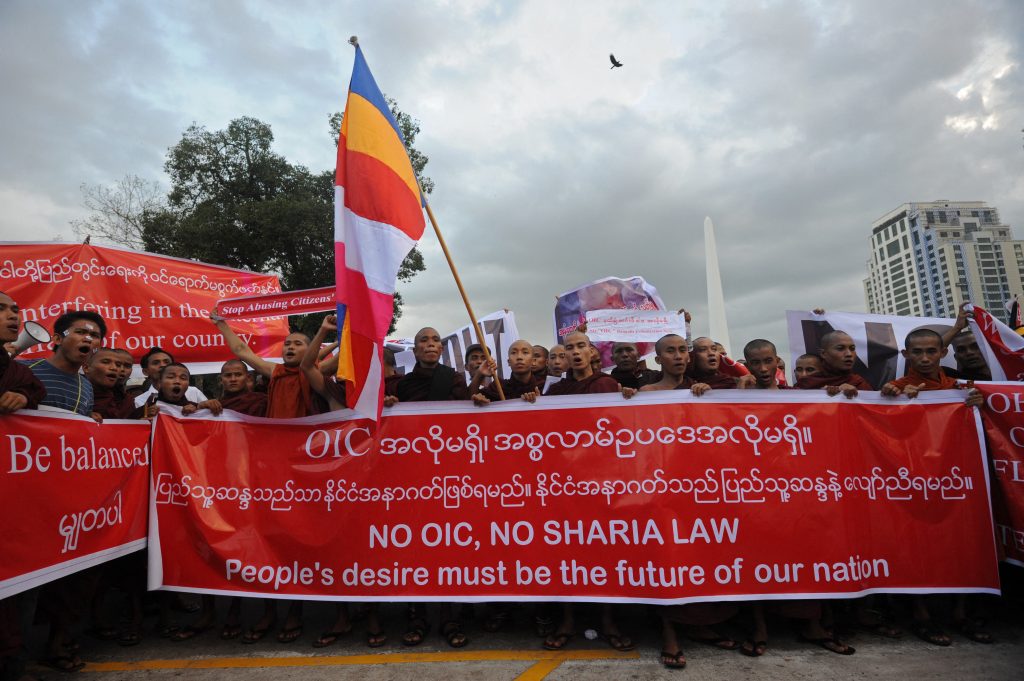 Printing propaganda and conspiracies
Military allies have also been using traditional forms of print media, such as newspapers, to spread disinformation and hate speech, including levelling death threats against Rohingya Muslims.
Two of the most extreme outlets are Myanmar Guardian News Journal and Golden Hand News Journal, both of which appear to have links to the military or its proxy Union Solidarity and Development Party.
The former has emerged as a platform for U Nay Zin Latt, a retired soldier and one-time advisor to former president U Thein Sein, who served from 2011-2016 as head of the military-aligned USDP government.
Myanmar Guardian appears to have been launched in the months following the coup – at a time when many independent media outlets were banned, dozens of reporters were arrested, and some even killed. The journal publishes once a week, and its tenth edition was released on December 27, making it about four months old.
That edition featured an article by Nay Zin Latt that attempted to discredit ousted State Counsellor Daw Aung San Suu Kyi, who remains in military custody, accusing the Oxford graduate of being "uneducated" and a "high heel dictator".
Nay Zin Latt argued that the NLD's refusal to ally with ethnic parties prior to the 2020 election would have prevented it from being able to form a government without "vote rigging", essentially repeating the military's justification for staging a coup. While the junta has insisted the NLD won the 2020 election on the back of voter fraud, it has produced no concrete evidence to support this allegation despite a year-long investigation, and domestic and international election observers reported no large-scale irregularities.
An author named Ne Win Than also wrote an article on the supposed illegal immigration of Bangladeshis into Myanmar. Ultranationalists have long falsely claimed that the Rohingya are recent arrivals in Myanmar, despite most of them having lived in Myanmar for generations.
Referring to them by the derogatory term "Bengali", he pointed out that there has been an increase in Rohingya being arrested while traveling in Myanmar. He claimed, without providing evidence, that Rohingya smuggled into Myanmar were arrested by the NLD government but then released into Rakhine. He also said Rohingya arrested in Yangon were released and allowed to move freely, again without evidence. In reality, the Rohingya have long been subjected to extremely harsh restrictions on movement, including under the NLD government, because most of them lack citizenship documents.
The article also suggests that the recent arrests of Rohingya indicate a new influx into the country. But a 2021 report by the UN Refugee Agency stated that Rohingya travelling by boat are typically attempting to leave Myanmar or refugee camps in Bangladesh to seek asylum elsewhere, most commonly the Muslim-majority countries of Malaysia and Indonesia.
Nay Zin Latt also recently wrote a book, called The Enemy of the State that is riddled with conspiracy theories, mostly targeting Hungarian-American billionaire and philanthropist George Soros. Oak Soe San, the chief editor of Myanmar Guardian, is listed as the manager of the book, while Daw Kala Yar served as publisher of both the book and the journal.
The book claims that Soros is receiving billions in funds from the Central Intelligence Agency and is "secretly plotting to overthrow" 110 governments around the world. He accused Soros and the US of spending US$1 billion and $950 million, respectively, to support the NLD in the 2015 election.
Frontier could find no reporting related to the $1 billion figure, and Nay Zin Latt provides no source for the number, but the $950 million figure is demonstrably false. The US embassy said in 2019 that it had provided over $950 million to various causes in Myanmar over the previous seven years, beginning long before the 2015 election, including non-political issues such as farming technology and humanitarian aid to displaced people across the country.
Soros' Open Society Foundation operated in Myanmar prior to the coup, but after the military takeover was accused of financial misconduct by the junta. The military regime detained one staffer, issued arrest warrants for others and seized assets belonging to the organisation.
"Their ultimate goal is the destruction of Myanmar," Nay Zin Latt said of Soros and the US, also alleging that Aung San Suu Kyi was "paid to destroy the country".
A spokesperson for Open Society did not respond to the accusations in detail, but said they were "all false".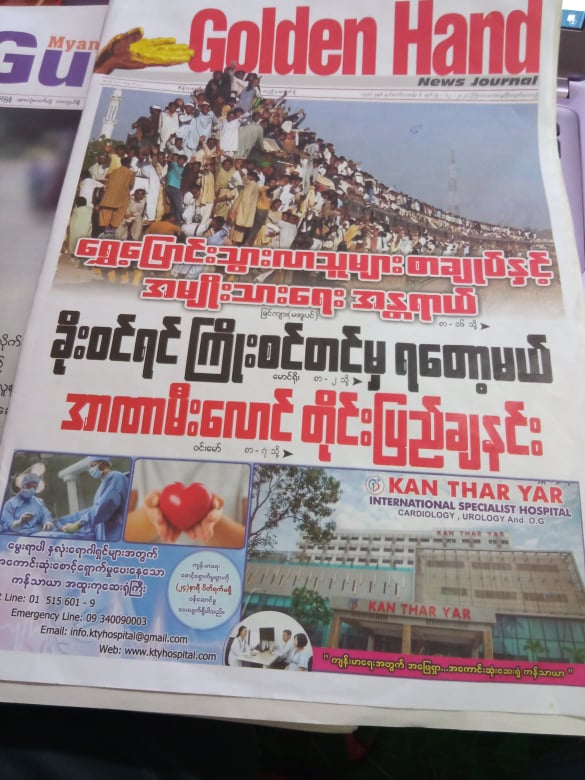 'All intruders must be hanged'
The other journal, Golden Hand, is a mouthpiece for U Hla Swe, an ultranationalist former USDP MP who goes by the nickname "Bullet", because of threats he made against the KIA while speaking in parliament in 2013. Frontier was able to pick up a copy of Myanmar Guardian, Golden Hand and The Enemy of the State all at one location in Thingangyun Township, listed as the address for Golden Hand.
Golden Hand, which is published every Wednesday, features advertisements from military-backed companies. Although it has been around for at least three years, the outlet has become increasingly bold in pushing anti-Muslim conspiracies, including publishing outright death threats.
"All intruders must be hanged," reads an article by a writer identified as Maung Yoe on December 8, who also claims the OIC is working with the United States to destroy Myanmar and to establish a separate "Islamic state in Burma".
In a sign that the paper may have official backing from the junta, the December 8 edition carried an advertisement for the Kan Thar Yar International Specialist Hospital, based in Yangon. According to activist group Justice For Myanmar, the hospital was opened by junta chief Min Aung Hlaing and is under the control of military conglomerate Myanmar Economic Corporation.
Although not named on the paper's staff list, multiple vendors told Frontier that the man behind the outlet is Hla Swe, and the publication features weekly speeches and poems by the retired lieutenant-colonel, including one on December 8 that insists there are only 135 ethnic groups in Myanmar – a reference to policies that in practice exclude the Rohingya from obtaining citizenship.
Hla Swe served as an MP for the military proxy USDP before losing his seat to an NLD candidate in the 2015 election. He was then arrested for sedition after calling for the United States to bomb and kill Myanmar's state leaders during a rally in 2019 but was released in May 2021 after the coup.
The journal lists 16 employees, including a chief editor, translator and five journalists, but none of the stories from the December 8 edition were written by the listed journalists. The edition contained 25 articles, three of which were translated international news items. Of the remaining 22, five targeted the Rohingya.
Neither Myanmar Guardian nor Golden Hand responded to requests for comment.
"Since the coup we have been afraid that the military would play the anti-Muslim, anti-Rohingya cards as a way of trying to divert public attention. We have seen the release of prominent anti-Rohingya nationalists, and a return to the routine use of racist language in state and other media," said prominent Rohingya activist U Tun Khin.
Tun Khin said while these are alarming moves, he also thinks the military's disinformation has become less effective since the coup. "I don't think [the] military can influence [the] public now. I have seen most people stopped believing [the] military," he said.
While many in the pro-democracy movement previously sided with the military during the Rohingya crisis, the coup has initiated a re-evaluation of the anti-Rohingya narrative. The National Unity Government, a cabinet appointed by lawmakers elected in the 2020 polls that the NLD won in a landslide, has pledged to grant Rohingya citizenship, a deviation from NLD policy.
Tun Khin praised the NUG for taking "some positive steps" on the Rohingya issue but said the parallel government has been mostly focused on "showing the international community that they have more progressive policies".
"They have not yet done much to try to educate their own constituency and challenge anti-Rohingya and anti-Muslim prejudice that is so common in Myanmar," he added.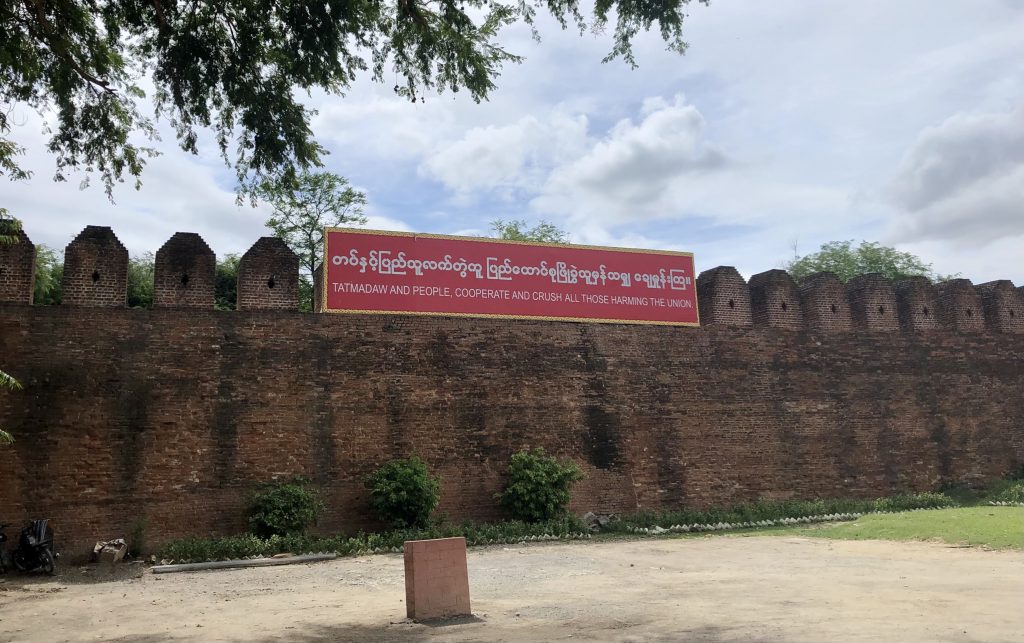 A history of disinformation
Bastard from Reporters Without Borders said the military has a "long history" of spreading disinformation through newspapers. During the 2007 protests dubbed the "Saffron Revolution", the military regime cut the internet nationwide for several weeks and pro-junta print media was "full of lies", Bastard recalled.
The military has also used other forms of print propaganda.
In 2018, the military published a book attempting to justify its crackdown on the Rohingya, called Myanmar Politics and the Tatmadaw: Part I, which contained false information and images taken out of context. One picture, which the book claimed showed Buddhists being murdered by Rohingya (referred to as "Bengali"), was actually taken during Bangladesh's 1971 war of independence with Pakistan. Another claimed to depict thousands of "Bengali" intruding into Myanmar, but was actually a picture of Hutu refugees fleeing Rwanda in 1996.
At that time, the military was able to use disinformation to rile up hatred against the Rohingya and portray itself as the protector of the nation, even convincing many pro-democracy figures. In 2017, Aung San Suu Kyi encouraged the public to "listen to the news on MRTV" in regard to the Rohingya crisis, referring to the state television broadcaster. NLD officials have since said they were misled because they based their response in Rakhine on information provided by the military.
In early February 2021, as state media pumped out pro-military propaganda, protesters descended on the MRTV offices in Yangon, holding signs declaring MRTV and the military-run Myawady TV as "fake news".
Another common military tactic is to hang up giant propaganda banners in public places, like one in Mandalay in 2020 that read: "Tatmadaw and people, cooperate and crush all those harming the union". That banner was posted outside the Mandalay Palace, which houses a military base.
This too is a time-tested tactic. A 2006 article by news website The Irrawaddy bears a similar photo of a red banner with the phrase: "The Tatmadaw shall never betray national causes". But to many in Myanmar, the military has betrayed the nation itself by staging a coup.
"They are totally desperate, they have run out of all their tactics," said Dr Sasa, spokesperson for the NUG. "The brave people of Myanmar understand who is working for them, who is defending Myanmar and who is killing them everyday – destroying [the] whole nation by their blood-stained battlefield weapons."