Informal schools in Thailand are providing opportunities for Myanmar people to acquire skills that will enable them to make a positive contribution when they return home.
By TIFFANY TENG | FRONTIER
Naw Maybel Htoo has just been admitted to Thailand's Chiang Mai University. Getting there has been a long journey for the 28-year-old, who has spent many years as an undocumented refugee at camps in Thailand.
Maybel Htoo left for Thailand in 2000 from a Kayin community in the Ayeyarwady Delta and stayed first at Mae Khong Kha refugee camp in Chiang Mai Province. After it closed in 2004, she moved to Mae La Oon camp in Mae Hong Son Province, where she spent a year, before moving to Noh Poe camp in Tak Province.
Now a documented refugee, after graduation she hopes to return to her hometown in the delta to help its youth, women and farmers by establishing a community centre.
For the past year, Maybel Htoo has attended classes in Chiang Mai at the BEAM Education Foundation, which was established in January 2010. The two-year bridging course, specifically targeted at refugees in the kingdom, allows them to study for a General Education Development certificate. It is an internationally recognised test that allows refugees to apply for universities and scholarships, because they cannot attend Thai government schools.
Of the 150 students that have benefited from BEAM's program, 57 are attending universities in Thailand, Hong Kong, Cambodia and the Philippines. Others have become teachers or healthcare workers.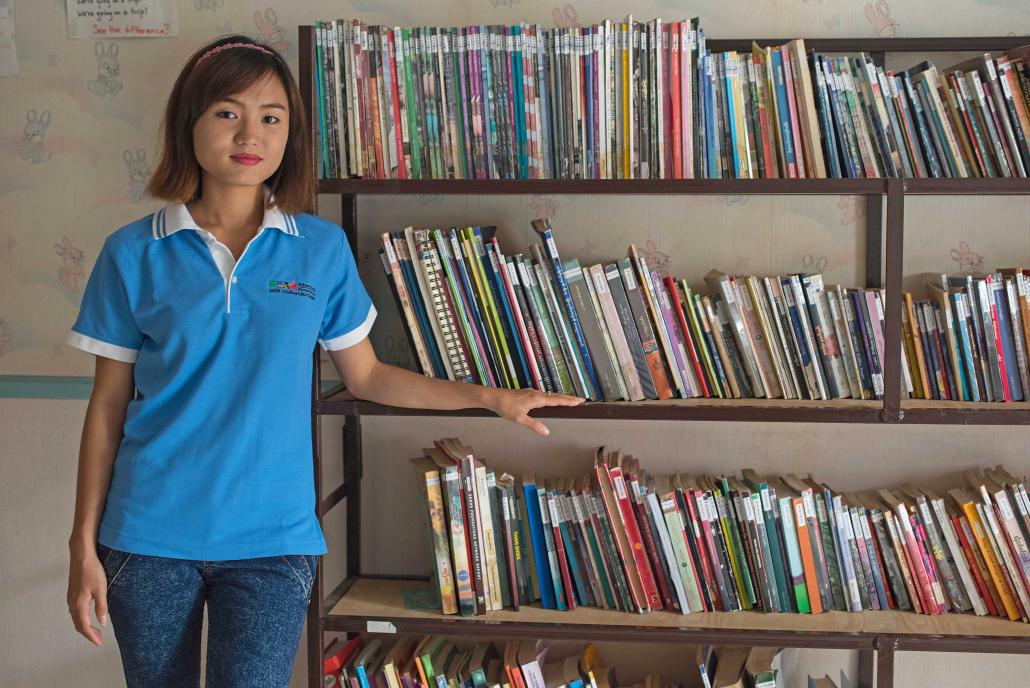 BEAM also has a vocational training centre that teaches computer, tailoring and other skills. Ma Awng Ra, 37, finished BEAM's vocational training program in 2014 before returning to her community, a camp for internally displaced persons in Kachin State. Earlier this year, she began teaching dressmaking at the camp.
Refugees are unable to participate in the Thai education system, so schools such as those run by BEAM, which stands for Bridging Educational Access to Migrants, are usually the only option for those who want to attend university. Funding from NGOs and donors means the community-based schools are often able to provide free tuition. BEAM is funded by the Child's Dream Foundation, a non-profit established in Thailand in 2003 that also helps marginalised youth and communities in Myanmar, Cambodia and Laos. Students at BEAM contribute THB100 (about K3,400) a month, although there is a waiver for those who cannot afford it.
Thailand has not ratified the 1951 Refugee Convention and does not recognise refugees, who are among the most marginalised people in the kingdom because they lack access to formal education, healthcare or voting rights.
The only education that refugees receive is provided by NGOs. Without accreditation from the Thai government, refugees do not have consistent, continuous education.
The United Nations High Commissioner for Refugees partners with Thai government officials and NGOs to assist 107,321 Myanmar refugees at camps along the border. BEAM's director, U Kyaw Kyaw Min Htut, believes there are about three million Myanmar migrant workers in Thailand, about half of whom are unregistered. Myanmar's Ministry of Labour, Immigration and Population has registered 1.8 million migrant workers in Thailand.
Kyaw Kyaw Min Htut, who has observed that about 70 percent of the migrant population is aged between 18 and 30, said that both Thailand and Myanmar would benefit if sustainable, long-term education was available for Myanmar migrants.
"The basic benefits for both countries from educated migrants is security and productivity," he told Frontier. "Education is a primary investment," he said.
Kyaw Kyaw Min Htut has responded to the issue by founding the Migrant Education Integration Initiative, a network of schools for Myanmar migrants in Thailand of which BEAM is one of 17 participating organisations. The network operates in association with organisations such as the Burmese Migrant Teachers Association and the Ranong Education Working Committee.
In the busy border town of Mae Sot, opposite Myanmar's Myawaddy, the Minmahaw Higher Education Program provides services similar to those of BEAM. Since its inception in 2007, 35 students have graduated, 10 of whom are attending universities in Thailand, Hong Kong and the United States. Others have found jobs in Thailand or along the border.
Although BEAM and Minmahaw are open to all ethnic groups, the Karenni Social Development Center, at Ban Nai Soi in Mae Hong Son Province, is dedicated to refugees from neighbouring Kayah State. Classes are free at KSDC because it is supported by several NGOs.
"The [Myanmar] government needs to recognise our students in and accept them as citizens," said U Myar Reh, the Kayah principal of KSDC. "They are very confused about their future. We need a compromise between the old and new [Myanmar] government for the Karenni [Kayah] people, for peace in the future," he said.
Ma Pa Pa Moe, a recent graduate from KSDC, fled her Kayah State village to the Ban Nai Soi camp in 2010. She completed 10th grade at the camp school before attending KDSC.
"Studying at [K]SDC changed my life. I learned political ideologies like democracy, became more confident, and understood how to solve our daily conflict in a non-violent system. Now I know how to be a good active citizen," said Pa Pa Moe.
She works as a human rights trainer at KSDC and enjoys being able to share her knowledge of refugee rights and conflict resolution with the school's students.
Most students at BEAM, Minmahaw and KSDC are legally registered as refugees in Thailand, but still face challenges involving passports, visas and work permits that can affect their education.
Kyaw Kyaw Min Htut said that although BEAM has a positive relationship with the Thai government, outcomes are often unpredictable.
Maybel Htoo said policy changes can happen without notice.
"As Thailand's government threatens to crack down on illegal migrants after the labour registration deadline of July 29, students could face stricter employment guidelines as the labour department focuses on migrant worker management," she said.
BEAM and the other schools in its network are trying to make the transition from study to finding employment easier for their students, something that requires cooperation from the Thai and Myanmar governments.
"The GED is not ideal, so we have worked with [Thailand's] Office of Non-formal and Informal Education to develop a curriculum that focuses on topics relevant to [Southeast Asian] nations rather than American history and economics," said Kyaw Kyaw Min Htut.
In many ways, the students at migrant learning centres are fortunate. Myanmar migrants, particularly those aged between 18 and 30, do not have access to the education they need for better jobs or to be accepted into university. As institutions such as BEAM continue to develop relevant standardised curricula, their students struggle to balance classes, work and visa issues. But realising their dreams is worth the extra effort, the students believe.
"Many of [the students] are older than I am, so I was worried, but they are so respectful and excited to learn," said Ms Melody Wei, an American teacher at BEAM. "For a whole year, I lived on the same street as the school, so I spent weekends with them, organised field trips, book clubs and movie nights … any opportunity to get to know them better," she said.
Myanmar migrants in Thailand are likely to become among the key decision makers in Myanmar in the future, said Kyaw Kyaw Min Htut.
"Both these countries need these migrants, but they are much more valuable if they are educated," he said.
Alternative education has paved a hopeful path for students such as Maybel Htoo and Pa Pa Moe. Instead of languishing in a camp, they have acquired the skills needed to pursue their dream of attending university or starting a business. There is no question that students who attend schools run by organisations such as BEAM, Minmahaw and KSDC are better equipped to contribute positively to their homeland should they decide to return to Myanmar.
Top photo: A student exits the BEAM Education Foundation in Chiang Mai, Thailand. (Vincenzo Floramo / Frontier)