By CLARE HAMMOND | FRONTIER
NAY PYI TAW – The production of synthetic drugs in the Mekong Region – and Myanmar in particular – has reached "alarming levels", the United Nations said today as regional anti-drug authorities meet to negotiate a new strategy.
Methamphetamine seizures in Cambodia, China, Lao, Myanmar, Thailand and Vietnam have risen almost seven-fold since 2008, while opium poppy cultivation has fallen over the same period. Mr Jeremy Douglas, regional representative of the UN Office on Drugs and Crime, said today that this showed a fresh approach to policing and cooperation was needed.
Last year, some 450 million low-grade "yaba" pills were seized in the region, he said, which he estimates is a low-single digit fraction of the total produced, while several Mekong countries have already surpassed 2017 seizure totals just a few months into 2018.
Production will rise further as demand for methamphetamine in both its pill form, known as "yaba", and high-purity crystal meth increases sharply in both China and Indonesia, the two countries with the largest populations in the region. The price of pills has also fallen, signaling an oversupply, as producers seek to build demand in regions such as Bangladesh by flooding them with affordable drugs.
Large volumes of meth are now also being seized as far away as Australia, New Zealand and Japan. The majority of these flows trace back to northern Shan State and specifically to the Wa autonomous region, Douglas told Frontier.
"The increase in supply coincides with a convergence of transnational organised crime and ethnic armed groups [in Myanmar]," he said. "It's a merger of interests: one side needs money flow and [the other] needs territory to produce their product where they are not going to be hindered by law enforcement."
Syndicates connected to China, Hong Kong, Taiwan and Thailand are basing their operations not only in Wa territory but also in other regions of northern Shan in which non-state actors have established autonomy, he said.
This is a problem because Myanmar's police are operationally ineffective in areas controlled by ethnic armed organisations.
Record seizures, poor enforcement
The government is not ignoring the issue. In February it published the first two reforms to its legal framework on drugs in decades: an amendment to the 1993 Narcotic Drugs and Psychotropic Substances Law and a National Drug Control Policy, developed with support from the UNODC.
Police have also reported record seizures, including 30 million "yaba" pills and over two tonnes of crystal meth and heroin in Kutkai Township in January. AFP reported that the $54 million cache was the biggest drug bust recorded in Myanmar.
Seizures of pills nationally have increased by a factor of 67 since 2008, according to the UNODC. But this is partly a reflection of the increase in supply and is likely to represent just a fraction of the volume produced on the border, Douglas said.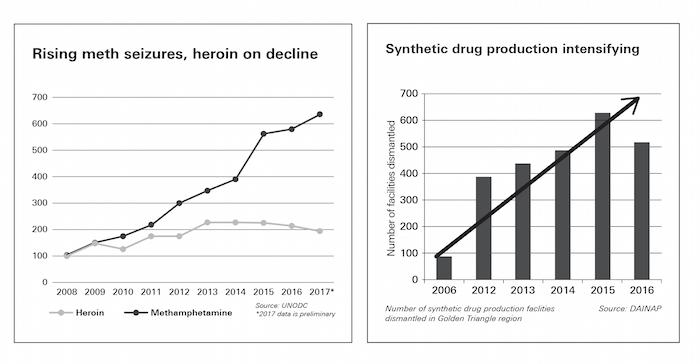 Poor enforcement is also due to a lack of capacity: the Myanmar Police Force's Central Committee for Drug Abuse Control, with a strength of just over 1,000, is small, compared both to other anti-drug units in the region and in relation to the complexity and scale of its responsibilities.
There are also questions around the complicity of Myanmar authorities, including the military, which controls the home affairs ministry and the police: earlier this month, for example, a Tatmadaw private was arrested in northern Rakhine State with $3.6 million in Wa-produced meth. Last October two soldiers were detained in the same area with almost 2 million Wa-made pills.
Talks around combating organised crime and the production of meth must form part of a larger political discussion that also considers how the drug economy is contributing to conflict, Douglas said.
Until then, authorities are likely to focus on measures to better detect and halt the flow of precursors, such as ephedrine and pseudoephedrine, into Myanmar from neighbouring China and India. This is important because while the flow of meth has expanded exponentially, precursor seizures have dropped.
Deputy Minister for Home Affairs Major-General Aung Soe said talks in Nay Pyi Taw over the next two days would focus on "a regional precursor strategy that will slow the supply of chemicals and pharmaceutical products into drug producing areas of the Golden Triangle".
Anti-drug officials will also discuss law enforcement, justice, health and alternative development strategies and will review the success of their earlier strategies. They will then visit Shan State to meet communities engaged in opium production and to discuss how to scale up support programs.