One of Myanmar's finest teak monasteries is being painstakingly restored to its resplendent glory with funding assistance from the United States.
By LOREN LEE CHIESI | FRONTIER
JUST A five-minute rickshaw ride from downtown, in the northeast quarter of the Royal Palace complex, nestled among tall, leafy trees, is one of Mandalay's rarest treasures: the Shwenandaw Kyaung.
Known in English as the Golden Palace Monastery, the kyaung (Burmese for "monastery") was built in the 19th century and is regarded as the finest surviving example of traditional teak craftsmanship in Myanmar.
The kyaung has graced a number of addresses in and near Mandalay since it was built in the late 1830s during the Konbaung dynasty (1752-1885).
It was originally part of the royal palace at Amarapura, just south of Mandalay. But after the Second Anglo-Burmese War ended in 1853 and King Mindon assumed the throne, he relocated the capital – and with it the wooden monastery – to Mandalay in 1857. Mindon had a special fondness for the monastery and used it as his living quarters until his death in 1878.
His son and successor, King Thibaw, is said to have often meditated in the kyaung but came to believe it was haunted by his father's spirit and had it moved to its current site near Mandalay Hill.
The final relocation of the monastery proved to be fortuitous. Seven decades later, Japanese troops occupied the Mandalay palace compound during World War II and it was bombed by Allied forces, razing priceless examples of teak craftsmanship, carpentry, gilded plating, traditional lacquer painting and exquisite glasswork.
The relocation ensured that the monastery was preserved for posterity and it is today a popular attraction. The entrance fee for foreigners to the Shwenandaw Kyaung is included in the K10,000 Mandalay Archaeological Zone ticket, while entry is free for Myanmar citizens.
But time and neglect have taken their toll on Mindon's beloved monastery. Until the mid-1990s, the monastery was under the guardianship of resident monks who could do little to properly maintain the once-splendid kyaung.
In 2012, a New York-based non-profit organisation, the World Monuments Fund, proposed launching a teak monastery conservation program in Myanmar with support from the US State Department through the US Ambassadors Fund for Cultural Preservation. The initial AFCP grant funded work by a skilled team that included Myanmar and international engineers, a master carpenter, site supervisors and consultants. In 2014, the arduous archaeological task of restoring, preserving and conserving the monastery site began under WMF's Myanmar director, Mr Jeff Allen.
During a recent visit to the monastery, Frontier met Ms Urszula Strugala, the WMF's chief consultant conservator for the Shwenandaw Kyaung project. Her team of civil engineering interns from the Technological University of Mandalay was working with painstaking care on preserving an elaborate lacquered teak panel.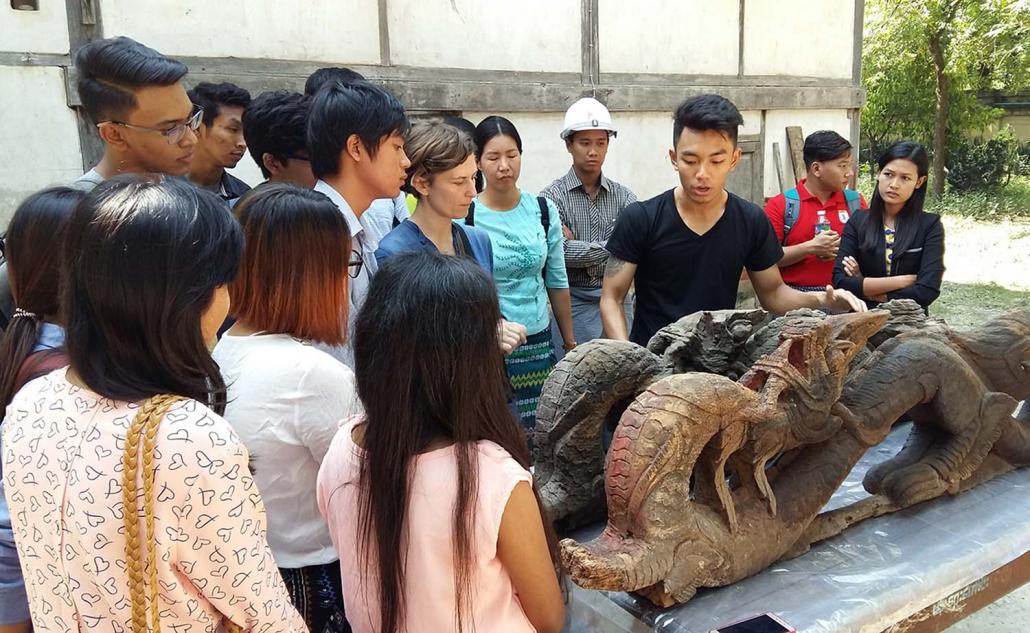 Ma Thandar Phyo, said it would take 15 days "without any interruptions or rain" to restore the two-metre-long panel using instruments and brushes as fine and delicate as those used by dentists.
Much of the original materials used to decorate the kyaung remains visible and includes its deep crimson lacquer. A mix of sap resin, vermillion and mercury, it coats parts of the veranda, garuda and dragon statues, and exterior relief carvings of mythological creatures, minthar dancers and flowers. Inside the monastery, teak pillars still bear some of the authentic gold plating that Strugala believes once adorned all of the building's dim but glorious interior, where prized Mandalay glass mosaics reflect errant beams of light.
A glass throne in which Mindon sometimes conducted affairs rests among other relics of his era on a raised platform, watched over by young monks.
The care and attention needed to restore the monastery to its resplendent beauty is one reason why the project is not expected to finish until early 2022, barring major interruptions or a lack of funding. Termites, mould and poor drainage are major challenges for restoration, but the project also faces other less obvious difficulties. Allen said sourcing quality teak and other building materials has not been easy because of the effects of deforestation.
The project also needs to expand its public outreach to support greater participation in the conservation work and invest in capacity-building and training. There is no academic program in Myanmar specialising in archaeological preservation, Allen added.
Mandalay has skilled craftspeople and a deep and rich appreciation of the city's history and heritage, but until there is a pool of talented young professionals with the skills needed for conservation projects such as that at Shwenandaw Kyaung, international collaboration may be the best solution.
"The true value of success won't be measured at the time the project ends," Allen told Frontier, "but in the decades after we have gone."
TOP PHOTO: A restoration team assistant uses an antifungal solution to prevent mould and other decay from rotting the interior slab of a decorated teak plank from the west side of the temple wall. (Supplied)