The Mandalay real estate market is in the doldrums and the reasons include factors special to the former royal capital, such as a downturn in the gems trade and a crackdown on drug trafficking.
By KYAW PHONE KYAW | FRONTIER
The contrasts between Mandalay and Yangon are many and varied but the country's two biggest cities have in common a flat real estate market in the aftermath of sky-rocketing prices.
Real estate brokers in Mandalay say that while property prices there have followed a similar pattern to those in Yangon, factors special to the former royal capital have also had a big effect on the market.
"The market started to shake up in 2008 and since then prices have risen more than 10 times," U Kyaw Win, managing director of the Man Myay Yar Zar real estate company, told Frontier.
Prices peaked in 2013 but in late 2014 the market went quiet and it has stayed that way, said Kyaw Win, who is also chairman of the Mandalay Real Estate Services Association.
"Even though the market is quiet, prices have not gone down. Most people do not want to sell their land for a low price and are standing firm," he said.
Real estate brokers in Mandalay said there was little activity in the market except for land costing less than K100 million (about US$83,000).
They said one reason for the flat market was a fall in sales at the Mandalay gem market that had affected the ability of jade and gems traders to pay high prices for real estate.
Another reason was the 2012 Farmland Bill that allowed farmers to legally sell their land. It resulted in many farmers around Mandalay selling land for real estate developments that led to a market surplus, they said.
An increase in the tax on real estate transactions during the previous government from 15 percent to 37 percent hit the market hard, they said. Market sentiment was also affected by caution among property investors over the political transition to the National League for Democracy government.
"Nobody knows what will happen under the NLD government and that's why everybody wants to wait and see," said U Nay Lin Aung, managing director of Shwe Mandalay real estate services company.
"If you want to sell your property you need to be prepared to reduce the price by about 25 percent," he told Frontier.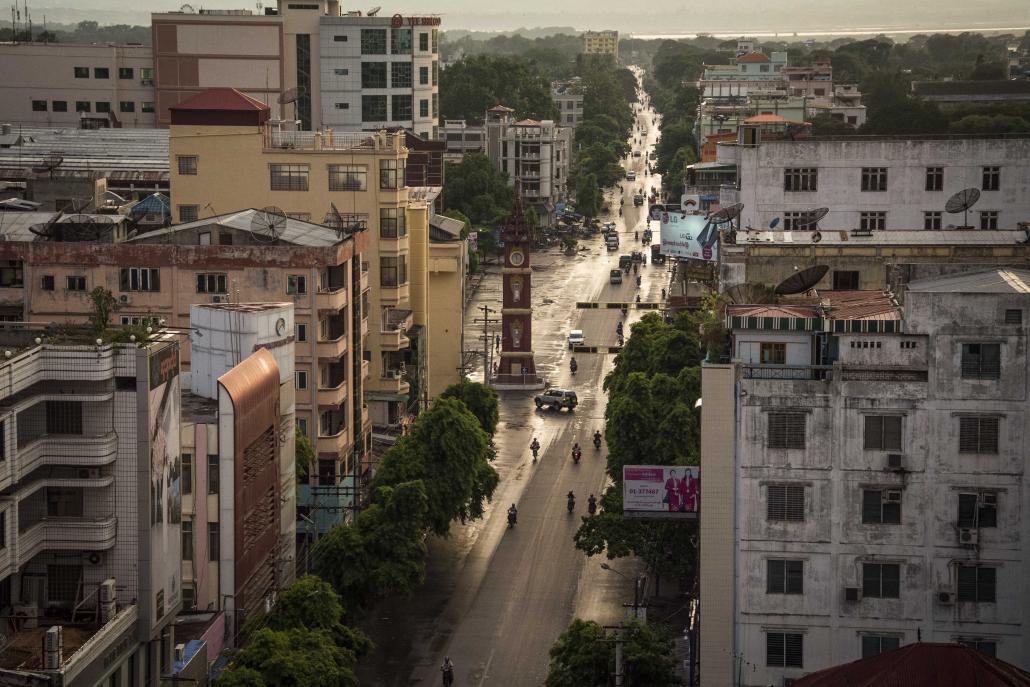 Real estate broker Ko Aung Thura told Frontier that he believed a crackdown on the drug trade was another reason for the depressed market in Mandalay.
"There is a big link between the drug trade and real estate market," Aung Thura said.
"Drug dealers are often arrested with huge amounts of drugs, and this is a key factor why the market is down because they have big money to invest and they don't care about prices," he told Frontier.
Big projects under construction in and around Mandalay are also having an impact on the market. They include the city's Mya Yi Nandar low-cost housing project involving 5,000 apartments, the 530-acre Jade Garden Project that will have shophouses, hotels and a gem market and the Taungthaman Thitsar company's model village and resort project on 40 acres near famous U Bein Bridge at Amarapura.
The condominium law passed in late January that allows foreigners to buy up to 40 percent of a condominium's units is expected to contribute to a revival of the market in Yangon, but will have no effect in Mandalay, at least for the time being.
"Mandalay has no condominium projects and this is worth mentioning because of how it affects the market," said Nay Lin Aung.
Market sources and residents say the average cost of a 2,400 square feet (about 223 square metre) plot in a desirable area of Mandalay is about K1.8 billion (about US$1.5 million), or about $600 a square foot.
Asked when they expected the market to begin showing signs of a recovery, real estate brokers in Mandalay said they had no idea.
"The gods only know when it will be a good time again for the market; everything depends on the new NLD government," said Kyaw Win.
"Even after the NLD government takes office, I think there will be no changes in the market within a year," Nay Lin Aung said.
Thet Mon Phyo said there was potential for a shake-up in the market within a few months of the new government taking power.
However, she said any such shake-up could involve market manipulation.
"Some people will say the new government will bring good investment opportunities and they will play with the market by buying a few plots at high prices to give the impression it is active again and selling them to unsuspecting buyers," Thet Mon Phyo said.
When a recovery occurs, all those interviewed by Frontier said Mandalay's southern and southeastern areas had the best real estate potential because of the easy availability of land at cheaper prices than in other parts of the city.
Hopes expressed by real estate agents and land owners for an upturn in the market have coincided with media criticism that prices in big cities such as Mandalay and Yangon are beyond the reach of the growing middle class and the new government will need to respond to the situation.