At a fiery conference in Yangon, Ma Ba Tha leaders announced a change in name for the group and plans to enter formal politics through the registration of a new party.
By MRATT KYAW THU | FRONTIER
MA BA THA leaders have wasted no time in responding to a recent ban on their activities, announcing plans to rebrand and also expand into formal politics through the registration of a party through a surrogate organisation.
The plans were revealed at a conference in Yangon, during which Ma Ba Tha leaders mocked both the ban on their activities and Minister for Religious Affairs and Culture Thura U Aung Ko, and said they had no intention of shifting their focus.
On May 23, the country's leading clerical body, the State Sangha Maha Nayaka Committee, ordered the hardline Buddhist nationalist group to disband and remove its posters and signboards from across the country.
The decision came shortly before a planned conference in Yangon to mark the fourth anniversary of Ma Ba Tha, which is formally known as the Association for the Protection of Race and Religion. Following the announcement, the May 27-28 event was rebadged as a "special conference".
Ma Ba Tha leaders announced on the final day of the event that the group's name has changed to "Buddha Dhamma Parahita Foundation". All branches will be rebadged in the coming weeks.
But a prominent Ma Ba Tha member, Myazedi Sayadaw, made clear that the group had no intention of changing their activities as a result of the ban.
"We still have to achieve our goal. If there are obstacles on our route to get there, we will request that they be removed. If they won't [remove them], we will choose another way," he told the conference on May 27. "And if they will block us from all sides, we will step on them. So that we have to be strong."
Foray into politics
A new affiliate of Ma Ba Tha, the Dhamma Vamsanurakkhita Association of Myanmar, will establish a political party called the "135 Myochit Unity Party" to contest the 2020 general election, the association's chairman, prominent writer Maung Thwe Chun, announced to reporters.
"It's clear that just protesting is not enough so we have to establish a political party," Maung Thwe Chun said. "We will stand for nationalism, farmers and workers."
They hope to register the party within one month and have already begun mobilising Ma Ba Tha supporters in 22 townships to sign them up as members of the party, he said.
The Dhamma Vamsanurakkhita Association of Myanmar was established in 2014 as the Vamsanurakkhita Association and was renamed in March. It comprises supporters of Ma Ba Tha and has the group's official blessing, but does not include any monks.
The association's secretary is U Soe Tun Shein, a prominent businessman who owns the National Prosperity Company, which operates gold mines in Mandalay Region.
'Stop insulting Ma Ba Tha'
The two-day conference attracted more than 2,000 people from across the country, including firebrand monk U Wirathu, who travelled down from Mandalay for the event.
Unsurprisingly, discussion was dominated by the May 23 order from the State Sangha Committee, better known as Ma Ha Na.
During a question and answer session with the crowd, one monk in the audience asked Ma Ba Tha leaders whether they accepted the Ma Ha Na decision to disband Ma Ba Tha.
One then responded, "I have to ask the audience – do you like and accept that decision?" to which the crowd gave an emphatic "no".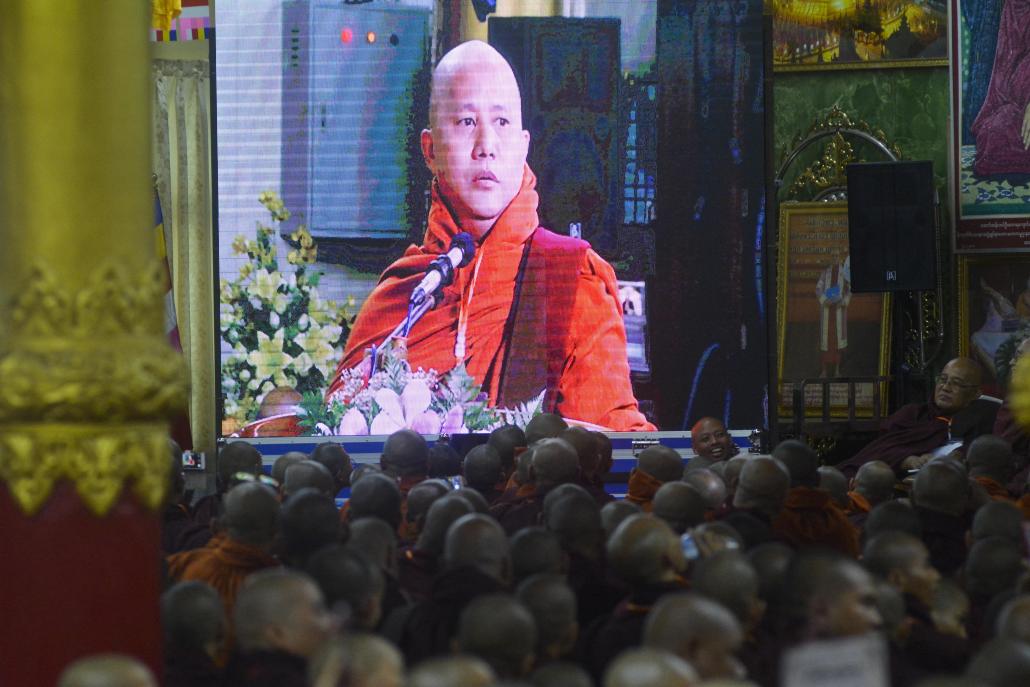 Central executive member Ashin Sopaka said the Sangha committee had suddenly changed its tune on Ma Ba Tha. When senior monks from the committee met Ma Ba Tha leaders in May 2014, he said, "they welcomed cooperation with Ma Ba Tha".
"But now I don't know why they've changed their opinion," he said.
Minister for Religious Affairs and Culture Thura U Aung Ko also came in for heavy criticism at the event, with Wirathu – who was recently hit with a one-year preaching ban by the Sangha committee – at one point indirectly calling him a "dickhead".
"Stop insulting the actions of Ma Ba Tha, whose members have been working with faith," said Wirathu, whose spirited speech drew loud applause from the crowd. 
He also responded to accusations from the minister that Ma Ba Tha had K5 billion in a bank account that it was using to fund its activities.
"Ma Ba Tha has two bank accounts. One is with AYA Bank and another is in Myawaddy Bank. It can be checked. There is only about K200 million in total," Wirathu said.
TOP PHOTO: Teza Hlaing | Frontier