High-end travel companies see huge development potential for one of the country's emerging destinations, but will that be a blessing or a curse for Kayin State's tranquil capital?
"This all used to be jungle," said Leila Nortier, general manager of the Hpa-An Lodge, as she showed me its meticulously maintained lawns and gardens.
The lush compound of luxury bungalows overlooked by soaring karst towers on the outskirts of the Kayin State capital, Hpa-an, has a saltwater pool, artificial waterfall and a gaggle of pet geese. With rooms from US$170 a night it is out of reach for many of the budget travellers heading to the town in increasing numbers.
As Myanmar's main tourist hotspots such as Bagan and Inle Lake become overwhelmed, luxury tour companies eager to promote new destinations see great potential in sleepy Hpa-an.
The surrounding area boasts mysterious caves, an enchanting mountain landscape and adventure activities, including kayaking and climbing. The attractions are part of the reason why Ms Nortier's hotel has been enjoying excellent business this tourist high season.
"We even have a waiting list actually so we are really, really full," she said. As the only high-end hotel in Hpa-an, it has a monopoly on travellers looking to spend more on accommodation.
The lack of accommodation in emerging destinations such as Hpa-an is frustrating for some in the industry. "There is only one good hotel in Hpa-an," said Lilli Saxer, the managing director of Diethelm Travel Myanmar. "If you want to promote certain areas you need more supply," said Ms Saxer, who has worked in Myanmar for 12 years.
The supply shortage in Hpa-an is likely to be temporary. "I'm sure there are many people travelling to Hpa-an now and trying to find ideas to build more hotels," said Ms Nortier.
"More and more investors are interested in hotel projects in the area," said U Zeyar Myo Aung, deputy director of public relations at the Ministry of Hotels and Tourism.  
Most have focussed on the middle and lower end of the market.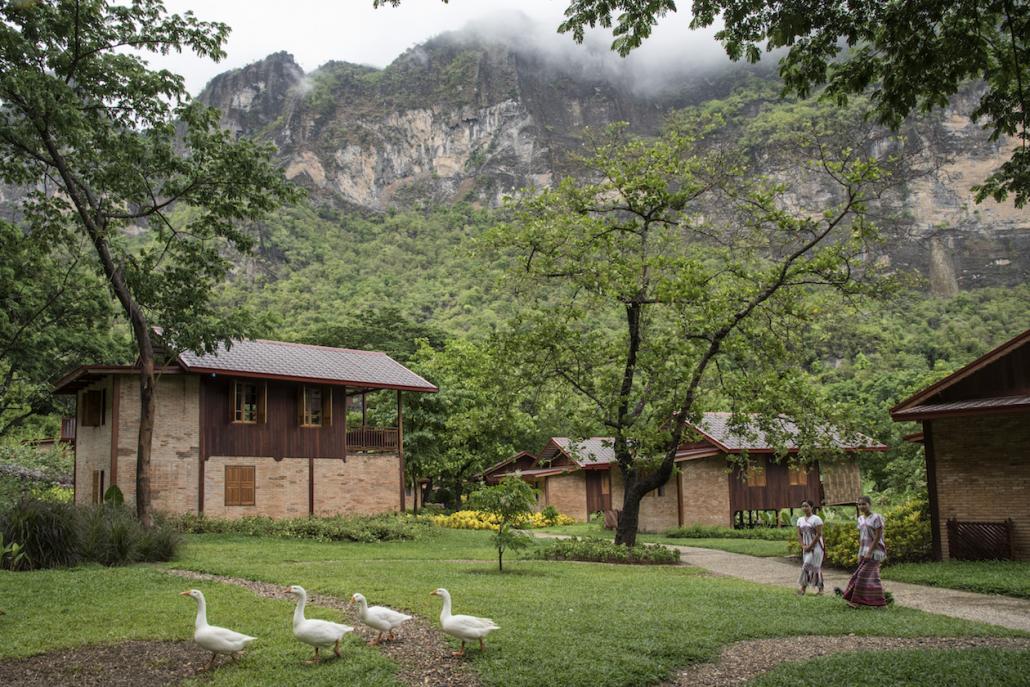 At the Galaxy Motel, one of 14 hotels to open in Hpa-an since early 2012, jovial backpackers crowd into the dining room for a simple breakfast of watermelon, coffee and eggs on toast. There is nothing special about the hotel, but it is clean and reasonably priced with friendly staff, and has received rave reviews on online forums.
Belgian tourist Jenel De Grave said the main difference between Hpa-an and other popular destinations she visited in Myanmar was the town's lack of accommodation.
"We came here but it was full," she said, after being turned away from the Galaxy Motel, near the Thanlwin (Salween) River.
Kayin is attracting an increasing number of foreign tourists; more than 14,000 in 2015, up from nearly 9,000 the previous year, show government figures. The numbers are expected to keep rising.
"We can already see the changes between last year and this year," said Ms Nortier. "Before we were just two white people going all around the caves and going to restaurants, but now when I go somewhere with my partner, we are surrounded by white people!"
The election victory of the National League for Democracy has further boosted Myanmar's image as a tourist destination. Tourism in Kayin is also likely to benefit from the decision by the Karen National Union to join seven other armed ethnic groups last October and sign a national ceasefire accord with the government after decades of conflict.
"I'm not worried by all the foreigners coming here. It means my town is developing."
Official figures show that 4.68 million tourists arrived in Myanmar in 2015, up 50 percent on the previous year.  Critics say the figures are distorted by the inclusion of visitors making short trips across the border to renew their Thai visas.
The surge in foreign visitors since the change of government in 2011 – when the country attracted 816,369 foreign visitors – has been a boon for the economy but some are concerned that an opaque bureaucracy will prevent the spoils of the booming tourism sector from being shared fairly.
"Tourism projects are being decided upon by a small elite," said Andrea Valentin, founder and director of Tourism Transparency, an NGO campaigning for accountability in Myanmar's tourism sector. There is particular concern about projects in ethnic minority areas hoping for an end to decades of conflict.
"Many groups and stakeholders on the ground want tourists, but they are somewhat ambivalent because in their experience tourism only benefits a small group of people," Ms Valentin said.
She expressed concern that the authorities may create a special hotel zone in Hpa-an, as they have done in other areas, including Inle Lake.  
"It's still this old notion of controlling visitors, not letting them go wherever … we're trying to convince them that it's not sustainable and it should be integrated."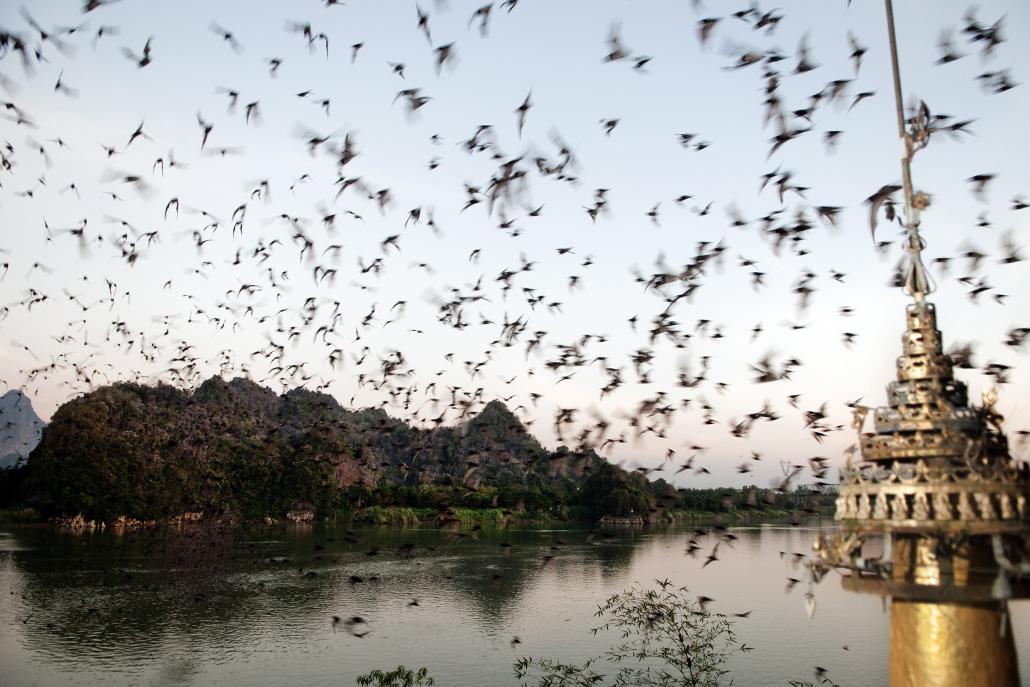 U Zeyar Myo Aung said that "for the time being" the ministry had no plans to create such a zone in the region.
"Hotel zone projects are usually focused on places where there is very limited land, like Inle," he said, adding that there was less of a need for zoning in Hpa-an because the hotel industry in Kayin "is only just starting to emerge".
Ms Valentin urged new investors to follow best practice guidelines. They include hiring as many locals as possible to avoid "economic leakage", sourcing food locally and paying a living wage. "They should try to involve local people and provide training," he said.
The Hpa-An Lodge ticks many of those boxes. Most of its 58 employees are from surrounding villages, except two kitchen staff hired from Yangon, said Ms Nortier. The hotel invites NGOs to give its staff awareness training on health threats such as malaria, and in the low season it provides free English lessons.
The starting salary for a gardener, dishwasher or bellboy is K70,000 a month. With the hotel's employees working eight-hour days with a day off each week, that's below the K3,600 daily minimum wage introduced by the government last year. Ms Nortier said the workers' pay is bumped up by tips, two bonuses a year and transport allowances.
Staff also get 25 days leave a year.
Although there can be a downside to tourism, many Hpa-an residents see opportunity.
Daw Thin Thin Aung is project coordinator at Veranda, a simple but stylish café run as a social enterprise that funds youth training programs. She is planning to introduce an eco-tourism course to provide training in how to manage the influx of tourists in a sustainable way.
"I'm not worried by all the foreigners coming here," Daw Thin Thin Aung said, sitting in the shade of Veranda's thatched-leaf roof. "It means my town is developing."