The LPG market is poised to boom but is being hampered by infrastructure constraints and the need to adopt industry and safety standards.
By KYAW LIN HTOON | FRONTIER
IN 1992, WHEN U Ang Kauk started filling cylinders with liquefied petroleum gas for household use, it was the only business of its kind in Yangon's South Dagon Township.
Then as now, most consumers use 220-gram gas cylinders, but a few use the much bigger 5 kilogram cylinders often seen in restaurants. It costs K500 to fill a 220g cylinder and K13,000 to fill the 5kg containers.
When he launched his business, Ang Kauk was filling an average of about 15 cylinders a day. Now, he fills about 80 of the 220g containers, and five of the 5kg cylinders every week.
"Compared to when I started, I've been getting more customers over the past five years who have changed from using firewood or charcoal," said Ang Kauk, 57, whose first business venture was filling cigarette lighters for smokers on the streets of downtown Yangon.
More than two decades after launching his LPG business, life is good for Ang Kauk and his customer base keeps growing.
Although retailers such as Ang Kauk are benefitting from rising LPG consumption for domestic use, the market faces challenges. Stakeholders say the market is constrained by a shortage of retailers and distributors, especially in rural areas, and there's also a need for regulatory measures aimed at keeping prices stable and ensuring industry safety. Another challenge is encouraging more consumers to switch to LPG from firewood or charcoal, or electricity.
"When we were allowed to do this business, the government's objective was to substitute the use of firewood and charcoal," said U Kyaw Thura, executive director of Elite Petrochemical Co Ltd, which was founded in 2009 as part of the Aye Shwe Wah Group of Companies, which also has interests in oil and gas, construction, logistics and hotels and tourism.
"We are proud to be involved in this win-win situation business and although growth is strong in the sector, we need to expand further to reach more rural areas," he told Frontier.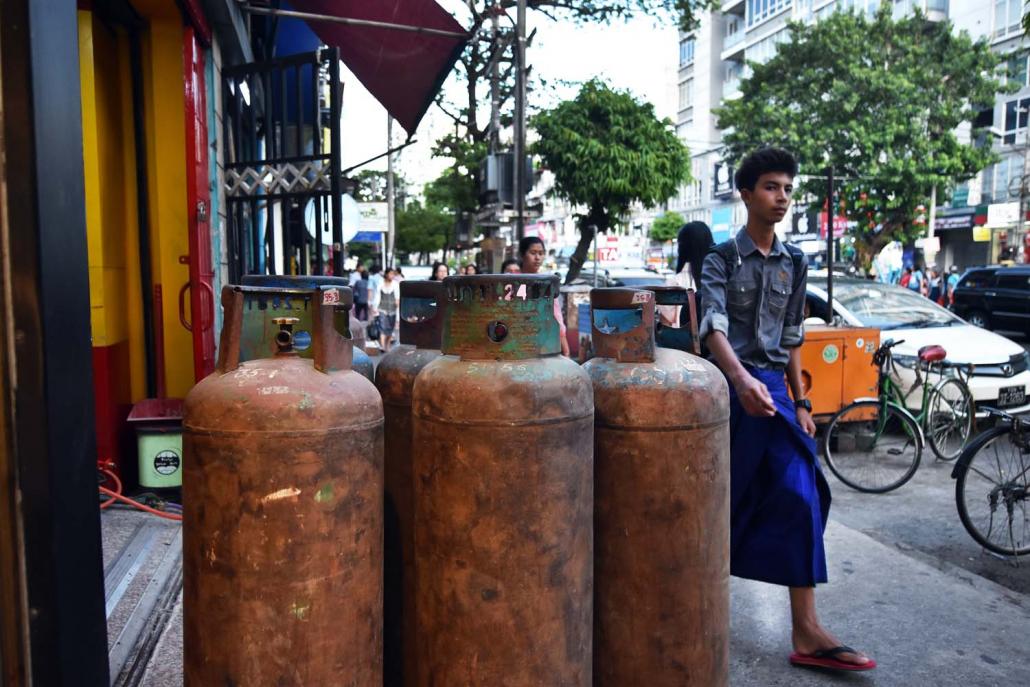 In September last year, local company Parami Energy was granted permission to import and distribute LPG, and several local firms are reportedly looking at moving into the sector.
Ministry of Electricity and Energy figures show that only three percent of households in Myanmar use LPG, much lower than in other Southeast Asian countries. Neighbouring Thailand, for example, consumes 40 times more LPG than Myanmar.
There's no doubt about the growth potential of the LPG market. The government has set a goal of providing LPG to 1.5 million households by 2020. Energy market analyst, Argus Media, forecasts that demand will grow from 20,000 tonnes in 2010 to nearly 140,000 tonnes in 2026.
Kyaw Thura says creating greater awareness among consumers about the advantages of using LPG will help to grow the market.
He said the sector would benefit from a law specifically for LPG, and the introduction of national standards, including for safety.
Myanmar began producing natural gas in 1990 from wells at Minhla and Minbu in Magway Region and Nyaungdon in Ayeyarwady Region. The gas was supplied to 2,000 government vehicles that had been converted to run on LPG.
When Ang Kauk was topping up cigarette lighters he preferred domestically-produced Butane to imported Propane, which mainly came from Thailand, because it was safer.
"Propane has an explosive power of 140 but local Butane is not more than 70," he said.
Ang Kauk said acquiring Butane was difficult and he had to buy it on the black market.
"At that time, most of the gas fillers like us had to rely on LPG that was smuggled across the border or through waterways," he said.
As the years passed, LPG output from the wells at Magway and Ayeyarwady declined and the military government began to rely on imports.
Myanmar has some of the largest offshore reserves of natural gas in Southeast Asia and exports of the commodity are the country's biggest single earner of foreign exchange. Wells in the Gulf of Mottama supply a big share of the energy used by Thailand and many have wondered why Myanmar doesn't produce its own LPG.
"Most of our country's natural gas is from off-shore and it is not suitable for LPG production; only on-shore natural gas can be processed into LPG," said Daw Khin Khin Aye, assistant secretary at the ministry.
As consumption increased in urban areas during the 2000s, the military government continued importing the product from abroad.
In 2009, the junta granted licences to four companies to import and distribute LPG: Elite, Asia World, Universal Energy and military-owned Myanmar Economic Holdings Ltd, and a year later, local company IB Gas was also granted a licence.
The LPG market has expanded steadily and there are more than 20 companies now active in the sector, including in technical assistance as well as importing and distributing.
A key to growing the sector is providing the necessary infrastructure, says Mr Michael Kelly, deputy managing director of the Paris-based World LPG Association, who was in Yangon in March for the second WLPGA Summit to be hosted by Myanmar.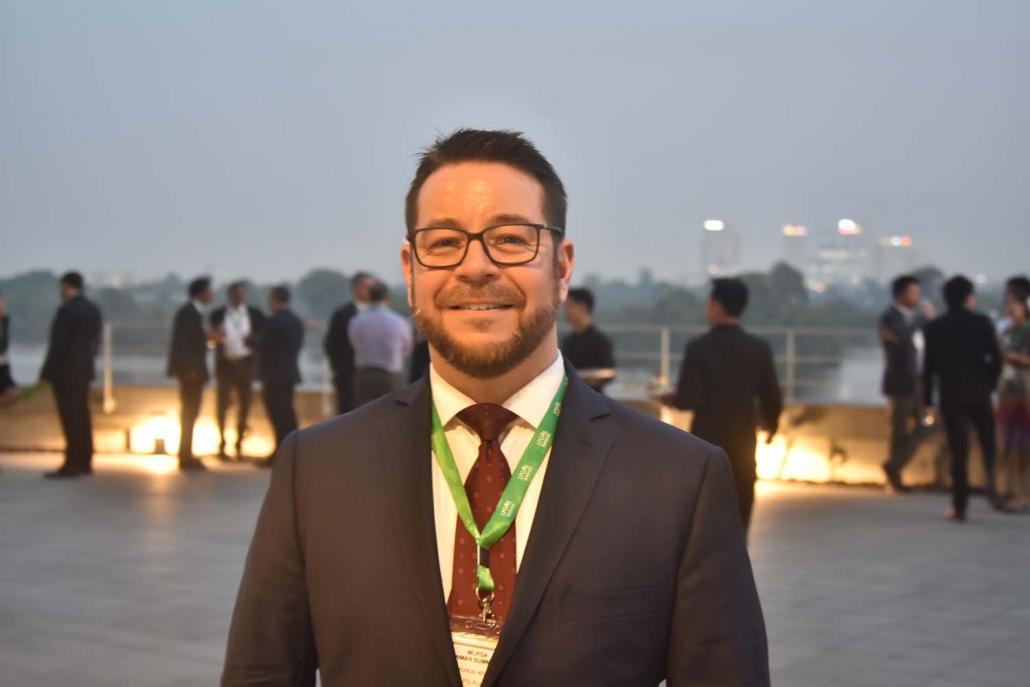 "You need more infrastructure to bring LPG into the country. So you need import infrastructure, storage systems, and you also need infrastructure to fill cylinders," Kelly told Frontier.
The LPG market can attract considerable interest from foreign investors, helping to boost the economy, he said.
"One of the things we recommend to the government is that Myanmar creates a roadmap for LPG so the market can grow in a safe and sustainable way," Kelly said. "Another recommendation for the private sector is to form a national-level LPG association, that can be the interface between the government and industry," he added.
Since the March summit, industry players have formed a temporary national LPG association. The ministry is reported to be in the final stage of drafting an LPG regulation to be included in the 2017 Petroleum and Petroleum Products Law.
Khin Khin Aye said she saw few chances to produce LPG domestically, unless further on-shore reserves were discovered.
"But I'm still seeing considerable potential for importing more," she said.
The government's main reason for supporting the LPG sector was to encourage its use as a substitute for charcoal and firewood for cooking, Khin Khin Aye said, and she downplayed calls from stakeholders to make it available for vehicles and power generation.
"We can still use other types of fuel, including CNG, so I don't think there's any need at the moment to use LPG for buses or generating electricity," she said.
On April 28, Minister for Electricity and Energy U Win Khine visited a jetty at Thilawa owned by Elite Petrochemical that can handle ships carrying more than 20,000 tonnes of LPG and has storage tanks that can each hold 3,000 tonnes.
As a second stage of the project, Elite Petrochemical is planning to build another storage facility with a capacity of 25,000 tonnes.
On the same day, the minister visited projects by the state-owned Myanma Oil and Gas Enterprise and Parami Energy to develop terminals, storage facilities, and laboratories for testing fuel, including LPG, at nearby Thanlyin.
Win Khine said that in future, Myanmar needed to produce the petroleum products it needed to support economic development, "but also to be able to export".
Expanding the market
The main obstacles to promoting greater use of LPG in homes include a shortage of filling stations in many parts of the country and a fear of exploding cylinders, though such incidents are rare.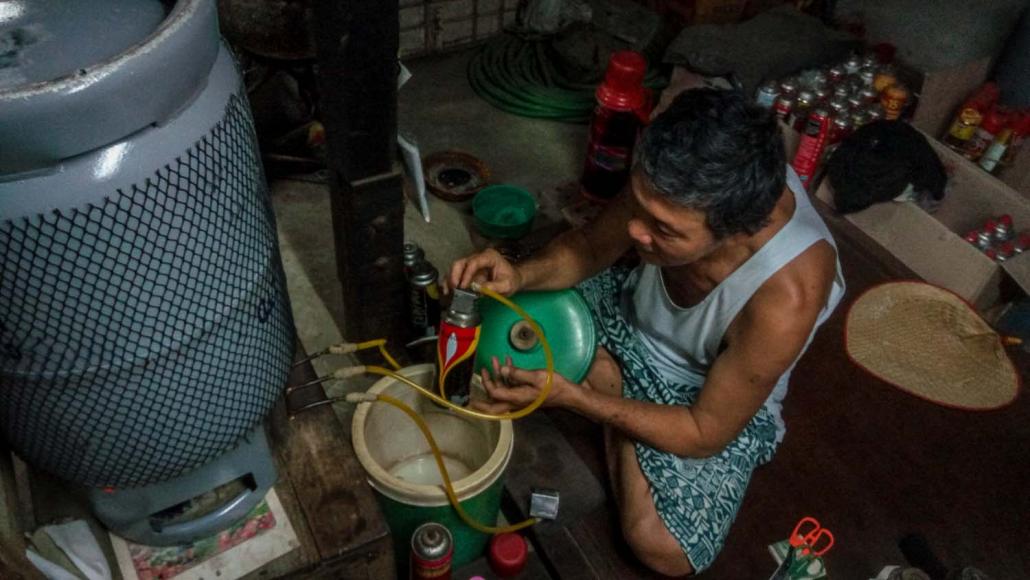 Ang Kauk recalled that he spent a lot of time explaining why cylinders were safe to use when he launched his LPG business. However, he admitted that these lessons were often given out of ignorance, because at that time he was not fully aware of the risks LPG created.
Ang Kauk buys filled 15kg cylinders from the Yadana Su Co Ltd, which is producing LPG at Nyaungdon. He pays K13,500 for one cylinder and the gas it contains is enough to earn K34,000 from filling 220g containers, almost tripling his money.
Retailers and distributors say a greater effort is needed to expand a market that the ministry says is consuming 6,000 tonnes of LPG a month, up from 3,000 tonnes in 2011.
"The consumption rate has increased, but compared with other countries it is still the lowest in the region. We will continue our effort to penetrate the market through knowledge-sharing programs with state and regional governments and people, but we need more government support," said Kyaw Thura.
Kelly said using LPG has health advantages, citing World Health Organization figures that show breathing smoke from cooking fires kills about four million people a year. Cutting back on the use of firewood and charcoal would also help to reduce deforestation, he said.
"The people need to understand why to use LPG, the government needs to understand how to regulate LPG and the industry needs to grow," Kelly said.
TOP PHOTO: An LPG facilitiy operated by local company Elite Petrochemical, which is part of the Ayer Shwe Wah Group of Companies. (Supplied)