Train-loving photographers are helping to keep Myanmar's last steam locomotives rolling but not for much longer, thanks to big-budget railway upgrades.
By FLORIAN GUCKELSBERGER | FRONTIER
Photos RAJIV RAMAN
THE MAN in the straw hat almost misses the oxcart waiting at the railroad crossing. For him, it makes the difference between a good and a very good photograph. He quickly mutters instructions into a walkie-talkie to the interpreter, Daw Kyi Kyi. "Bring the cart to the railway; talk to the man," says Mr Bernd Seiler, referring to the unsuspecting farmer with his oxen.
On the other side of the level crossing, Kyi Kyi makes her move. Seiler, a middle-aged, clean-shaven man in a blue shirt and square, black glasses, is standing on a narrow stepladder and seems satisfied with his shot. Then he turns and announces to his group, "Gentlemen, the train will come through again; we will have one more run."
It's mid-December, winter in Myanmar, but the group's 25 members are in a sweat. It's not just the 30 degrees Celsius temperature that makes Seiler and his tourist group uncomfortable at the shoot near Yangon. Their necks, shoulders and hips are weighed down with photographic equipment that they now have to quickly put into position, because Kyi Kyi has arranged the next spectacle. She has given instructions and banknotes to the farmer, who is standing motionless and trying to look authentic with his oxcart at the level crossing. A shrill whistle sounds and the photographers brace for action as about one-hundred metres away, one of Myanmar's last steam locomotives lumbers into action.
"This is just like Hollywood," says Seiler, a native of East Berlin. "You can re-enact scenes from 20, 30 years ago in Myanmar. There are still places where no cell towers can be seen, no billboards. And the rails are mostly untouched; everything is full of weeds and equipped with mechanical signals."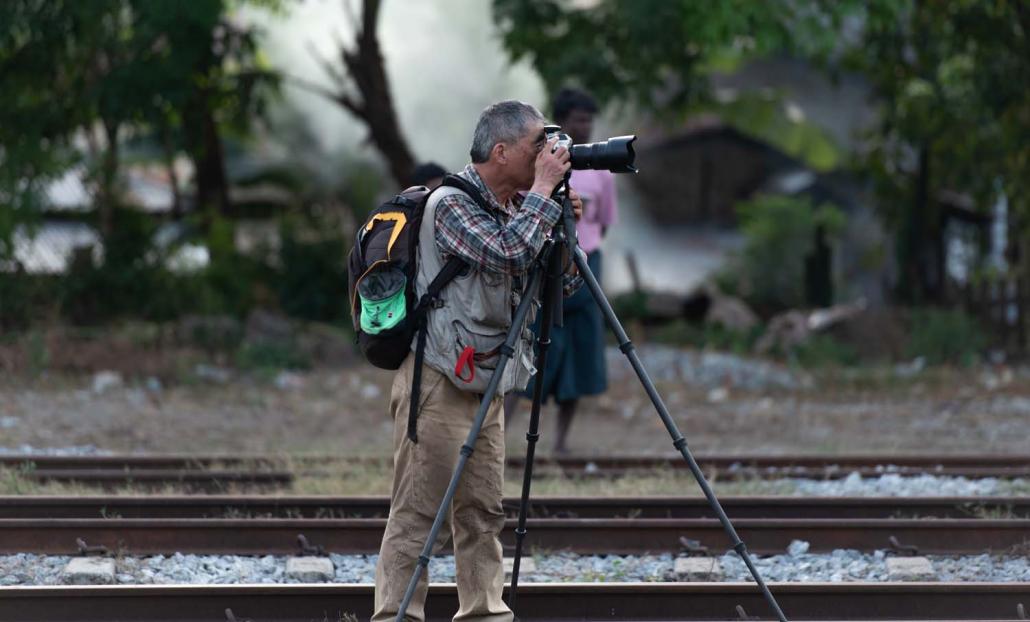 Seiler's group is looking for authenticity and is willing to spend several thousand dollars on a trip offering such photo opportunities. Cattle cars, fruit stalls, ponds, bridges, signal masts and villagers are framed as if in a diorama, until a 1947-1948 British Vulcan Foundry 2-8-2 YD locomotive with its four driving wheels pushes itself through the scene with a roar and big plumes of steam, pursued by people with telephoto lenses and the whir of camera shutters. For Seiler, such moments bring back the "good old railway days". Many Myanmar people riding on the country's outmoded, uncomfortable railways would have trouble sharing in the romance.
"Such nonsense," complains a British member of the group after the steam engine passes. "I can't sell that to anyone as medieval." He is filming for his YouTube channel and is irritated by the electronic dance music blaring from a distant stereo that has spoiled his footage. The eye may see a Myanmar lost in time, but the ear hears the 21st century.
Seiler sighs and recommends that the Briton take a sound editing course at an evening school. At such moments, Seiler's assistant, Kyi Kyi, is needed not for translation but for offering sympathy. Seiler is convinced that it would not be possible to stage such photo opportunities next year, because of recently hyped upgrades to the rail network. "It's already begun," Seiler says.
Myanmar's network now covers about 6,000 kilometres, about double its extent when British rule ended 71 years ago. Most of it is in a sorry state. The average speed of trains is between 30 and 40 km an hour, about half the speed that the locomotives in service can manage. Comfortable air-conditioned buses are a bit more expensive than highly subsidised trains but are often twice as fast and more popular as a result.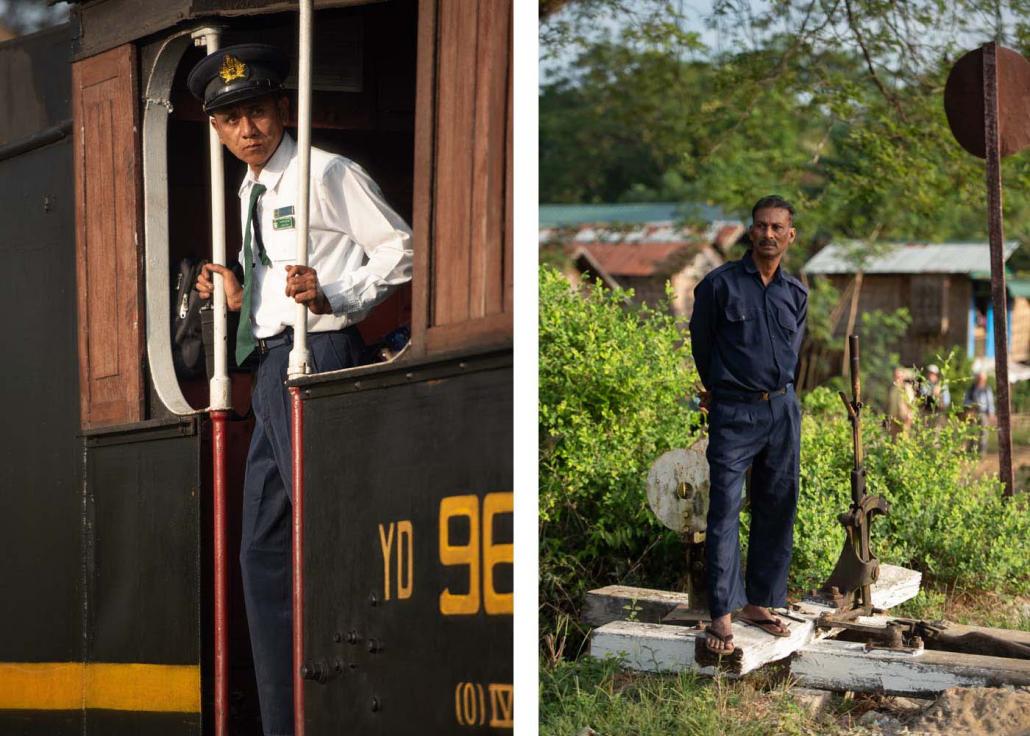 Passenger figures for all forms of transport show that the proportion of people travelling by train declined from 44 to 10 percent between 1990 and 2013, and that goods transport dropped from 14 to five percent. Steep fuel costs mean that state-owned Myanma Railways runs operating losses in the tens of billions of kyats each year.
The National League for Democracy government elected in 2015 is relying mainly on foreign lenders to upgrade railway infrastructure. Industrialised Asian nations are interested in investing in upgrades partly because of Myanmar's geostrategic position between the rival powers of India and China.
South Korea's Eximbank is financing an upgrade of the 550-km route between Mandalay and Myitkyina and the 238-km link from Yangon to Pyay – the country's oldest rail line – is due to be rehabilitated by 2024 with loans from the Asian Development Bank and the European Investment Bank. China is also entering the ring and in October commissioned a feasibility study with the Myanmar government for a railway linking the border trade town of Muse in northern Shan State with Mandalay, as part of Beijing's Belt and Road Initiative.
Yangon Central Station will also be transformed as part of one of Myanmar's largest real estate developments. With its large hall and ornate towers, the station is an iconic building that fuses European and Myanmar styles, but the protected heritage site is in poor condition. The rails are overgrown with weeds and littered with rubbish and a pedestrian bridge for moving between platforms is largely ignored as passengers and vendors cross the rails in slippers.
In February last year, a consortium of companies from Myanmar, China and Singapore was chosen as a preferred bidder to redevelop the Central Station and a 63.5-acre (25.7-hectare) area surrounding it in central Yangon over eight years at an estimated cost of US$2.5 billion.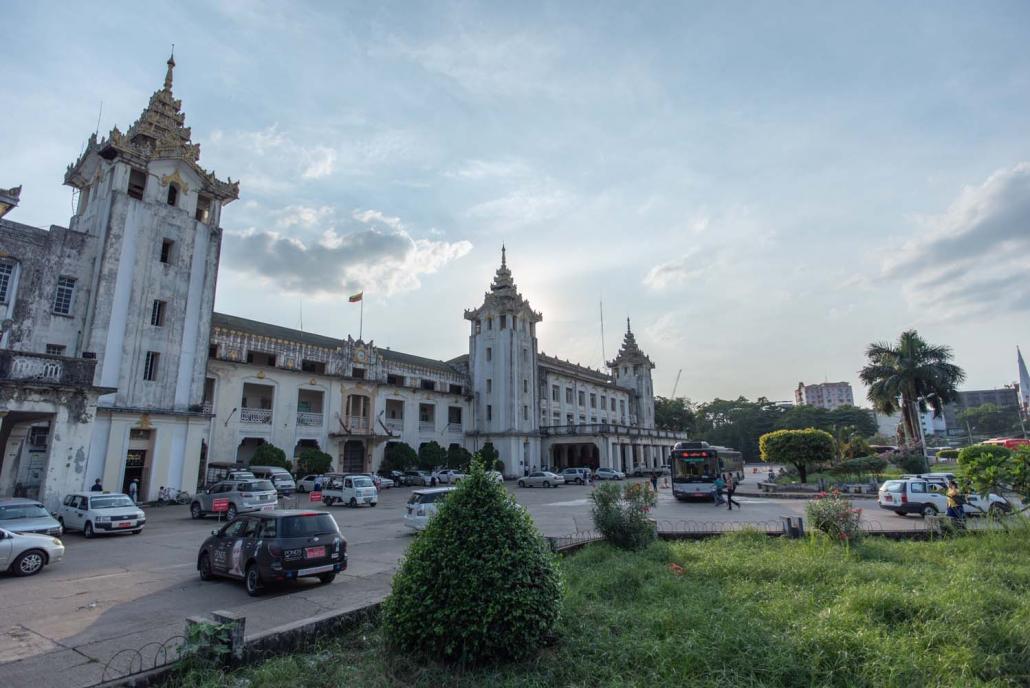 Next to the old station building, a new one would be built; according to an artist's impression it will resemble a glass unidentified flying object, surrounded by high-rise commercial and residential buildings. The investors have promised 100,000 jobs.
Yangon's circular railway, a key artery in the city, rattles through Yangon Central Station 122 times a day, accounting for 850,000 passenger kilometres on a route with 38 stops. The journey takes about three hours on hard wooden seats in non air-conditioned carriages. Thanks to a 24.8 billion yen ($222 million) loan from the Japan International Cooperation Agency, complemented by K54.5 billion ($36 million) from the state budget, the 46-km line is due to be upgraded by 2023 with new railcars, wagons, rails and signalling systems planned.
The upgrade is expected to reduce the journey time to about two hours, increase the number of departures by 50 percent and increase the daily passenger kilometres to more than two million. The upgrade is urgently needed in a city clogged by traffic congestion and a population expected to grow to nearly ten million by 2030.
The upgrades will make Seiler's hunt for historically accurate scenes increasingly difficult. For now it's often still enough to collect a few plastic bags that are spoiling the picture, or to chop down perennials standing in the way with a machete he carries, but probably not for much longer.
The upgrades also threaten Seiler's investments in the renovation of historical infrastructure. "It costs 2,500 euro to restore a triangular junction, 3,000 euro to repair a water crane and lines for the train supply. It all adds up," he says. Added to this is the cost of preparatory trips to explain his plans to railway staff. "For most people, photographing trains like this means nothing. Just like whether Schalke 04 or Bayern Munich wins or whether a Harley-Davidson works doesn't matter to railway enthusiasts."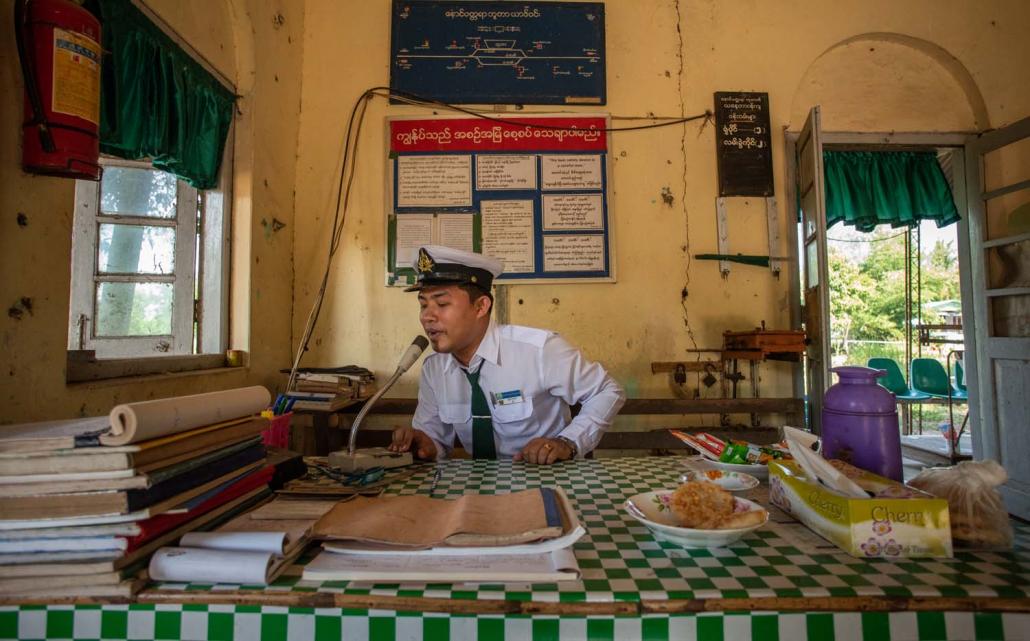 Signs of transformation are already visible on the lines. This year the tour group's train chugged past the grand opening of rail construction works at Nyaunglebin in Bago Region, where engineers from China, Malaysia and Japan were training workers. With the help of a Japanese loan, the comprehensive reconstruction of the Yangon-Nay Pyi Taw-Mandalay line has begun. This route has a catchment area including about 40 percent of the population, who are hoping for progress and economic development.
"All the bridges are being reconstructed, stations and platforms rebuilt, signal boxes are disappearing. The semaphore signals are being replaced and the rails will be installed on concrete sleepers in new gravel," says Seiler.
When the time comes, not even a cleverly positioned oxcart will be enough to revive old Burma.
This article was written as part of the Goethe-Institut's Close-Up journalists' exchange programme. There's more information at  www.goethe.de/nahaufnahme and at #goethecloseup.