None of the 15 Myanmar players made the halfway cut of the tournament, which was won by Australian tour rookie Todd Sinnot.
By OLIVER SLOW | FRONTIER
STANDING TO the side of the eighth green at Pun Hlaing Golf Club on January 26, spectator U Zaw Lynn was part of a small crowd of people watching as local golfer Kyaw Thet Oo sank a five-foot putt to save par.
"I love playing golf, but it's rare that we get to watch the professionals play. So I was very happy to be able to come and watch this event," he said, before racing off to watch experienced Myanmar professional Moe Zaw make his way up the 11th fairway.
The 2017 Myanmar Open, the 15th time the event has been hosted since its inception in 1996, was held at the Pun Hlaing course in Hlaing Tharyar Township from January 26 to 29. Last year's event was hosted at the Royal Mingalardon Golf Club in Mingalardon Township and was won by South African Shaun Norris.
Despite the opportunity to play in front of a home crowd, none of the 15 Myanmar golfers that made up the field of more than 200 played well enough to make the halfway cut of one over par. The two closest to do so, Bo Bo and Ye Htet Aung, finished the first two rounds three over par, missing the cut by two shots.
Zaw Moe, one of Myanmar's most experienced golfers with more than a decade on the Asia Tour, also missed the cut, finishing five over par after two rounds.
After finishing his opening round with a par on the picturesque, par-five 18th, Myanmar's Zaw Zaw Latt told Frontier he was proud to be able to play in front of the small, but enthusiastic local crowd.
"I enjoyed it out there and was happy with how I played – I just made some mistakes on those last few holes," said Zaw Zaw Latt, who bogeyed three of the last four holes to finish the first day with a three-over 74.
Zaw Zaw Latt, who played in last year's Myanmar Open and European Tour-sanctioned Malaysian Open – missing the halfway cut at both – said he was confident of shooting under par the following day to make the halfway cut of the top 75 players. It wasn't to be, though: He shot a five-over 76 and finished the two rounds eight over par.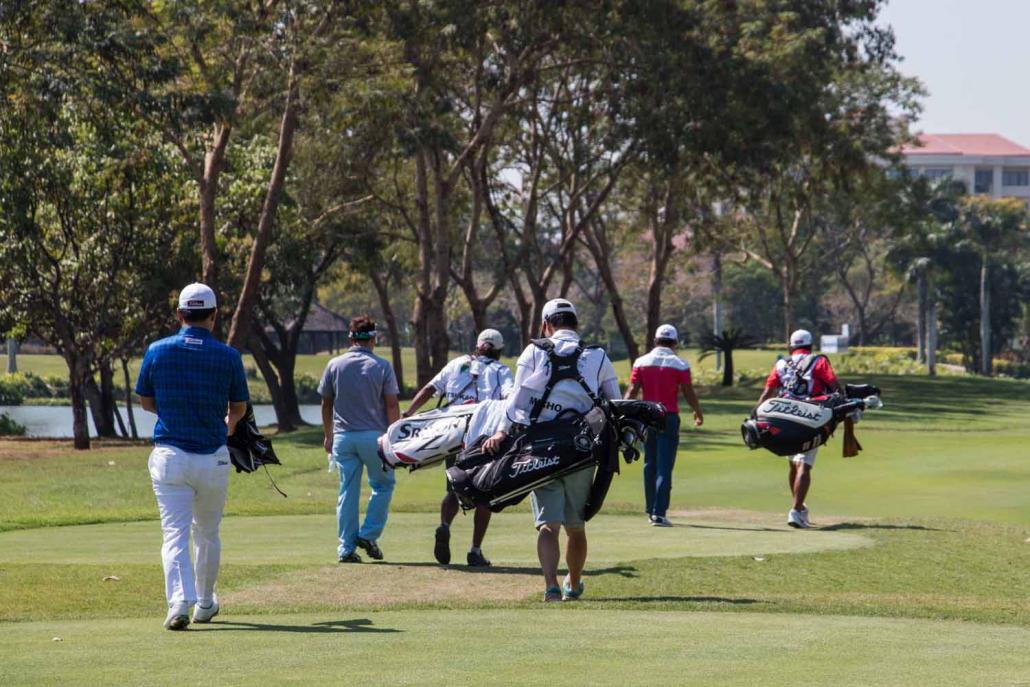 Kyaw Thet Oo, a young amateur who finished 10 over par, said he was happy to have the opportunity to play in front of a local crowd, and revealed he is planning to turn professional next year.
"Tournaments like this are a very good opportunity for me to play with more experienced professionals," he told Frontier.
Despite the lack of local stars at the weekend, it was still an exciting weekend of golf with young Australian Todd Sinnot winning the title, shooting 64 and 65 on Saturday and Sunday respectively to finish 14 under par. His nearest rival was Spaniard Carlos Pigem, who finished 11 under par.
"I knew where I was the whole day and knew that I had to get up with the leaders and keep pushing on. I feel a little bit relieved to get that first win. Excited and pretty proud as well," Sinnot said after his victory.
TOP PHOTO: Myanmar golfer Aung Win lines up a putt on the first day of the Myanmar Open at Pun Hlaing Golf Club. (Nyein Su Wai Kyaw Soe / Frontier)