Members of the 150,000-strong Rohingya community in Malaysia are anxiously watching developments in northern Rakhine State, still hopeful that one day they will be able to return.
By OLIVER SLOW | FRONTIER
EVEN THOUGH he has never stepped foot in Maungdaw, Ko Mohamadul Hasson regards it as home. It was there that both his parents were born, before they left for Bangladesh in the early 1990s. Hasson – as he prefers to be called – and his four siblings were born in a refugee camp near Cox's Bazar.
"I always said to my father that I would go back and see it one day," said Hasson, 18, who describes himself as Rohingya. "But now I'm losing hope that I'll ever go back."
Hasson was speaking to Frontier in a bustling restaurant in Ampang, a 30-minute drive from central Kuala Lumpur. Dominated by low apartment blocks and car repair shops, it's feels far removed from the bright lights and skyscrapers that dominate the centre of the Malaysian capital.
Ampang is home to an estimated 5,000 Rohingya, who live together with Malaysians and migrants from other countries.
Hasson's journey to Ampang began the day he was kicked out of school back in Bangladesh. His father was working in the construction industry in Saudi Arabia and sending money to the family in Bangladesh. Keen for his son to study higher education, he arranged a fake ID card that would allow him to study at a public school in Bangladesh.
"Suddenly one day, I don't know how, they found out I was a refugee and wouldn't let me study anymore," Hasson said. "So I said to myself, 'OK, I have to find a way to go somewhere else.' I didn't want to just sit around in the camp, wasting my time."
Through the help of a friend, he got the phone number of a human trafficker and within a few days was onboard a boat bound for Malaysia.
The midst of the migrant crisis
But it wasn't to be a straightforward journey. Hasson left Bangladesh in early 2015, a few months before the migrant crisis that gripped the region that year.
In May 2015, authorities across Southeast Asia began taking action against human trafficking routes in the Bay of Bengal and Andaman Sea after mass graves were found on the Thai-Malaysia border. The crackdown interrupted the flow of people from Bangladesh and Rakhine State – the majority of them Rohingya, but also some Bangladeshis – who were trying to make their way to Thailand, Malaysia and Indonesia.
Hasson's boat, a rickety vessel filled with about 1,000 people, was making its way somewhere around the Andaman Sea towards Malaysia at the height of the crisis, and he was stranded at sea for about seven months.
"We reached to Thailand and then we thought from there the traffickers would take us to Malaysia, but they didn't," Hasson said. "The boat was moored there, maybe one month, two months, I don't know."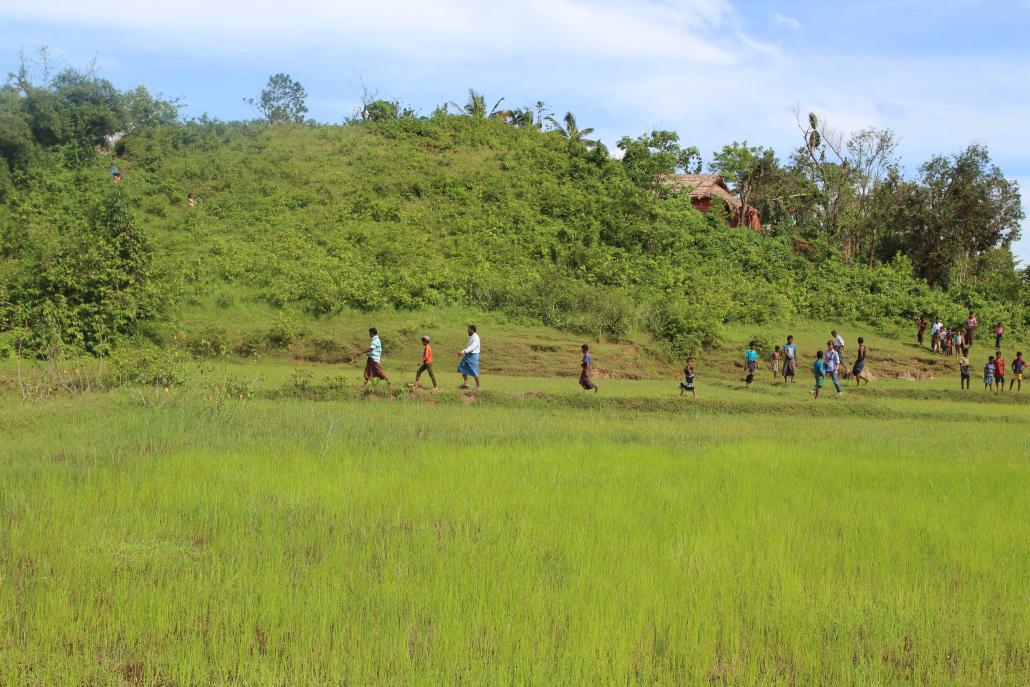 Hasson said the people on the boat were growing desperate; when one man begged to be given water, a trafficker shot him dead.
"After that, we were all very quiet," he said.
Hasson was eventually able to contact his mother in Bangladesh, who agreed to pay a ransom of 6,000 ringitt (K1.9 million).
"They told people they would beat them; they said 'If you don't give us the money, we will kill you,'" he said.
The traffickers left shortly after. The boat floated at sea before eventually a group of Acehnese fishermen arrived and pulled the boat towards Indonesia. The fishermen told them that the Indonesia navy would come and take them to shore.
After several hours, the Indonesian navy arrived. They gave the people onboard food and water, and started towing the boat. "But then they just cut the rope and disappeared", Hasson said.
After several more days, the Malaysian navy arrived and provided food and water.
"As I was the only one who could speak English, I communicated with them and asked them not to do with us like the Indonesian navy did. They said, 'OK, we won't.' They started pulling us but then they did the same thing. In the night we stopped and they told us to wait here and that they would wait for us. But after three or four days they never came back for us. This was the third time this had happened to us."
After several months languishing at sea, being pushed and pulled from country to country, the mood turned dark on the boat. Fights started breaking out, and when a hole appeared in the bottom of the vessel, people panicked and jumped into the sea.
"The situation was so bad, I had to jump. But the water was so cold, and after a few hours, it was dark and I thought I wouldn't see the sun again when it comes tomorrow," he said.
Hasson and about 700 others on the boat were saved after a flotilla of Acehnese fishermen pulled them from the water and transported them to Aceh, on the northern tip of Indonesia's Sumatra island. Hasson estimates that about 300 people on the boat drowned.
"When I got onto that boat [to Aceh], I remember sitting there thinking, 'Wow, I have a new life,'" Hasson said, breaking into a huge smile. "Man, it was the best day of my life."
On dry land
After being given some time to rest, Hasson was then able to phone his family in Bangladesh.
"She was so shocked, she couldn't speak. Then my sister came on the phone and I was able to explain what had happened and that I was safe."
Asked to explain how he felt at that moment, Hasson let out a huge puff of air and laughed.
"I was just … I don't know, man. I can't explain it."
But the good times weren't to last. After almost a year in Aceh, Hasson received a phone call from his family in Bangladesh saying that they didn't have any money.
"I had to try and make some money for my family and it was impossible for me to work in Indonesia. I didn't say anything to anyone, just got the contact from a friend and asked them to bring me here," he said, referring to Malaysia.
Life is good in Kuala Lumpur, he said.
"I feel proud to say I am a refugee. In Bangladesh I couldn't say where I come from, but I can here," he said.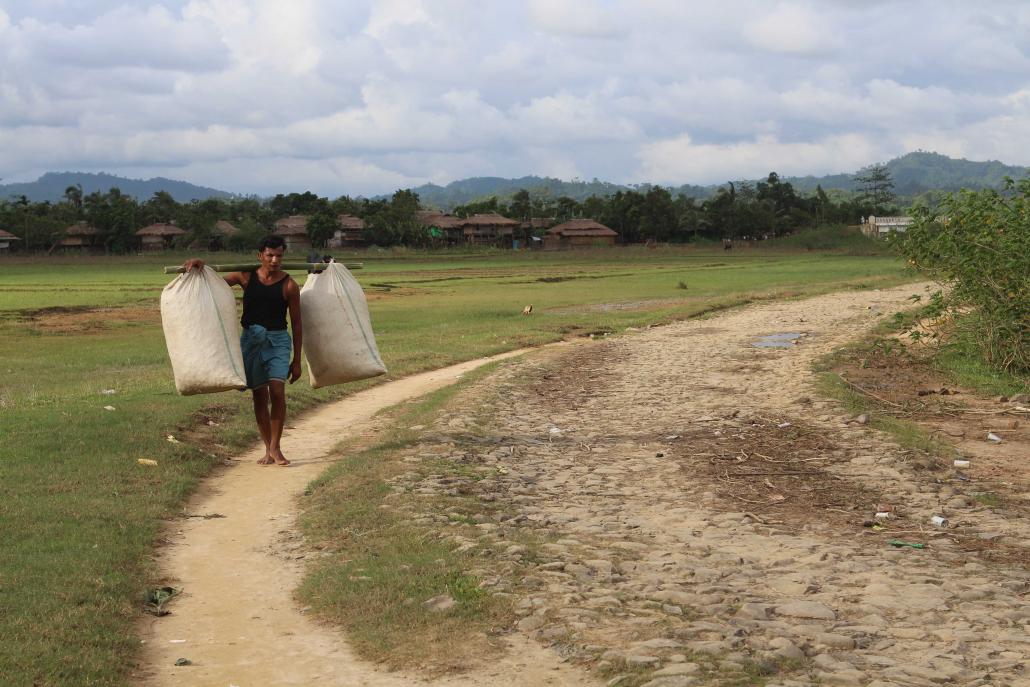 While Hasson said he tries not to think too much about what is happening in the state, it is difficult to escape. All of the Rohingya whom Frontier met in Ampang were regularly scrolling through their phones, messaging families back home and watching videos of people fleeing to Bangladesh, or of burning villages.
More than 400,000 people have fled over the border into Bangladesh since August 25, when the Arakan Rohingya Salvation Army attacked police outposts and a military camp, killing about a dozen security officials.
Hundreds of other ethnic groups, including Rakhine, Mro and Daingnet, have fled the violence for Buthidaung and Sittwe, the state capital, and there have been accusations of atrocities being conducted by both ARSA and security forces.
Those fleeing to Bangladesh have arrived with harrowing tales of killings, arson and abuse. On September 17, Frontier was still being sent videos appearing to show villages burning in northern Rakhine. For its part, the Tatmadaw says that Muslim "extremist terrorists" are setting fire to their own homes in order to tarnish the military's image and attract international support.
"With everything that's happening, I'm really grateful to Bangladesh to those people who are helping the Rohingya arrive near the border," said Hasson.
But for Hasson, things have got personal. A few days before our interview, his uncle was killed in the violence. Hasson said he didn't know the circumstances about his uncle's death, and it was clear he didn't want to speak further about it.
"I'm afraid that people there are losing more and more faith in the situation and in the international community. I'm afraid that because of what is happening, people will start to rise up and fight. If that happens, a lot of people will lose their lives," he said.
'Today is a sad day'
There are 149,100 registered refugees in Malaysia as of the end of August, according to UNHCR, the United Nations Refugee Agency. Of that figure, 132,100 are from Myanmar, including 61,000 Rohingya, 38,200 Chin, 9,900 Myanmar Muslims and 4,200 Rakhine.
However, refugee organisations in Malaysia estimate that there could be as many as 150,000 Rohingya living there, most of whom have fled since communal conflict broke out in Rakhine State in 2012.
Ma Dholum Begum, 30, is originally from a small village in the south of Maungdaw Township. She said she left Myanmar for Bangladesh in 1996 after security forces killed her uncle, who they accused of being a member of an armed group. The charges were false, she said.
She spent several years in a refugee camp in Bangladesh before leaving in 2013 with her husband and three children. The family now lives on a picturesque, leafy street in Ampang, alongside other Rohingya and Malaysians.
While life is good in Malaysia, she has always hoped to return home one day. She now doubts that will ever be possible.
"I have many relatives living in northern Rakhine but they are having to go to Bangladesh," she said.
She said that shortly before speaking to Frontier many relatives and former neighbours in her home village had begun making their way to the border after the military came and burned their homes.
A Rohingya community leader from the same village as Dholum Begum told Frontier that his family had also had to flee that morning because their homes were being burned by the military.
As we sat down for an interview in a small room in a mosque in the Ampang community, the man was frantically tapping away at his phone, answering messages on WhatsApp, and flicking through photos and videos being sent to him by his family.
"Today is a sad day for me. My family is fleeing right now," he said.
The man, who spoke to Frontier on condition of anonymity, showed a video he said had been taken of his village that day.
"This is my home," he said sadly, as the screen showed black plumes of smoke rising above a line of trees.
"My whole village has been burned. Now my family and all the villagers have to leave because they don't have any food to eat, any clothes to wear. Only what they are wearing," he said.
Speaking by WhatsApp a few days later, he said his family had reached the Naf River, where they waited a few more days before crossing to the relative safety of Bangladesh.
The man left Myanmar in 1992; he, too, had hoped to return, but is also losing hope of ever doing so.
"When we were back in Bangladesh, my children would ask me, 'Father, tell us about your country. Is it like Bangladesh?' And I would say, 'My country is such a beautiful country, it is fertile. You can even hear the birds in the morning."
TOP PHOTO: Rohingya refugee children from Myanmar residing in Malaysia eat their lunch during recess at their community school in Ampang in the suburbs of Kuala Lumpur on May 20, 2015. (AFP)