The government has struggled to make headway on thousands of long-running land disputes, one the country's most important but complex issues.
By HTUN KHAING | FRONTIER
FORMER PARLIAMENTARIAN U Nay Lin planned to spend the monsoon season preparing his farmland in Hlaing Tharyar Township's Padan village for the forthcoming harvest. Instead, he and about 30 fellow villagers will head to court, hoping to force the return of land that was taken from them in 2013 for a construction project.
Nay Lin has also submitted a complaint letter to the local Committee for Rescrutinising Confiscated Farmland and Other Lands, a body set up a year ago by the National League for Democracy to handle land disputes.
He said he'd heard that committee was now examining his complaint and 58 others, but he doesn't have much hope that it will resolve the disputes.
"I haven't seen any improvement in Hlaing Tharyar as a result of the committee's work," said Nay Lin, who represented the National Unity Party in Hlaing Tharyar-2 constituency between 2011 and 2016. "Even if the head of the committee makes a good decision, they can't do anything when the lower ranks are refusing to implement it.
"The ones who seized the land during the time of the previous government and those trying to solve this issue are the same, so it is not making any difference."
Chaired by Vice President U Henry Van Thio, the Union-level committee is tasked with monitoring how state and regional governments handle land disputes and enabling the return to farmers of land confiscated by the government, state-owned enterprises and private companies.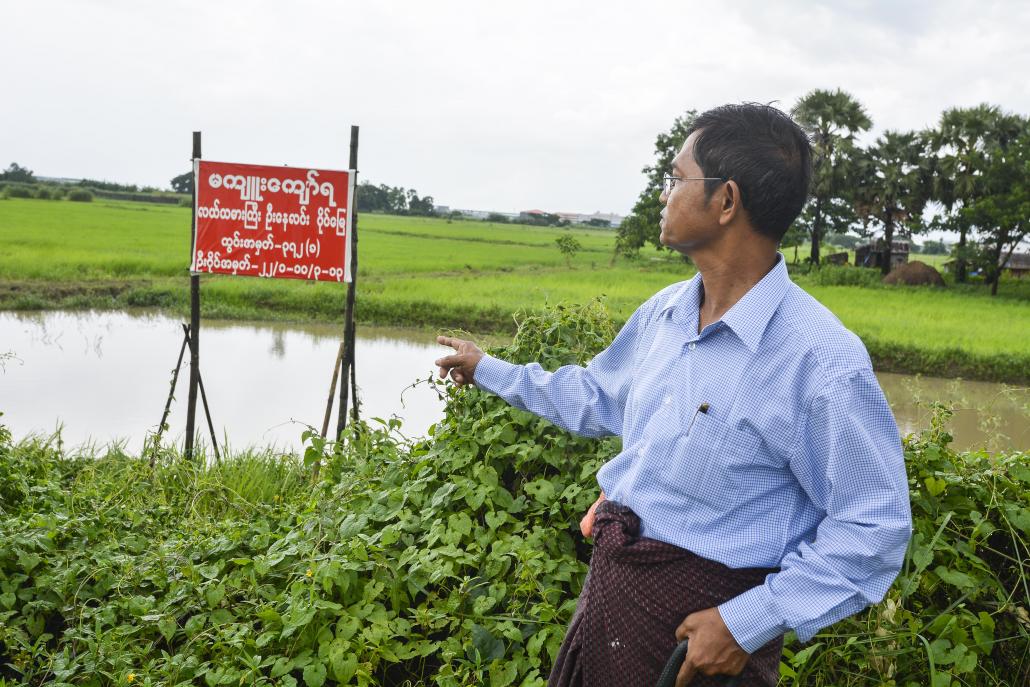 Land confiscation is an issue that has blighted the country for several decades. There was much optimism when the NLD formed committees to address the issue just weeks after it came to power. At the time, Henry Van Thio urged officials to establish task forces to deal with the return of seized land, an indication it was taking the issue seriously. But a year later critics are blaming complex land laws and a lack of capacity and transparency within the committees for the slow progress.
In a statement published in state-run media on April 12, the government said it had solved 2,057 cases of the 10,891 it had reviewed between May 2016 and March 2017, or about 20 percent of the total. Of those, 6,707 cases were left over from the previous government's Land Utilisation Management Central Committee, which was formed in 2013 and chaired by former vice president U Nyan Tun, and the remaining 4,184 have been brought forward in the past year.
Land issues are just one of the legacies of military rule with whcih the new government has had to grapple. But with an estimated 70 percent of the population working in agriculture – and therefore reliant on access to land to survive – it is undoubtedly one of the most important.
U Aung Aung Kyaw, a land activist from Magway who sits on the regional land confiscation committee, said that the process of returning land is complex and as a result will take longer than many people anticipate.
"Take the example of land owners who were displaced by fighting. If they return after a long time, another person has started working on the land, thinking it was ownerless for 10 or 15 years," he told Frontier. "Then suddenly the land has two owners. If you want to find out who to return the land to, the situation is confusing. So it is impossible to solve the problem [quickly]."
Another challenge, according to U Ko Gyi, spokesperson for the Tagon Farmers' League in Mandalay, is the lack of communication between the higher-level committees, such as those at the Union or state/region level, and those operating at the township or village-tract level. 
"Officials in townships, districts and regions and states are the ones who scrutinise the land issues, but they are not the decision makers. The Union-level officials can make a decision, but it takes a long time to submit cases to Union-level officials from the lower levels," he said.
Pyithu Hluttaw MP U Thant Zin Htun (NLD, Dekkhinathiri Township) agrees that the link between senior committee members and lower level officials is weak.
"MPs can't even gain access to information easily, and there are problems conducting investigations," he told Frontier.
Frustrated at this lack of information, in June Thant Zin Htun submitted a question to parliament about nearly 7,000 acres that was confiscated from residents in his constituency in 2011 for a mango plantation project. About 1,800 acres remain vacant, he said.
"When I asked the township farmland management committee for the information I wanted, they didn't give it to me, and when I complained to the relevant officials, they didn't cooperate," he said.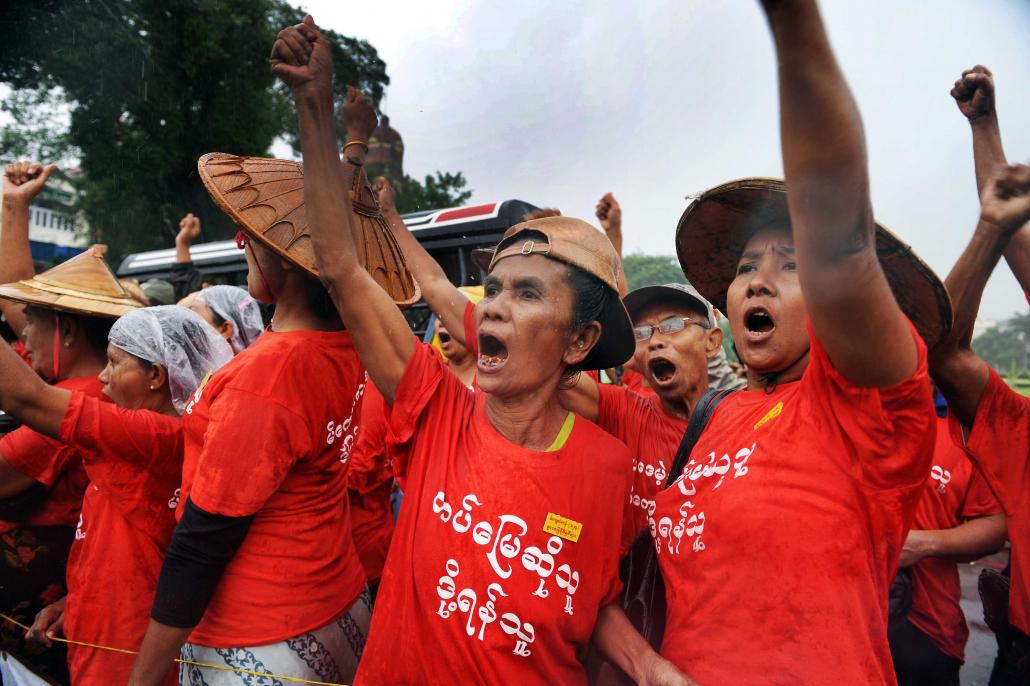 According to the Vacant, Fallow and Virgin Lands Management Law that was enacted in 2012, if work is not implemented on the land in a certain timeframe, then it must be returned to the original owner.
Thant Zin Htun's question reportedly led to a heated exchange between Deputy Minister for Agriculture, Livestock and Irrigation U Hla Kyaw and Pyithu Hluttaw Speaker U Win Myint.
Apparently unsatisfied with the deputy minister's answer to the question, The Irrawaddy reported that Win Myint said that confiscated land must be returned to its rightful owner if proposed projects are not implemented.
"Don't say the project will be implemented later," Win Myint was quoted as saying. "Land must be returned if there is not an ongoing project. I'd like to know if the ministry has a plan to return inactive lands."
The answer to that particular question remains unclear, like so many others related to the return of confiscated land.
In a brief published earlier this month, Namati, an empowerment group working on land issues in Myanmar, issued a list of recommendations to the government and civil society on improving the land confiscation review process. These included allowing more space for non-government actors on the committees, ensuring the presence of an independent team on state/region committees, active engagement between the government and civil society, and greater transparency.
"Openness and transparency are critical elements of a responsive government," Namati said. "They are also critical to building public faith in this mechanism and to the government's commitment to justice, especially after such a fraught history."
Nay Lin, the ex-parliamentarian, said that no matter how complex the issue is, the government needs to settle the issue thoroughly.
"What I want to tell our government," he said, "is that no government can exist for long if they cannot solve this problem, because it affects 70 percent of the population."
TOP PHOTO: Caitlin J Pierce | Namati