Municipal workers and facilities are struggling to cope with Yangon's rapidly growing rubbish output and civic-minded volunteers are stepping in to help keep the city's neighbourhoods clean and tidy.
By SU MYAT MON | FRONTIER
FOR THE past eight years, Daw Tin Tin Win has commuted each day from Shwepyithar Township in outer northwestern Yangon to inner suburban Sanchaung Township, where she provides a private rubbish disposal service.
"I collect the garbage for people who are not able to dispose of it themselves and take whatever money they are willing to pay me," said Tin Tin Win, who is in her late 40s.
She previously worked as a trash collector for Yangon City Development Committee but left because the pay was too low.
"The salary was not enough to cover family expenses but since I started this work my daily income is a little better," she said.
Tin Tin Win's role as a freelance rubbish collector puts her in conflict with the YCDC. It has confiscated her carts three times and never returned them, despite repeated requests.
However, it's been a while since a cart has been seized. "I think it is because the YCDC cannot handle the amount of garbage in Yangon," she said.
Unintended incineration
Much of the rubbish collected in Yangon is dumped at the sprawling Htein Bin landfill site in outer northwestern Hlaing Tharyar Township, where a fire earlier this year that took weeks to bring under control and sent dozens of nearby residents to hospital with respiratory problems.
Among them was the wife of U Htay Win, 57, who was affected by smoke inhalation from the fire, which began on April 21 and had engulfed 60 hectares of the 98ha landfill when it was finally brought under control on May 14.
The fire was started by spontaneous combustion and fuelled by methane produced by the rubbish in the landfill, which was established in about 2002 on land confiscated by the military government in 1996 and 1997.
There was no landfill when Htay Win moved to Hlaing Tharyar in 1997. "It appeared about five or six years later and has gradually grown bigger and bigger because there is no other place to dump the city's rubbish," he said.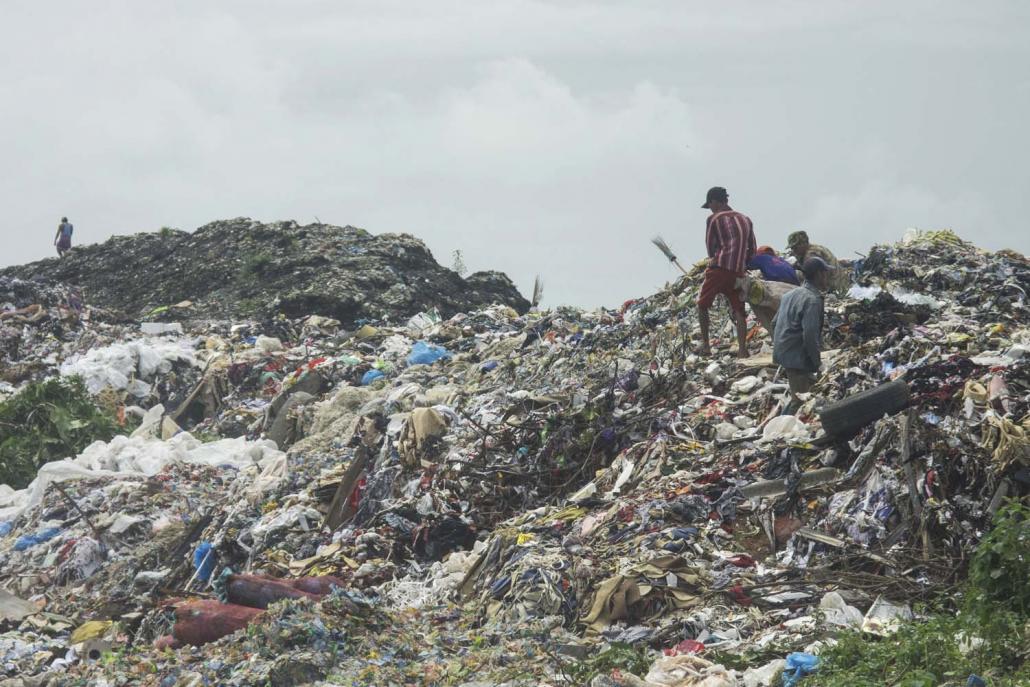 Htay Win has become oblivious to the stench of the dump, but Frontier found it intolerable when visiting his home. He said he expected to have to move one day to make way for the expansion of the dump.
"As the city grows, so does the pile of rubbish," he said. "One day I think I'll have to move out of here. Already they are moving nearby cemeteries to make more room."
Htein Bin is one of two major dumps in Yangon, and is where waste from the city's northern and western districts ends up. Rubbish from the east and south goes to Dawei Chaung in North Dagon Township, while Dala and Seikgyikanaungto south of the Yangon River have their own basic facilities.
Dr Aung Myint Maw, deputy head of the YCDC's Environmental Conservation and Cleaning Department, acknowledged that the city's rubbish facilities were rapidly filling up, but refused to answer how many years of capacity remained, or whether he was worried about the city's waste management facilities.
"You shouldn't write about that," he said. "It's our job to deal with it."
He said that, in order to reduce the amount of waste that ends up in landfill, YCDC was working with Japan's JFE Engineering Corporation to generate electricity from garbage at Shwepyithar.
Asked if there were enough YCDC garbage collectors, Aung Myint Maw was also reluctant to answer but indicated that the department needed more resources and personnel.
He expressed hope that the YCDC law passed on June 28 would result in an improvement once the public became more aware of its provisions, which outline a range of offences and penalties that include prison time.
But unless the public knows the rules, they will be very hard to enforce, he added.
"The prohibitions and punishments in the new YCDC law are strong – that's why YCDC is trying to improve knowledge and compliance," Aung Myint Maw told Frontier.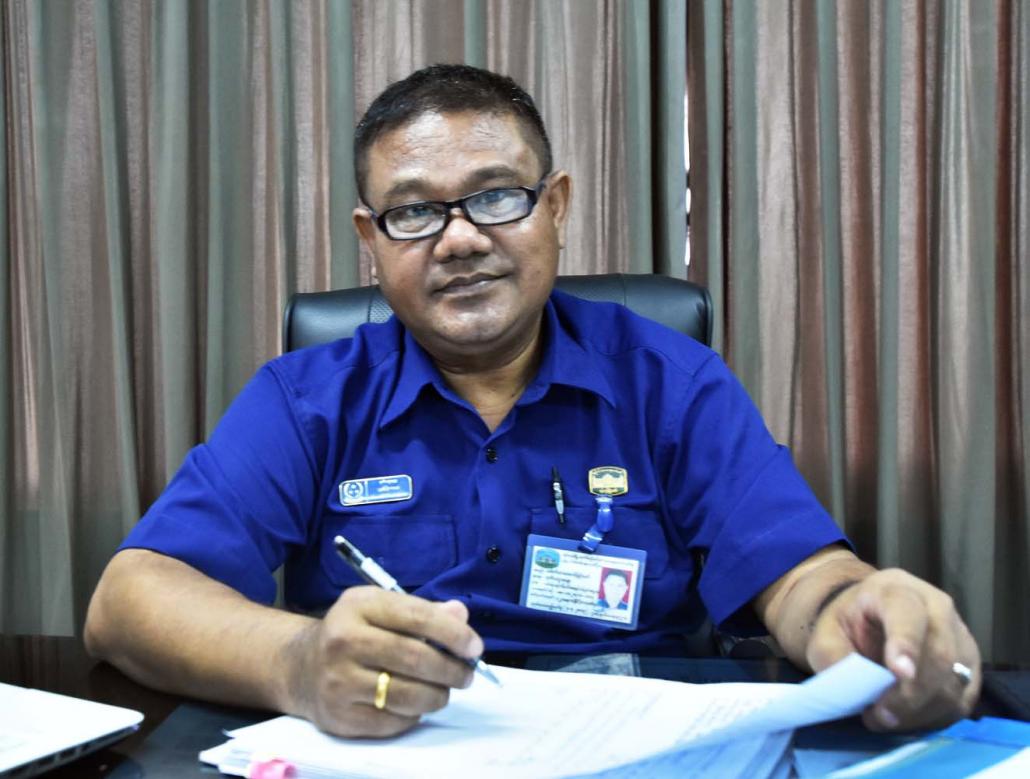 An effective garbage collection and disposal system was the municipality's task but residents also needed to take responsibility and be more disciplined about rubbish disposal, Aung Myint Maw said.
The YCDC wanted to provide more of the big dumpster bins that serve some neighbourhoods but faced resistance from residents who did not want them outside their homes because of the smell.
Residents lending a hand
Rain or shine, a group of Sanchaung residents gathers every Sunday to help keep the township's streets clean and tidy.
Ko Zaw Win Khaing, a 42-year-old resident of the township's Shan Kone Street, is a founding member of the Shan Kone Street Sunday Cleaning Group. He also helped found the Clean Yangon Campaign, which launched last year. Both groups comprise community-minded volunteers who pick up litter in public places.
Zaw Win Khaing said the Sanchaung group formed in 2012 in response to a growing litter problem in the township. Since 2014 the group has met every Sunday from 7am and 10am.
"Regardless of the weather, we don't fail to do our work," he said, adding the group has attracted the support of nearly 70 volunteers, including some expatriates.
Zaw Win Khaing expressed disappointment that many people, regardless of whether they were rich or poor, did not appreciate the importance of civic pride and helping to keep their community clean and tidy.
Although the authorities have a duty to collect and dispose of rubbish, residents also need to take responsibility, he believed.
"The government is usually blamed when there is flooding, but residents need to understand the cause and effect: When a drain is filled with garbage and it rains, flooding results."
He said prominent public figures such as President U Win Myint and State Counsellor Daw Aung San Suu Kyi should do more to promote proper rubbish disposal.
"When they talk about it, it is more effective than us talking about it a million times," he said.
He believed there was little awareness among Yangon residents about the importance of not littering.
"We can see that rubbish collection and cleaning is a huge burden for YCDC, so we need to more strictly enforce our laws," he said, adding that Yangon Region Chief Minister U Phyo Min Thein was the "most responsible".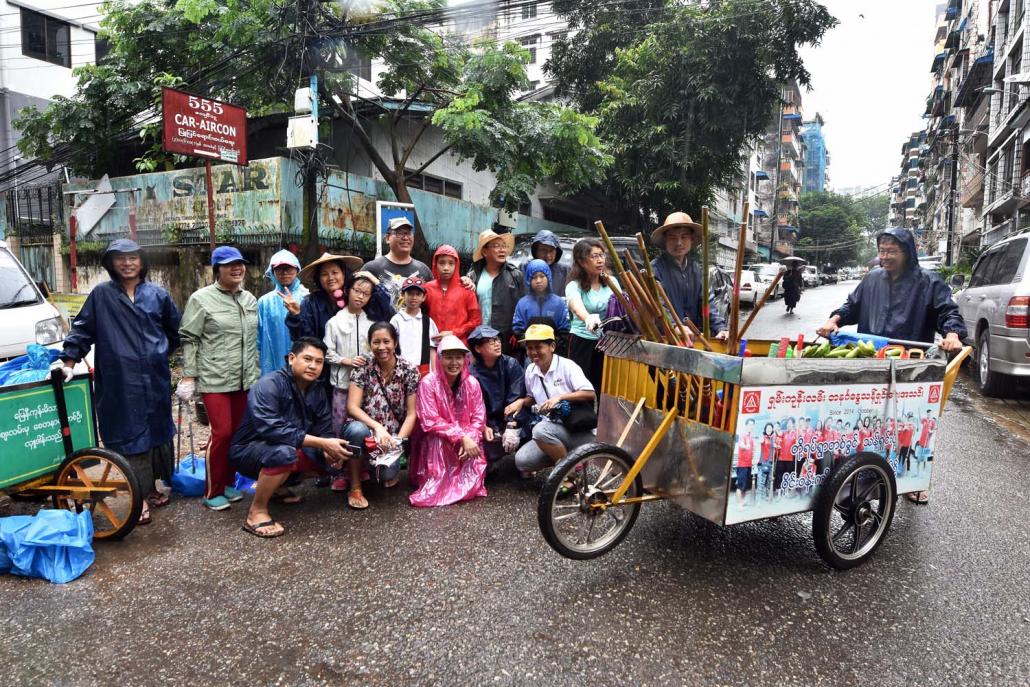 Mr Park Changsik, a 65-year-old South Korean who works as a teacher at the Exodus Korean Language Centre in Sanchaung, is one of the expatriate members of the Shan Kone Street Sunday Cleaning Group.
Park, who came to Yangon in 2009 and has lived in Sanchaung since 2011, joined the cleaning group three years ago.
"I was impressed to see them helping to keep the city clean because they love their city," he told Frontier.
He said the situation in Myanmar was similar to what it had been in South Korea five decades ago, and the main cause in both countries was people who dispose of rubbish carelessly.
"When I came here, I saw the same situation and that's why I became involved in this group to make the city clean," Park said.
Civic minded citizens
Ko Zayar Htun, 35 is a member of Clean Yangon, which focuses on collecting waste in public areas and visiting schools to promote its campaign.
Clean Yangon, which is supported by nearly 50 community organisations and about 1,000 volunteers, aims to promote a clean city, reduce littering, encourage citizens to be more litter conscious and reduce the impact of garbage on the environment.
"We do activities in public areas because we want to make people more aware that we are collecting the rubbish that others have thrown away," Zayar Htun told Frontier.
A year after the Clean Yangon campaign was launched, he acknowledges that much more needs to be done to create the awareness needed to reduce littering.
Zayar Htun said YCDC needs to take legal action in response to littering and the careless disposal of rubbish, levying fines and even jailing the worst offenders.
The campaign has mobilised its volunteers for 16 highly visible clean-up efforts throughout the city, for which it has received support from the YCDC in the form of garbage trucks and municipal workers.
The school visits were important for engaging young people and raising awareness, according to Zayar Htun.
"When we were young it was different; this is why we are engaging young students," he said.
Teacher Daw May Zin Htet says that if children are taught at an early age not to litter it helps them to develop the life-long habit of disposing of rubbish responsibly.
"Lessons to promote an anti-littering message need to be taught in the classroom," said May Zin Htet, who teaches at Hlaing Tharyar's Basic Education Middle School 10, which has an enrollment of about 1,400.
Zayar Htun said he hoped the new YCDC law passed this year would make an important contribution to improving garbage collection in the commercial capital.
He said more garbage bins were needed in downtown areas and outskirt townships such as Hlaing Tharyar where municipal collection and disposal efforts were under pressure.
There also needed to be a concerted campaign to reduce the use of plastics, he said.  "If we keep going on like this without reducing plastic rubbish, I worry the whole country will eventually resemble a rubbish dump."
Tough penalties
The new YCDC Law enacted on June 28 introduces a range of offences related to littering with some severe punishments.
At the lower end of the scale, anyone caught throwing litter, spitting betel or dumping animal carcasses or faeces in a public area faces a fine of K30,000 to K50,000.
Those responsible for air, water, sound or land pollution can face a fine of K100,000 to K500,000, as well as a prison term of up to three months. A second conviction brings a possible six-month prison term.
Those convicted of dumping chemicals, electronic goods and other toxic items will face a K100,000 to K500,000 fine, up to one year in prison, or both.
Those caught removing a YCDC rubbish bin face a K30,000 to K300,000 fine, while anyone found to be destroying a YCDC bin will face a fine of three times the bin's value, a three-month prison term, or both.
Anyone who burns rubbish will be liable for a K30,000 to K300,000 fine, up to three months in prison, or both.