A new tourist attraction in Yangon has been sucked in to a bitter dispute between regional MPs and the regional government.
By MRATT KYAW THU | FRONTIER
THE BUSY streets of Mingalar Taung Nyunt Township appear, for once, calm and quiet; Kandawgyi Lake and its adjoining parkland stretch out 400 feet (120 metres) below. To the south, the downtown area unfolds towards the Yangon River, while Shwedagon Pagoda glistens atop Singuttara Hill.
These spectacular views are normally reserved for those living in the highest, most luxurious condominiums. But since June 9, the Mingalarbar Balloon in Kandawgyi Park has enabled anyone willing to pay K10,000 (US$28 for foreigners) to spend 15 minutes above the city, tethered to the ground by a steel rope. Local media reported gushingly on the launch, describing the helium balloon as an important new tourist attraction for the city.
"We don't have any skyscrapers and no chance to climb high towers. It's not possible to ride helicopters, either," investor U Thet Lwin Toh, a well-known figure in the tourism industry, told Frontier in a recent interview at his office. "So we've created a bird's eye view of Yangon – it's like looking at it from a helicopter, or the top of the Eiffel Tower."
While all is calm aboard the balloon, down at ground level things are getting a little heated.
Surprise launch
Thet Lwin Toh, who is also managing director of Myanmar Voyages International Tourism and chairman of Union of Myanmar Travel Association, said he proposed the balloon project to Yangon Region Chief Minister U Phyo Min Thein, in May 2016.
Culture Attractions Co, Ltd, of which Thet Lwin Toh is project director, then submitted a formal proposal and got the green light in August 2016.
But opposition soon began to emerge. Critics say the balloon is flying too close to Shwedagon Pagoda, could damage trees in the park and should not be allowed on public land.
In February of this year, some Mingalar Taung Nyunt residents staged a protest calling for the project to be shifted out of Kandawgyi Park. A second demonstration was held in early May, with around 100 demonstrators reportedly holding vinyl signs with messages such as "No to business in public parks" and "Follow the public desire".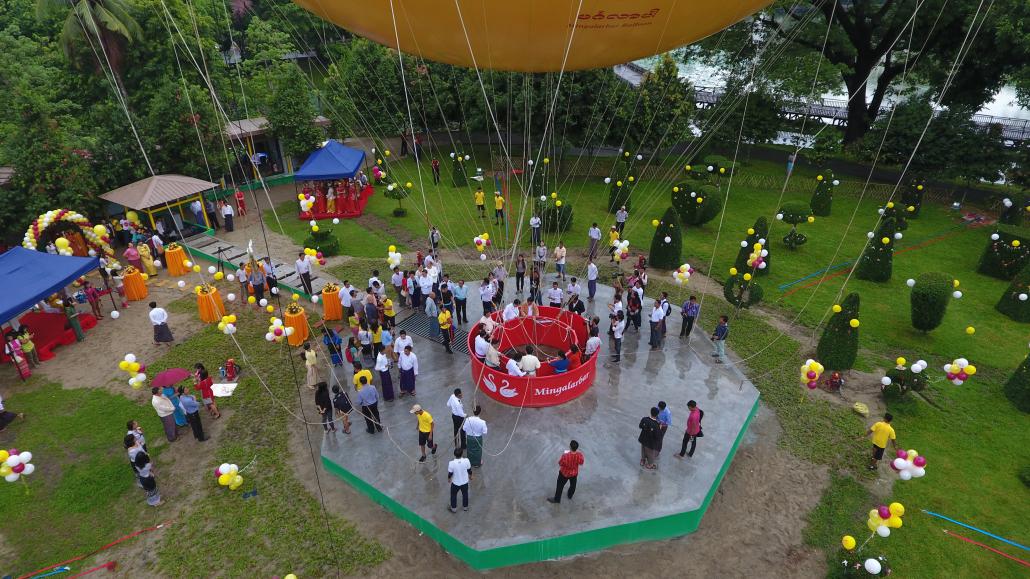 Yangon lawmakers have also taken up the issue as part of their ongoing war with the regional government over its perceived lack of transparency.
As Frontier has previously reported, senior National League for Democracy MPs from the Yangon Region Hluttaw have accused Phyo Min Thein's administration of failing to keep them properly informed about its plans and projects.
Questions from lawmakers prompted the Yangon Region Hluttaw Speaker to invite representatives from Culture Attractions and the regional government to explain the project.
However, the regional government snubbed the invitation, leaving Thet Lwin Toh and some other company representatives to face questions from lawmakers on October 3, 2016.
MP U Hla Htay (NLD, Mingalar Taung Nyunt-1) said company officials explained that they had already received approval but would consider shifting the location of the project.
"The conversation was pleasant. We [told them] that we didn't oppose the project, we just wanted to move it to another site," he said.
After the meeting, Hla Htay submitted a proposal to discuss the balloon project in the Hluttaw. However, the motion was blocked by Speaker U Tin Maung Tun for reasons that were never made clear.
"I think that there's something wrong behind [the project]," Hla Htay told Frontier. "That's why they would think that they should stop [my proposal]."
Daw Kyi Pyar (NLD, Kyauktada-1), said MPs had been expecting the proposal to be tabled during the fourth session, which ended in May.
"After we met with the company, we knew the situation was weird. We thought U Hla Htay would submit a proposal to the hluttaw and we were waiting for it, but it never came in," she said.
And then, on June 9, the project was formally launched, with two cabinet members – Yangon Mayor U Maung Maung Soe and Minister for Rakhine Ethnic Affairs U Zaw Aye Maung – on hand to cut the ribbon.
This has incensed lawmakers, who have accused Thet Lwin Toh of showing "disrespect" to the parliament because he did not inform them of the planned launched.
"We [MPs] are not opposed to the project, we just want to move it to another place," said Hla Htay, adding that the abandoned theme park on the corner of Bo Min Kaung and Upper Pansodan roads would be a more appropriate site.
"[Thet Lwin Toh] said that he will reconsider the place but now he launched this [Mingalarbar Balloon]. It's an act of disrespect to the Hluttaw."
'Why do they value this place?'
Thet Lwin Toh is dismissive of the protests against the balloon. He said he explained to lawmakers during the meeting why the location had been selected and was important for the project's success.
Asked about the demonstrations earlier this year, he said, "About 50 or 60 people protested against the project for just an hour. Is it the desire of the 6 million people who live in Yangon or just 60 people? We have to wait and see about that," he said.
Thet Lwin Toh is much more forthcoming about the project than the Yangon Region government.
He told Frontier that Culture Attractions is a joint venture with an American investor. According to the Directorate of Investment and Company Administration, this investor is John Tercek, a vice president for commercial and new business development at Royal Caribbean Cruises.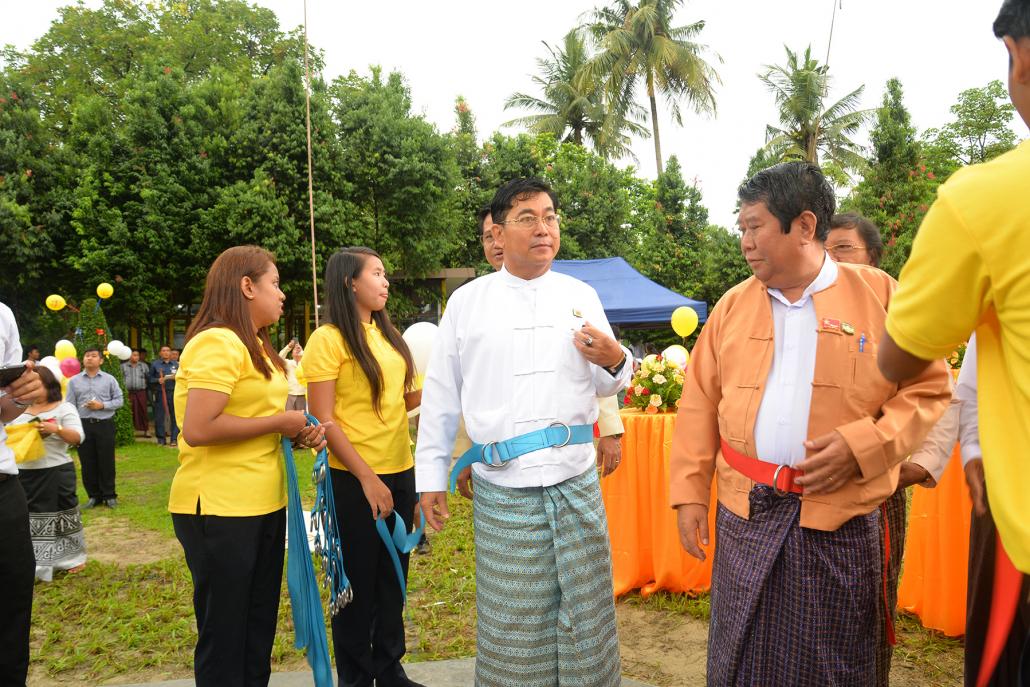 They have invested US$1.1 million in the project, renting a 56 foot by 56 foot piece of land in the park from Yangon City Development Committee for around K13 million a month.
This is a much higher figure than the government's other leases for public parkland, which can be as little as K1 a square foot. For example, Zaykabar pays just K5 million a month to rent 25 acres in the same park.
Culture Attractions was also required to move 27 large trees from the project site to another place in the park. Of these, 13 later died and the company had to pay K5.2 million in compensation.
"Kandawgyi is a big place. [I'm wondering] why people love only this place [the project area]. Why do they value this place so much?" Thet Lwin Toh said.
The dispute is likely to come to a head at the coming session of the Yangon Region Hluttaw, which will begin on July 15. Hla Htay has submitted another proposal to discuss the Mingalarbar Balloon, although it's unclear whether the speaker will allow it to be tabled.
Other lawmakers agree that it's time for the issue to be discussed in the open, and they have both the government and investors in their sights.
"It's like they [Culture Attractions] think that because they got the approval from the government," said Kyi Pyar, "they don't have to care about the Hluttaw."
TOP PHOTO: Government ministers aboard the Mingalarbar Balloon's inaugural flight on June 9. (Supplied)