About 18,000 migrant workers in China are returning home through Kachin State, where volunteers are at the forefront of efforts to manage the influx while protecting against COVID-19.
By JAW TU HKAWNG, NAW AWNG and EMILY FISHBEIN | FRONTIER
WHEN JA LUNG learned that her son and daughter-in-law would be returning home from China's Yunnan Province, the feeling was bittersweet. "We don't know if they'll be infected [with COVID-19] when they come back," said Ja Lung, who lives in the Kachin State capital, Myitkyina. "I heard that people coming back from foreign countries can carry the virus."
Ja Lung's son and daughter-in-law, who worked on a sugarcane plantation thought to be in Yunnan's Xishuangbanna Dai Autonomous Prefecture, are among 18,000 migrant workers expected to return through the border crossing at Loije in Kachin's Momauk Township in the coming days and weeks.
News began circulating on Facebook on April 15 that the workers would be returning through the Loije border crossing at a rate of 200 per day. Frontier could find no official announcement of the returns, which began late the next day.
The Irrawaddy and Myanmar Times quoted Myanmar government officials as saying the Chinese government had sent the workers back. However, a local government official who chairs the Loije COVID-19 prevention team, who asked not to be named, told Frontier on April 23 that many of the returnees are seasonal workers on sugarcane plantations in Yunnan, and usually work from December to April or May before returning to Myanmar. "This is the usual time when sugarcane plantation workers return," he said. "They just came back because they finished their work."
He estimated that 2,000 people had crossed the Loije border gate so far, and said that many of the returnees were from Momauk, Mohnyin, Mogaung and Myitkyina townships of Kachin, alongside a large number from Sagaing Region. Smaller numbers were from Mandalay and Magway regions, he said.
Ja Lung's daughter-in-law, Dai Naw, told Frontier by phone from quarantine at Myitkyina's nursing school that she had moved to China in December and stopped working the day before she came back to Myanmar. "No one asked me to leave," she said. "I decided on my own to return."
Ko Soe Win Sai, who is being quarantined at the same location, told Frontier that he had also been working on a sugarcane plantation since December, and that he and others working on the plantation stopped working earlier this month. "No one told me to return," he said. "I worried that the [pandemic] might get worse and saw an uncertain future."
A volunteer at a transit centre for returnees in Myitkyina said he had also met some workers returning from parts of China other than Yunnan, although these are believed to be a small minority.
The Loije COVID-19 prevention team chairperson said he had not been in communication with the Chinese government about the returns and did not know whether it had arranged to transport the workers to the border.
Volunteers 'filling the gap'
Ministry of Health and Sports guidelines require returnees from abroad to spend three weeks in a quarantine facility followed by seven days of home quarantine. The large number of returning migrants and the lack of notice that they were coming has left the government and communities scrambling to prepare for their arrival.
After crossing the border, returnees have their temperature checked and are asked to provide a travel history. Returnees from states and regions other than Kachin are required to spend three weeks in quarantine at Loije High School before being transported home, while those from Kachin, who comprise the majority, are sent to one of two transit centres in Myitkyina and Bhamo. At these transit centres, they have their temperature taken again before being taken to the quarantine facility nearest to their home town or village. Some spend a night in the transit centres, depending on the distance from their homes.
Deputy director of the Kachin State General Administration Department U Tin Naing, who administers the office of the Kachin State COVID-19 Containment and Emergency Response Committee, said that with the support of volunteer groups and local organisations, "there has been no difficulty in managing the returns".
"Currently, we are in good shape and I do not feel any concern," he added. "We will succeed in fighting this virus when we work together, discipline ourselves, follow the ministry of health guidelines strictly and cooperate with one another."
However, with government services underfunded and overwhelmed, communities are bearing much of the burden on their own – and at times, shouldering the risks.
Accommodation at quarantine facilities is provided free of charge, but little else is.
The expenses start at the border. Although the government has arranged transport for the returning migrants, they are required to pay, said Tin Naing. Returnee Soe Win Sai said he paid the standard rate of K25,000 for the three-hour journey by van from Loije to the state capital.
Communities are feeding those in quarantine. Ja Lung said she is sending food every day to her daughter-in-law at the nursing school in Myitkyina, while a local donor is supplying food to the quarantine facility at the Myitkyina Education College, where her son is staying.
One community group working to reduce the threat of the pandemic is the Kachin State COVID-19 Prevention Network. The group of about 40 youth volunteers has been spraying disinfectant, installing handwashing stations, and collecting donations of masks and hygiene materials since early April. It focuses its activities on camps for people displaced by conflict and other locations in Myitkyina, and is playing a leading role in disinfecting the Myitkyina transit centre and facilitating registration.
Although the group initially funded its activities with loans from private individuals, it is now receiving donations from the public and civil society groups. It is also seeking international donors, said spokesperson Lasha Pawlu.
He said the group has been coordinating its response with the health ministry, which provided a short training course on community virus prevention for the volunteers.
"The government still needs to do more to ensure everyone is healthy and safe," Pawlu told Frontier. "They are doing what they can, but we are concerned it is not comprehensive enough. We are filling the gap that the government does not cover."
"I urge the government to provide healthy food and basic needs for returnees while they are in quarantine facilities," he added.
Pawlu worries not only about the health risks to workers, volunteers and returnees, but also many other members of the community. Drivers transporting returnees are having to do back-to-back trips because of a manpower shortage, he said, and the row of warehouses serving as the Myitkyina transit centre is in a residential area of the city's Shatapru ward. Returnees were not being provided with food at Loije and either had to stop to buy food on the way to Myitkyina or arrive hungry at the transit centre, he added.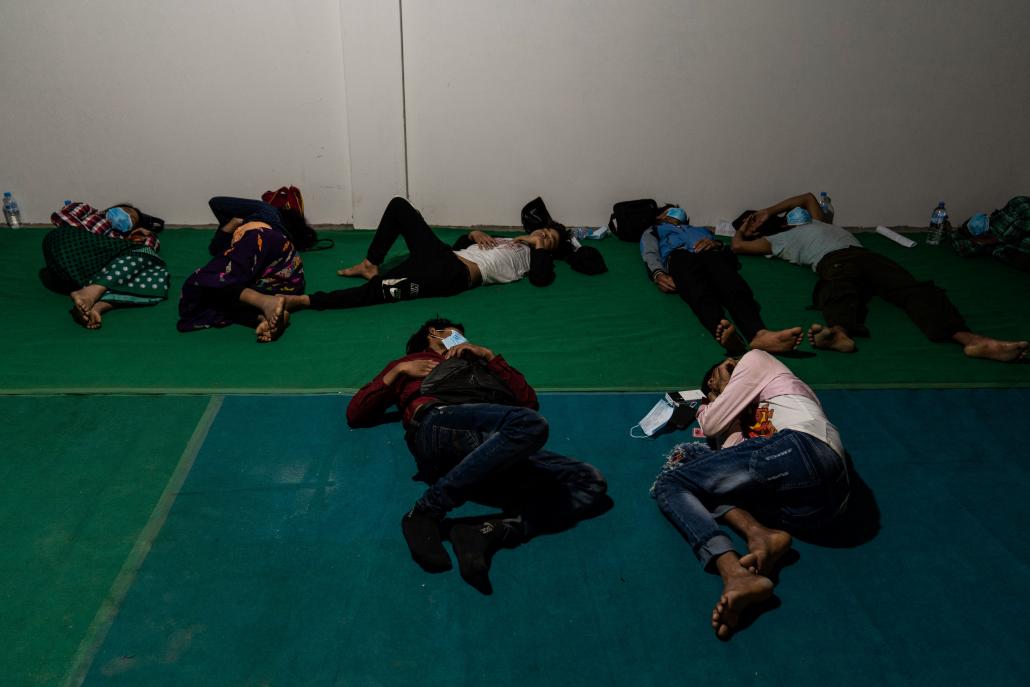 'Everyone is doing their best'
The health ministry's situation report for April 23 says that 5,483 people were being quarantined in 428 facilities throughout Kachin. This figure includes migrant workers and those under medical surveillance. The Myitkyina News Journal reported on April 21 that most of the people undergoing facility quarantine were in Momauk and Mohnyin townships.
Many of the quarantine facilities are in schools, religious compounds and universities, and serve a particular ward or village tract. Procedure states that people found with COVID-19 symptoms are taken to government hospitals, where they are labelled a Person Under Investigation, or PUI, and are tested for the virus. The health ministry's situation report for April 23 said there were 18 PUIs in Kachin, and there have so far been no confirmed cases in the state. Currently, all test samples for COVID-19 have to be sent to the National Health Laboratory in Yangon for processing.
As with the transit centres, local quarantine facilities are served by a combination of government health staff and resources, and volunteers and donated materials from the local community. The ratio between government and community support varies from place to place, as do conditions in the facilities.
Dr Wai Min Kyaw, a government doctor who has been stationed in Nam Mun village in Mohnyin Township since before the pandemic, is overseeing a quarantine facility established in the village high school. The school has so far received six returnees, with two to a classroom. Wai Min Kyaw, who is from Mandalay, said each returnee has a bed provided from a government hospital, and the rooms have a wash basin with soap, drinking water and 24-hour electricity.
At the small town of Hopin in Mohnyin Township, where 60 returnees were being housed in two facilities as of April 21, ward administrator Ko Ye La said the quarantine process was "going smoothly and without a hitch".
"We don't have any concerns," he said.
Ye La said the community had played an important role in preparing the facilities and supplying them with masks, hand gel, soap and food.
This outpouring of support did not surprise him. "It is the custom of the Myanmar people to generously help one another and everyone is doing their best to help the returnees," he said. "Our country is poor, but its people have a very strong ethic of cooperation."
Top photo: The luggage of migrant workers returned from China piles up at the transit centre in Myitkyina on the night of April 16. (Hkun Li | Frontier)