In the second of our two-part series on justice and accountability in Rakhine State, we examine the use of "universal jurisdiction" in Argentina and the problems with Myanmar's own investigation into allegations of abuses.
By THOMAS KEAN | FRONTIER
THE WHEELS of justice are moving in regards to Rakhine State across a range of institutions and countries.  
In part one of this series we examined the roles of the International Fact-Finding Mission on Myanmar and Independent Investigative Mission for Myanmar, and recent developments in the International Criminal Court and International Court of Justice.
Myanmar has refused to recognise the ICC's jurisdiction, but is taking a different approach to the ICJ. Since our article, State Counsellor Daw Aung San Suu Kyi has announced she will lead Myanmar's delegation to respond to the allegations. As the country's "agent", she will represent Myanmar in all aspects before the ICJ. And yes, it seems she will speak in court: the agent has the same rights as a lawyer in a national court and normally opens the argument on behalf of their government.
The ICJ hearing will begin on December 10 with three days of oral arguments on The Gambia's request for the court to announce "provisional measures" to stop Myanmar's "genocidal acts" against the Rohingya who remain in northern Rakhine State.
But there is movement in other parts of the world, too, as well as closer to home.
'Universal jurisdiction'
How can a national court on the other side of the world consider a criminal complaint of genocide? The answer is universal jurisdiction – the principle that some crimes are so heinous and of such magnitude that they can be prosecuted regardless of where they occur.
Universal jurisdiction emerged in the 17th century in response to rampant piracy. It was used again after World War II to try war criminals, including at the Nuremberg Trials, and was developed further as a result of Israel's prosecution in 1962 of Adolph Eichmann, a Nazi war criminal who had been hiding out in Argentina.
Since World War II the principle of universal jurisdiction has expanded significantly to cover acts such as terrorism and torture, and to reflect new international treaties such as the Genocide Convention.
Application of universal jurisdiction appears to be on an upswing, according to Swiss NGO Trial International. It has described 2017 and 2018 as a turning point because more states, particularly in Europe, are becoming serious about using universal jurisdiction to bring rights violators to justice.
While many states recognise some form of universal jurisdiction in their national laws, most only allow its application in fairly narrow circumstances – for example, if the ­accused is already in the state's custody. Argentina is different; section 118 of its constitution allows the prosecution of crimes "committed outside the territory of the nation against public international law". A more recent law clarifies that this includes crimes foreseen in the Rome Statute, including genocide and crimes against humanity, and gives Argentina's federal courts jurisdiction.
Since 2009 many cases have been filed in Argentina under universal jurisdiction, the most prominent being for crimes allegedly committed in Spain during the Franco era.
And so, on November 13, the Burmese Rohingya Organisation UK filed a complaint in the federal court of the Argentine capital Buenos Aires calling for Myanmar's military and civilian leaders – including Daw Aung San Suu Kyi – to be investigated and prosecuted for potential genocide and crimes against humanity.
Mr Tomás Ojea Quintana, an Argentine human rights lawyer who served as United Nations special rapporteur on human rights in Myanmar from 2008 to 2014, is providing BROUK with legal representation, and brings significant credibility to the filing. The complaint also has the support of two leading Latin American human rights organisations, Grandmothers of the Plaza de Mayo and the Foundation for Peace and Justice.
Unlike Gambia's application to the ICJ under the Genocide Convention, the complaint filed in Argentina focuses on individual rather than state responsibility. The ICC, too, is examining individual responsibility, but only in a limited context: because Myanmar is not a party to the Rome Statute, the alleged crimes must have taken place at least in part on the territory of Bangladesh, which joined the ICC in 2010.
In that sense, the three cases are complementary rather than overlapping. BROUK's filing to the Federal Court in Argentina notes that until now "no national or international judicial jurisdiction exists for dealing with the case as regards the crimes committed in the territory of Myanmar".
The complaint draws significantly on the work of the International Fact-Finding Mission on Myanmar and the recently established International Investigative Mechanism on Myanmar, not only in terms of establishing the evidentiary basis for the complaint but also in reassuring the court that geographical distance and judicial resources in Argentina would not be an obstacle to proceeding with an investigation. It requests that the court make contact with the IIMM to gain access to evidence collected by the IFFM.
However, the complaint differs from the IFFM on a significant point: the culpability of civilian authorities in alleged genocide and crimes against humanity. The IFFM noted that Aung San Suu Kyi had not used her position or moral authority to stop or condemn the military's actions, and that civilian authorities had "spread hateful and false narratives" and blocked investigations into alleged abuses, among other things. But it concluded that it was not possible to reasonably affirm that Aung San Suu Kyi's government knowingly contributed to the alleged crimes.
BROUK's complaint describes this analysis as shallow and contradictory to other parts of the IFFM report, and argues that the military's actions "could not have been deployed without the complementation, the coordination, the support or the acquiescence of the different civilian authorities".
It also lists several civilians as potentially liable for genocide, including the monk U Wirathu and politician U Nay Myo Wai.
It calls on the court to ensure the "perpetrators, co-perpetrators, participators and accessories be identified", and the necessary steps be taken for them to give a statement, including through arresting or extraditing them as necessary.
As with the ICC, Myanmar has rejected the court's jurisdiction and said it will not respond to the allegations.
If the case in Argentina proceeds, it will of course mean more bad press for Myanmar. But there could be practical implications for the country, too; for example, the court could conceivably issue arrest warrants for military and civilian leaders, including Aung San Suu Kyi, potentially limiting their ability to travel abroad.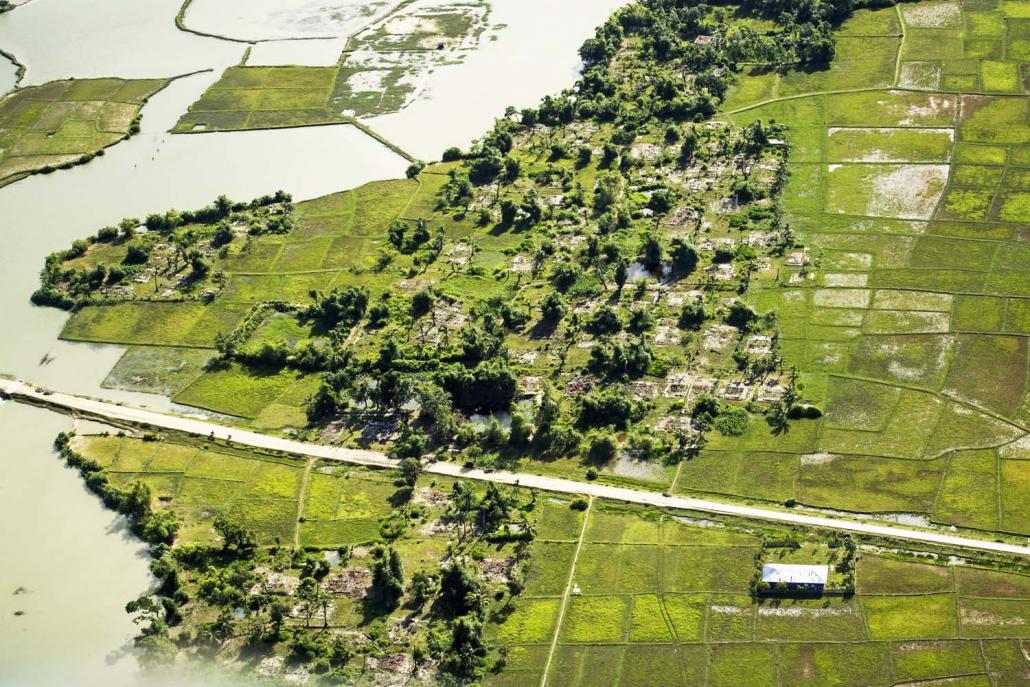 Myanmar's 'independent' investigation
Amid recent developments in The Hague and Argentina, little has been said about Myanmar's own efforts at accountability, the Independent Commission of Enquiry.
Established in June 2018, the commission is chaired by Ms Rosario Manalo from the Philippines and includes Mr Kenzo Oshima of Japan, former Constitutional Tribunal chair U Mya Thein and Dr Aung Tun Thet.
The ICOE is relevant to all three international cases. The ICC, for example, is considered a "court of last resort", intervening only when a country is unable or unwilling to credibly investigate and prosecute itself. Similarly, turning to universal jurisdiction would be widely considered unnecessary if there was any prospect of Myanmar conducting its own credible investigation.
So, what's the problem with the ICOE?
It's hard to know where to start. First was the timing of its creation. The government announced it would form the commission in June 2018, more than nine months after the violence of the previous August and September. By the time its members were appointed on July 30, many destroyed Rohingya villages had already been bulldozed to make way for "model" villages and security installations.
Meanwhile, the government had already conducted one inquiry, after a first round of violence in October 2016, and said it found "no evidence of crimes against humanity and ethnic cleansing". The military, too, had cleared itself of any wrongdoing.
The creation of the ICOE seemed very much like a strategic move to undermine those arguing that only international bodies or ad hoc tribunals could deliver justice in relation to Rakhine.
Apparently confirming these fears, Manalo told journalists in August 2018 that there would be "no blaming of anybody, no finger pointing of anybody" – which seemed a strange statement for a body created "with a view to seeking accountability". Aung Tun Thet is also concurrently a member of the government's Union Enterprise for Humanitarian Assistance, Resettlement and Development in Rakhine, and told journalists in March 2018, "There is no ethnic cleansing or genocide in our country."
But it's not just the public statements of its members that are an issue. The ICOE also has no legal means to ensure accountability of members of the military or police, who are instead tried in special courts under the control of the Tatmadaw. In March, the Tatmadaw formed an investigation court comprising high-level officers to "further scrutinize and approve the respective incidents", following an earlier investigation in late 2017. A court martial of soldiers involved in a massacre of Rohingya in Gudarpyin reportedly got underway on November 26.
Still, had the ICOE been perceived as showing signs of progress towards genuine accountability – let alone justice – it would have served to dampen enthusiasm for recent moves in The Hague and Argentina.
Since its establishment, though, the commission has made only modest progress. According to its press statements, as of February it had made one visit to Rakhine, during which it collected 36 depositions, and it had received 43 submissions as a result of a public call. In a statement on November 26 it said it had interviewed about 1,500 witnesses from various communities in northern Rakhine State, but gave no further information about the format of these interviews.
In August, an advance team visited Cox's Bazar to prepare for a planned visit of its Evidence Collection and Verification Team. The commission says it is waiting for permission from Bangladesh to send its team to Cox's Bazar to collect depositions and evidence from witnesses. "This situation has given rise to serious concerns for ICOE considering that the conclusion of its work is fast approaching," it said in a November 20 statement. Frontier understands that the team will soon be given official approval to visit Cox's Bazar and conduct interviews with and collect evidence from refugees.
The Tatmadaw and Myanmar Police Force have also provided it with documents. The commission said on November 26 that it had interviewed 20 police personnel who were present for the August 25, 2017, attacks, and was interviewing 29 military personnel assigned to northern Rakhine State between August 25 and September 5. It welcomed the Tatmadaw's "positive cooperation" and expressed appreciation for support from the MPF and Ministry of Home Affairs.
The status of the commission's interim report is also unclear. It was supposed to have been submitted to the President's Office in March, but the commission said in May that it was still "in the process of being prepared for submission to the president". The commission's mandate has been extended to the end of the year, when it is supposed to submit its final report.
The commission could still surprise sceptics, but it seems unlikely. Even if it does visit Cox's Bazar, the visit will likely be short and it's doubtful that many Rohingya would feel safe making a deposition to a body that is perceived as being supportive of the Myanmar government.
It is in part because of the ICOE's perceived lack of progress that international accountability efforts have started to move forward. If there was a "wait and see" period, it has long passed.
TOP PHOTO: President of the Burmese Rohingya Organisation UK, U Tun Khin (L), and Argentine human rights lawyer Mr Tomas Ojea Quintana (R) leave the Argentine federal court in Buenos Aires on November 13. (AFP)