A move by the junta to lower admission standards at universities that train doctors and other healthcare professionals has raised concerns about the quality of future medics
By FRONTIER
Since the February 2021 coup d'état, Myanmar's public health system has been in crisis. The military takeover prompted tens of thousands of medical staff to join the Civil Disobedience Movement, refusing to work until the regime handed back power to elected representatives.
But doctors and other professionals say the system is facing a new threat: junta policies that could lower the standards of training for medical doctors.
Health sector sources, including former high-level health ministry officials, say that more than 18 months after the coup, state-run hospitals throughout the country continue to be affected by shortages of healthcare professionals.
"Since more than half of the staff under the health ministry joined the CDM, the government hospitals can't function properly," said a former senior health department official in June of this year. He quit his job in the department after the military took over.
But replacing health workers is no easy task. Myanmar has six medical universities, including one run by the military. The five civilian universities take more than 1,300 of the top scorers from the high school matriculation exams each year, and entry has traditionally been highly competitive.
Medical schools have also been heavily impacted, with around half of medical students and departmental and teaching staff estimated to have joined the mass strike in protest of the coup. Just as importantly, the state education system has faced a massive boycott. Only 300,000 students sat for the matriculation exam in March 2022, down from 900,000 in 2020 according to education ministry figures.
This has left the junta with limited options to replenish the dwindling ranks of doctors in the health sector.
The situation threatens to exacerbate a shortage of doctors that has long affected Myanmar. World Health Organization figures show that with a population of about 52 million according to the 2014 census, Myanmar had 0.57 doctors for every 1,000 people. The average in Southeast Asia is 0.72 per 1,000 and for a developed country like Singapore, the average is 2.5 doctors per 1,000 people.
The regime appears to have responded to the shortage of medical students at universities by lowering admission standards.
Junta leader Senior General Min Aung Hlaing told a meeting of the State Administration Council in Nay Pyi Taw on December 13 that they would be easing the eligibility requirements for graduating high school students to get into medical schools. Entrance is usually based on the final score of all six matriculation subjects combined, with students who score high enough eligible to apply to medical universities.
This year, however, the process for identifying eligible students has changed. Instead, students with the highest total scores from just three subject areas – English, Biology and Chemistry – will be selected. Changing the entry score calculation in this way eliminates poorer subject results and allows many students who would otherwise not qualify to suddenly be eligible.
The junta has not publicised a cut-off score, possibly to mask the decline in admission standards. Frontier's sources say that the medical universities have still not been able to hit enrolment targets and are allowing large numbers of students to transfer in from other degrees to fill the places.
The junta is also demanding students serve in government-appointed medical roles for 10 years after graduating, rather than entering the private sector.
"Medical students will be provided with a stipend but they have to serve the State as service personnel for 10 years after they graduate," Min Aung Hlaing said in December.
This marks a return to the policy under the previous military regime, which required medical school graduates to work in government institutions, often in rural and remote areas, for at least three years if they wanted to receive a Medical Practitioner License.
Due to this requirement, some graduates never became doctors but worked in the health ministry instead. Reforms under the quasi-civilian government of U Thein Sein, a former general who took office in 2011, allowed graduates to receive their licence without working for the government by attending an additional month-long course, which quickly became the norm.
Many Myanmar medical professionals and public health specialists have criticised the junta's policy change on medical university admissions, as well as the lack of teachers and clinical supervisors in teaching hospitals, saying it will result in poorly trained doctors and other healthcare professionals.
"I'm very worried that if the teachers can't train medical students at the high level required, they won't become properly qualified doctors," said a former professor at a university of medicine who asked not to be identified for reasons of personal safety.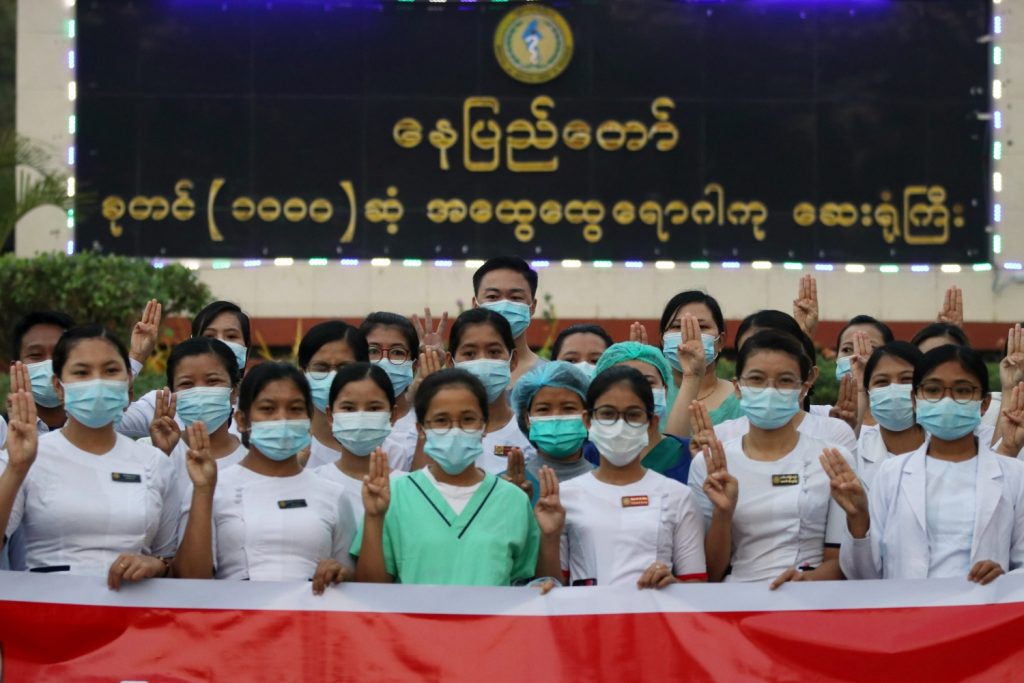 A slump in enrolments
Dr Michelle Khine*, a public health expert who worked in the health ministry before the coup, said admission numbers at medical schools are much lower than before the coup. The regime's solution, though, would have potentially serious consequences, she said.
"Lowering admission standards [to address it] will affect the quality of medical students," she warned.
Students and academic staff at medical schools in Yangon and Mandalay confirmed to Frontier there had been a decline in new admissions since the coup, and enrolment targets had not been reached.
A spokesperson for the health ministry declined to provide enrolment figures when contacted by Frontier. Frontier also contacted five students who are eligible to apply to medical universities in Yangon this year, and all declined to answer.
But the regime's own statements appear to confirm the difficulty it is having in attracting students.
On June 9, six weeks after an April deadline for applications, the junta's Department of Human Resources for Health again urged those eligible to go to medical universities to apply. The announcement said deadlines were being extended for a second time, and that students may be able to transfer from other universities into medical degrees depending on the vacancies.
On August 2, the same department confirmed that 211 students had already received approval to transfer into the five non-military medical universities from other degrees. Eligibility requirements for these transfers were not made clear in public statements or in response to Frontier's queries, but junta officials painted a positive picture.
"It can be said that the number of students who apply for admission to medical universities is large in general," said Dr Than Naing Soe, a spokesperson for the junta's health ministry who is also director of the Health Literacy Promotion Unit.
"Sometimes human resource management means making do with what we have. There are also a lot of teachers [recently] appointed by the ministry. But the main thing is to ensure the quality of medical graduates produced by medical universities doesn't decline," Than Naing Soe added. He did not clarify how many students had applied or what human resource limitations the regime was facing.
The junta's health ministry has also not revealed how many of its personnel have gone on strike and joined the CDM. However, CDM Medical Network member Dr Sitt Min Naing told Frontier in April that out of more than 110,000 government healthcare staff before the coup, about 40,000 are still out on strike.
There's also been a sharp fall in the number of academic staff at medical universities and related institutions.
A health sector source said that before the coup, there were 6,940 staff at the head office of the Department of Human Resources for Health in Nay Pyi Taw and at the 15 universities of medicines and allied universities, such as midwifery and nursing. Michelle Khine told Frontier on July 6 that almost half of those departmental and teaching staff had joined the CDM, while students who had boycotted studies at the two universities of medicine in Yangon told Frontier that nearly 60 percent of medical students were refusing to attend classes.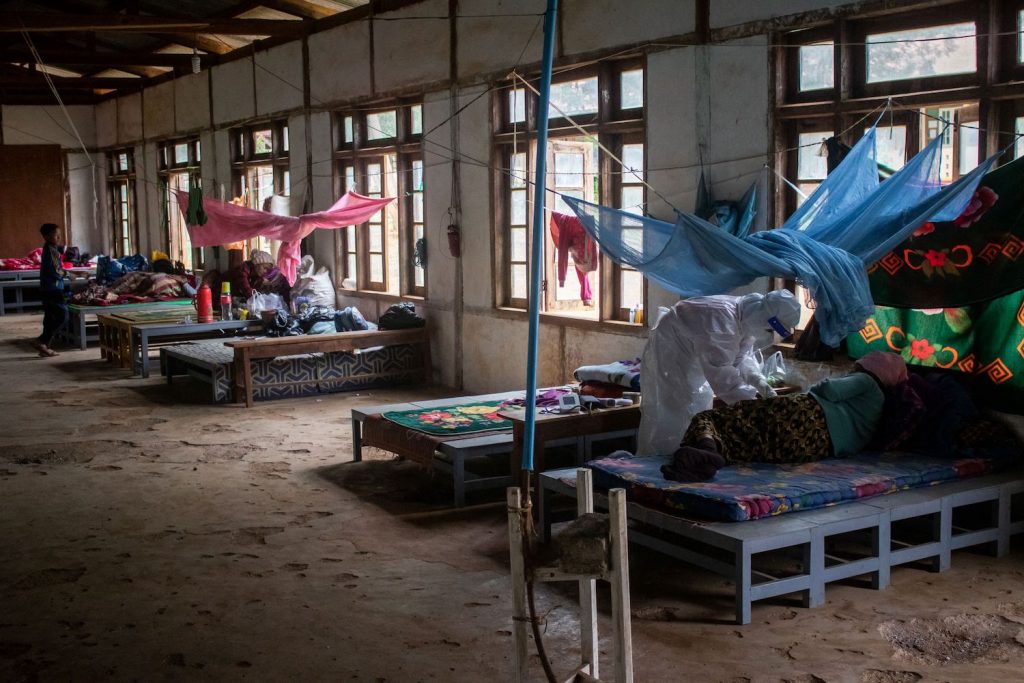 Shift from quality to quantity
During the 2018-19 academic year, the Central Committee for Integrated Curriculum Development under the National League for Democracy government updated the medical education curriculum. The change was based on inputs from experts, as well as a comparative review of six foreign medical universities. The revamp was aimed at bringing the curriculum more into line with international medical education standards.
The new curriculum, referred to as an outcome-based, integrated curriculum, is an approach to teaching in which students learn and integrate basic medical science subjects with clinical subjects, together with professional ethics, public and family health, social and behavioural sciences, and research.
The objective of the new curriculum was to produce "fully qualified, ethically-minded medical doctors tailor-made for the situations in Myanmar and elsewhere around the world", according to one of the medical university websites. A pilot of the new curriculum began with students who enrolled at medical universities in 2020.
"Due to the efforts of Myanmar health professionals, the integrated curriculum was 95 percent complete prior to the coup," said Michelle Khine. "But even though existing teachers will be proficient in the integrated curriculum teaching methods, teachers who transferred from other departments after the coup will not."
She said a number of doctors without teaching experience have been transferred from other departments, such as the Food and Drug Administration, into the faculties of medical universities to fill the shortfall in teaching staff.
Frontier tried unsuccessfully to seek comment from four of the medical universities about the integrated curriculum and delivery of courses.
Qualifying as a doctor in Myanmar requires six years of study but under the NLD government, the health ministry extended that by one year. Some medical students who are boycotting classes in protest of the coup predict that the military regime's health ministry may reduce the number of years needed to study for a medical degree.
Health experts and doctors are also concerned that the clinical training of medical students may be substandard because of the shortages of healthcare professionals at government hospitals.
"The lack of health professionals at hospitals can have a big impact on clinical teaching," said Dr Aung Myo Thu*, a medical practitioner in Yangon, referring to the professors, consultants, specialists, physicians and others who serve as medical officers at government hospitals.
The NUG tries to fill the void
In a report issued in April covering its first year of activities, the National Unity Government's health ministry said it had been conducting continuous and further education for students and health professionals by holding webinars and online lectures. The NUG is a cabinet appointed by lawmakers elected in the 2020 polls, which the military annulled citing unsubstantiated allegations of massive voter fraud.
The NUG established Interim University Councils soon after the coup, aimed at providing alternative education to students that mirrors or is drawn from the curriculum of three of the medical universities. These councils are now involved in delivering some of the NUG's online training offerings.
One council, known as the Interim University Council, University of Medicine (1) Yangon, lists on its website a six-year M.B.B.S. medical degree including clinical placements at major junta-run teaching hospitals in Yangon. In practice, the councils are unable to deliver placements or practical training for doctors and their course offerings for medicine remains limited.
The NUG health ministry has also been providing regular health education programmes, including exams, the report said. It's not yet providing full length degrees, but the NUG's Interim Council of Myanmar Nursing and Midwifery Training Schools recently announced the graduation of 63 Ladies Health Visitors, health workers who provide maternal child health and other services to women in their home. The 63 graduates had all attended a nine-month course online.
The NUG health ministry has also stepped in to issue temporary graduation certificates to medical students who were supposed to graduate from their medical degrees in mid-2021, but who left university after the coup without finishing their final clinical placements or attending their graduation ceremony.
NUG health minister Dr Zaw Wai Soe told the 21st International Conference on Emergency Medicine in Melbourne remotely in June that successive military rulers in Myanmar had left a legacy of poverty, inequality and the most inadequate healthcare and education systems in the world.
"We cannot return to the dark ages," Zaw Wai Soe told the gathering. "We are fighting not only for freedom and democracy; we are fighting for justice and rights, rights to vaccines, rights to education."
The NUG's Interim President's Office declined to comment further on the health ministry's training activities.
Prior the coup, Dr Ye Kyaw Thu* returned to postgraduate study to train as a psychiatrist at the University of Medicine (2) in Yangon, having previously worked at the Public Health Department at Hpa-an in Kayin State as a medical officer. He supports the CDM, and since the coup has refused to attend university and gone into hiding.
Ye Kyaw Thu told Frontier that he was participating in an online training course provided by CDM health professionals, with classes two days a week. He said he is grateful to be able to continue his medical education even though he is doing so while hiding from junta security forces.
"Many medical students, including me, have created a Facebook group to be able to continue our medical education. It enables us to study all the time," Ye Kyaw Thu said, adding that eight of the 14 postgraduate students in his course are boycotting classes.
Prior to the coup, Myanmar health professionals and health authorities were trying to get the country's six universities of medicine included on the World Accreditation Institute's list of universities of medicine, but now their efforts are in vain.
"Before the coup, I was aware that two of the six universities of medicine, including the military medical university, were on the road to inclusion on the accreditation list," said Michelle Khine. "Now, it's all over."
* denotes the use of a pseudonym upon request for safety reasons.