Frontier joins a trip to China that includes refreshing weather and a series of media workshops but curiously few opportunities to meet working journalists.
By KYAW PHONE KYAW | FRONTIER
IT WAS a great relief when my flight arrived in Kunming, the capital of China's Yunnan Province.
Yangon was sweltering in 43 °C heat when I left in mid-May but the temperature on arrival in Kunming was a cool and refreshing 20°C. I can't tell you how much I enjoyed escaping the heat torture.
Many of my journalist friends are visiting China these days. Some are invited by the Chinese government, some by media organisations, and others by private companies.
My second trip in 10 months to China – the land of no Facebook – included my first visits to Kunming and later, Beijing.
I sometimes wonder how differently China must be perceived by Westerners and by a journalist like myself, as a citizen from a country in which our powerful northern neighbour has significant economic and strategic interests.
I have noticed that China is making a greater effort to woo our country than it did when we were under military rule. Perhaps this is a response to the many negative reports about China in the Myanmar media since it acquired greater freedom after the change of government in 2011.
I travelled to China with a 20-member media group to attend a series of workshops with Chinese journalists. The trip was at the invitation of the Yunnan Journalists' Association in Kunming, and the Beijing-based All-China Journalists' Association.
Many of the workshops highlighted President Xi Jinping's One Belt, One Road and 21st Century Silk Road initiatives aimed at strengthening connectivity and cooperation between China and Eurasia.
We had no close contact with any working journalists during our 11-day trip. It was obvious to me after a couple of days that the objective of the trip was more about influencing our attitudes about China than what might be accomplished through a series of workshops.
I decided to think beyond the workshops, to the China of my childhood movie heroes, like Sun Wukong, a mythological figure known as the Monkey King, the main character in a famous 16th century novel, Journey to the West.
The decision made the trip more interesting, but I was facing challenges with the food. I often eat Chinese food in Myanmar but the food in China was, for me, a disappointment. It lacked saltiness and spiciness and I found it tasteless. Eating it for 11 days depressed my appetite.
I was amazed at how the Chinese eat almost anything; scorpions, grasshoppers, spiders, snakes, seahorses, starfish and scary-looking grilled worms. The worms are grilled alive. We were given the opportunity to sample this fare in Beijing but I didn't take the chance and I don't regret it.
I was surprised to observe at a nightlife venue in Beijing that some customers were puffing on cheroots from Myingyan in Mandalay Region. The cheroots cost many times their price in Myanmar.
English is not widely understood in China, except in big cities such as Beijing. I had to use body language when I wanted to buy a bottle of water in Kunming and Nanning, the capital of Guangxi Zhuang Autonomous Region and another stop on our itinerary.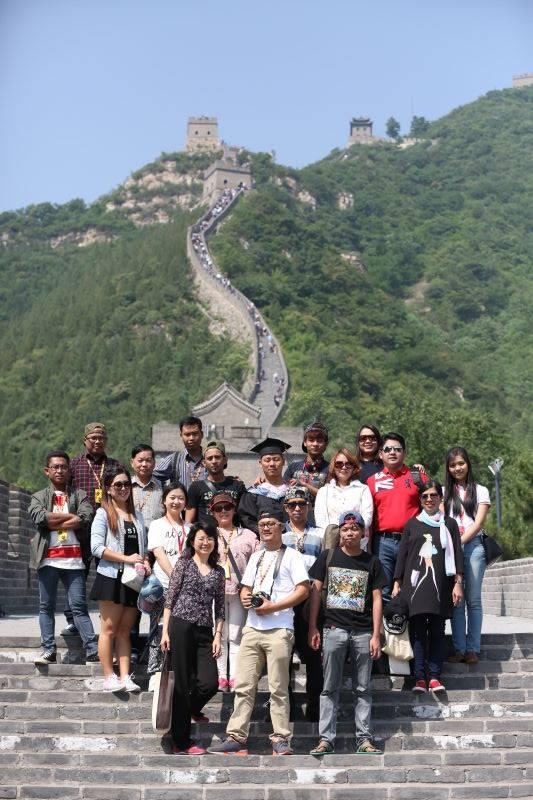 Eventually, I downloaded an English-Chinese translation app that overcame communication difficulties, especially when we urgently needed to use a toilet.
When I bought my SIM card in Myanmar four years ago I had to queue for 10 hours. I had to wait four days to acquire a SIM card in China, despite helpful Chinese friends trying to expedite the process. Because of language barriers we had to rely on our translators every time we wanted to top up the cards.
During our Beijing visit we had an excursion to the Great Wall, about 50 kilometres away. As we were climbing it we received a Chinese-language SMS on our mobile phones. Our translators said it was an emergency number sent by the authorities in case we lost our way. I wondered if the SMS meant that the authorities knew everywhere I went.
The view from the Great Wall was breathtaking and I saw more foreigners there than anywhere else during the trip.
The workshops provided opportunities to meet many high-ranking government officials, academics and office holders from journalists' organisations, but not working journalists.
Many of the workshops had two-hour sessions without a break and included panelists who spoke in a monotone.
We also had an opportunity to attend, as observers, a news briefing given by the impressive spokesperson of China's Foreign Ministry, Ms Hua Chunying. There are strict rules for the briefings and we could not take photos until it was finished.
In Beijing, Dr Kuang Wenbo, a professor of new media at the School of Journalism and Communication at Renmin University, briefed us about trust in social media. He said a survey by the university found that more than 60 percent of people trusted news spread on WeChat, while fewer than 35 percent trusted news on television and even fewer trusted newspapers as a source for news.
Despite tight controls on the internet in China, Kuang said the government found it hard to control the news it did not like on WeChat because it spread so quickly. WeChat had a reputation for reliability and that's why it is trusted, he said.
WeChat is to China what Facebook is to Myanmar. Other social media in China was losing users but WeChat was booming, Kuang said. Some workers have their salaries paid via WeChat.
China's cities are notorious for bad air pollution, but I was fortunate with the weather. It was neither too hot nor too cold and I wanted to bring it home as a present for my country.
I returned to Myanmar eager for the familiar comfort of sour and spicy food but not relishing the prospect of months of monsoon weather.
Top photo: A hillslope of paddy fields in the mountainous region of Yuanyang, in southwest china's Yunnan province. (AFP)