By NYAN HLAING LYNN | FRONTIER
NAY PYI TAW — Three journalists arrested on Monday after covering a public ceremony organised by an ethnic armed group are facing the possibility of five-year prison terms, after a government spokesperson confirmed the trio would be charged under the colonial-era Unlawful Associations Act.
Ko Lawi Weng ofThe Irrawaddy, also known as Thein Zaw, along with DVB reporters Ko Aye Naing and Ko Pyae Bone Aung, remain in military custody despite an official announcement of their transfer to the Lashio police station on Tuesday.
State Counsellor's office spokesman U Zaw Htay told Frontier that the trio were in a safe condition at a military facility and would be transferred to Lashio police station on Thursday.
Zaw Htay added that the military had informed him on Monday the reporters would face charges under the Unlawful Associations Act for meeting with TNLA representatives.
"They said they will carry on according to the law," he said. "We have to look through the events in detail."
The reporters had travelled to TNLA territory in Namhsan to cover an event marking the International Day against Drug Abuse and Illicit Trafficking.
Lawi Weng, one of Myanmar's most well-known conflict journalists, has made several journeys to meet with TNLA figures in recent years without incident, including other reporting trips to monitor the group's activities on opium eradication and drug rehabilitation in northern Shan State.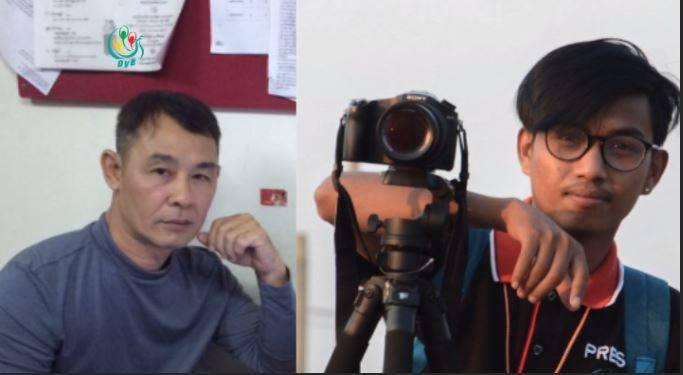 Aye Naing has also spent the last 10 years covered Myanmar's myriad ethnic conflicts for DVB, while Pyae Bone Aunghad built a career across several outlets in print and television journalism before joining DVB last year.
Officers at the Kyaukme District and Lashio police stations told Frontier Wednesday evening that the trio had been kept for questioning by a military operations unit.
Both said they had no information on the exact location of the reporters and the timetable for their expected transfer into police custody.
Colleagues have been unable to contact the trio since Monday and are concerned for their safety.
"They were transferred to the police station according to the military's press release," Ko Kyaw Zwa Moe, the English editor of The Irrawaddy, told Frontier. "However, we have since learend that they were not transferred to any police station so far which is very concerning."
The arrests have been roundly condemned by local media figures press watchdogs alike.
Myanmar News Media Council member U Myint Kyaw, said the body had sent a letter to the military's chief of staff to advise that the arrests were contrary to the News Media Law and the government's commitment to freedom of information.
"The military is trying to censor journalists by forcing them not to connect with or write about ethnic armed groups," he said. "The government is responsible and needs to intervene in this case."
Elsewhere, the Committee to Protect Journalists called for the trio's immediate release.
"Aye Naing, Pyae Bone Aung, and Thein Zaw should be immediately freed and allowed to carry on with their work as journalists," CPJ Asia program coordinator Steven Butler said in a Wednesday press release. "Using the archaic Unlawful Associations Act to incarcerate journalists is an affront to democracy in Myanmar."
Frontier has been unable to reach Defence Ministry spokesmen Maj-Gen Soe Naing Oo and Maj-Gen Aung Ye Win for comment.
Additional reporting by Sean Gleeson in Yangon.