Jade traders in Mandalay say the use of WeChat by Chinese brokers is hurting business and want the use of the social media app to be banned.
By KYAW LIN HTOON | FRONTIER
JADE TRADERS in Mandalay have launched a campaign to ban brokers from China from using the popular Chinese social media app WeChat, which they say is sending prices down.
More than 2,000 Myanmar merchants at Mandalay's Maha Aung Myay jade market have petitioned the Mandalay City Development Committee and the market's trustee committee to impose the ban.
The merchants say the issue has not been resolved since the petition was submitted on October 3.
"We don't like the way Chinese brokers use WeChat to share images of our jade on messaging groups because it affects prices," said U Aung Win Oo, who spearheaded the signature campaign.
He said once the broker had found a buyer, they would typically offer the Myanmar trader "half, or even less", Aung Win Oo told Frontier.
He said that if a broker's offer was rejected for a jade piece and its image and description had been circulated on WeChat, merchants faced difficulty attracting other buyers. He said this was because the photos were shared widely, giving potential buyers the impression that high-quality jade was easily available.
"The jade trade is based on a visual assessment; buyers examine the piece and then offer a price. These brokers, they mostly don't know anything about jade. For them, it's just like buying vegetables in a market," Aung Win Oo said. "We want expert buyers who will pay us what the jade is worth."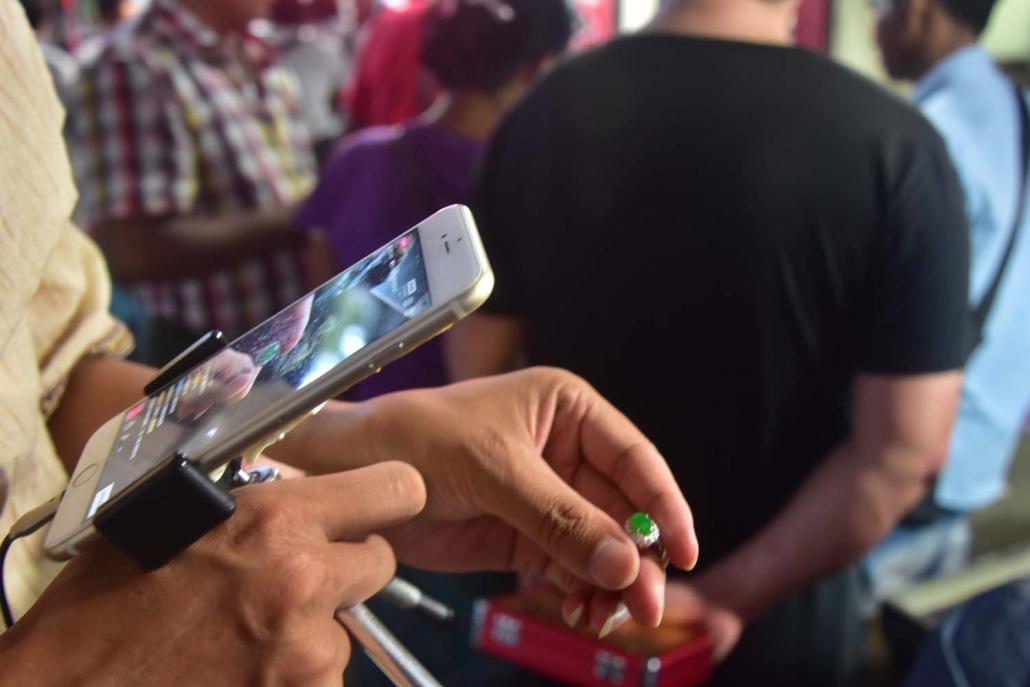 Banning WeChat would force the real buyers and traders to come to the market and purchase the jade in person, he said.
The Maha Aung Myay market on 87th Street between 39th and 40th streets is the largest of its kind in Mandalay and is the centre of the city's jade trade, with vendors' displays ranging from big pieces of rock to tiny fragments. The market is open from 6am to noon and 2pm to 4pm. Traders who sell other precious stones and gems make their appearance in the afternoon.
The chairman of the market's trustees committee, U Than Win, said it did not want to take the decision to ban WeChat because of the impact it would have on trading.
"We will have to meet with the regional government, Ministry of Natural Resources and Environmental Conservation and the Mandalay mayor because we will only know what to do after taking instructions from them," he said.
Among those who signed the petition was jade merchant U Myo, who said the main buyers at jade markets in Myanmar are from China. "They use WeChat to take images of jade pieces and they reduce their offer to less than half what the real buyer in China is willing to pay," U Myo told Frontier.
"This way of trading is destroying our jade market, and we feel that we are being exploited," he said.
Jade merchants say brokers began using WeChat at the market in 2016 and it is now used by 75 percent of all buyers from China, where the app was launched in 2011. In September, WeChat was reported to have 1.057 billion monthly active users.
Than Win said it would be easy for the MCDC to enforce a WeChat ban within the market.
"However, as we need to consider the effect of any such move on both sides, such a ban should not be issued quickly. I would like to suggest that local merchants do not allow brokers to use WeChat when they are inspecting jade," he said.
Despite hostility to the use of WeChat at the market, traders are hoping that business will benefit from expanding transport connections with China. Chinese airline 9Air launched services between Guangzhou and Mandalay in early October, with three flights a week.