When Frontier Myanmar's co-founder and CEO U Sonny Swe first heard the word "memberships" at a publishing conference two years ago, he didn't pay much attention.
At the time, like most other media in Myanmar, Frontier operated with a traditional, advertising-based revenue model. Circulation revenues, from subscriptions and newsstand sales, were relatively small. But the rise of digital platforms meant that revenue from advertising was plummeting, and what was left was hard to capture without sacrificing editorial independence.
Sonny Swe knew he needed to find a new business model. He believed the solution lay in digital transformation, and in mid-2018 he sat down with the editorial team to discuss the options.
"We talked about whether we should put up a paywall," he said. This seemed like the most appealing option, because it was a familiar transaction. Readers would pay to read articles online, just as they pay for a physical copy of the magazine.
But there was one big problem, said digital editor Ms Clare Hammond.
"Our articles are read online by lots of people who can't afford to pay for a digital subscription," she said.
"We believe Frontier plays an important role in Myanmar by covering issues that are not covered elsewhere, and providing balanced, in-depth reporting. I really struggled with the idea of making our content exclusive."
Memberships seemed to offer an alternative. Readers who value a media organisation, because they believe it is providing a public service, would help to sustain it by contributing money and sharing knowledge.
Sonny Swe admits he was skeptical at first that this would work for Frontier.
"I didn't know what membership was, or how it would generate revenue, because it's a new thing in Myanmar," he said. "But Clare really convinced me that keeping our reporting free for our audience suits our DNA."
Sonny Swe said he was inspired by other publications in the region that have successfully introduced memberships, including Rappler in the Philippines and Singapore-based New Naratif, which covers Southeast Asia. "They really impressed me. I think the reason they are successful is because they do a lot of homework about who their readers are," he said.
Editor-in-chief Mr Thomas Kean said he felt that memberships made "a lot of sense" for Frontier, given its audience. "We have a small but very loyal and engaged audience, and until now we have not been offering them a way to support us beyond buying the magazine," he said.
This left one important question: how to finance the project.
The answer came in November 2018, when Google News Initiative launched its first Asia Pacific Innovation Challenge.
"None of us had ever applied for anything like this before," said Hammond. "So we hired Splice, a Singapore-based consultancy that supports the transformation of media start-ups in Asia."
With assistance from Splice, Frontier submitted its application in January 2019.
Three months and several rounds of interviews later, Frontier was among the first batch of 23 news organisations from 14 countries in the Asia-Pacific region – and the only one from Myanmar – to be awarded funding.
"After this we really dived into memberships," said Sonny Swe.
An innovation challenge
The following month, Ma Su Phyu Hnin also took a leap into the unknown. She applied for the newly created job of memberships manager at Frontier. She had worked on the British Chamber of Commerce Myanmar's membership programme, but figured that a media organisation would have to approach memberships differently than a business chamber. "I thought it was very exciting because it's a pioneer project in this country," she said.
Her first job was to help lead a series of focus groups and one-on-one meetings with Frontier readers, to find out what they might want from the membership programme. It was the first time that the editorial team had sat down with their readers in a formal setting to ask for feedback.
"We talked a lot about how the concept of memberships could be adapted to the Myanmar context, and about the exclusive research and insights that we could offer paying members," said Hammond. Feedback and ideas from these meetings shaped the initial design of the membership programme, she said.
"We learned a lot, including that some of our early ideas – like holding conference calls for members – probably weren't going to work," she said. "People said the idea of conference calls filled them with dread."
Focus-group participants recommended selling different types of memberships for individuals and institutions, Hammond said.
For example, individual members might get a print or digital version of the magazine, a daily briefing, Frontier-branded merchandise and invitations to networking events.
On top of that, institutional members – such as businesses, embassies, NGOs and universities – might want additional news and information products.
"For example, some of the people who participated in our focus groups identified gaps in the market for a Myanmar-language media monitor, and a parliamentary news service," she said.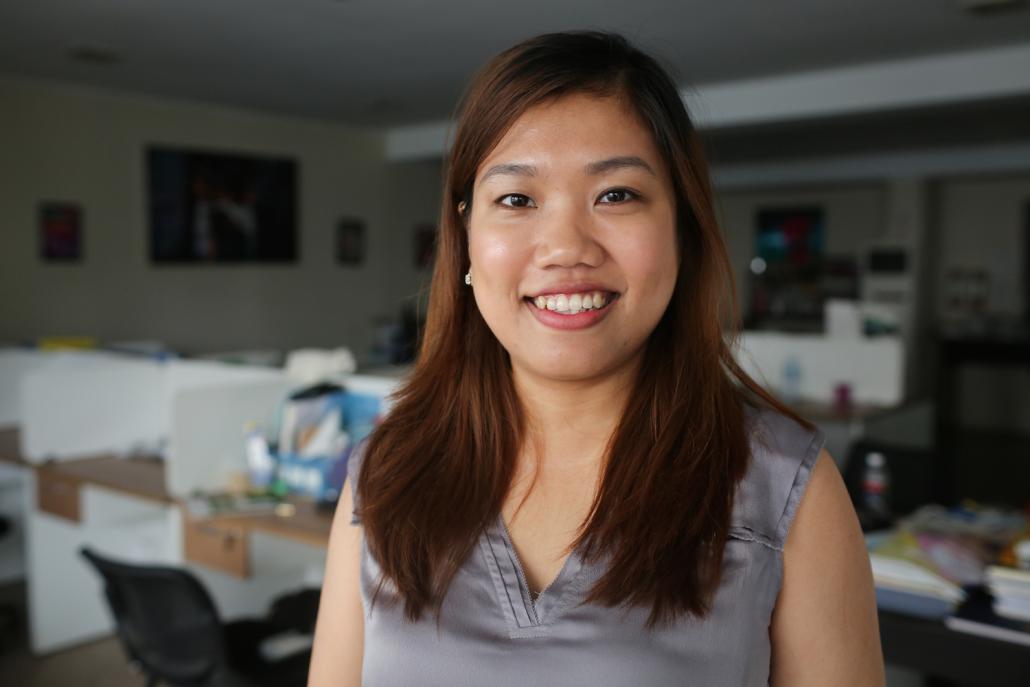 Hammond and Su Phyu Hnin spent much of June and July designing prototype products, with help from Splice and Frontier's editorial and commercial teams.
"We looked at all the feedback from the focus groups and meetings, and worked out what would be feasible, including how much it would cost, and how many staff we would need to hire to turn the ideas into reality," said Hammond. "Once we were sure we could deliver some of these products, we decided to get more feedback – this time from a larger group of people."
Frontier had already asked readers who wanted to be involved in designing the membership programme to sign up to a mailing list. The simplest way to get them involved, said Hammond, was to send out surveys.
The first survey was aimed at designing a daily briefing. Readers were asked questions including how much analysis they wanted, the optimal length for a briefing, and whether they wanted to help Frontier test the prototype.
"We were amazed at the number of responses," said Kean.
Su Phyu Hnin agreed. "The surveys are very exciting for me right now because I feel like they're helping us to shape where we are going," she said.
"To be honest I didn't think people would be that engaged, but they really take their time to answer and it's exciting to see the results."
Is Myanmar ready?
There's plenty of work to be done before the launch, which is targeted for late 2019.
"There are so many more moving parts to this than just running a publication; lots of smaller tasks to do and a lot more coordination involved," said Kean.
And while the response has been positive so far, the project's success depends on whether Frontier can deliver on what it's started.
"There's lot of potential to keep expanding… we haven't completely shown our hand yet," said Kean. "Once the full package is out there, there'll be something more for people to grasp onto."
Asked whether Myanmar is ready for a media organistion offering memberships, Su Phyu Hnin said it's one of the things she worries about.
"It's not like we're selling clothes, or an entertainment product that people are familiar with."
But Sonny Swe is optimistic. Is Myanmar ready? "Definitely," he said. "We have a niche readership but at the same time they are very loyal to us and they understand the importance of independent media as well as responsible, accountable journalism. It's great to have that sort of audience turning into a community."
For Frontier reporter Ko Ye Mon, the success of the membership programme means the freedom to continue reporting on the topics he believes are important. "Frontier is very free and transparent for news. If I want to cover a story, the editors never deny me [the opportunity]," he said.
If the experiment succeeds, other media in Myanmar can also learn from it. A case study will be made freely available, so that other organisations can draw on Frontier's experiences to build their own financial sustainability.
It's important to remember that at the heart of it, this project is about sustainably financing independent journalism, said Kean.
"It's to keep independent journalism in Myanmar alive, and hopefully to enable it to grow and to flourish," he said.