A combination of factors ranging from climate change to deforestation are being blamed for an apparent increase in flooding, with hundreds of thousands displaced for a second consecutive year.
By HEIN KO SOE | FRONTIER
U HTAY has never seen anything like it.
"This is the worst flood I've ever seen here," said the 62-year-old resident of No 2 ward in Pakokku, Magway Region. "Hundreds of people have been forced to leave their homes."
Since the flooding began in late July, U Htay and other members of the PKU water donation group have been providing assistance to residents of wards and villages beside the Ayeyarwady River that have been affected.
According to group members, about 10,000 people from six wards and 80 villages in Pakokku township have been forced to leave their homes and seek refuge in monasteries and recreational facilities.
Across Myanmar, nine people have been killed and more than 490,000 people affected across five regions – Ayeyarwady, Bago, Magway, Mandalay and Yangon – as well as Rakhine State, according to the Ministry of Social Welfare, Relief and Resettlement.
Ayeyarwady Region has been the worst affected, with the swollen Ayeyarwady, Ngawun and Toe rivers flooding major towns including Pathein, Myaungmya, Hinthada, Maubin and Myan Aung.
"The other day I was on Strand Road in Pathein and half of my body was underwater," said Ko Myo Min, a 27-year-old resident of No 2 ward in Pathein, the state capital.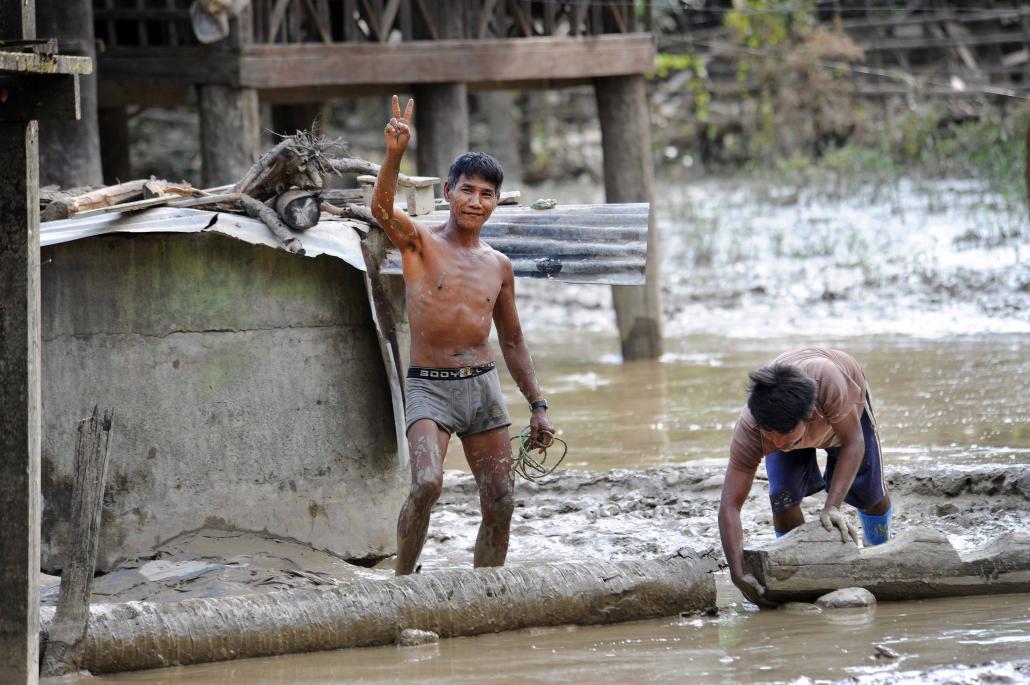 The scenes are similar to those of last year, when severe flooding prompted President U Thein Sein to declare two states and two regions natural disaster zones. At least 103 people were killed and about one million affected by the disaster, which also damaged 278,000 hectares (687,000 acres) of farmland.
Flooding during monsoon season is normal; some towns, such as Bago and Hpa-an are hit nearly every year.
But a disaster on this scale, over two consecutive years, is prompting many to ask whether regular mass floods will become the new normal and, if so, what could be driving this change.
Pointing the finger
Environmentalists and activists told Frontier that they believed there were two factors driving more regular flooding.
The first is man-made climate change.
Myanmar's National Adaptation Programme of Action (NAPA), which was drafted under the United Nations Framework Convention on Climate Change, forecasts that Myanmar will be subject to both increased drought and flooding as a result of climate change.
Some changes are already being observed. Since the 1970s, there has been a noticeable reduction in the length of the monsoon, due to it both arriving later and withdrawing earlier. At the same time, increases in rainfall and intensity have both been recorded. These developments have clear implications for flood risk.
The NAPA report cites a study showing that from 1960 to 2009 "shorter rainfall seasons in combination with erratic and intense rainfall resulted in numerous flooding events".
Climate change projections for Myanmar, meanwhile, include an increase in rainfall totals and variability during the rainy season, an increase in the risk of flooding because of the late onset and early withdrawal of the monsoon, and an increase in the occurrence and intensity of extreme weather events, including flooding and intense rain.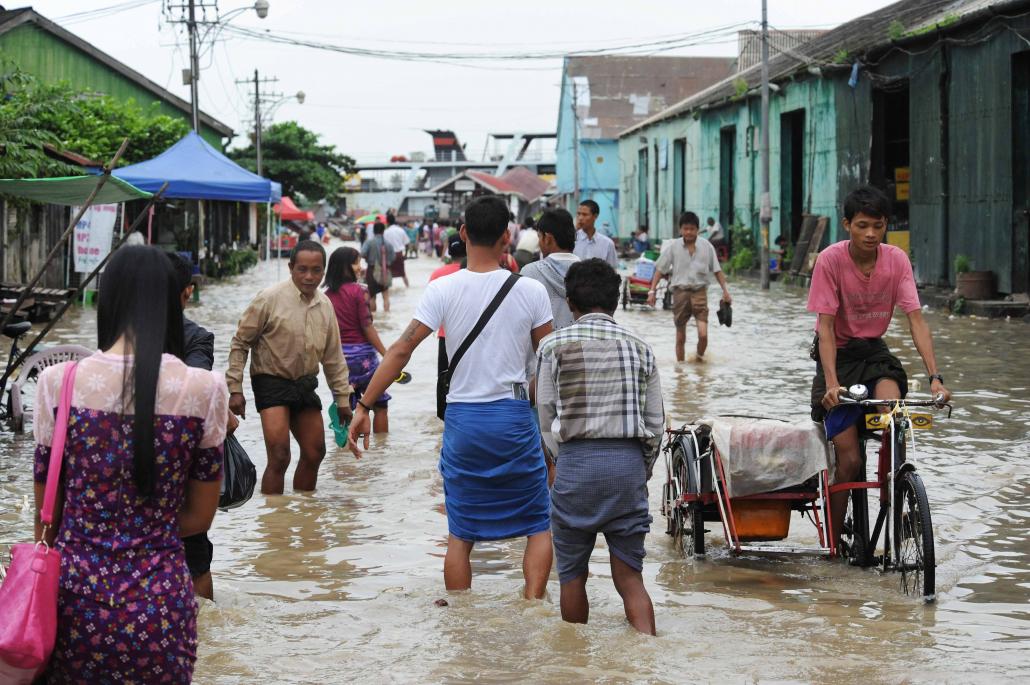 But many are also pointing to the impact of land degradation, particularly as a result of mining and logging.
This year, the flooding has been driven by heavy rainfall in northern Sagaing Region and Kachin State – both regions expected to see higher rainfall as a result of climate change.
According to Department of Meteorology and Hydrology director U Kyaw Lwin Oo, this July the two regions received between 50 and 70 inches, up from 20 to 30 inches in July last year.
"When we compare the rainfall from these two regions to last year, it's clear that this rainfall has caused the flooding in upper and lower Myanmar this year," he said.
While some of the rain drains into the upper reaches of the Ayeyarwady River, much of it goes into the U Ru River, from where it flows into the Chindwin and then the Ayeyarwady.
The U Ru has been devastated by the effects of jade mining in the Hpakant region of Kachin State, where mining firms have literally moved mountains to get their hands on highly valuable jadeite. The landscape has been stripped of vegetation, and waste is dumped into huge tailings piles beside the river, or even directly into the waterway.
"The U Ru River has been badly damaged by soil waste from jade mining," said U Myo Htun, an activist who focuses on the environmental impacts of mining. "The soil has raised the water level and there are no more trees left to absorb the rainfall. So when it rains, it all just flows directly into the river.
"We shouldn't forget about this issue. We need to focus on it urgently because it is exacerbating the effects of climate change."
The forest effect
But it's not just miners that are to blame, according to environmental experts. In recent decades Myanmar has lost huge swathes of its forest – including in environmentally significant catchment areas – due to logging, both legal and illegal.
The Environmental Investigation Agency reported in March 2014 that Myanmar exported 22.8 million cubic metres of timber between 2000 and 2013, of which about half was felled illegally. This trade generated US$8 billion, but of this figure $5.8 billion was smuggled out, with China one of the main recipients.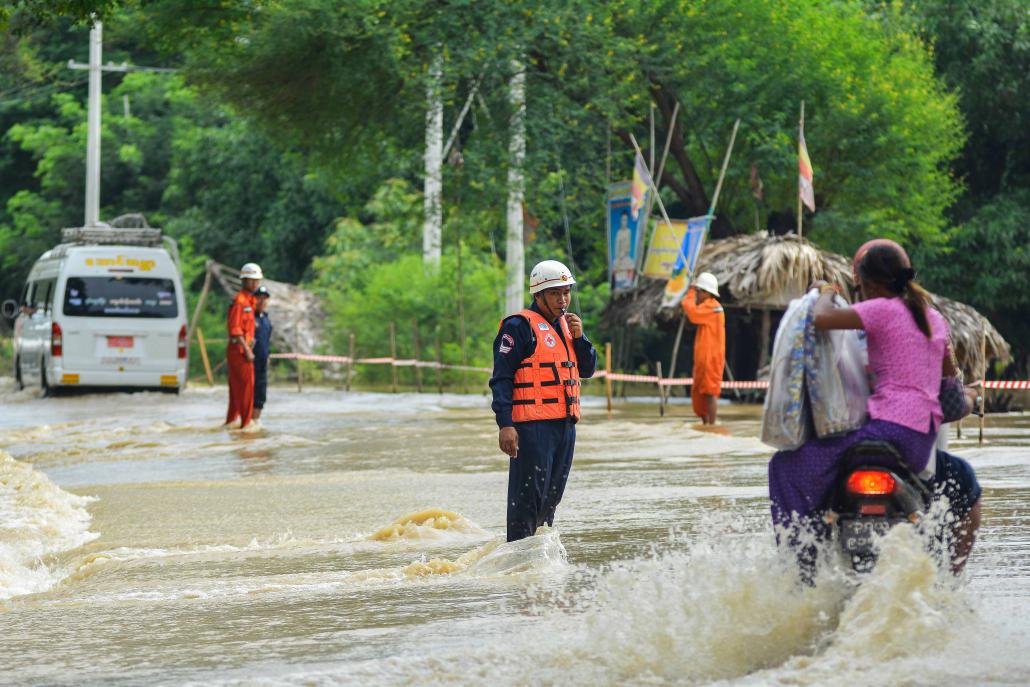 The destruction, both legal and illegal, continued under Thein Sein. According to the United Nations Food and Agriculture Organization, Myanmar lost an average of 546,000 hectares (over 1.3 million acres) of forest cover between 2010 and 2015 – the third-highest amount globally, behind only Brazil and Indonesia. The report estimated that forest cover dropped from 65 percent to 45 percent between 2000 and 2015.
The previous government took some measures to support forest conservation, such as placing a ban on the export of raw logs in April 2014. But enforcement has proven difficult. In 2015, EIA released another report documenting a surge in the illicit trade in logs between Kachin State and China's Yunnan Province. This trade hit 900,000 cubic metres in 2014 – worth almost half a billion dollars.
Between 2012 and 2014, meanwhile, police uncovered 24,163 cases of illegal logging or timber smuggling, the United Nations Office on Drugs and Crime said in a November 2015 report.
"In the military junta period there were many complicated issues related to forest loss," said U Bar Bar Cho, a counsellor at the Myanmar Timber Merchants' Association.
"Over the past decade, for example, we have seen forests logged by companies that have been given permits for rubber and palm oil plantations," he said.
Another issue was poorly or incorrectly zoned land. He said that there was no common map of forests used within the government, and several sections were claimed by a number of ministries. The recommendations of the Environmental Conservation Department were often ignored in favour of those advocating logging or economic projects.
Bar Bar Cho said he was in no doubt as to one consequence of widespread logging.
"Now we are facing flooding as a result," he said.
The concept is relatively simple. Because trees absorb water through their roots, leaves and leaf litter, their presence reduces the amount that flows into waterways after rainfall. Without trees, more of the rain enters rivers and creeks, raising their level.
But it's also highly controversial. In 2005, a United Nations report said that forests had only a limited effect on flooding, because there was a limit to how much water they could absorb. When rain is heavy and sustained – such as during Myanmar's monsoon – the soil is unable to take any more water, said the report, published by the Centre for International Forestry Research and UN Food and Agriculture Organisation,
However, in 2007, researchers found what they called a "nontrivial correlation" between forest loss and flood frequency on a global scale. Their study, published in Global Change Biology, suggested that a 10 percent loss in natural forest cover could increase flood frequency by between 4 percent and 28 percent.
Saw Tun Khaing, who worked for 30 years in the Forest Department, said the 1902 Forest Law had included provisions that prohibited logging or mining – including for sand – within 39 metres (130 feet) of the edge of a river.
"If you cut the tree near the river, the soil will erode into the river. This can raise the bed of the river and thus the water level," he said. "But this law was replaced by the military government [in 1992] … and Myanmar is now facing more regular flooding."
New initiatives
Under previous governments, environmental conservation was paid lip service but was rarely a policy consideration, even while it was paid lip service.
The Thein Sein government introduced environmental and social impact assessments, and also applied to join the Extractive Industries Transparency Initiative.
However, few mining firms have sought to comply with environmental rules or EITI disclosure standards, said Myo Htun.
"Businessmen and the government were making money from natural resources, so they didn't consider the environment," said U Kyaw Nyein, an executive committee member of the Forest Resource Environment Development and Conservation Association (FREDA). "They don't really have to live with the consequences. But their actions have had an effect on the lives of many Myanmar citizens."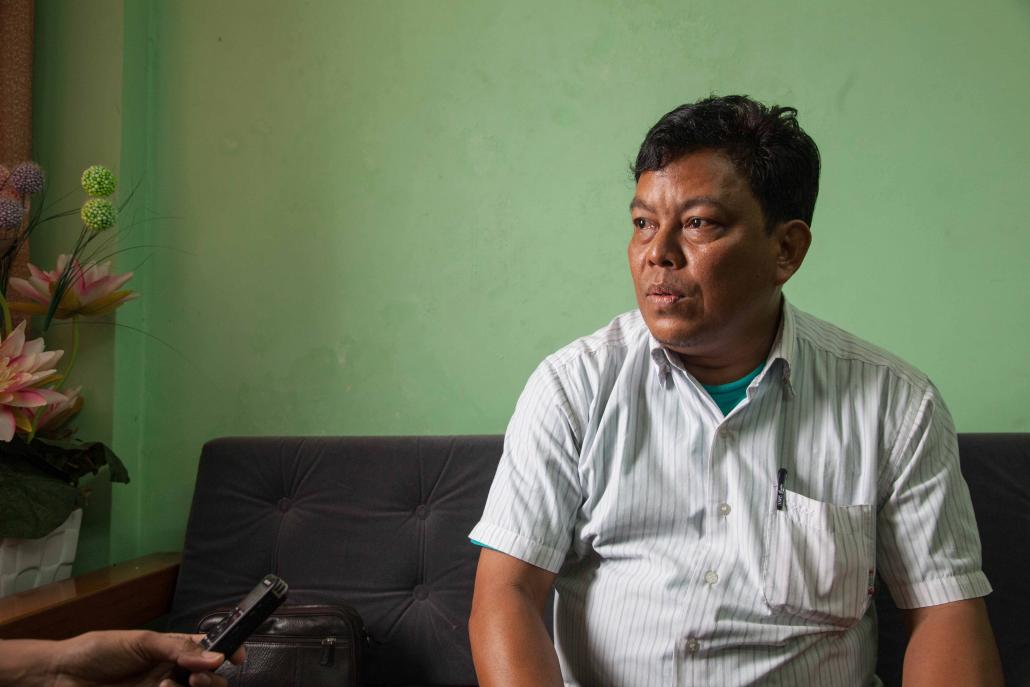 The NLD has suggested that it is more serious about the issue. One of its first major policy moves has been to put in place new regulations for mining, including jade mining at Hpakant, and announce a phase-out of permits issued under the old system.
It has also halted timber extraction this financial year and placed a 10-year moratorium on logging in the depleted Bago Yoma mountain range.
But the government is also stepping up its emergency response capabilities, said Relief Department director general U Ko Ko Naing.
The Emergency Operations Centre, launched in 2013, is growing in strength each year, he said. It's also seeking to capitalise on opportunities arising from new communications technologies. In early 2016, the ministry launched two mobile applications to provide disaster information to people in Myanmar.
Top photo: Steve Tickner / Frontier