Chief Minister Dr Aye Zan angrily terminates an interview after Frontier raises a question about the controversial naming of a bridge, amid growing criticism of the government from state lawmakers.
By KYAW YE LYNN | FRONTIER
IN NOVEMBER 2018, after days of trying, I managed to arrange an interview with Mon State Chief Minister Dr Aye Zan to discuss some of the main issues in the state.
I'd been telephoning and leaving messages and on the evening of November 13, Aye Zan returned my calls.
"Who is this?" he wanted to know. I introduced myself and said I would like to interview him about some of the main issues in Mon, including its rubber industry, one of the state's most important sectors.
He agreed and on November 20 I travelled to the state capital, Mawlamyine, for the interview accompanied by a photographer from Frontier.
We arrived at the state cabinet office in Mawlamyine about 9.30am and were ushered in to interview Aye Zan after waiting for about 40 minutes.
I had prepared 13 questions. They ranged from the situation in the rubber industry and the controversy over naming a new bridge after Bogyoke Aung San, to a lawsuit against a Thaton Township resident over Facebook posts critical of the chief minister.
When we entered the room, the chief minister was sitting at his desk. He did not look up but invited us to sit opposite him.
Before I started asking questions, he asked the purpose of the interview. I said we were particularly interested in two broad topics: the state's business and investment environment and its main political issues.
He spoke off the record about the rubber industry for about 30 minutes before agreeing to begin the interview. I began with questions about the rubber industry and Aye Zan spoke enthusiastically about a government-led initiative for rubber growers to produce high-quality ribbed smoked sheets to raise their income.
"We are encouraging owners of small and medium plantations to unite and establish factories so that our state can produce RSS1, 2 and 3 rubber sheets," he said, referring to the international classification system for grading rubber sheets, with RSS1+ the highest.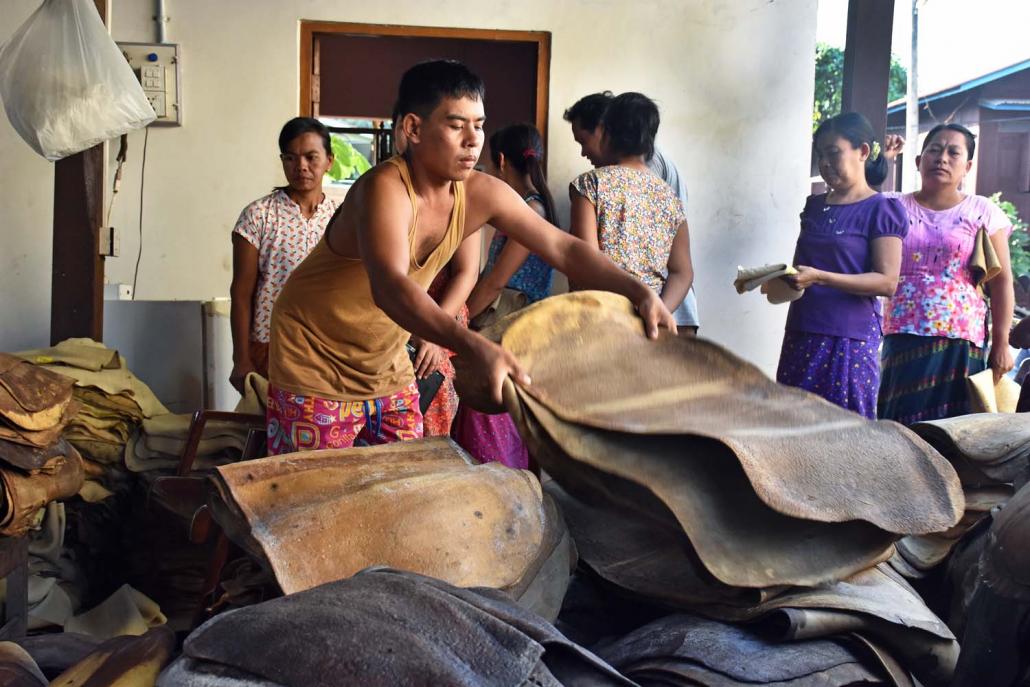 About 15 of the factories have been established since the National League for Democracy government took office in 2016, the chief minister said.
He also stressed the importance of growers using formic acid instead of sulphuric acid to produce better quality rubber sheets and do less damage to the environment.
Restrictions had been placed on the import and sale of sulphuric acid to discourage its use but there was no intention to impose a complete ban, he said.
However, Aye Zan defended his decision not to close or relocate rubber factories because of foul odours, saying a government had to be careful with the consequences of its decisions.
In September 2017, Mon State lawmakers approved a resolution to relocate or close private rubber factories near Mudon Oo village in Mudon Township. Aye Zan refused to implement the resolution, which had followed a request from rural residents, telling the state hluttaw in December 2017 he would not act against the factories because doing so would be detrimental to the state economy.
In the November 20 interview, Aye Zan told Frontier that the factories were built long before the Union Ministry of Environmental Conservation and Forestry – now known as the Ministry of Natural Resources and Environmental Conservation – adopted the procedure for environmental impact assessments (EIAs) in December 2015.
He suggested the complaints were politically motivated, pointing out that the environmental issues were raised only around the time that the NLD government took power.
Aye Zan acknowledged that the 2008 Constitution says state and regional governments are required to implement resolutions approved by their parliaments, but said the move against the factories created an impossible situation for the government.
"I don't say parliament is wrong; it has the right to pass such a resolution, but we, as a governing body, cannot shut down the factories at short notice because of an odour problem," he said.
The best solution would be to set a deadline for the factories to rectify the problem, he said. "That's what I did."
Lawmakers expressed frustration and disappointment over the chief minister's decision not to implement the resolution, saying it had a negative impact on the assembly's dignity and credibility.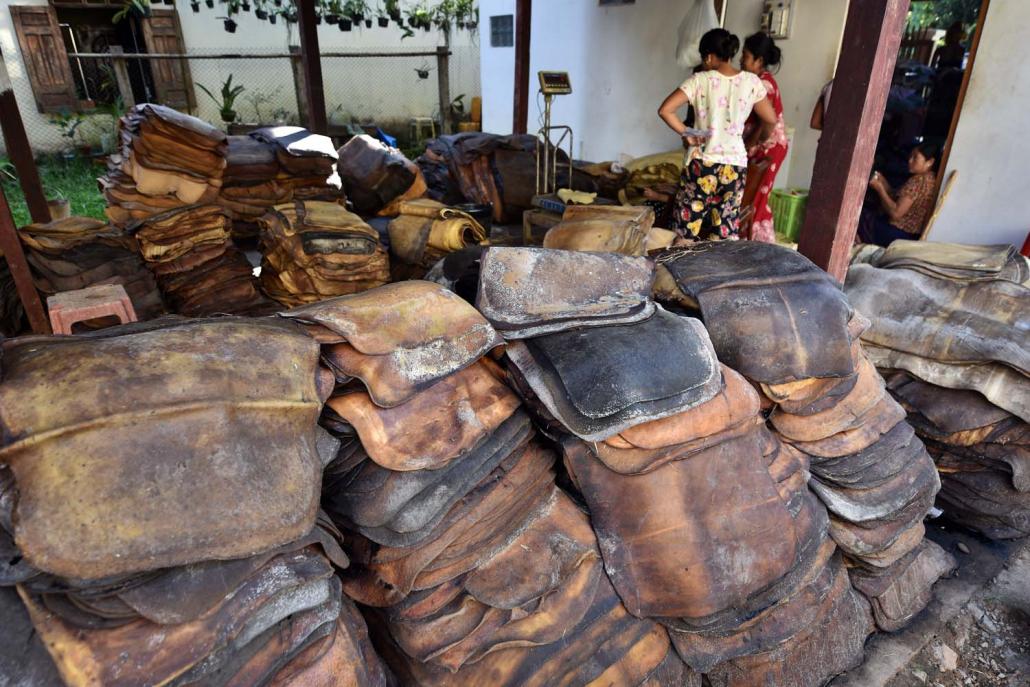 After discussing the rubber industry for about 15 minutes, I asked a third question. It was to become the last of our recorded interview.
The question was about critics of the State Project Commission, which Aye Zan chairs, who had called for an investigation into investment projects to determine their impact on the environment, with the findings to be presented to the state assembly.
In April 2018, the deputy speaker of the Mon State Hluttaw, Dr Aung Naing Oo (Chaungzon-1, All Mon Regions Democracy Party), accused Aye Zan of failing to perform his duty as commission chair.
Speaking in the assembly, Aung Naing Oo had claimed the commission had not conducted field surveys for two approved projects: a planned offshore supply base for the oil and gas industry being built by Forever Thanlwin Co Ltd in Ye Township, and a cement plant being built under a joint venture between one of Thailand's biggest companies, Siam Cement Group, and domestic firm, Pacific Link Cement Industries, in Kyaikmayaw Township.
After I outlined Aung Naing Oo's claims, Aye Zan said, "Show me the evidence." He repeated the request four times, then asked me to stop recording because he wanted to talk off the record.
I explained that accusations had been made and Frontier wanted to give him the right of reply because it was an issue in which our readers were interested.
"There are many interesting issues for our readers in Mon State, such as the naming of the Chaungzon bridge," I said, referring to the bridge linking Mawlamyine with Chaungzon Township on Bilu Island.
The NLD had insisted on naming the bridging after Bogyoke Aung San, a Bamar. Despite months of protests by Mon people who opposed the name, Aye Zan had opened the Bogyoke Aung San Bridge on April 27, 2017, but the issue is widely considered to have cost the NLD the seat of Chaungzon in a by-election earlier that month.
Mention of the bridge seemed to anger Aye Zan and he told us to leave his office.
"Now I know why you came here," he repeated many times, before asking his personal assistant to escort us from the office.
Later at the cabinet office, we met U Tun Htay, the state's Minister of Agriculture, Livestock and Transport, who said I should not have asked Aye Zan about the State Project Commission and the bridge.
"These are sensitive issues and they already happened," Tun Htay said, citing my question about the bridge.
Speaking to Frontier later, Aung Naing Oo, the deputy speaker, insisted it was the state government's duty to inspect every project in Mon to ensure it was not harming the environment or the local community.
He added that the chief minister's decision not to implement the parliament's resolution to relocate the rubber factories was not in accordance with the law and a breach of the constitution.
"What we want is a state government that follows the law," Aung Naing Oo said.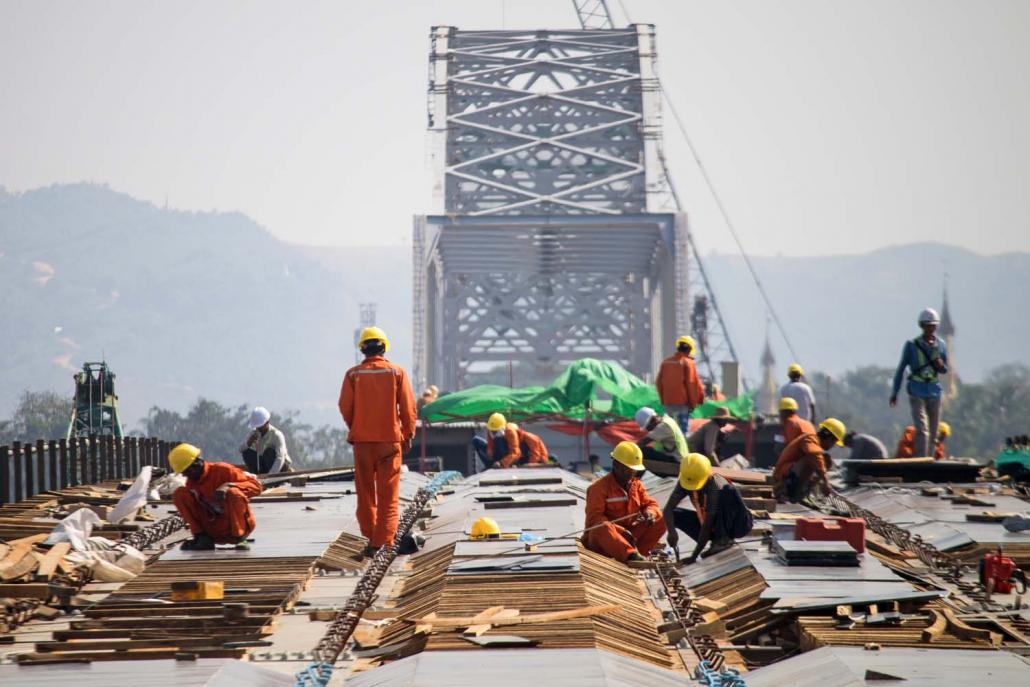 On the bridge naming controversy, the deputy house speaker said the Mon people would have been satisfied if the bridge had been given an ethnic-neutral name, such as "Thanlwin Bridge, Chaungzon".
"We would be happy and supportive if it was given a Mon name, such as Ramanya Bridge," he said.
Aung Naing Oo said many Mon were unhappy when the NLD-dominated Union Hluttaw approved naming the bridge after independence hero Bogyoke Aung San, the father of State Counsellor Daw Aung San Suu Kyi.
"We, local Mon ethnics, see it as a kind of Burmanisation; it is not because we do not love General Aung San," he said. "It is because the naming of the bridge is like making our ethnic identity fade."
The cancellation of the interview meant that Frontier was unable to ask about the case of Aung Ko Ko Lwin, who was charged in early 2018 under section 8(f) of the Law Protecting the Privacy and Security of Citizens and sentenced in September to one year in prison for a Facebook post criticising the chief minister.
Aung Ko Ko Lwin was arrested in January 2018 after U Kyaw Swar Moe, a member of the state government's Mon State Ethnic Affairs Committee, submitted a complaint to police.
Aung Ko Ko Lwin's wife, Daw Moe Thida Aung, said her husband had had many disputes with government officials in recent years. In 2017, he had faced a charge under section 66(d) of the Telecommunications Law, for online defamation, over a Facebook post but it was eventually dropped after he submitted a counter-complaint against four government officials.
"My husband is active in the town's social activities. Once he notices a mistake by the authorities, he complains and criticises them on Facebook. But I think there's nothing wrong with this. Citizens have the right to criticise someone in power for their wrongdoings, right?"
After Aung Ko Ko Lwin was arrested again in January 2018 and denied bail, Moe Thida Aung said she wrote to the chief minister asking him if he instructed Kyaw Swar Moe to file the case against her husband.
"As far as I understand, a third party is not allowed to file a complaint … that was why I tried to meet him," she said.
The chief minister did not initially reply, but she eventually managed to meet him in person. Aye Zan told her he had not ordered Kyaw Swar Moe to submit the case, she said.
"He denied it, saying, 'Your husband and I are neither enemies nor friends,'" she recalled, adding that the meeting left her "confused".
Frontier met four regional ministers from Mon State separately during a visit to Mawlamyine on November 20.
Asked if the chief minister was behind the complaint against Aung Ko Ko Lwin, one said, "He [U Kyaw Swar Moe] is just a civil servant. Would a civil servant dare to file a complaint without the chief minister's knowledge and permission?
"And even if [the chief minister] hadn't instructed him to file it, why didn't he then intervene?"
TOP PHOTO: Steve Tickner | Frontier