Indonesia has taken a quieter and more considered approach to the crisis than previous ASEAN chairs, but while some are optimistic about a breakthrough, the shroud of secrecy has also prompted confusion and criticism.
By FRONTIER
It's been nearly three months since Indonesia became chair of the Association of Southeast Asian Nations, making it the third country in the bloc tasked with handling the crisis in Myanmar.
Indonesia's Minister of Foreign Affairs Retno Marsudi had made a number of strong comments in the two years following the February 2021 military coup – saying Jakarta would only accept Myanmar representation at ASEAN Summits after the restoration of democracy, and accusing the junta of "many broken promises". Some therefore assumed the country would take a tougher stance as chair.
However, since assuming the role, Indonesia has revealed little about its agenda, keeping public communications to a minimum. Foreign ministry spokesperson Teuku Faizasyah told Frontier that its secretive approach is deliberate.
"Not all diplomatic activities need to be disclosed to the public. We want to do our own work as thoroughly as possible. We will see toward the end whether this approach is more suitable in trying to oppose the problem," said Faizasyah.
Indonesian President Joko "Jokowi" Widodo also acknowledged in mid-March that "there is some work that is going on" but most of it is being done "behind the scenes".
But experts are torn on whether Indonesia is doing enough behind closed doors to warrant the secrecy, and argue the lack of transparency may be doing more harm than good, especially as the situation in Myanmar deteriorates. Others caution that it is still early days and there is evidence to suggest that Jakarta has a plan in place – one that could be more successful than the previous chairs.
A tight-lipped strategy
Indonesia's slow-moving approach to Myanmar has been a departure from Cambodia's "cowboy diplomacy", where Phnom Penh was quick to act and regularly shared updates on social media and with the press.
Less than a week into Cambodia's tenure, Prime Minister Hun Sen travelled to Myanmar and met with the military's top brass in a trip that was widely criticised for undermining ASEAN's efforts by prematurely trying to bring the junta back into the fold. A month later, he effectively declared he had given up on Myanmar, saying there was only 10 and a half months left of Cambodia's 12 month tenure, so "the next chair" should solve the issue.
Ms Dewi Fortuna Anwar, a research professor at the National Research and Innovation Agency in Indonesia, said that the public fanfare of Cambodia's chairmanship "was unnecessary".
"If you want to resolve conflicts, avoid megaphone diplomacy. This is not about scoring points. There's a lot of distrust and quite often it damages the efforts if the news is leaked to the public prematurely," said Dewi, who was also deputy secretary to Indonesia's vice president from 2010 to 2017.
But Ms Lina Alexandra, the Head of Department of International Relations at the Centre for Strategic and International Studies in Jakarta, cautioned that too much secrecy can also be a problem.
"Prime Minister Hun Sen was quite active in his social media, which might not have made the junta leader all that happy so that was counterproductive to some extent. But there is criticism against the Indonesian officials as well, because if you make it too quiet you don't show how you are actually putting pressure on the military junta," said Lina.
Lina conceded that Indonesia's quieter approach could be an effort to establish stronger lines of communication with all stakeholders, including the National Unity Government, a parallel administration appointed by elected lawmakers deposed during the coup.
While Indonesia has not publicly commented on its engagement with the NUG, Faizasyah told Frontier that they are "trying to reach out to all parties" and he would "assume that [the NUG] would be one of the parties that we engage with."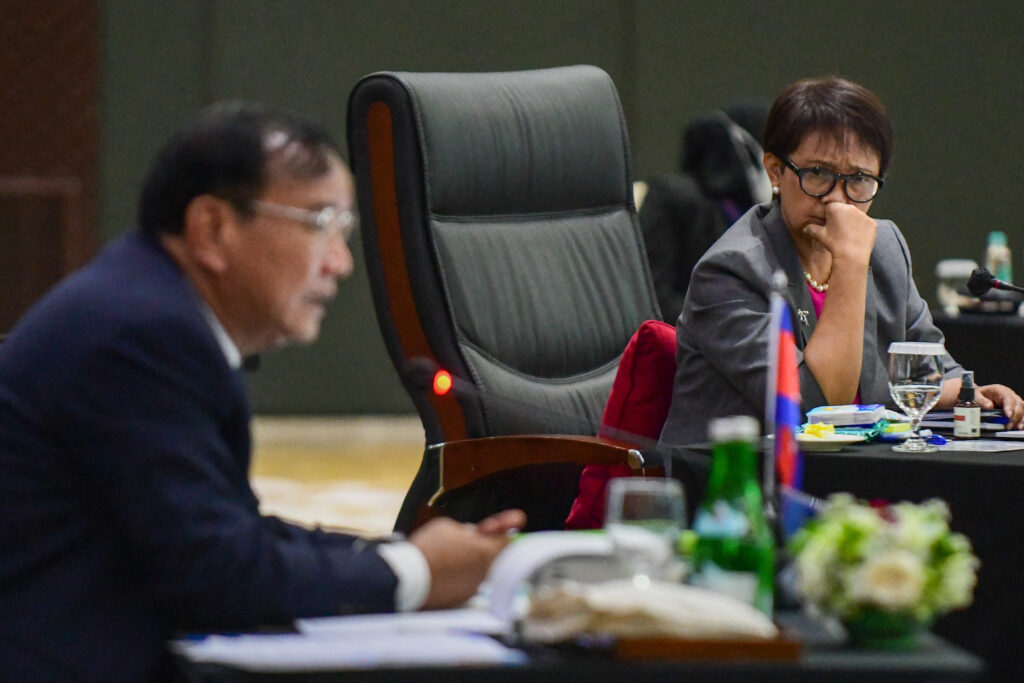 Who is the special envoy?
The mystery surrounding Indonesia's chairmanship is perhaps best exemplified by the special envoy position. As part of ASEAN's Five Point Consensus on Myanmar, a special envoy is tasked with facilitating "mediation of the dialogue process" and visiting the country "to meet with all parties concerned".
While previous chairs Brunei and Cambodia appointed their respective foreign ministers to the role, neither were able to fulfil their obligations. Brunei's Second Minister of Foreign Affairs Erywan Yusof only visited Myanmar before he was formally appointed special envoy, while his Cambodian successor Prak Sokhonn made two official trips. Neither envoy met with the NUG or other civilian leaders.
But Indonesia seems to be charting its own path when it comes to the special envoy role. In early January, Retno announced that she would be leading an "Office of the Special Envoy" made up of multiple officials.
Faizasyah described the office as a team who will work together to fulfil the duties of the special envoy. He added that the office is based within the foreign ministry and has been operating "in a low key manner" since the announcement was made.
The country's former ambassador to Singapore and ASEAN, Mr Ngurah Swajaya, is also part of the office but the exact parameters of his role have not been publicly disclosed.
Faizasyah said that the office has "several officials responsible for different issues and Pak Ngurah is one of the officials who is responsible on a daily basis" and "has dedicated his time and commitment to this process."
Contrary to Cambodia's attempts at easy breakthroughs, Faizasyah said "we are not too ambitious that we can resolve the issue within our chairmanship but we are trying to lay the foundation and put [in place] coherent efforts".
"This problem cannot be resolved in a very short time frame. A continuity approach is required," he said.
The matter of continuity has been a source of considerable debate, as many observers and even some member states have questioned the logic of having a position that rotates every year for a crisis that could take many years to resolve. But it's unclear whether Jakarta will be able to address this problem.
"The office [of the special envoy] is in the foreign ministry and is staffed by Indonesian diplomats who will be posted somewhere else very soon. They can't simply move from the office in Jakarta to an office in Vientiane," said Dewi, referring to the capital city of ASEAN's next chair, Laos. "Even if they replicate the model, the people, the brains and the skills will not be the same."
Some still hope Indonesia can find a way to appoint a permanent special envoy. This was the original plan in early 2021, but the bloc was deadlocked between candidates from Thailand, Indonesia and Malaysia, leading to Erywan's selection as a compromise.
Dewi explained that a permanent special envoy would be able to "gain in depth knowledge and trust with the different stakeholders" and undertake more trips to the country.
When asked about this possibility, Faizasyah merely told Frontier that Jakarta is looking to "implement what the ASEAN leaders have agreed to".
But while the benefits may not endure beyond 2023, Indonesia's reinvention of the envoy role has already shown some promise.
Having a team working on the Myanmar crisis could address the demanding time commitments of foreign ministers and the potential conflict of interest. Lina of CSIS noted that the special envoy reports to the ASEAN foreign ministers and "if the special envoy is the foreign minister, then they are reporting to themselves." 
Separating the roles would also remove concerns around having an elected official in the post. Lina explained that if a foreign minister travels to Myanmar and engages with the junta, this could "give a certain level of legitimacy to the regime", even if the official claims to be only operating in their capacity as special envoy.
In addition, role separation would avoid the possibility of a special envoy leaving public office in the middle of their tenure. While he didn't serve as special envoy, former Malaysian foreign minister Saifuddin Abdullah was the most vocal supporter of democracy in Myanmar among his ASEAN counterparts, but abruptly faded from view after last year's election, when he lost his cabinet position.
But the Five Point Consensus stipulates that the special envoy will travel to Myanmar, and without an individual person in the role it's unclear who Indonesia plans to send. Jokowi previously said that he would send a military general to meet with the junta and explain Indonesia's own transition from military rule to democracy.
There was speculation at the time that he was referring to General Luhut Binsar Pandjaitan, who serves as Indonesia's Coordinating Minister of Maritime and Investment Affairs. Bloomberg even reported he would serve as the special envoy, but this was never confirmed and the trip has not yet materialised.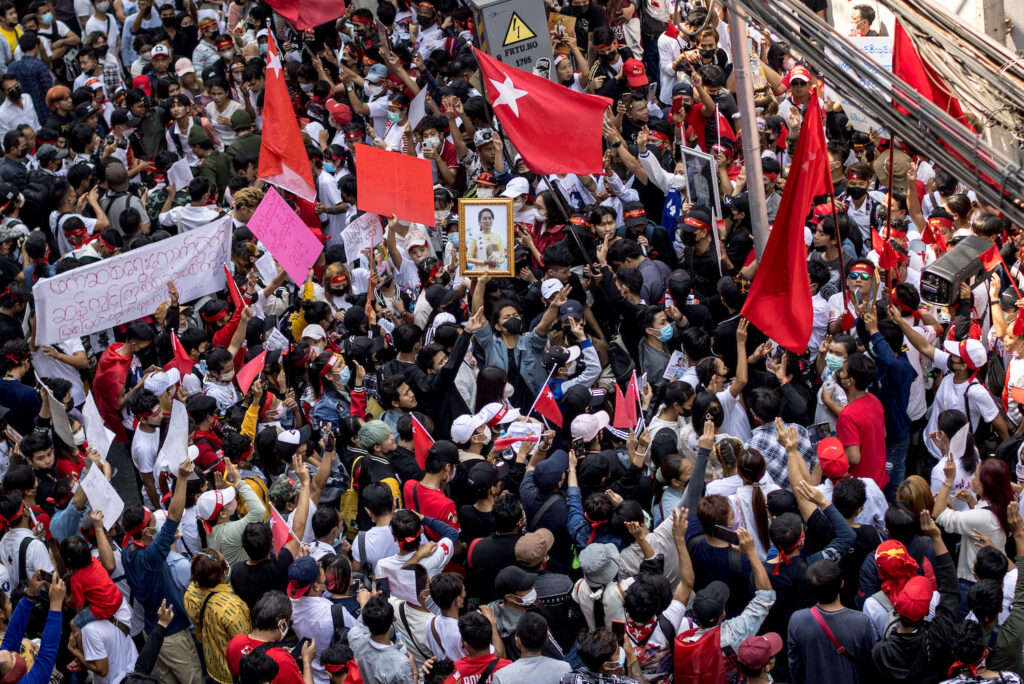 Bumps in the road
While Indonesia insists it is quietly moving forward, the perceived vacuum of activity has seemingly emboldened Thailand, which enjoys a much closer relationship with the junta, to take matters into its own hands.
In April last year, Thailand appointed its own special envoy on Myanmar, Ms Pornpimol "Pauline" Kanchanalak, who has spoken out against criticising or sanctioning the regime. A source familiar with ASEAN diplomacy told Frontier that Kanchanalak convened a Track 1.5 meeting in Bangkok this month, inviting representatives from the Myanmar junta and bordering countries.
The same source said that the regime was represented by U Thant Kyaw, the head of the junta's foreign ministry-affiliated think tank, the Myanmar Institute for Strategic and International Studies.
Multiple sources familiar with the meeting also told Frontier that Laos, Bangladesh and India were represented. However, it remains unclear in what capacity China attended.
In December last year, while Cambodia was still chair, Thailand arranged a meeting with other Mekong countries, all of which are also ruled by authoritarian governments that have taken a softer stance on the crisis. The meeting, which was attended by the junta's then-Minister of Foreign Affairs U Wunna Maung Lwin, was criticised for conferring legitimacy to the regime and few outcomes were made public.
The more critical ASEAN members – Indonesia, Malaysia, Singapore, the Philippines and Brunei – did not attend.
Faizasyah declined to comment in detail on Indonesia's position on the March meeting, but said that it was "in the interest of all countries in the region to find a solution to the problem". He pointed out that although Brunei was chair at the time, Indonesia organised the 2021 emergency meeting which resulted in the Five Point Consensus.
Despite seeming to undermine Indonesia's role, Ms Sharon Seah, a Senior Fellow and coordinator at the ASEAN Studies Centre at the ISEAS Yusof Ishak Institute in Singapore, said the meeting this month was "aimed at countries that border Myanmar to discuss practical on-the-ground issues that they want to sort out", namely the refugee crisis which has disproportionately affected Thailand.
Meanwhile, the NUG and democracy activists are growing frustrated with the lack of progress. In a statement in November of last year, the NUG's President Office said that the Five Point Consensus was "ill-fit for purpose and must be reframed or expanded".
In a recent interview with Frontier, the NUG's deputy foreign minister U Moe Zaw Oo said the problem doesn't necessarily lie in the framework itself but in "how to achieve the goals".
"ASEAN needs to work together with other countries and organisations like the United Nations and neighbouring countries and countries that can put political, economic and diplomatic pressure on the military junta," said Moe Zaw Oo.
He said that this leverage has not yet been applied because the international community is preoccupied with other issues, and because divisions within ASEAN have made reaching a consensus difficult.
Ma Thinzar Shunlei Yi, a Myanmar democracy and human rights activist, took a stronger line.
"We want ASEAN to come together and admit that the Five Point Consensus has now failed and come up with a new agreement with more punitive measures and a benchmark so they can act on Myanmar," said Thinzar Shunlei Yi.
"We are still hopeful with Indonesia. This is the only year where we feel like ASEAN will do better," she said. "Cambodia was definitely hopeless and Hun Sen didn't get satisfactory results from his meetings with the junta so Indonesia has to find alternatives to tackle the issue."
There are also concerns that if Indonesia fails to yield any substantive results, ASEAN's next chair, Laos, will have an even slimmer chance of succeeding. Laos not only lacks Indonesia's resources and political capital but has also shown that its interests lie elsewhere.
"With Laos everyone knows they will undertake a very different approach. They are part of the countries that think the Myanmar issue is a domestic issue and Laos collaborates with certain partners," said Lina, referring to Vientiane's relationship with China, which continues to supply the Myanmar military with weapons.
"That's why there has been very high expectations of Indonesia's chairmanship. If Indonesia does not achieve something within this short one-year term, it's going to be fatal. It's going to have very serious implications on the crisis itself."