On the eve of Thailand's election, Myanmar migrant workers and political dissidents in the country hope for a new, more responsive government, but analysts warn don't hold your breath.
By FRONTIER
Ma Theingi Zin*, a Myanmar factory worker in Thailand's Samut Sakhon Province, near the capital Bangkok, said she hopes the Pheu Thai Party and the Move Forward Party come out victorious in Thailand's election today.
"Most Myanmar workers like these two political parties. If you ask 10 people here, about nine will say they prefer one of these two parties," she said.
With Myanmar in crisis following the February 2021 coup, the country is paying more attention to its neighbour's election than usual. The party that takes power in Bangkok is in a position to influence the regional approach to resolving the political crisis and determine how migrant workers and refugees are treated within its borders.
"Myanmar workers didn't get rights during the eight years that Thailand was ruled by a military leader," said U Aung Kyaw, a consultant with the Migrant Worker Rights Network.
This year's election is the second since the Thai military overthrew the elected government in a 2014 coup, holding on to power after a heavily skewed election in 2019. But many hope that this year could be different, with reform-minded parties like Pheu Thai and MFP leading in the polls.
But analysts warn that these parties still face an uphill battle, and even if one or both are able to form a government, Myanmar will likely remain a low priority.
During a town hall style campaign event in Chiang Mai, Frontier asked Pheu Thai's sitting MP and his MFP challenger if they had any proposals for how to change Thailand's approach to Myanmar migrant workers and refugees.
The Pheu Thai MP, Jakkaphon Tangsutthitham, said if his party can form the government, they will "try to help" refugees, who he said are fleeing from being "killed and arrested".
"Thailand is always friendly to everyone. We want to help solve the refugee problem," he said.
Phetcharat Maichompoo, the MFP candidate, said the party sees this as an important human rights issue. "We are open to hear what [refugees] have to say in terms of human rights and we are happy to work and cooperate on international relations," she said.
But neither outlined any specific policies.
Minimum wage on the ballot
Mr Brahm Press, director of the MAP Foundation, said Myanmar migrants face a number of challenges in Thailand, including struggling to renew their documents, which leaves them vulnerable to economic exploitation or becoming undocumented.
"This is partly because the Myanmar consulate has been so slow, and there are long queues," he said. "Migrants end up paying inflated costs to brokers in order to avoid dropping out of the system. Others who can't afford to pay fall out of the system and become considered undocumented and vulnerable to arrest and possibly deportation."
Press said a new government needs to implement a responsible, flexible and affordable registration policy for migrants, offer a liveable minimum wage and enforce the payment of "proper wages to migrants".
Currently, Thailand's daily minimum wage ranges between 328 baht and 700 baht, depending on the province and job type.
Thai elections are often a race to offer the most benefits, and this year has been no different. Pheu Thai has promised to nearly double the minimum wage for unskilled workers to 600 baht per day. The pledge was welcomed by some labour groups, but slammed by the outgoing labour minister as "extremely dangerous". MFP pledged to raise it to 450 baht, and said it would be adjusted every year.
But campaign promises don't always come to fruition. The military-backed Phalang Pracharat said ahead of the 2019 election it would raise the minimum wage to 400-450 baht, but settled closer to 350.
Another issue is that the crisis in Myanmar, and the exploitation of migrant workers from the country, has been beneficial to Thailand in some ways.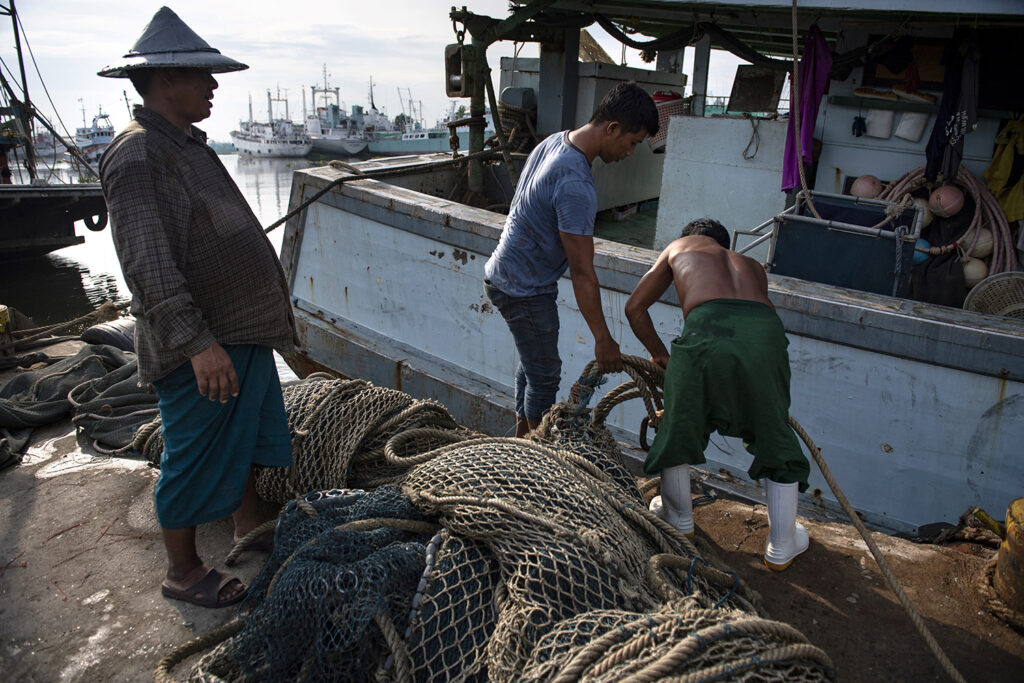 "Before the coup in Myanmar, Thailand had a problem with migrant workers moving back because the Myanmar economy was expanding," said Titipol Phakdeewanich, dean of the political science faculty at Thailand's Ubon Ratchathani University. "But with the current situation, more and more people want to leave Myanmar, which is good for Thai businesses from their perspective," he said.
U Moe Kyo, chairman of the Joint Action Committee for Burma Affairs (JACBA) based in Mae Sot, said he hopes a new democratic administration in Thailand will cooperate with Myanmar's parallel National Unity Government and elected parliamentarians in the Committee Representing Pyidaungsu Hluttaw.
But even the NUG doesn't seem particularly optimistic.
"The political parties that win the election won't have a significant impact on migrant workers from Myanmar," said U Kyaw Ni, the NUG's deputy labour minister. "Depending on the party, there could be some changes."
Little wiggle room on foreign policy
Analysts also say faith in Pheu Thai to change Thailand's approach to foreign policy may be misguided. Bangkok has taken a leading role in trying to resolve the crisis in Myanmar, although not in the direction most activists would want.
Thailand's government has been accused of undermining international efforts to isolate the regime, restricting cross-border aid and forcibly returning refugees.
"I don't think we will see a big policy shift if Pheu Thai becomes the government," said Titipol.
He said the issue will likely be a low priority for Pheu Thai, and one they would be willing to compromise on with the Thai military. If Pheu Thai does come to power, they may need to make certain concessions to the military to avoid the possibility of another coup, and this would be an easy option.
The Pheu Thai MP Tangsutthitham admitted that Myanmar policy is a "sensitive issue" for the party.
But the issue being a low priority for Pheu Thai means the party could be influenced in either direction, and Titipol predicted MFP would be more likely to take a serious interest.
"Definitely I think Move Forward would play a significant role because Move Forward has been rather clear on its ideology promoting democracy and human rights," he said.
If Pheu Thai does team up with MFP in a ruling coalition, it would also need to make certain concessions to them. Titipol said Pheu Thai is unlikely to back some of MFP's more radical proposals for political reform, but Myanmar would again be an easy issue to offer up.
However, Mr Sebastian Strangio, author of In The Dragon's Shadow: Southeast Asia in the Chinese Century, said a change in approach is "very doubtful" partly because MFP has "little chance of gaining power after the election".
"Even were the party to become a minority member of the ruling coalition – and even that seems a long-shot… it would likely not have the sway to push Thai policy in a more activist direction," he said.
It's hard enough for Pheu Thai, the country's most popular party, to get into government. Like Myanmar, the Thai military has a massive electoral advantage; the prime minister is selected by 500 elected parliamentarians and 250 senators appointed directly by the military.
This is an even bigger head start than the Myanmar military's 25 percent bloc, and allowed the 2014 coup leaders to remain in power after the 2019 election, despite Pheu Thai winning the most seats. Further complicating the picture, is the ever-looming threat of a coup or other interference by the Thai conservative establishment. Some analysts warn that a Pheu Thai-MFP alliance in a ruling coalition would make subversion of the election more likely.
Thailand's current, military-backed government certainly isn't acting like it expects Thai policy to change after this election, spearheading a new Track 1.5 diplomacy approach by convening meetings between the junta and Myanmar's neighbours. Critics say the initiative is undermining ASEAN efforts to isolate the junta and force it to negotiate with its opponents.
In a normal political system, pursuing this kind of foreign policy on the eve of an election could be seen as irresponsible, but in Thailand it's more likely an indication that the military is confident it will continue calling the shots regardless of the outcome.
"Thailand's military dominates Thai policy towards Burma," said Mr Paul Chambers, a lecturer at Thailand's Naresuan University.
* indicates use of a pseudonym for security reasons