The communist victory in China in 1949 sent thousands of nationalist Kuomintang troops and their families fleeing into Shan State. Their stories of the war in the hills live on with relatives in Taiwan and Myanmar.
By ANN WANG | FRONTIER
Mr Chang Lao Wang was seven years old when he first saw fighting in the guerilla war against invading Chinese nationalist troops in Shan State between 1949 to 1953.
"I remember seeing a lot of kids who were left behind in the forest by their family that was trying to keep up with the troops. I was determined not to be separated from my mother; I tied a rope between us," recalled Chang. He remembered not only children left behind; many troops died or disappeared in the jungle between Burma and China.
"They were the worst years of my life," Chang, 76, told Frontier at his Yunnanese noodle shop decorated with Taiwanese flags at Zhongyi District, in Taoyuan City, northern Taiwan.
He was born in 1942, at Zhenkang County in China's Yunnan Province, on the border with Myanmar's Kokang region in Shan State. His father joined the Chinese nationalist Kuomintang, or Yunnan Anti-communist National Salvation Army, to fight in the war against the Chinese Communist Party's People's Liberation Army that was convulsing China.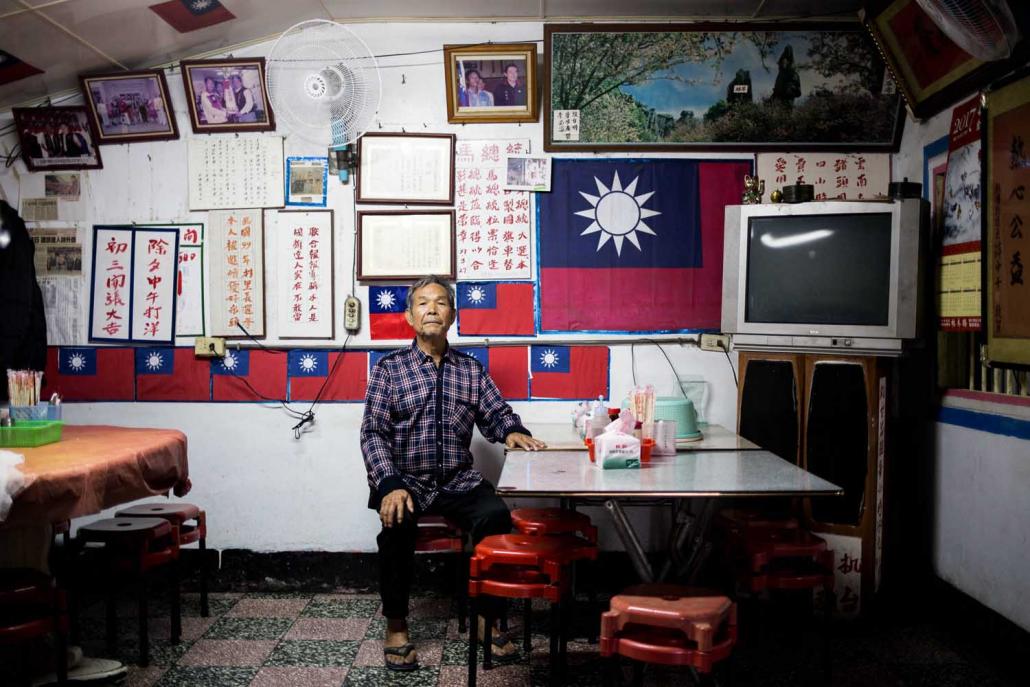 "I remember the situation got really bad back home; it was [a choice] between getting killed by the communists or pack our things and go find my father at the frontline in Burma," Chang said.
The PLA entered Yunnan in December 1949, only months after Chairman Mao had declared the establishment of the People's Republic of China in Beijing. KMT troops responded by crossing into Myanmar in their thousands, occupying swathes of territory between Kengtung and Tachilek, on the border with Thailand.
In 1953, Burma appealed to the United Nations against the presence of KMT troops on its territory. A military commission comprising Burma, the United States – which had been re-supplying the Chinese nationalists in Burma – Taiwan and Thailand was established in Bangkok to negotiate a KMT withdrawal.
Thousands of KMT troops and their families were flown to Taiwan from Chiang Rai in northern Thailand. Chang's family was in the first batch to leave for Taiwan, of whom about 2,000 people settled in Zhongyi District.
Even though Chang was a child in Burma, his memory of those four years is fresh.
"We had no clothes, no food, but we had guns. We hid in the forest for days fearing both the communists and the Burmese troops, until we couldn't stand the hunger anymore. We would gather the ones who had clothes and shoes on, march into the villages in Myanmar and force them [to give us] food with our guns," said Chang.
"But in fact, we were so poor, none of us had bullets, we were just bluffing and scaring the villagers for food," he said with emotion, pausing for a few moments before continuing. "Now when I think back to those days, I [am ashamed of] our behaviour to the Myanmar people, but please understand it was for survival."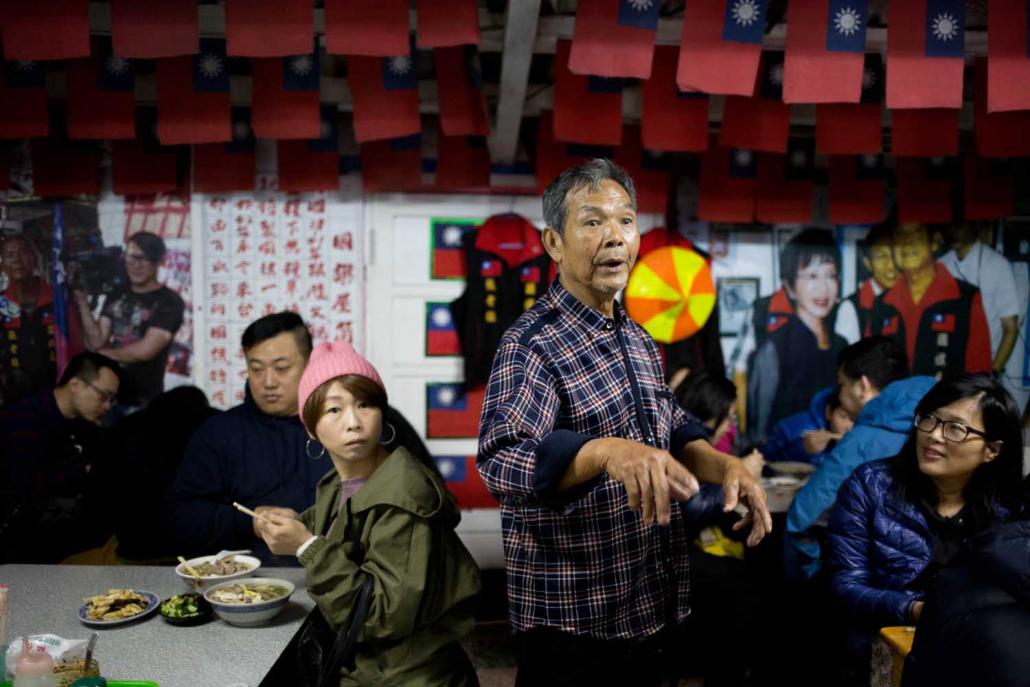 When Chang was in his fifties he returned to Myanmar and married the daughter of one of his father's comrades in the Shan capital, Taunggyi.
Mr Shi Bing Ming also feels ashamed about the way the KMT treated the Myanmar people during the guerilla war in the hills. "I remember at one point, we started issuing receipts to the Myanmar people for taking their land and food, but, of course, our government later denied all those receipts and didn't pay back the Myanmar people," said Shi, 91, who spent his early twenties fighting in Burma before being relocated to Taiwan in 1953.
Originally from an area of Yunnan bordering the Wa region in Shan State, Shi is descended from a family that has produced generations of headmen in the Lahu community. He never imagined as a boy that he would become a soldier, spend years in Burma and eventually settle in Taiwan, an island about 2,300 kilometres from his hometown in Yunnan.
In 1950, when Shi was doing an undergraduate degree in literature at the University of Yunnan, he heard from friends that "the communists" were invading his Lahu community's territory.
"Because of the lack of manpower, my mother was the one leading the defence. Of course, I had to stop my studies and make my home to help my family," Shi said.
He hid in a truck carrying cotton from China to Burma but was caught by Burmese troops who wanted to send him to a camp at Lashio for refugees of the Chinese civil war.
Shi feigned being a Lahu from Burma by speaking Lahu and after giving the Burmese soldiers two bottles of alcohol he was released. Shi eventually joined the KMT Eighth Army under General Li Mi, who launched several failed attempts to invade China. In 1953, Li and about 7,000 troops, including Shi, were airlifted to Taiwan but thousands remained in Burma and Thailand, where many became heavily involved in the opium trade.
"They lied to us," said Shi. "They told us, we will just be here in Taiwan temporarily; it's all a show for the American and Burmese governments, but we will soon return to China or Burma to continue our revolution." By the time Shi returned to his hometown at Yunnan he was in his sixties and the family home had made way for a basketball court.
Not all of the KMT supporters and their families had opportunities to relocate to Taiwan or Thailand or to return to China.
U Soe Win died at Hinthada in Ayeyarwady Region in 2010. Originally from Jiangxi Province in southeast China, he was a member of X Force, the KMT troops sent to Burma in 1942 to help the British defend it from the advancing Japanese. The Japanese couldn't be stopped and X Force had to retreat to India. He later fought with the KMT's 38th Army.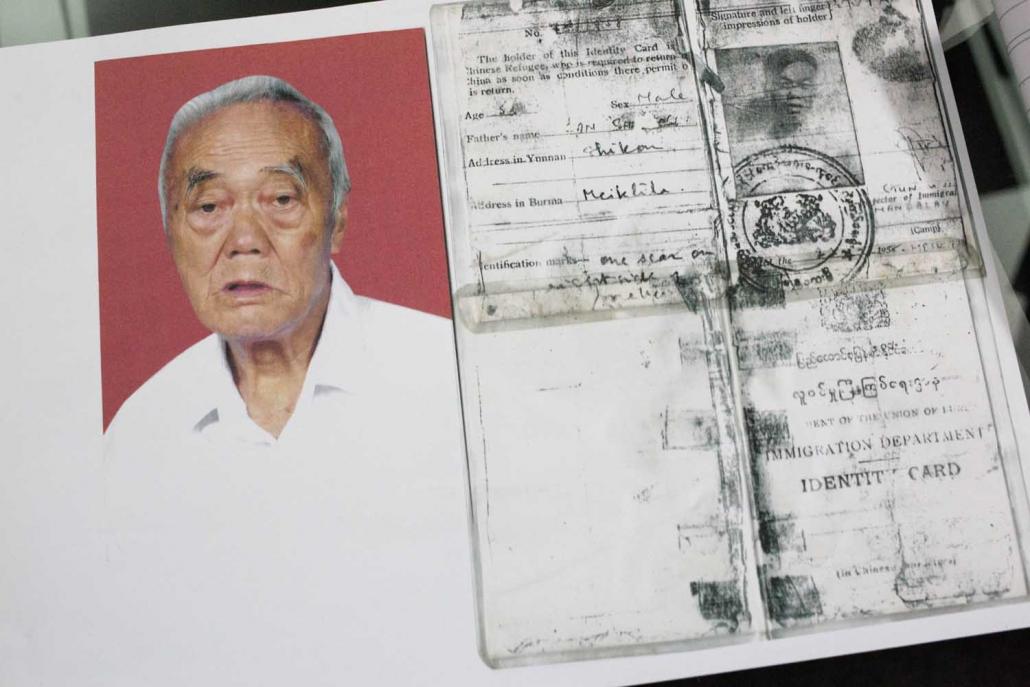 Soe Win never returned to China as a resident. His only identification document was a card issued by Burma's Immigration Department. It said: "The holder of this identity card is a Chinese refugee who is required to return to China as soon as conditions there permit his return."
Soe Win's body was scarred by war, his son-in-law, U Htin Aung, told Frontier at his Yangon home.
"He had at least 19 gun and knife wounds on his body," said Htin Aung. Soe Win seldom discussed his past, especially with his wife and children, because he wanted them to stay away from politics, he said.
After serving with the KMT, Soe Win remained in Burma and was given a military training role by General Aung San. He trained soldiers for Prime Minister U Nu between 1948 and 1953, before leaving for the northern border and serving armed ethnic groups in the Kokang region.
He retired as a military trainer in 1954 and raised his eight children while working as a Chinese traditional medicine practitioner in Hinthada, where the UN had provided him and 17 troops land to live on as refugees.
Life wasn't easy for Soe Win in Burma and he spent seven years in prison for his involvement in politics.
It took Htin Aung years to gather enough information from the tight-lipped Soe Win to be able to trace his family. After tracking them down he organised a family reunion at Hinthada during Soe Win's later years. During the search for relatives, Htin Aung discovered that his father-in-law had used at least three different Chinese names, none of which had the correct family name.
Soe Win never applied for Burmese citizenship and did not allow his children to become citizens. He was hoping that the family would eventually be resettled in Taiwan and it would be easier to receive citizenship if they were refugees.
However, when he applied in 1989 to relocate to Taiwan with his family, the request was refused by Taiwan's Ministry of National Defence because he was no longer an active army member. He applied for a war service pension in 1994 but was refused because he was never officially discharged.
As someone who had dedicated his life to the KMT, Soe Win was apprehensive about returning to China. "He tried to go back to China twice," Htin Aung said.
"During his first attempt, China was doing the three-anti and five-anti campaigns, which were movements [in 1951 and 1952] led by Mao Zedong targeting political opponents and capitalists. The second time was during the Cultural Revolution [1966-1976]. Fearing for his and his family's safety, he turned away and never tried to return to China again," he said.
"He passed away with a lot of anger in his heart, especially hate for the KMT," Htin Aung said.
"He stayed in Myanmar and served the KMT for much of his life but they abandoned him. He could never go home to China and the Myanmar government never treated him as one of their own," he said, adding that the military often came and searched Soe Win's house at Hinthada.
Htin Aung said his father-in-law did not like to talk about his years with the KMT. If he asked Soe Win how many people he had killed, the old man would answer by sitting in silence. He also used to ask Soe Win if he was a spy for the KMT.
"Until his death, he never denied or accepted it," Htin Aung said.