IDP camp residents say abductions and forced recruitment are increasing as the war between the Tatmadaw and ethnic armed groups grinds on.
By CLARE HAMMOND | FRONTIER
A couple of weeks ago, two men disappeared in the hills above Namtu, in northern Shan State.
Aik Lone and Kham Lu had been staying at Shwe Min Tar Monastery with their wives, children and 51 other ethnic Shan families. They had fled their village in June, when Ta'ang National Liberation Army soldiers arrived and began shooting into the air, telling residents to flee or risk being killed.
On November 20, the men set out for their former homes in a village about 30 miles away to check on their property, according to residents in the Namtu internally displaced persons camp. Residents often leave the camps during the day to work or visit nearby villages.
Aik Lone, who is 50, left on foot at around 8am. Kham Lu, 35, left at 11am by motorbike, according to Pa Kham Pay, a village leader. She said Kham Lu phoned his mother at 4pm to explain that he had been captured by the TNLA and taken to a Roman Catholic church in Pangwa village.
He mentioned during the call that he had seen Aik Lone, Pa Kham Pay said. Since then, his phone has been switched off, while Aik Lone has not made contact at all.
The two Shan men were not the only people to disappear that day. Twelve others were reportedly seized from Minetup village and the following morning photographs of a handwritten list of their names and identity numbers circulated in Namtu town.
No one in the town knew for sure who was responsible, but most believed it was one of three ethnic armed groups operating in the area: the TNLA, the Arakan Army and the Kachin Independence Army.
These three groups announced earlier in the week that they had formed a coalition – the "Alliance of the Northern Brotherhood – together the with a fourth group, the ethnic Kokang Myanmar National Democratic Alliance Army.
On November 20, they launched a series of surprise attacks across several townships in northern Shan State, killing eight people and leaving 29 injured. In Namtu, ethnic troops blew up a bridge on the road between Namtu and Bawdwin.
But last week's clashes are just the latest in a grinding and at times bloody conflict that is showing no signs of abating. Villagers say ethnic armed groups have been forcibly recruiting men and women for years to fight against the Tatmadaw and, more recently, other insurgent groups. Ethnic armies are so desperate for new manpower that they are seizing villagers of not only their own ethnicity, but others too.
"People here are scared of both the insurgents and the [Myanmar] army," said Sai Kham, a local trader.
He said the military bullies families whose sons have joined insurgent groups, even if they were forced to enlist. As well as kidnapping villagers, armed groups charge taxes on businesses and roads, he added, punishing those who fail to pay.
"If we refuse to pay they call us in the night time. If they want to kill us, we cannot do anything – they can just shoot us," he said.
Up a steep dusty hill on the edge of Namtu, around 200 Lisu Christians live at a temporary camp in a Baptist church compound. They fled their homes on July 13 – TNLA soldiers gave them two days to clear out, or face the consequences.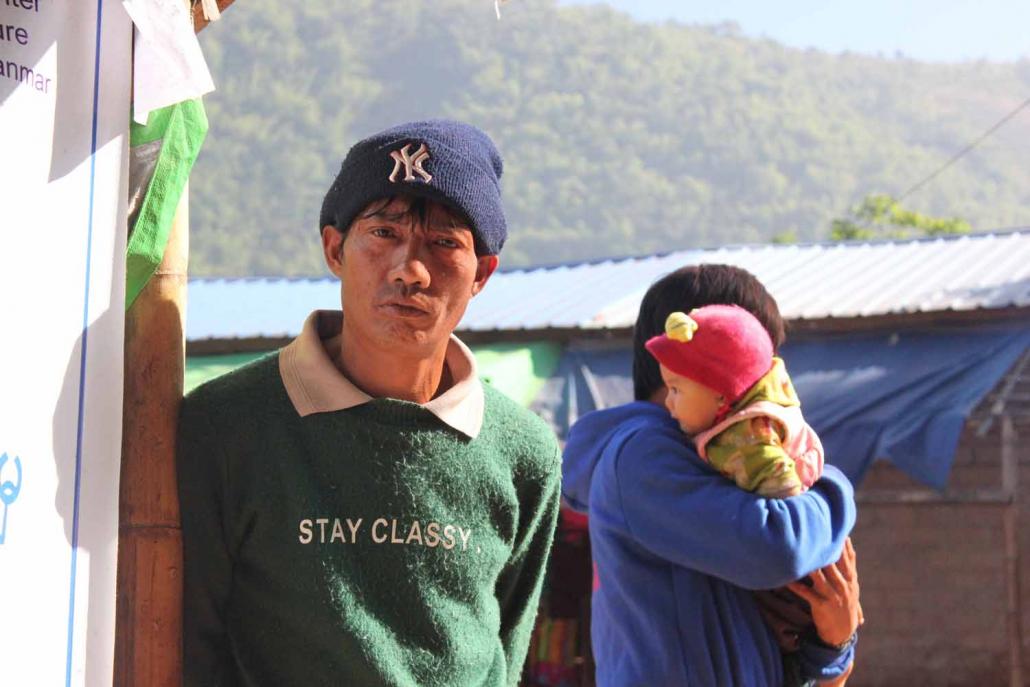 In the shadow of a poster by the Brighter Future Myanmar Foundation, camp leader Ko Wan Lu produced a booklet with the details of 10 Lisu men who went missing in June: their names, their fathers' names, their dates of birth. The worn document included photocopies of their identity cards, although the copy was dull and it was hard to make out their faces and fingerprints.
Pyar Mar Lay, the father of two of the missing men, said his sons Lar Tar and Lar Lay, also known as Ngwar Si, were last seen on the morning of June 18 near Ban Kaw village.
"Early in the morning they went to the paddy field and they didn't come back. In the evening, we were longing for our sons … but we heard our two sons were taken away by insurgents," he said. "We want to know if they are still alive, or dead."
No one in the camp has heard news of the 10 men since June, though camp leaders believe the Restoration Council of Shan State/Shan State Army-South, a signatory to last year's nationwide ceasefire, stopped them at a bend in the road near Ban Kaw.
"We heard [at the time] that these [SSA-South] insurgents were nearby," said U Go Tar, the head of Ban Kaw village, "but we did not think they would take our children."
For those who have also lost their homes, the future is uncertain. Fighting in the villages is not only continuing – it seems to be getting worse, said U Go Tar. The November 20 offensive by the alliance has dealt a body blow to hopes for a peaceful solution to the conflict.
"They have not destroyed our houses for the present," he said, "but I can't say about tomorrow."
Top photo: Ta'ang National Liberation Army soldiers walk along a road in northern Shan State. (Steve Tickner / Frontier)