Thai visitors are flocking in droves to pay their respects to nat shrines in Yangon, including one said have aided Leicester City in its English Premier League title victory. 
By HTUN KHAING | FRONTIER
At this time of year Yangon's heat is unrelenting. The temperature regularly surpasses 40 degrees Celsius during the day, and many of the city's residents disappear from the streets and seek sanctuary indoors.
But for one group of Thai tourists visiting Botahtaung Pagoda on May 5, the midday heat seemed to matter little. They were too busy praying before the statue of Mya Nang Nwe; one of Myanmar's best-known animist nat spirits, there's a shrine dedicated to her inside the pagoda's compound.
The shrine's popularity has increased among Thai visitors in recent years, particularly since a television programme about Mya Nang Nwe's life was screened on Thai television sometime prior to 2013.
"The tourists come to the statue during the afternoon when there are less people, so they can pray peacefully," said U Ko Ko Hlaing, a tour guide who specialises in bringing Thai tourists to Myanmar. "They don't like coming in the morning and evening when it's crowded with people," he said.
Many Buddhists in Myanmar and Thailand also believe in animist spirits, which are normally based on historical, real-life characters.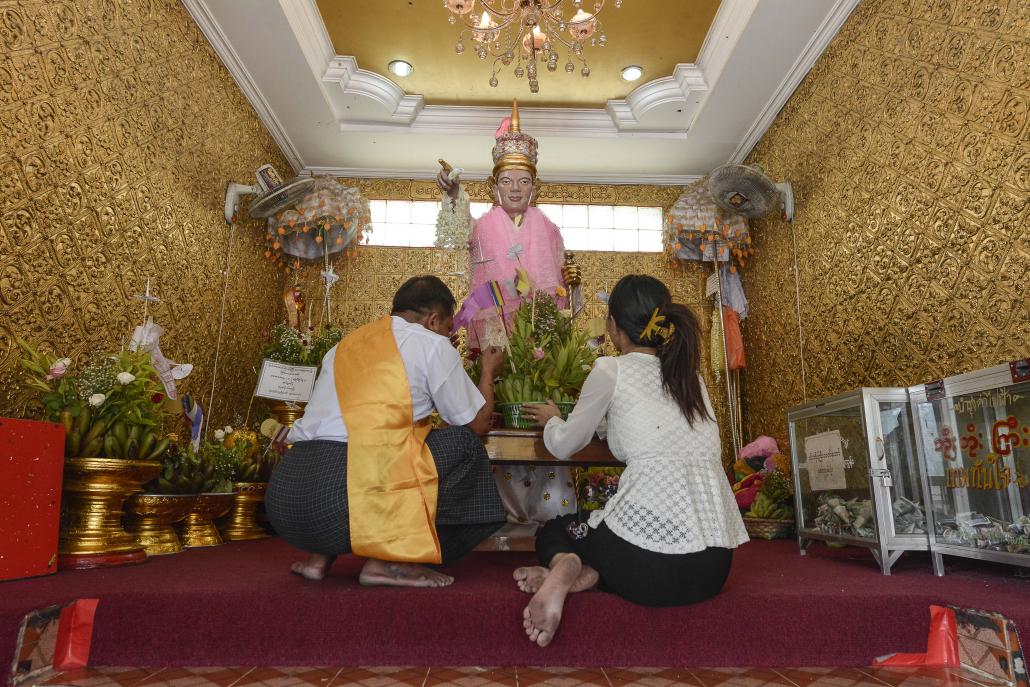 But while nat worship seems to be on the wane in Myanmar, the practice has grown in popularity in Thailand in recent years, said U Kyaw Kyaw Swe, who provides a car rental service for tourists in Myanmar.
As a result, many Thai visitors to Myanmar consider Mya Nang Nwe's shrine a must-see.
Mya Nang Nwe was born in 1897 in Mogok, Mandalay Region, a town renowned for its high-quality rubies. Throughout her life she was said to be renowned for her beauty and generosity, before she died in 1957. Her shrine was erected inside Botahtaung Pagoda in 1990.
Despite her popularity in Thailand, there is no evidence that she ever travelled east, or had anything to do with the country, although some say she travelled to India to study in the 1920s.
"They think that if they pray closely for the things they wish for, that wish will be granted," said Ko Ko Hlaing, a Yangon-based tour guide.
Mya Nang Nwe's popularity among Thai tourists may soon be surpassed by another nat spirit, Botahtaung Bo Bo Gyi, who also has a shrine at the pagoda.
Bo Bo Gyi's increased renown can be attributed to a May 2015 visit by English Premier League football club Leicester City, which was bought by Thai businessman Vichai Srivaddhanaprabha in August 2010.
On May 2, Leicester won the English Premier League title, which has been described as one of the great sporting upsets of all time, and the team has captured the hearts of sport lovers in Thailand and around the globe.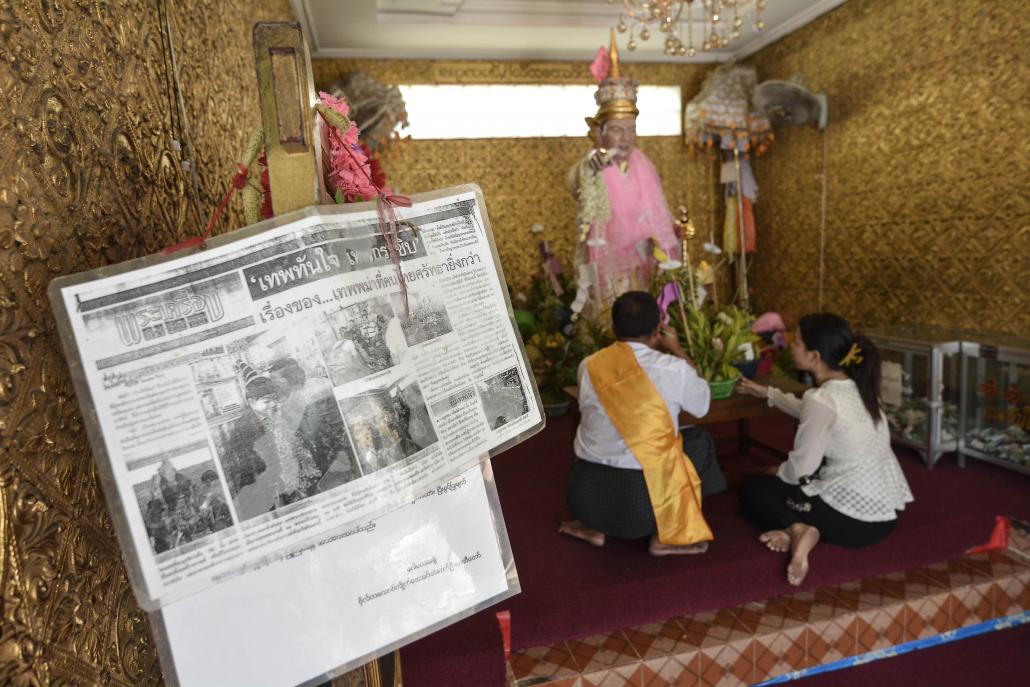 Prior to their title victory, the Thai owners brought the team's footballers to the Bo Bo Gyi shrine where they prayed to the spirit for success in the upcoming season, said Daw Khin Myat Zaw, a tour guide who organised the tour and wrote about it in local weekly News Watch.
The interest in nats from Thai tourists has led to a substantial increase in revenue for Myanmar's growing tourism industry, sources say. In 2015, more than 200,000 Thai tourists visited Myanmar, 15 percent of that year's total visitors.
"There are other Buddhist countries in [Southeast Asia], but Thais are very interested in Myanmar nats," said Kyaw Kyaw Swe, the car rental entrepreneur. "Now that Leicester have gone from not a very strong situation to the top as Premier League champions, I think more Thais will come here."
Top photo: Thai and Myanmar visitors pay their respects to the Mya Nang Nwe shrine at Botahtaung Pagoda. (Teza Hlaing / Frontier)