David Starfire is a multi-instrumentalist composer, music producer, DJ, and record label owner known for mixing electronic music with traditional instruments from throughout the world.
For his latest project, he collaborated with Karen and Shan musicians to produce Karuna, the first album featuring a Western electronic musician with traditional instruments from Myanmar. Many of the featured musicians are refugees in Thailand. All proceeds from album sales will be donated to Thai Freedom House, a language and learning centre in Chiang Mai that helps Myanmar refugees and members of Thai minority groups.
Frontier sat down with David Starfire to ask about the creative process that resulted in the album.
What attracted you to the traditional music of Myanmar's ethnic nationalities?
When I visited northern Thailand in 2012 I became aware of music from Myanmar, and I wanted to bring their music and instruments to the world. I was intrigued by the rawness of their instruments. I wanted to focus on recording with Burmese refugees, so I recorded mostly Shan and Karen instruments. Also there is not much traditional music from Myanmar available outside of the country, and no electronic artists had ever collaborated with musicians from Myanmar to produce an album.
Tell us about some of the musicians and traditional instruments featured on the project?
I recorded so many amazing musicians and was very fortunate to work with them. Probably the most prominent musician is Chi Suwichan, a Karen harp player who lives in Mae Sot and is a well-known activist for his people. I spent an afternoon and evening with him and he spoke about Y'wa, the spirit that flows everywhere, and included his words on the album. Another harp player from Mae Sot was Saw Doo Plout, who is also a Karen activist. I spent two days recording him.
I recorded a Shan monk and musician, Len Pong, and who played the violin, xylophone, gamelan and drums. He's featured on three songs. Another musician from Shan State is an amazing singer named Gonlao. I recorded his beautiful voice and heartfelt songs about his family and his homeland. I had the chance to record an ensemble of drummers at Wat Pa Pao [in Chiang Mai] on one of their holy days. On another occasion I was at the funeral of a beloved monk at Wat Mai Thung Salae and recorded several temple drummers there as well.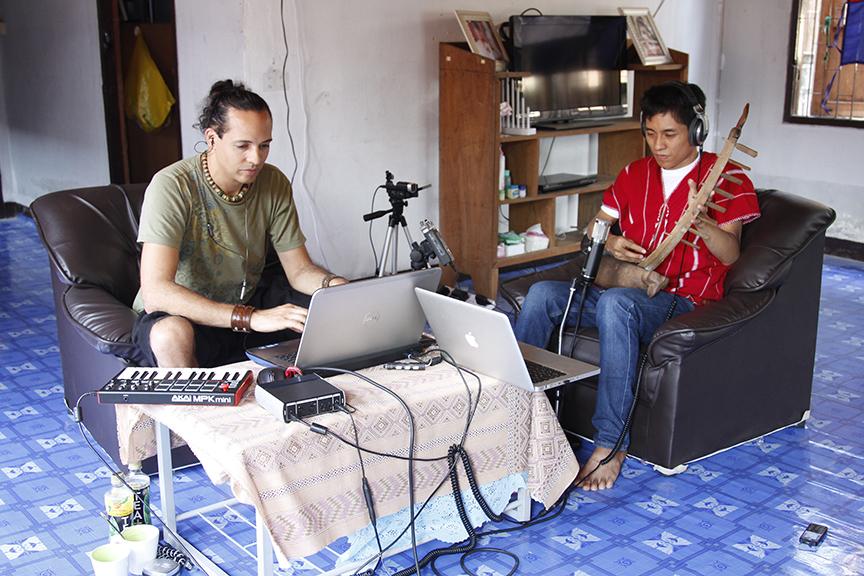 How did you meet the musicians?
I was introduced to Chi Suwichan and Saw Doo Plout by my friend Jack Chance, who has recorded many musicians in Myanmar and northern Thailand. I was able to reach-out to them through email or Facebook. They speak limited English, so while it was difficult to talk to them we were still able plan the recording sessions.
Gonlao was referred to me by Lisa from Thai Freedom House, the non-profit organisation that will be receiving the funds from the album. He was a student at their school. I was introduced to Len Pong by my partner who was conducting research on Burmese refugees. Len Pong is the music director at Wat Pa Pao, and with his permission we were able to record in the abbot's chambers, which was a very auspicious place.
Can you describe your creative process?
For most of the songs I started with the traditional melodies played by the musicians or the beat of their drums. From there, I would build the song by making layers and adding effects on the instruments.
Most of the songs were based on traditional melodies, with the exception of Saw Doo Plout, who composed some new music specifically for the project. I sent him a few songs that I had composed for him to write melodies for in advance, and he wrote wonderful harp lines. He was able to record to the beat of my songs, whereas with the other musicians I just recorded them without a beat and added one later, which was a very tricky process.
Do you have a favourite track on Karuna?
Each song is special to me. I have very happy and sad memories from each one. I like the idea of "Tenaku" where you have Saw Doo Plout playing a small homemade harp in Mae Sot accompanied by William Close, who is a very famous musician in the United States, playing his own homemade instrument called the Earth Harp, which can be as big as a football field.
When I was recording Saw Doo Plout, I could feel the emotion of what he had been though and it was a very special time during the recording. When I spent time with Chi Suwichan, it was very significant to be in the presence of someone who cared so deeply for his people and to hear his symbolic stories. On the song that featured him, "Y'wa", I used field-recordings I had made inside Cave Lod in northern Thailand, and every time I hear them it brings me back to that time and place.
When I was recording Len Pong we were at Wat Pa Pao, a very old temple in Chiang Mai, and I could feel the energy of the monks and the people that had lived there in the past. It was a powerful and momentous place.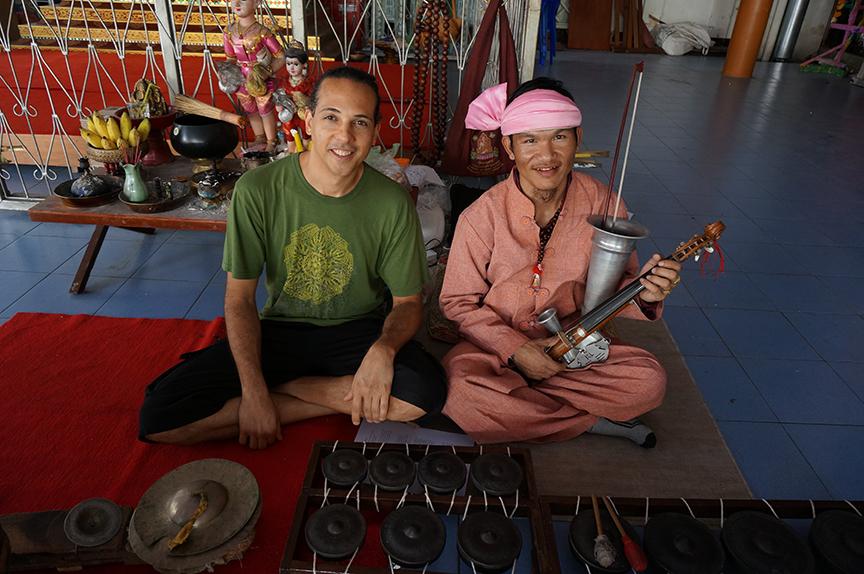 You have recorded traditional musicians throughout the world. What is your opinion about the state of traditional music in Myanmar?
Now that the government is changing and allowing more foreigners to visit and it is safer than in the past, I think that more people will be exposed to traditional forms of music from Myanmar and they will bring the music and musicians back to their country like I have. It seems that most urban Burmese listen to Burmese pop music, but there are still those that are older folks who like to listen to traditional music. When there are special events at temples or universities you can hear the traditional music, and I hope that it is preserved and appreciated by the young people and that they will carry on their culture and music.
What's next for you?
I have several projects in the works such as a remix album for Karuna, and a new EP with a side project called the Dub Kirtan All Stars. My plate is always pretty much full.
How can people buy Karuna? 
The best place to purchase Karuna is my Bandcamp site, but people can also purchase on iTunes, Amazon, Beatport and other popular online music retailers.