Civilians and community workers in Rakhine State are living in dread as the Arakan Army and military junta trade arrests, and the threat of war looms large.
By FRONTIER
In 2015, 42-year-old community welfare activist Ko Zaw Win began helping people displaced by conflict between the Arakan Army and the military in Rakhine State's Kyauktaw Township. Today, an informal ceasefire the AA and military reached in November 2020 appears to be falling apart, and Zaw Win sits in prison.
"During those years he was active in helping internally displaced people and he also posted on social media about the fighting in Kyauktaw," said Ko Kyaw Thu*, a friend of Zaw Win, who is known fondly by his neighbours as Ludu Zaw Win. "Ludu" is an honourific that means "the people" in Burmese and was bestowed on Zaw Win for his community work.
On June 20, the AA abducted three policemen in Kyauktaw, as long-simmering tensions between the ethnic armed group and the military bubbled to the surface. The military responded in force the following day, conducting inspections and searches in the town and making arrests of its own. Among those detained was Zaw Win.
"That day, the whole town panicked; even schools were closed. People were so scared," recalled Kyaw Thu.
"Ko Zaw Win called me that day. He told me that the army had entered the city and people were being searched on the street," Kyaw Thu said, adding that Zaw Win posted about the situation on Facebook before being arrested by the military.
"We were eating when they arrived, about 40 of them. They asked if it was Ko Zaw Win's house," recalled his wife, Ma Khine Hla Zan. "Then they handcuffed my husband and took him away. I asked why he had been arrested but they did not respond."
Zaw Win was one of eight people arrested in Kyauktaw town that day. For two long weeks, his family received no information on his whereabouts. Eventually, he resurfaced at the Kyauktaw police station where he was charged with incitement under section 505A of the Penal Code, which carries a maximum penalty of three years' imprisonment.
"My husband does charity work. He is not related to any armed organisation. He is innocent," Khine Hla Zan said. "I don't understand why he was arrested. Now he's in prison and his health is not good."
Rakhine State has largely been spared from the violence that has engulfed many other parts of Myanmar since the military seized power in a coup d'état in February 2021. With the new junta focused on quelling unrest to its power grab, the AA took the opportunity to regroup and consolidate administrative control over territory it gained during the previous years of fighting.
But its efforts to roll out a state-like governance system have seemingly put it on a collision course with the military. In recent months, Rakhine State has seen a surge in tit-for-tat abductions and arrests as political tensions strain the informal ceasefire that ended a brutal two-year war. More recently, isolated battles have broken out, and the threat of a return to full-scale fighting looms ominously over a population still recovering from years of violence.
The Arakan Human Rights Defenders and Promoters Association says that between May and July, junta forces arrested more than 100 civilians in Rakhine State.
"More than 20 are still under arrest," said U Myat Tun, director of the AHRDPA, based in the state capital, Sittwe. He said others have escaped from custody or been released.
Those arrested include ward and village tract administrators, shopkeepers, trishaw drivers, IDPs and people who assist them, such as Zaw Win, and members of civil society groups.
"Even children have been arrested, which is a flagrant violation of human rights by the military," Myat Tun said, alleging that some detainees have been tortured.
The recent wave of arrests can be traced back to May 26, when soldiers from the Light Infantry Battalion 34 detained a 41-year-old trishaw driver and a 56-year-old woman in Kyaukphyu town for allegedly collecting funds for the AA.
"That was the beginning of this manhunt between the AA and the military. After arresting those two, it spread to other townships," said Myat Tun.
The AA made its first arrests in June, detaining a sergeant and private from the military in Kyauktaw Township. By the end of that month, the AA had arrested 14 people, including soldiers, police and other junta officials, with abductions continuing into July and August.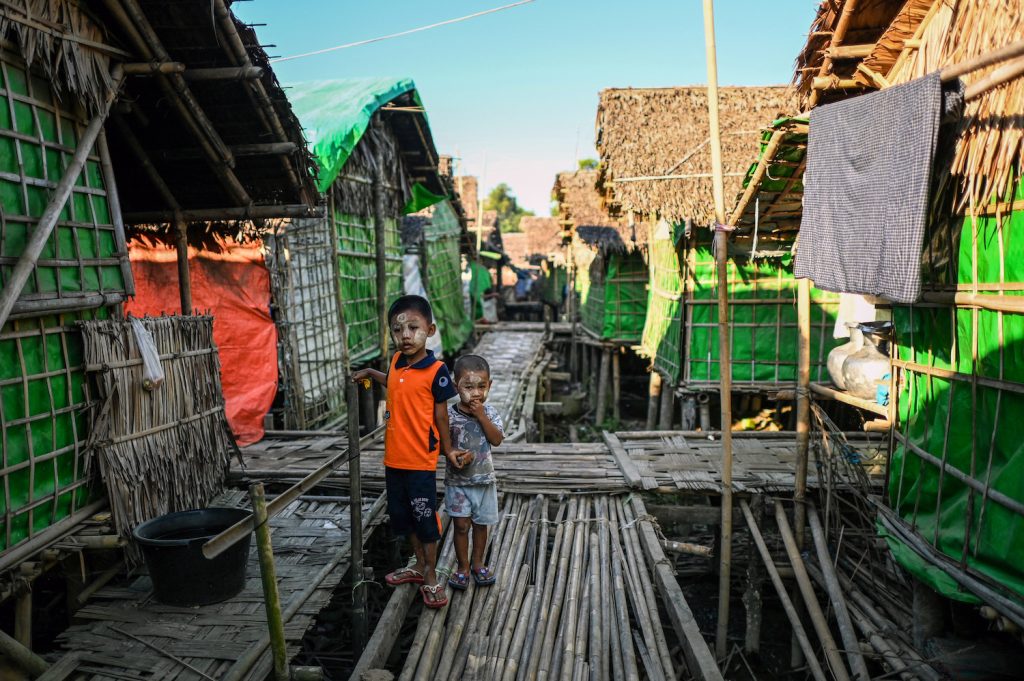 Rising tensions
Although the conflict has its roots in centuries-old grievances, the AA is barely a decade old, having formed in 2009 at the Laiza headquarters of the Kachin Independence Army. The first reported clashes between the AA and the military occurred in Kyauktaw Township and neighbouring Paletwa Township in Chin State in April 2015. In December of that year, the AA and the military fought for several days on the border between Kyauktaw and Mrauk-U townships, the former capital of the Arakan Kingdom which was seized by Bamar forces during the Konbaung Dynasty in 1784.
Over the next five years, the AA was able to gain a firm foothold in many townships in northern Rakhine. The conflict peaked from 2018-2020, with some analysts describing it as Myanmar's fiercest civil war in decades. When the fighting ended, much of the countryside was effectively under AA control.
"In these northern townships, the army can only be stationed in urban areas. Areas outside of the towns are controlled by the AA to some extent," U Kyaw Khaing, a member of a civil society group in Sittwe, told Frontier.
"Since the ceasefire, the AA has been able to establish an administrative structure in the areas it dominates and it has also opened courts and begun collecting taxes," he added.
Tensions escalated when the AA snubbed the junta's invitation to peace talks, issued in April, and met instead with the National Unity Government, a cabinet appointed by lawmakers elected in the 2020 polls in defiance of the coup. Many anti-coup armed groups and ethnic armed groups have been cooperating with the NUG in an attempt to overthrow the military regime.
"After the AA declined the military's invitation to attend peace talks, junta forces began trying to disrupt the AA administrative apparatus," Kyaw Khaing said.
In May, the military sent reinforcements into northern Rakhine and deployed patrol boats on the Kaladan River, which flows through Kyauktaw and Paletwa townships. On May 6, AA commander-in-chief General Twan Mrat Naing tweeted a warning to Brigadier-General Htin Latt Oo, head of the Tatmadaw's Western Command, based in Rakhine's Ann town.
Calling him out by name, Twan Mrat Naing accused Htin Latt Oo of undermining peace and warned him not to go "too far" or he would be crushed. Ten days later, Twan Mrat Naing met virtually with the NUG's foreign minister, Daw Zin Mar Aung, marking the first public dialogue between the two organisations.
AA spokesperson U Khaing Thu Kha told a news conference the next month that while the AA is not fully cooperating with the NUG, they are on friendly terms, and the AA will not participate in peace talks with the military.
"The tensions rose sharply at this time," Kyaw Khaing said, claiming the junta started hunting anybody accused of working for the AA in support roles, such as collecting funds or distributing food and other supplies.
Torture and fugitives
Ordinary civilians, civil society workers and local government officials are all being caught in the dragnet. Those detained often face harsh treatment at the hands of the military.
Trishaw driver Ko Kyaw Win Hlaing was detained on June 22 in Mrauk-U, after AA troops abducted three military officers in the township.
"He left home at about 7am and was arrested near the office of the funeral society," said a relative, who asked not to be identified.
After his arrest, Kyaw Win Hlaing was taken to a military interrogation centre, where he was allegedly tortured.
"His kidney was damaged and there were cuts on his hands and legs. He ended up at Yangon General Hospital because Sittwe General Hospital was unable to treat his injuries," the relative said. "Kyaw Win Hlaing was a trishaw driver making an honest living. The military is very cruel. There was no need to torture him so much."
Since community activist Zaw Win was arrested in June, many involved with civil society groups have been living in a constant state of dread.
"About 70 percent of CSOs have stopped working, especially those whose groups helped IDPs," said Ko Min Min, who had worked alongside Zaw Win. He and many others have since fled the towns and major villages, taking shelter in the remote countryside.
CSOs providing emergency support to IDPs are particularly vulnerable, because they need to work with the AA to help people in rural areas but must cooperate with the junta to some degree to help people in urban areas.
While the junta lifted the AA's terrorism designation after the coup, it remains an unlawful association, meaning any contact with the organisation can result in a 2-3 year prison term.
"In the urban areas we have to deal with the military," said Ko Myat Kyaw*, from a charity group in Ponnagyun Township. "Now, no one can guarantee our security. The only way is to flee from the city for a while. It's because we deal with the AA."
Village tract and ward administrators also frequently interact with both sides. Rather than seeking to eradicate the junta's administration in Rakhine, the AA has often tried to co-opt it. But with conflict returning to Rakhine, the officials in the middle find themselves in an increasingly precarious position.
In July, AA fighters ambushed a convoy of the regime's Border Guard Police, claiming to have killed at least 20 enemy combatants while taking 14 prisoners in Maungdaw Township. The military retaliated by arresting a village tract administrator and two residents in nearby Kyein Chaung village on July 20.
"After that happened, other village tract administrators were scared and fled their communities," said a village-tract administrator from Maungdaw town, who asked not to be named.
And the fighting shows no signs of slowing down – in August, the AA claimed to have killed 37 soldiers in one day, with the heaviest fighting occurring in Rathedaung Township.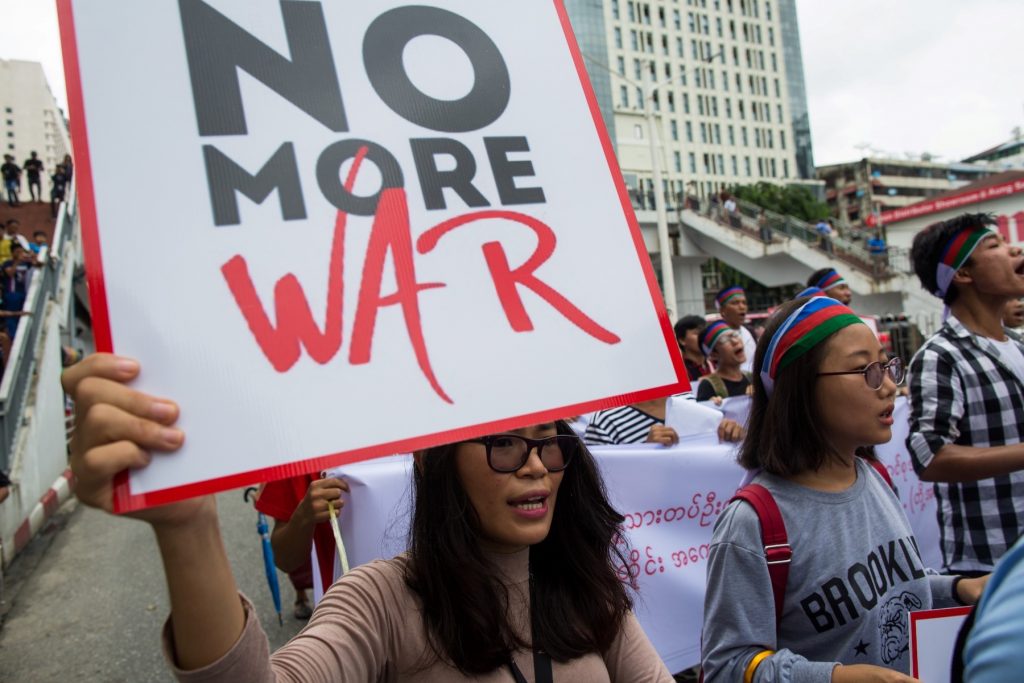 Spreading fear
The military's endgame appears to be to make the general population too afraid to support the AA, which enjoys widespread public backing.
"The military believes that the AA was able to implement its administration because of public support, and that if it arrests members of the public, they will be afraid to support the AA," said Kyaw Khaing from the CSO in Sittwe
Zaw Win's colleague Min Min agreed, but said this approach will most likely backfire.
"Their thinking is that if you create fear, people will stop supporting the AA," he said. "In the past, if the AA went to villages, the military would sometimes arrest villagers and beat them. But then the people started to hate the military more."
A resident of Rathedaung Township said the current atmosphere of intimidation extends all the way to checking civilians' phones.
"In the past, there was only one checkpoint at the entrance and exit of Rathedaung town. Now there are four," said Ko Aung Tun Win*. "They check all the bags, they check phones. If they find any posts about the AA on Facebook, or any incriminating photos, they arrest those people."
In addition to only creating more anger, these heavy-handed tactics also put the most vulnerable at risk.
U Kyaw Hein was displaced by fighting in 2019, taking refuge at the Kawi Yadanar IDP camp in Kyauktaw.
"The food situation in the camp is tight, so my husband worked as an assistant to healthcare workers and as a motorcycle carrier to earn money," said Kyaw Hein's wife, Daw Aye Than, with whom he has three children.
On July 19, Kyaw Hein left the camp to seek medical treatment in Kyauktaw town. She has not heard from him since.
"I called and called on the phone, but he didn't come back that night. Then I found out that he had been arrested by the military," sobbed Aye Than.
"They are arresting people for no good reason," said an angry Myat Tun, director of the AHRDPA. "In this situation, IDPs and civilians are harmed the most."
Myat Tun predicted more people will be arrested as tensions continue to rise. "It is very sad for our people," he said.
Meanwhile, Aye Than lives in a state of constant anxiety.
"My husband is a refugee and a healthcare worker," she said. "I have not been able to get any information about him for more than 30 days. I am worried sick. I want him to be released as soon as possible. I want this nightmare to end."
* denotes the use of a pseudonym upon request for safety reasons