Civilians are caught in the middle of the conflict between ethnic armed groups in Shan State, with some missing for more than a year amid a surge in detentions and forced recruitment.
By FRONTIER
On June 1, the families of Mai Chit Maung Lay and Tar Aik Ngin held a funeral for the two men, who have been missing since March 30 last year.
"It is not that we accept that they are dead. We're making a donation to help them," said Lway Aye Soat, Chit Maung Lay's wife.
The two men were allegedly abducted from their homes in Mansa village by the Restoration Council of Shan State, as the ethnic armed group clashed with its rivals in northern Shan State's Namtu Township.
"That day at around 7pm, RCSS soldiers came and surrounded our house, shouting my husband's name" recalled Aik Ngin's wife Lway Eain.
Chit Maung Lay was a member of the Ta'ang National Party, and Aik Ngin was an active supporter. Both and were deeply involved in the community affairs of Mansa village.
"I cried and begged, don't take my husband," said Lway Eain, speaking through tears. "But they said there was an investigation and they needed to interrogate him. That was the last time I saw him."
The families tried to appeal for their release via the village head but were unsuccessful.
"We tried various things. All we know is that they were arrested," said the headman, Mai A Sai.
"I haven't heard any news since then," said Aye Soat, who insisted her husband is not affiliated with any armed group.
After signing the Nationwide Ceasefire Agreement with the government in 2015, RCSS troops increasingly moved into northern Shan State, in an apparent attempt to expand their territory, leading to clashes with rival ethnic armed groups the Shan State Progress Party and the Ta'ang National Liberation Army.
Following the coup in February 2021, all three armed groups have avoided open involvement with the nationwide revolt against the new military junta. The SSPP and TNLA have engaged in some limited fighting against the military, but both the SSPP and RCSS have taken part this year in a series of "peace talks" with the regime; the latter in particular has been accused of cosying up to the regime.
Since the coup, allied forces of the TNLA, SSPP and the United Wa State Army have managed to beat back the RCSS, reclaiming much of the lost territory and even gaining new ground. But the fighting has had devastating consequences for civilian populations, with entire villages emptied and livelihoods destroyed.
Meanwhile, the RCSS has allegedly abducted civilians with suspected ties to the SSPP or TNLA, while the TNLA and SSPP have been accused of forced recruiting.
Aye Soat said that her husband's arrest left her and their three young children in a precarious position, because he ran the family farm. After he had been taken into RCSS custody, the family home burned down during fighting between the group and the TNLA in Mansa village in April last year.
"There is no man in the house and now I have to do everything," she said, explaining that she is trying to raise her children while also working the fields and worrying about her husband's fate.
"I feel like I'm living in the dark. I just want to know if he is dead or alive. It's worse not knowing," she said.
Frontier was unable to reach the RCSS, SSPP or TNLA for comment.
Around the same time as Chit Maung Lay's abduction, in March last year, Mai Min Naing hopped on his motorbike to ride from his home in Namhsan Township to the town of Kyaukme, also in northern Shan. He was traveling with his grandfather Tar Aik Pyu and uncle Tar Kyaw Sein Tun, both tea farmers, and planned to buy a golden umbrella and Buddha statue in Kyaukme for their village pagoda to celebrate the Tabaung full moon day.
"Every time I think back to what happened that day, I feel very sad," Min Naing said while sobbing. "We left home that day with two motorcycles. I was riding one, and my grandfather and my uncle were riding together on the other."
When the group approached a checkpoint manned by RCSS troops on the Kyaukme-Mong Ngaw road, Min Naing passed through easily. But when he turned to see the soldiers surround his grandfather and uncle, he had to make a quick decision. Speeding off to Kyaukme, he soon returned with members of a local charity.
The soldiers were gone, however, and new ones had taken their place. "The troops said they didn't arrest anyone or know anything," Min Naing said.
Eighteen months on, the family has still received no news of their missing relatives. "Sometimes I feel guilty about this," Min Naing said. "I live with the pain."
"No armed organisation can arrest civilians without reason," said Lway Wai Hnin*, who works for a civil society organisation based in Lashio, the northern Shan administrative hub. "This is a violation of human rights; it's a crime."
Based on interviews with villagers and civil society organisations, Frontier recorded the alleged abduction of over 20 civilians by the RCSS in the northern Shan townships of Namtu, Namhsan, Kyaukme, and Hsipaw townships since last year. The Ta'ang Women's Organization said the Shan armed group had arbitrarily arrested 16 Ta'ang people and disappeared another 11 over the last two years.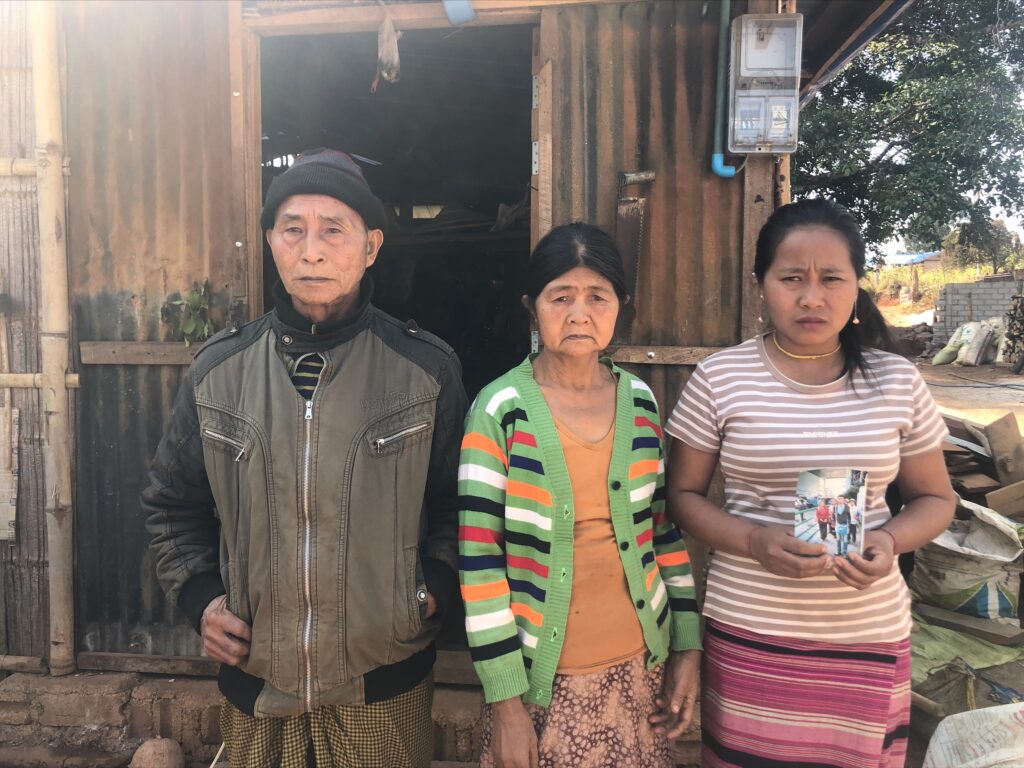 Forced recruitment
But the RCSS is not the only ethnic armed group in Shan that has been accused of mistreating civilians.
Local media reported TNLA troops arrested around 20 civilians in July, following a dispute over forced recruitment in Pasan village tract of Kyaukme Township, one of the areas the group had wrested from the RCSS.
According to the TNLA's conscription policy, each Ta'ang family must contribute one soldier to the armed group.
"The list of those eligible for military service is collected through the village head. Villagers don't want to send their children to military service, so they run away from their villages," said Ko Min Tun*, a resident of Kyaukme.
"Many of those who don't want to join the TNLA move to cities elsewhere. Some families send their sons to serve as monks." Min Tun added.
The SSPP has also been accused of abductions and forced recruitment.
Local media reported that the SSPP arrested a group of 28 people in Naung Lai village in the town of Panglong in southern Shan on August 1. While 15 of those arrested were released, 13 remained in custody, the news agency said.
A village secretary who asked not to be named said the SSPP also forcibly recruits soldiers in Kyaukme Township.
"They come about once a year. When they ask for troops, all the families draw lots to see who will have to serve in the army, because none of the families want their members to join," he said.
"Other homes in the village pay the families of those who volunteer, so that their own family members don't have to enlist in the SSPP. The village head has also been provided with a large fund to pay families who provide men."
Mai Kon Pwe, the 37-year-old secretary of Loi Pan village of Tangyan Township in northern Shan, was taken by SSPP troops and held for several weeks last year.
The soldiers had arrived in May demanding five men from each village. "Nobody from my village wanted to sign up and we didn't want to force anyone to serve them, so it caused a problem when they [the SSPP] returned in the first week of June," said Kon Pwe. "They wanted to take soldiers, and were angry."
The SSPP troops then snatched Kon Pwe and the village head Tar Kon Aik Oo from their homes. "They tied us up with ropes and took us to their camp on a nearby hill," Kon Pwe recalled. "The experience was terrifying."
On the night of the same day, one man and a woman were taken from neighbouring villages. "They called me to the village elder's house where I was tied up and arrested," said 26-year-old Mai Aik Kyaw. "They accused us of telling others not to speak in Shan when the troops arrived, to evade capture."
After the four were arrested, they were held in a prison camp and interrogated by SSPP soldiers. "My legs were chained and I was kept in prison for around 10 days," said Kon Pwe.
After three weeks of arrest, on June 29, the SSPP freed the men after village elders signed contracts for their release in which they pledged that the men were not guilty of any crime.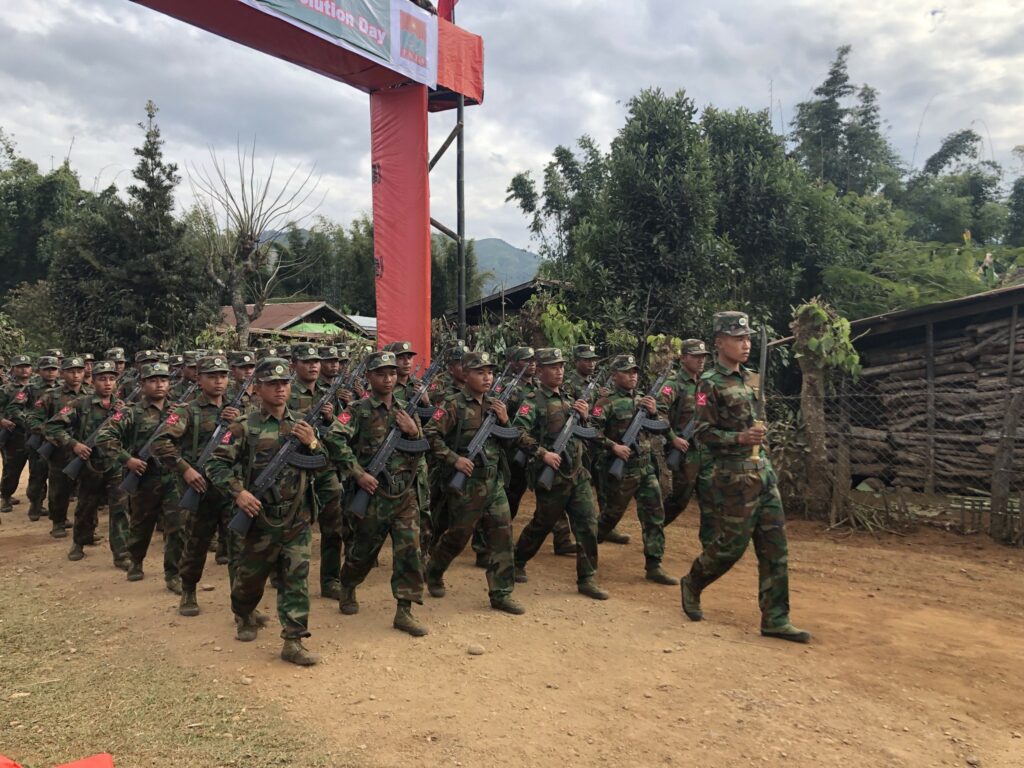 Keeping hope alive
While the fates of many of the missing remain a mystery, some of those allegedly taken by the RCSS have been released and reunited with their families.
Tar Kyar Yone, the head of Yay Oo village in Namtu Township, was released with his two sons in April, a year after being detained by the armed group.
"They entered the house to find weapons. They didn't find any, but they took my husband and sons away anyway," Kyar Yone's wife Lway Aye Khu told Frontier of his seizure last year.
A Sai, the headman from Mansa village, said local administrators are often caught in the middle. "The village leaders have to deal with all nearby armed groups," he explained. "We are like hostages between them."
The three prisoners were released from the RCSS headquarters in Loi Tai Leng, with some local media reporting that they were SSPP solders. "They are not SSPP members at all," Aye Khu insisted. "They do not belong to any group."
Kyar Yone told Frontier that they were held at a RCSS military camp for three months before being sent to Loi Tai Leng. "They told me I am an informer for the TNLA and my sons are TNLA soldiers.," he claimed, denying their involvement with the TNLA.
Other families, however, are still enduring a torturous wait for news of their missing loved ones.
When the RCSS announced that it had released 24 prisoners of war in August, the family of Aik Pyu and Kyaw Sein Tun were hopeful they were on the list.
"When we saw the news, we checked the photos to see if my grandfather were there," said family member Lway Sandar Myint.
But the names and faces of the two men were nowhere to be seen.
Wai Hnin, the civil society worker in Lashio, said ethnic armed groups have an obligation at the very least to keep the families of detainees informed and be transparent about their actions. "If the civilians were arrested by mistake, they should issue an official letter and apologise," she said.
The family of Aik Pyu said they would not donate the golden umbrella and Buddha statue bought in Kyaukme last year until he was released.
Sandar Myint, meanwhile, has resorted to consulting an astrologist for crumbs of information about her grandfather. "He said my grandfather is healthy," she said. "We believe that our grandfather will come back one day."
* Denotes use of a pseudonym.