A nun, an artist, a lawyer and a leading member of the business community talk to Frontier about their lives and work to mark International Women's Day.
By KATRIN SCHREGENBERGER | FRONTIER
INTERNATIONAL WOMEN'S DAY was celebrated on March 8 and in Myanmar it refocused attention on women's rights.
The theme chosen for this year's event, "Time is now: Rural and urban activists transforming women's lives", was particularly apt for Myanmar, in which 70 percent of the population lives in the countryside and most of them are women.
The 2014 census found that in an enumerated population of nearly 51.5 million, 51.78 percent (26,661,667) were women. There are 93 men for every 100 women.
In education, women perform better than men, especially at graduate and post-graduate level, but they are at a disadvantage in the work force. Census figures show that the work force participation rate for those with more than a secondary education is 62 percent for women and 76 percent for men. The figures also reveal that women generally have a lower participation rate in the work force than men, 50.5 percent compared to 85.2 percent, and a slightly higher unemployment rate (4.1 percent compared to 3.9 percent).
The number of women MPs improved after the 2015 elections won by the National League for Democracy, rising from 5.9 percent to 14.5 percent of elected seats in the Union Parliament, and from 3.9 percent to 12.5 percent in the state and regional hluttaws.
Discrimination against women is a challenge in Myanmar, in which domestic violence is also a serious problem.
In its latest Gender Inequality Index, for 2017, the United Nations Development Programme ranked Myanmar 80th out of 188 countries and territories.
Daw Ketu Mala
Buddhist nun Daw Ketu Mala, 37, is known internationally for her outspoken views on raising the status of nuns in Theravada Buddhism, though she rejects being called a feminist.
"There are about 60,000 nuns in Myanmar but they have no status in the sangha," she told Frontier, using the term for the community of monks.
When a woman becomes a Buddhist nun, she is required to renounce the mundane world, as are monks.
"Nuns shave their heads and give up their former lives, their education and their families, just like the monks do; but society does not accept them in the way it accepts monks," said Ketu Mala, founder of the Dhamma School Foundation, which runs more than 4,800 Buddhist Sunday schools throughout Myanmar.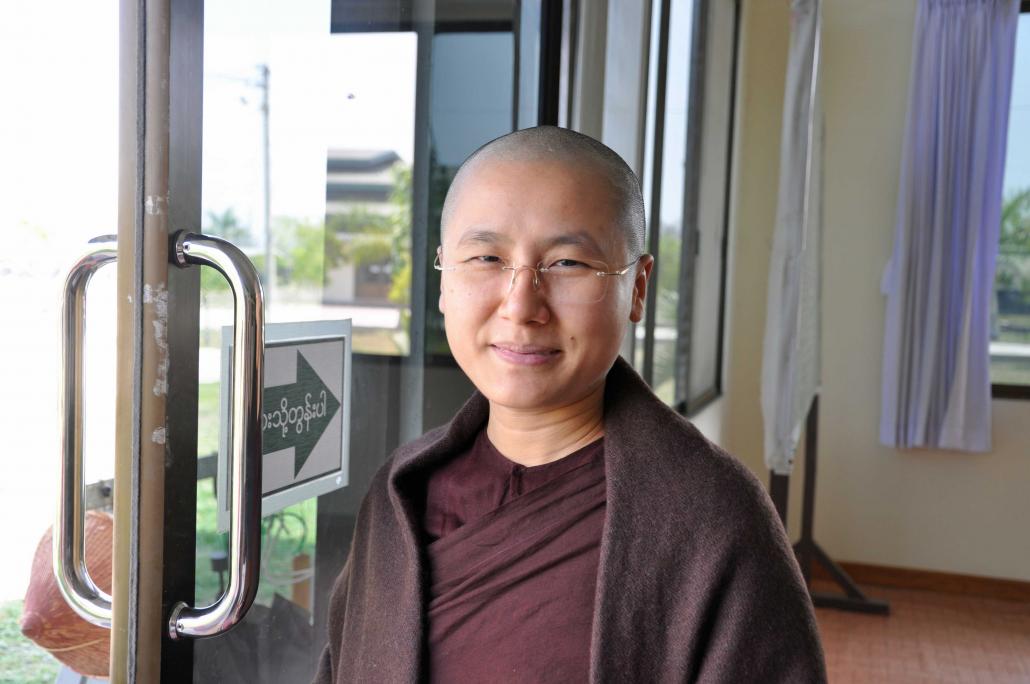 In early Theravada Buddhism, nuns were ordained with the same status as monks and were known as bhikkunis. When the bhikkuni lineage became extinct about 1,000 years ago, nuns could not be ordained because there were no bhikkunis to give ordination.
Since then, most nuns in the predominantly Theravada Buddhist nations of Myanmar, Thailand, Laos, Cambodia and Sri Lanka have lived by 10 rules of conduct; monks are required to adhere to 227 rules of conduct.
The ordination of women is a sensitive topic and Ketu Mala is reluctant to discuss it; previous comments on the topic have led to fierce denunciations from members of the sangha.
Society's lack of respect for nuns is deeply troubling for Ketu Mala, who became a nun when she was 18.
"If a man becomes a monk it is highly appreciated; if a women becomes a nun people start speculating about the reasons why and wondering if it might be because of a health problem," she said.
While nun's lack of status relative to monks could be seen as a women's rights issue, Ketu Mala said that in practice religious rules had to take precedence. "We follow the religious order," she said.
Ketu Mala said speaking out about the position of nuns in society had made some people think she was not humble.
One of her goals is for nuns to contribute more to the welfare of the public and especially women in need.
"Nuns can demonstrate their capacity only within nunneries but they should be able to do more for society in the outside world," Ketu Mala said.
Sandar Khine
Sandar Khine, 46, is one of the few women artists in Myanmar who paint nudes, a courageous choice in a country where some equate images of a naked human body with pornography.
A member of the Myanmar Fine Arts Collective who exhibits at New Treasure Art Gallery in Yangon, Sandar Khine was one of the few artists – and as far as she knows the only women – who worked with life models during the military regime when depictions of the nude human figure were subject to rigorous censorship.
Her works mainly feature plump women peering through cameras, to show an empowered life model gazing back at the viewer.
Sandar Khine, who is married to an artist, also paints male nudes.
Despite the abolition of censorship in 2012, she still struggles to gain acceptance for her work.
"People confuse it with pornography and don't understand that it is an expression of artistic creativity," she said.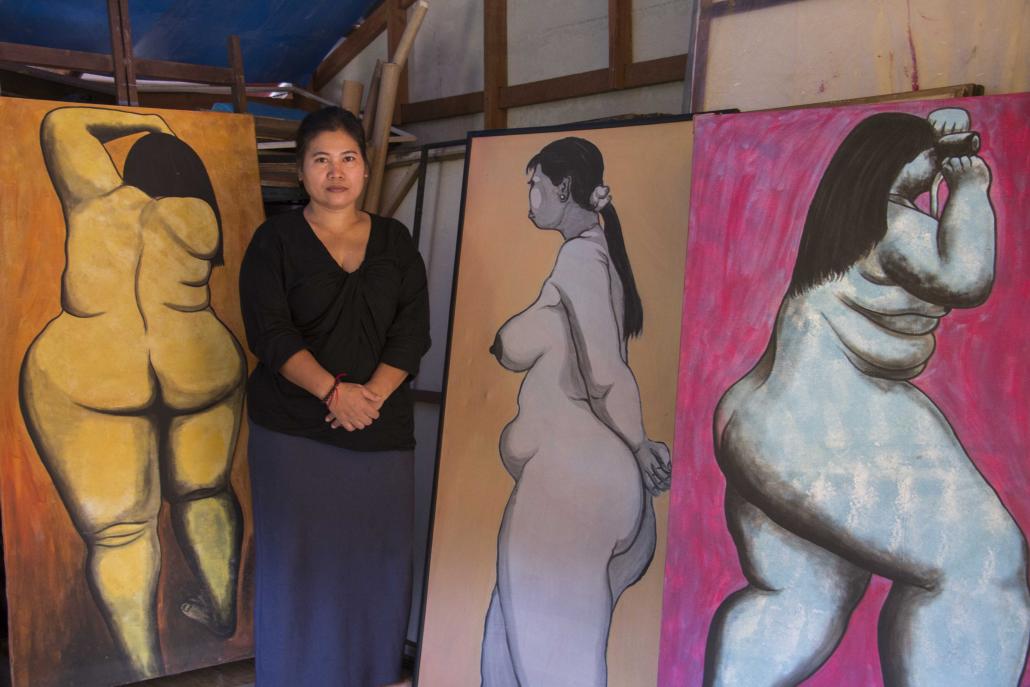 For this reason, she hides her works when guests are expected at her parent's house or her studio. Her gallery, meanwhile, keeps her nudes in the back corner.
Despite having experienced fathers dragging their children away from her nudes, Sandar Khine encourages artists to practice using life drawing models.
"For an artist to know the anatomy of the body is as important as it is for a doctor," she said. However, finding a model can be a challenge. Sandar Khine has had sex workers decline offers to pose for nudes because they thought it improper.
Another challenge is that there are fewer female artists and even though their numbers are growing, they don't have as many opportunities as men, she said.
Sandar Khine recalled being the only woman invited to participate with other Myanmar artists at an exhibition in an Asian country.
"The male artists decided by themselves that it would be inconvenient for me to go with the group as the only woman," she said, adding that she was not consulted about their decision to leave her in Myanmar.
Sandar Khine, who relies on private classes to supplement her income, says it's hard to survive as an artist and there have been times when she contemplated giving up her career. It's her passion for painting that keeps her going.
Saint Zar Ni
Saint Zar Ni, 32, is a lawyer at Yangon Justice Center, an NGO that provides free legal advice to the poor and disadvantaged.
She was inspired to become a lawyer by an aunt and spends most of her time defending men, including in cases involving sexual offences.
"In some sexual harassment or rape cases I feel awkward because I have to question the women in depth," Saint Zar Ni told Frontier.
When that happens she sometimes senses that the women think she has no sympathy for them and regard her as some kind of gender traitor. "But as a lawyer, it cannot matter to me if I have to question a woman or a man," she said.
Saint Zar Ni said that although women need a higher score than men to be allowed to study law, most of her fellow students during her studies at Dagon University were women. That changed when she entered the labour market, in which she mainly works with men.
She said that she believed this was because men preferred the competition of the private sector and were "more intelligent" than women, while women are more organised and disciplined and "prefer to work for government as judges and law officers".
Saint Zar Ni, who grew up in the city of Bago, says there is more respect for women in society than in earlier times.
"At the time of our grandparents, most women could not get a higher education; they were taught only to read and write and later did housework," she said, welcoming the changes.
The traditions that restricted women in the past were disappearing every day, Saint Zar Ni said.
Khine Khine Nwe
Daw "Rosaline" Khine Khine Nwe, stands out among women in the business community.
In 2011, she became the first woman joint secretary-general of the Union of Myanmar Federation of Chambers of Commerce and Industry, a position to which she has been repeatedly re-elected.
Khine Khine Nwe was an employers' delegate to the International Labor Conference in Geneva from 2011 to 2014, and a member of the Myanmar Investment Commission from 2012 to 2016.
She is general secretary of the Myanmar Garment Manufacturers' Association, chairperson of the Myanmar Garment Human Resources Development Center and has been deputy managing director of Best Industrial Co Ltd, a garment maker, since 1994.
Khine Khine Nwe said she had almost never encountered gender discrimination in a business world dominated by men and when it had occurred, she had shrugged it off. The key was always being professional and striving to do the best.
"I never competed with anybody; I didn't try to be like a man," she told Frontier. "I just tried to prove to myself that I could do it."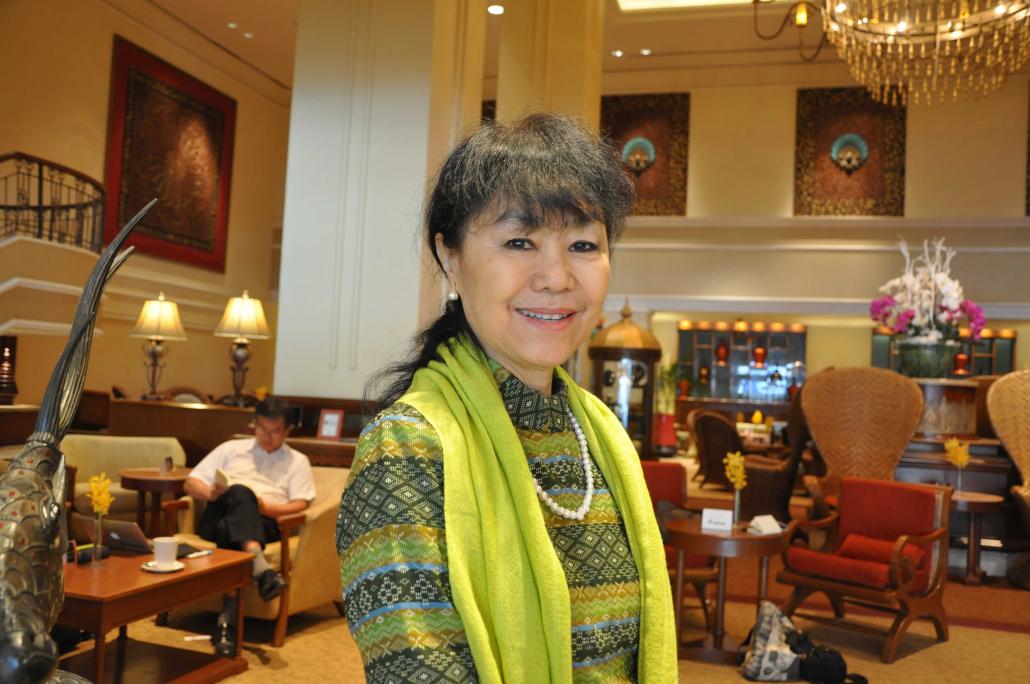 Khine Khine Nwe said men were held in high regard in Myanmar and that was unlikely to change.
"But this doesn't mean that women cannot achieve the same as men if they try and equip themselves," she said. Women should not believe that men could achieve something only because they were men.
"Sewing is not for women and packing is not for men," she said, referring to garment factory work. "It is simply human work."
Khine Khine Nwe said there were many Myanmar women who were successful in business but who chose to remain behind the scenes. "They don't come out and show that they are there because of our culture," she said.
"I am not a feminist," Khine Khine Nwe said, though she admitted to not knowing how to define the word.
"In Western countries there is a lot of talk about women. But I am not only for women but also for men," she said.
But Khine Khine Nwe said she agreed that more needed to be done to encourage the development of competent women.
"It would benefit the country as well as the women if we made greater use of their physical and mental strength," she said, referring to the low employment rate of women.