The chance discovery of a magazine at a home in Mawlamyine nearly 40 years ago led to the founding of Myanmar's Hare Krishna movement.
By EMILY FISHBEIN | FRONTIER
IN 1980, Srivasa Pandit Das, an engineering student at the Rangoon Institute of Technology home on summer holidays in Moulmein, now called Mawlamyine, found an old magazine on his parents' bookshelf. The chain of events that followed resulted in the establishment of the Myanmar branch of the International Society for Krishna Consciousness, or ISKCON – popularly known as the Hare Krishna movement.
During his youth, Das, though raised Hindu, was not actively religious. The magazine he found at his parents' home – an issue of the monthly Hare Krishna publication Back to Godhead – was a gift from a family friend who had visited the US. Das believes that when he first opened it, the magazine had been gathering dust for nearly a decade. Flipping through the pages, he noticed a mail-order slip for a free copy of a book called Coming Back. "I thought, why not?" he recalled. He filled out his name and address, posted the slip, and promptly forgot about it.
A few months later, while he was eating chapatis with his grandmother, a foreign man showed up at the door. At the time, most foreign visitors were granted 24-hour visas and the man had precious little time remaining when he arrived in Moulmein. Introducing himself as Baktivika Swami, a Hare Krishna disciple, he handed over the copy of Coming Back that Das had ordered. He also taught Das the Hare Krishna mantra, gave him a cassette tape, and promised to return in six months.
After the visitor departed, Das played the tape. "Prabhupada [the founder of the Hare Krishna movement] was singing one prayer for Lord Jagannath and his sound, his vibration touched my heart. Tears started coming from my eyes, and I didn't know why," he said.
Das, who is now the leader of Myanmar's Hare Krishna movement and addressed as "Sayadaw" by followers, considers that moment as a turning point in his life. "Prabhupada said if you distribute this book, it will act as a miracle," he said. "He was right … the book works through its channel. That's how my life changed – one book, one slip. The whole ISKCON [movement in Myanmar] came from that book."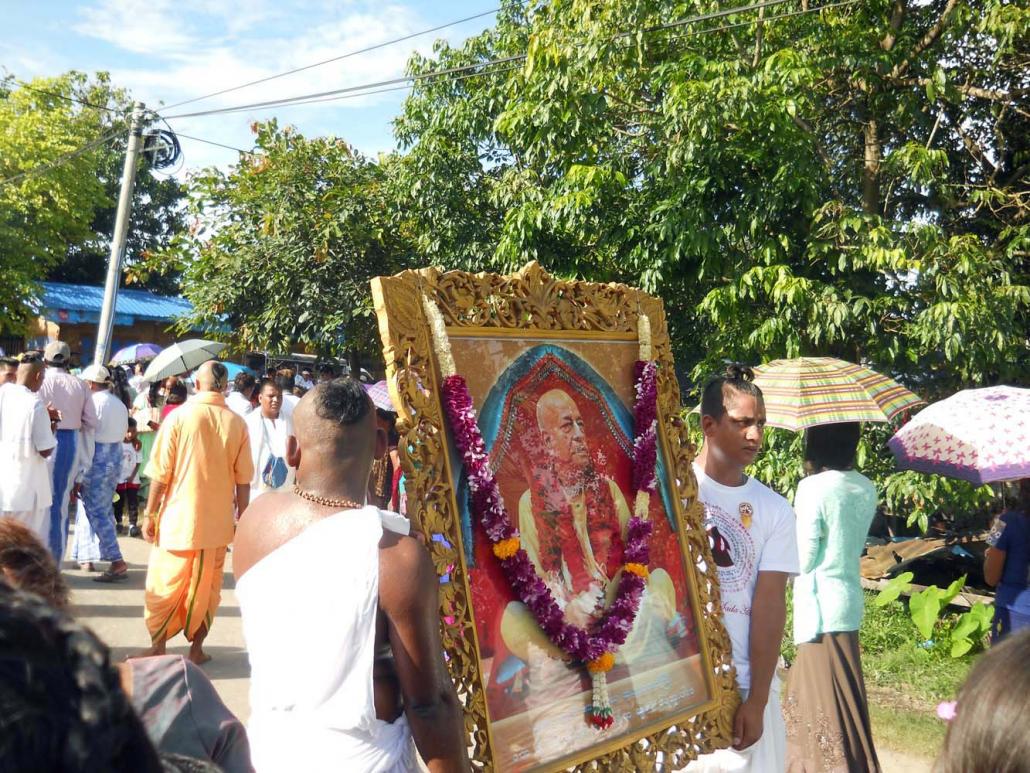 Vedas and pop hits
About 250,000 people, or 0.5 percent of Myanmar's population, identified as Hindu in the 2014 census. Many are the descendants of people from the Indian sub-continent who migrated to Burma in large numbers during the British colonial era.
Sayadaw Das says Myanmar's Hare Krishna movement now has a few thousand followers.
The International Society for Krishna Consciousness was founded in New York in 1966 by A.C. Bhaktivedanta Swami Prabhupada, who, at age 69, travelled from India to the United States by ship to spread the teachings of Gaudiya Vaishnavism, a Hindu sect, to the English-speaking world. Prabhupada taught that the material world is temporary, and that one can attain the highest form of spiritual development through devotional service to Krishna, regarded as the supreme lord. By the time Prabhupada died in 1977, he had traversed the globe 14 times and translated more than 60 volumes of Hindu scriptures into English.
The movement follows the vedas and the Bhagavad Gita, Hindu scriptures, and considers Jagannath – Sanskrit for "Lord of the Universe" and represented by a wide-eyed, smiling figure – to be a manifestation of Krishna. A signature practice is the chanting of the mantra, "Hare Krishna, Hare Krishna, Krishna Krishna, Hare Hare/ Hare Ram, Hare Ram, Ram Ram, Hare Hare", which followers believe awakens spiritual knowledge and strengthens one's relationship with Krishna.
Hare Krishna followers abstain from intoxicants or stimulants, including coffee, tea, tobacco and betel, and also renounce sex outside marriage, gambling and killing animals. They avoid eating meat and eggs, as well as garlic and onions, which they believe increase sexual desire.
Many of Prabhupada's first followers in the US were hippies, who became known for chanting and dancing in public places and distributing texts at airport terminals and bus stations. The movement expanded rapidly during the 1970s. One of its most famous followers during this time was the Beatle George Harrison, whose 1970 single "My Sweet Lord", which includes the Hare Krishna mantra, topped music charts in the US and Britain.
The movement peaked in the US in the late 1970s, when about 10,000 followers lived in ashrams throughout the country. Over the next two decades its image was marred by lawsuits filed by former followers who claimed they had been brainwashed, and the publication in its own journal of accounts of the emotional, physical and sexual abuse of children at its boarding schools. By the year 2000, the number of followers in the US had fallen sharply and most devotees were Indian and Asian immigrants. Today, the Hare Krishna movement claims to have more than 600 centres globally. Frontier was unable to find a reliable estimate of the number of devotees around the world.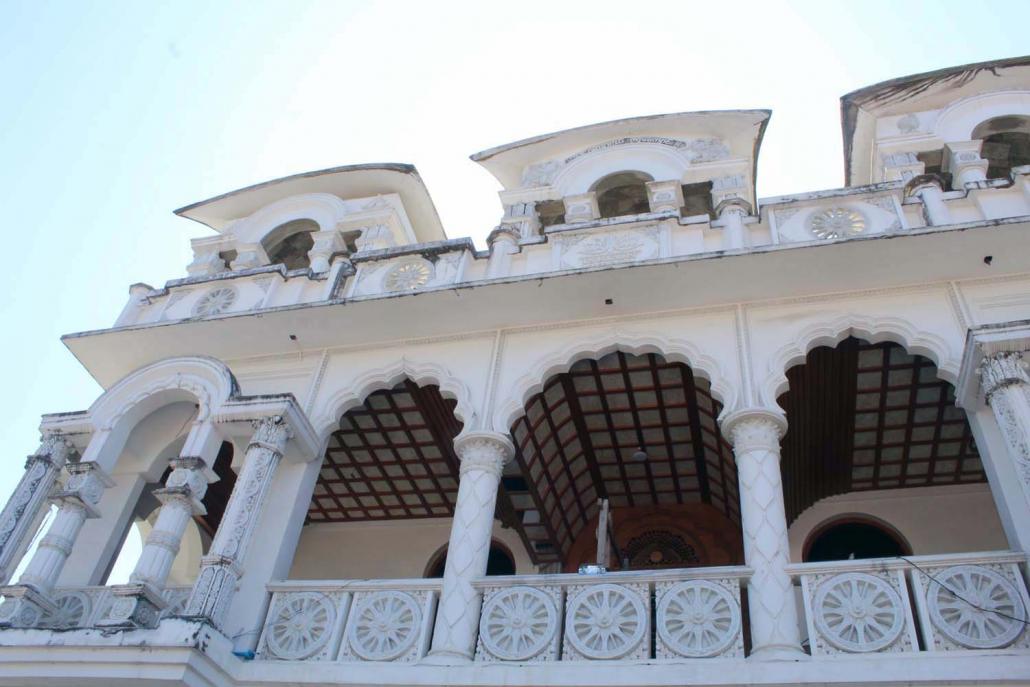 'All my money became paper'
The mysterious foreign visitor kept his word to Das, returning to Moulmein six months later, and every six months after that. Das came to learn that Baktivika, Irish by birth, was a Hare Krishna disciple in Thailand. When the book order slip reached the Hare Krishna office in Los Angeles, the office sent it back across the Pacific to Baktivika and asked him to visit the person who had posted it, in a country where the movement was yet to establish a connection.
After that first visit, Das began following the Hare Krishna precepts on his own, while resuming his engineering studies. Misfortune came two years later, when his dream of becoming an engineer was shattered by institutional discrimination. Das' maternal grandparents had migrated from India, and his mother was classified as a foreigner by law. Das was disqualified from his programme under a policy that required the parents of those studying for certain professions to be citizens.
His education halted, Das went into business, buying and selling cars. Hardship struck again in September 1987, when the military government demonetised the K25, K35 and K75 notes, making up to 80 percent of the currency worthless and contributing to the 1988 national uprising.
"All my money became paper … so I thought, Burma is not for me to stay, not with this Burma. My education was finished, my business finished, so I [decided to] go to a foreign country," recalled Das, who went to Singapore, where he stayed at a Hare Krishna temple and embraced the life of a devotee. When he returned to his hometown in 1993, in the pale orange robe of a Hare Krishna devotee, he received a cool welcome from his father. Soon after, Das began travelling around the country to propagate the movement's teachings.
Within a year, his travels took him to the Kachin State capital, Myitkyina, where he encountered, among the city's Hindu community, a small group that traced its ancestry to India's eastern state of Odisha, formerly Orissa, who, according to Das, first came to Myitkyina as railway workers with the British. They had built a temple to Jagannath in about 1900, but the community had since dwindled and the temple was in disrepair. After the community offered to donate the temple to Das, he decided to make Myitkyina his home.
Records kept by the All Myanmar Gurkha Hindu Religious Association of Myitkyina show that the city's population of Nepali speakers, known locally as Gurkhas, was estimated at 12,000 in 2016. Most Gurkha in Myitkyina are Hindus, but some are also Buddhists and Christians. When Das first reached out to Myitkyina's Hindus, he was met with scepticism. "People thought [the Hare Krishna movement] was a kind of American mixed religion," he said. "They thought, 'These guys are too much'." Some objected to the movement's denial of caste divisions, while some found the strict vegetarianism incompatible with their lifestyle.
Nonetheless, after Das had gained the trust of a core group, the movement rapidly expanded, including to Mawlamyine, where his father, having changed his mind about the movement, currently serves as a community president.
As well as 12 centres throughout Myanmar, including in Mogok, Yangon, Mandalay and Zayyawadi in Bago Region, the Hare Krishna movement has a school in Zayyawadi, which provides religious education to more than 30 young brahmachari, as devotees practising celibacy are called. Consistent with the movement's global activities, Das has launched several welfare programmes in Myanmar, including a food distribution programme called Food for Life, and educational workshops. He has also translated several Hare Krishna-related books into Burmese.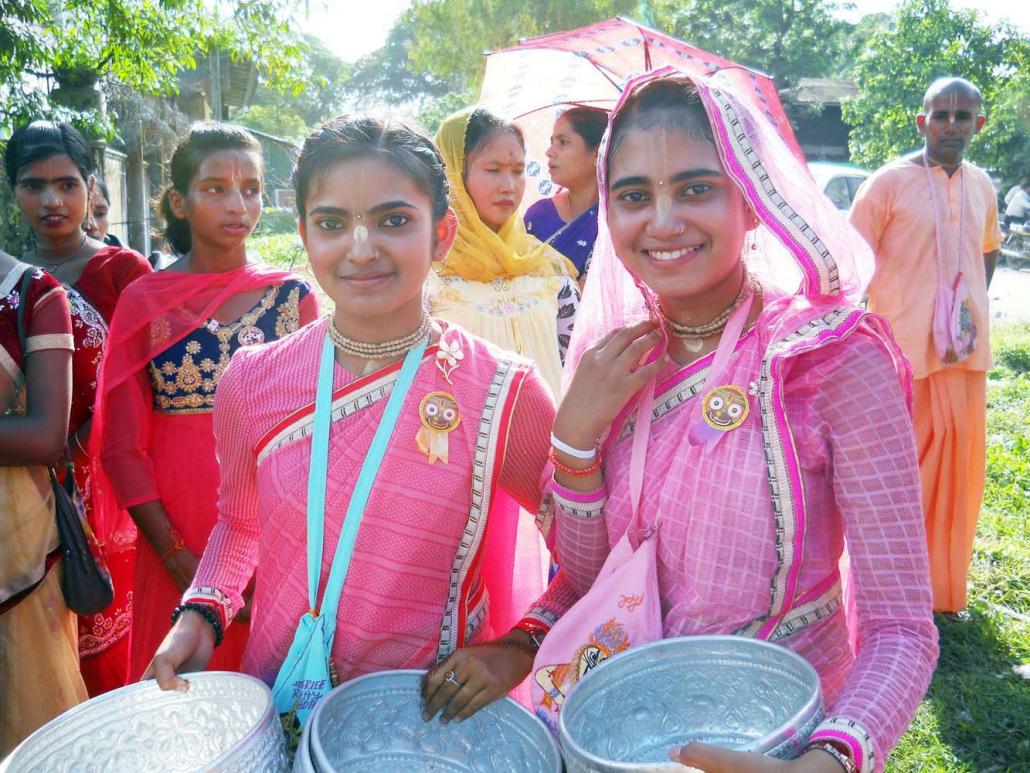 'Something for Myanmar'
Das estimates that Myitkyina has up to 400 Hare Krishna followers, making it the largest of the movement's communities in Myanmar. Waingmaw Township, across the Ayeyarwady River from the state capital, has some followers among the township's Gurkha community, which was estimated at 15,000 in 2016.
There are twelve brahmachari living at the Hare Krishna temple in Myitkyina, many of whom are from other parts of the country. They include Sana Thanda Ram, 19, who moved to Myitkyina in 2010 after hearing a visiting brahmachari speak in Aung Lan, his hometown in Magway Region. His daily activities include chanting, studying and helping with communal cooking.
Myitkyina has many families in which some members attend the Hare Krishna temple and some attend other Hindu temples. Sanjay Paul, 49, joined the Hare Krishna movement 16 years ago after marrying Usha Devi, a Hare Krishna follower. For Sanjay Paul, the shift was gradual. At first, he would go to both temples, but "I slowly came to know that Krishna is the one God and all the other demigods are under Krishna." Although Sanjay Paul's family initially disagreed with his decision – especially the change in diet – he said they have come to accept it.
For sisters Jannani, 20, and Rishma, 22, the Hare Krishna movement serves as the centre of their social and spiritual lives. The sisters usually start their day at 4:30am with chanting at the temple. At home, their spiritual practice continues through chanting the mantra 1,728 times per day, counted on a string of beads they carry in a velvet bag around their shoulders. When done continuously, the chanting takes around two hours, but usually it is interspersed with housework and tending to the house-shop selling yogurt, aloo puri and cold drinks that they run with their family in Myitkyina's Myae Myint ward.
The biggest annual festival for Hare Krishna devotees in Myitkyina is the Ratha Yatra, a Hindu procession that happens in June or July. In recent years the procession has attracted about 1,500 participants, with other Hindus joining Hare Krishna followers from around the country. Some visitors sleep at the movement's temple for the 10 days of the event.
Ratha Yatra processions, of a type originating in eastern India, began decades ago in Myitkyina, with the Odia community carrying small carts from house to house. Today, celebrants parade large wooden chariots bearing figures of Lord Jagannath and his siblings Balaram and Subhadra from the Hare Krishna temple to the town's largest Hindu temple, whose gold façade glitters against the backdrop of the Ayeyarwady River.
Das considers himself fortunate to have found a home in Myitkyina, a city of religious and cultural diversity in which Hare Krishna followers have been able to practise their beliefs and customs freely.
Recalling the moment when he first listened to the cassette tape of Prabuphada, Das said, "If anyone wants peace in their life, peace in Burma, peace in Kachin State, peace in Myitkyina, [they should] chant the Hare Krishna verse."
He said he is motivated not only by a desire to help his own community, but society at large. "We [Hare Krishna followers] have a responsibility to do something for Burma," he said. "Not only for Hindus, but all people. All should be peaceful, all should be united, all should grow nicely together."
TOP PHOTO: Srivasa Pandit Das (standing) was a young engineering student when he chanced upon an old copy of the Hare Krishna publication Back to Godhead – a discovery that marked a turning point in his life. (Emily Fishbein | Frontier)