More than five years after conflict resumed in Kachin State, 100,000 people remain displaced and IDP camp coordinators are reporting rising drug use as residents lose hope of returning home.
By HEIN KO SOE | FRONTIER
IN THE Kachin State capital, Myitkyina, is an abandoned house that has become notorious as a "shooting gallery" for injecting heroin users.
The house is on Ngwe Thaw Street in Sitapru Quarter and nearby residents say there's a constant stream of visitors.
Police Captain Htay Lwin, from the No 2 anti-narcotics police force, which is responsible for Myitkyina and Putao districts, insisted that there were no addicts at the house, which is known as Zigarbon Ngwe Thaw Yan.
But a number of residents contradicted this, and said that robberies by addicts in need of money to buy their next fix are common in the area.
One of their recent victims was Daw Hpa La Lun Naw. A coordinator with the Naun Haung Education Network, a civil society group that has its office in Sitapru quarter, she was robbed in October.
"Two addicts robbed me of my purse. They are using drugs in [the house] and after they become addicted they are robbing people in the surrounding area because they need money," she said.
Naun Haung Education Network offers training in civic education, human rights, gender rights and legal advocacy and provides updates on the peace process to people in Kachin who have been displaced by conflict since a 1994 ceasefire between the Tatmadaw and the Kachin Independence Army collapsed in June 2011.
Among the addicts who gather at Zigarbon Ngwe Thaw Yan are residents of nearby camps for people displaced by the conflict. More than 100,000 people languish in dozens of IDP camps in Kachin, including about 40,000 in territory along the border with China under the control of the KIA.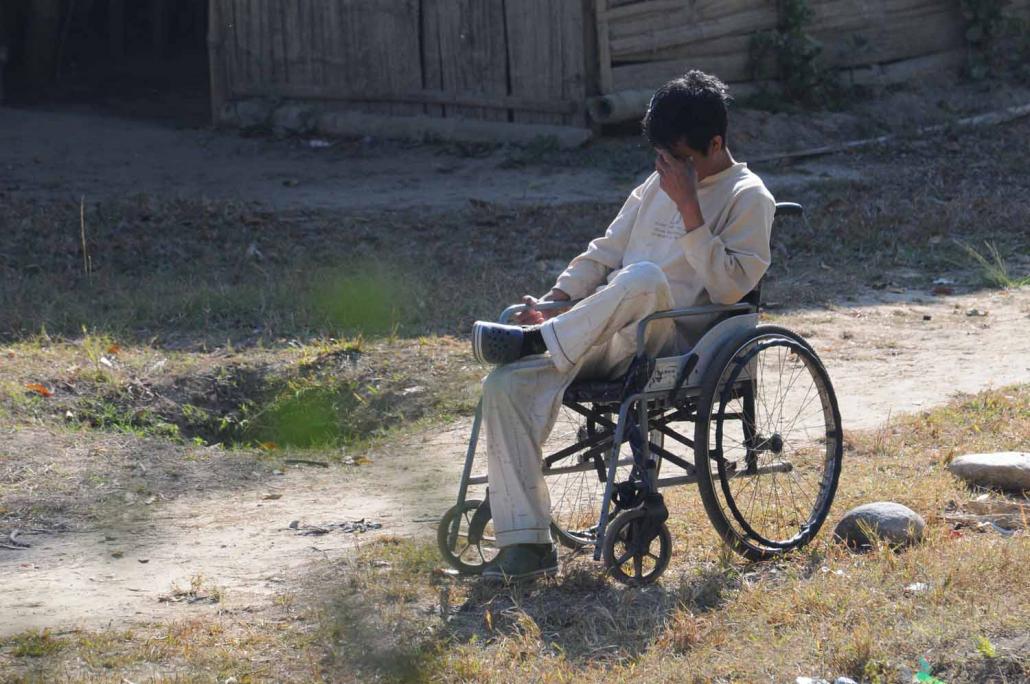 Those in charge of the camps told Frontier that heroin addiction has become increasingly common among young male IDPs, some of whom have been enduring an aimless existence in the camps for more than five years.
"The lives of the people in the camps have been absolutely destroyed; they have no opportunity to support themselves and have to depend on support from international organisations," said U Kong Dau, head of the Mai Na camp, the largest in Waingmaw Township, with more than 2,000 residents from about 30 villages.
Kong Dau said it was easy for addicts to obtain heroin in Kachin, which accounted for 8 percent of the estimated 647 tonnes of opium grown in Myanmar in 2015, according to figures from the United Nations Office on Drugs and Crime. Most of the opium grown in Myanmar is cultivated in Shan State, which shares a border with Kachin.
He criticised harm reduction efforts initiated by some NGOs whereby syringes are distributed near the known haunts of drug users.
"They want to control diseases as a result of using drugs but it just encourages more young people to use drugs," he said.
Frontier accompanied a European Union delegation that visited IDP camps in Myitkhina, Waingmaw and Bhamo in October. Officials in every camp pleaded for support to help prevent the spread of heroin abuse among young IDPs.
"Our future depends on peace between the Kachin Independence Organisation and the government but we do not know when peace will come, so there is an urgent need to solve the drug problem," said Daw Raw Ja, head of the St Paul Jan Mai Hkwang IDP camp in Myitkyina.
Bottles of heroin solution are available from dealers for as little as K5,000 a bottle – enough for five users to share. It is common for long-time addicts to offer free injections of heroin to new users until they become addicted so they can then share the cost.
The consumption of illicit drugs is banned in IDP camps and users take the risk of being banished and handed over to the police.
Hpa La Lun Naw said most addicts cannot afford to undergo rehabilitation in hospitals because it costs more than K100,000 and they have to rely on the religious groups – such as the Kachin Baptist Convention – that provide free treatment, though the number of users they can help is constrained by limited resources.
There is only one government rehabilitation centre in Kachin, she said, and more are urgently needed.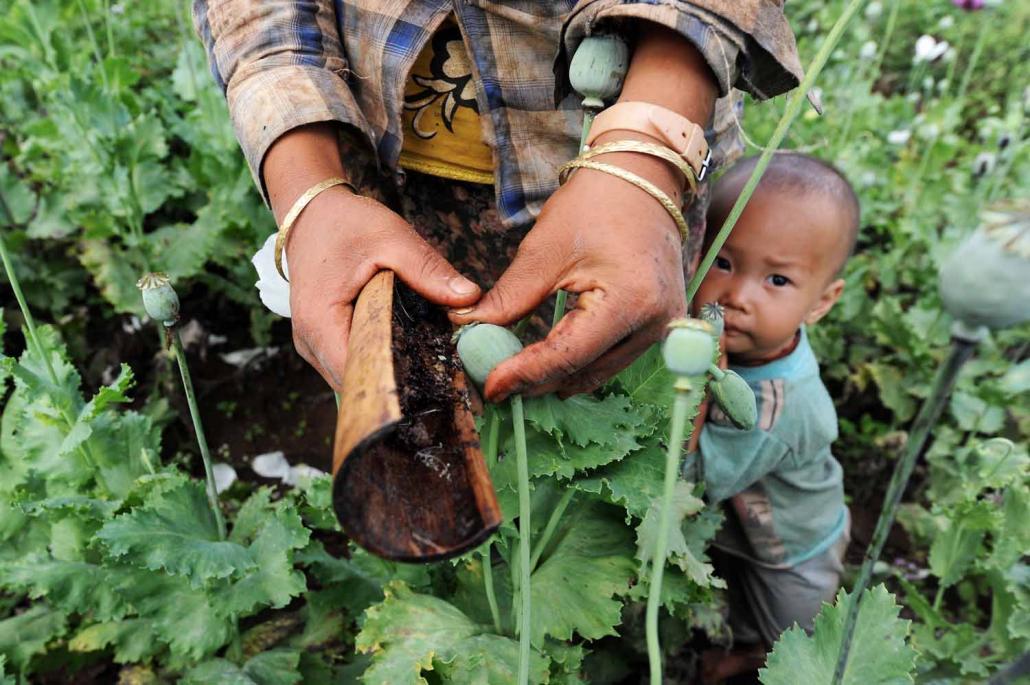 "If the state government could provide more healing centres and do more to help with livelihood support, it would greatly help our Kachin IDPs," Hpa La Lun Naw said.
Daw Kum Ja, a resident of the Kachin Baptist camp at Momauk Township, said IDPs had few opportunities to earn an income and a change in the support provided to them early this year had made their lives more difficult.
Since January, the World Food Programme had replaced ration support for camps in government areas with cash payments funded by international donors, Kum Ja said. IDP residents aged between 18 and 50 receive K9,000 a month. Those aged over 50 with no income receive K13,000 a month.
The WFP had previously provided IDP families with a monthly food package that comprised 13.5 kilograms of rice, one litre of cooking oil, 2.25kg of salt and 0.8kg of beans, with supplementary nutrition rations for children, pregnant women and the elderly. Families had also received monthly financial support of K7,000, Kum Ja said.
"Many youth in the camps are unemployed and could not complete their education because of the civil war and they need support from their families that most families cannot provide; this is the adversity cycle of IDPs," she said.
Some members of the Kachin State Hluttaw are disappointed that the regional government is not doing more to tackle both drug use and livelihood support for IDPs.
"We have been asking in the state assembly about drug use and food shortages affecting IDPs and are disappointed that the regional government has not solved the problem," U Naw Li (National League for Democracy, Waingmaw-2), told Frontier, though he acknowledged that the situation presented many challenges.
Frontier sought responses from the state's chief minister, Dr Khat Aung (NLD, Myitkyina 1) and social affairs minister, Dr Thin Lwin, but was unsuccessful.
In the camps there is a growing sense of frustration and hopelessness because nothing has changed since the NLD government took office in March.
Nearly all residents of IDP camps that Frontier interviewed said they wanted to know the government's policy toward the IDPs and how it planned to help them return home.
They said that no members of the Kachin State government or hluttaw visited camps and they received very little state support.
"We already voted for NLD candidates in the 2015 election, but after they won they never came to listen to our problems," said U Mone Pone, who lives in the Robert Church IDP camp in Bhamo Township.
He worries about how long it will be before he can return home to neighbouring Mansi Township.
"If the government neglects the IDPs we could find ourselves in a similar situation to people in camps in Rakhine State," he told Frontier. "We don't want to be living in camps; we are ready to go back to our homes and start supporting ourselves again."