A privately funded airstrip being built in a remote area of Chin State is the latest expression of one man's ambition for better healthcare for his people.
Words & photos by KYAW LIN HTOON | FRONTIER
AFTER FIVE hours and 110 kilometres astride a motorbike riding north from Matupi, I took a welcome lunch break at Rezua, which is on the main route linking southern and northern Chin State.
It was February, and for a visitor accustomed to the tropical climate of Yangon, the weather was freezing, especially at night. Rezua was the last town before Frontier's next destination, Lailenpi in Matupi Township, which is at an elevation of more than 1,370 metres.
Lailenpi is about 65km west of Rezua, on rough roads over rugged mountain ranges, and is only about 12km as the crow flies from the border with India's Mizoram State.
A few minutes out of Rezua I had a flat tyre, which I quickly changed before continuing my journey on the road, which is being upgraded. There were places where I encountered teams of workers with road-building machinery and I had to either ride slowly or pull over and wait until I could proceed. Such delays have become a fact of life for the residents of Chin as the state develops.
The people of Chin State are among the most disadvantaged in the country, and have been largely ignored by the central government. Mountainous terrain and atrocious roads have also isolated the state from the rest of the country, and have been an obstacle to providing development assistance.
But this is slowly changing. The roads are being improved constantly and although there is still no airport in Chin, one is being built by the government at Falam.
A small airstrip is also under construction in Lailenpi, where a local non-government organisation, Health & Hope Myanmar, is working with an international NGO, Mission Aviation Fellowship, to build a 730-metre runway at a cost of US$1.3 million. After construction is complete, the airstrip at Lailenpi will be handed over to the Department of Civil Aviation.
The groups first began discussing the idea in 2014 and received approval from the Union government three years later. The DCA visited the site to conduct joint surveys together with engineers from the two NGOs, and work got underway in early 2018. A formal ground-breaking ceremony was held on May 4, 2019. Vice President U Henry Van Thio has been an enthusiastic supporter of the project, particularly since he visited Lailenpi in the wake of Cyclone Mora in May 2017.
The airport at Falam and airstrip Lailenpi are due to go into service in May or June after opening ceremonies, which State Counsellor Daw Aung San Suu Kyi and other dignitaries are expected to attend.
Formally established in 2009 with the assistance of Britain-based Health & Hope UK, Health & Hope Myanmar is involved in primary healthcare, education and food security projects. Its patron is Charles, Prince of Wales, who is the next in line to the British throne.
"We are providing hope in a place where it did not previously exist," HHM deputy chief executive Dr Sakie told Frontier. "We are doing all we can to bring hope to this land."
As well as benefitting Lailenpi, the airstrip would contribute to development in Chin, said Sakie, who said he hoped the project would also inspire residents of other remote areas of Myanmar to build airstrips. Sakie is the younger brother of HHM founder Dr Sasa, who was the first doctor in the Lailenpi area.
Lailenpi is inhabited by the Mara Chin. One of the biggest ethnic Chin groups in the state, they live mainly in Matupi, Paletwa and Thantlang townships. A branch of the Mara also lives over the border in Mizoram.
Sasa was born in the early 1980s, when life for villagers in the Lailenpi area ­– along with most of Chin State – was hard, with little or no healthcare facilities, limited educational opportunities and chronic food shortages.
Sasa was motivated to become a doctor because of experiences during his childhood, when he saw friends die from preventable illnesses, such as diarrhoea, and women often died while giving birth. Sasa's matriculation scores were not high enough to gain admission to university in Myanmar to study medicine. He discussed the situation with his father, Paw A B, a community leader, who then raised the issue with other village residents. The community decided to send Sasa to India to enable him to pursue his ambition of becoming a doctor.
Villagers donated chickens, ducks, goats and cows to raise funds to cover the cost of Sasa's education. Sakie recalled that some villagers even donated eggs.
After two years' study at Shillong College in India's northeast Meghalaya State, Sasa qualified for admission to a university in Armenia to study medicine. He relied on financial support from his village for a few years before being awarded a scholarship by the university.
Sasa, who remains forever grateful to his community for enabling him to realise his dream of becoming a doctor, continues to send outstanding high school students to Shillong College.
In 2007, a year before he was due to complete his medical studies, Sasa experienced the famine that led to the formal creation of HHM two years later. The famine was the indirect result of a remarkable natural phenomenon: the flowering of a species of bamboo known as Melocanna baccifera, which occurs only once every 40 to 50 years.
The seeds produced by the flowering bamboo attract hordes of rats, and result in a population explosion of the rodents. When the bamboo stops flowering the rats devour villagers' crops, as happened in Chin in 2007, causing a famine that lasted five years and affected tens of thousands of people in the state.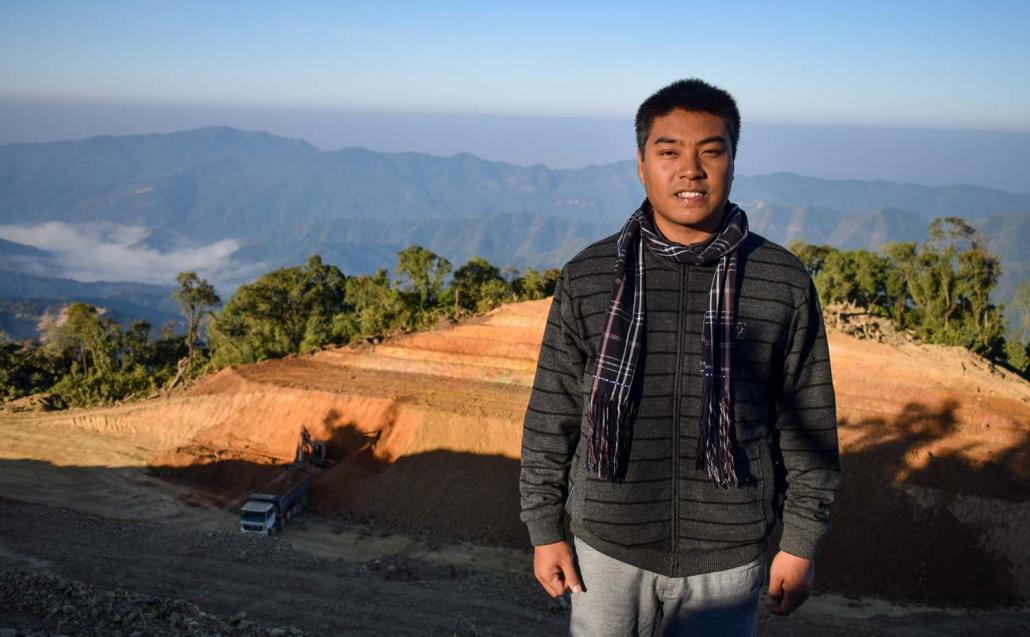 Although still only a medical student, Sasa responded to the crisis by establishing a makeshift clinic at the Indian town of Chapi, about 2km inside the border. Although Chapi and Rezua are both about the same distance from Lailenpi, at the time there was no road to Rezua so it was easier for Lailenpi residents to travel to Chapi. Sasa's clinic would treat more than 3,500 patients a month.
Through effective lobbying and help from H&H UK, funds were secured for cross-border food aid that reached more than 120,000 people in Chin State over a period of about four months.
Sasa's younger brother, Sakie, also wanted to further his education after high school. It was not possible for him to sit the matriculation exam in Lailenpi, so instead he and some friends had to travel to Matupi to attend tuition and prepare for the tests three months in advance. The journey on foot from Lailenpi to Matupi over jungle-clad mountains took three days.
After the exam, Sakie faced the same situation as Sasa: his scores were not good enough to be admitted to university in Myanmar to study medicine or engineering. However, their father was able to fund his studies at Shillong College and he later graduated with a medical degree from a university in China.
"My father is a blessing from God – not just for Lailenpi or the area where Mara Chin live, but the whole of Chin State. He worked so hard, not only for his family but also for all communities. He only attended school to Grade 2 but he brought us up to become educated people," said Sakie.
A B, 73, a descendent of the former traditional leaders in Lailenpi, was dozing on the floor of his two-storey wooden house when Frontier visited in February.
"You are the only journalist who has ever visited the Lailenpi land," he said, after being told that Frontier had travelled from Yangon. Then he made a cup of tea with ingredients bought in Mizoram, which he called "India tea".
A B's main source of income is raising livestock and agriculture – mostly paddy as well as some seasonal vegetables – but he has also dabbled in business. He once traded in second-hand clothing bought in Bangladesh and sold in Sittwe, the capital of neighbouring Rakhine State. He later sold second-hand clothing in Paletwa, and gave the unsold stock to people in need in Lailenpi.
A B is regarded with deep respect by the residents of Lailenpi, which is so isolated that it could not be reached by motorcycle until 2012, a development in which he played a role.
Under the leadership of A B, the villagers volunteered to build 10-foot-wide (3 metre) roads linking Lailenpi with Rezua and Chapi. Working without machinery, the villagers toiled for three months every year from 2006 until the roads were completed in 2012. Another new road links Lailenpi with Kawang and Paletwa to the south.
In 2016, A B and his associates won a tender from the state government to upgrade and widen the roads so they could be used by vehicles.
"I am so happy that my sons inherited my mission for this land; I'm always supporting them in any way I can," he told Frontier.
But even with these new roads, the community is isolated for many months of the year. The rainy season in Lailenpi, as in the rest of Chin, wreaks havoc with earth roads, turning them into impassable quagmires and increasing the risk of landslides. Under these conditions, what few medical resources exist tend to dwindle further, and this imposes a heavy toll.
Paw Hai Tong, 72, a former pastor at the local Mara Evangelical Church, is one of the many residents of Lailenpi and other Chin townships who have suffered bereavement because of preventable disease.
In 1988, both of Hai Tong's children and a nephew died from dysentery, a highly infectious disease that can be fatal without treatment.
"They were only nine and ten-year-old kids," he said. "They were playing in a stream while an old man was washing his clothes upstream and we did not know he was suffering from dysentery."
In 1990 a government hospital opened in Lailenpi, but it did not have a doctor until 2014.
The doctor stayed for only two months before transferring to another place, said Daw Ngwe Yin, the only senior nurse at the hospital. "We didn't have a doctor again until 2017 and since then two Tatmadaw doctors have served here occasionally, but they can't serve permanently," she told Frontier.
"We have never had a full complement of nurses and doctors at the hospital," said Ngwe Yin, who is due to retire in a few months when she turns 60.
The hospital has no operating theatre and lacks a laboratory, ultrasound equipment and an X-ray machine. The pharmacy is short on medicine.
"I can treat the small injury cases, but for cases like appendicitis that require surgery I cannot help," said Ngwe Yin. Emergency cases have to be sent to Matupi, a minimum 10-hour journey by road that can be too long and expensive for critically ill or injured patients. "Here we have no ambulance; if you rent a car it might cost at least K700,000 or K800,000 to transport a patient to Matupi," she said.
Ngwe Yin, who is assisted by her daughter, a trained nurse, has no idea if she will be replaced by another senior nurse after she retires.
The need to access better healthcare, especially during a medical emergency, is the main reason why HHM decided to build the airstrip at Lailenpi. HHM and MAF are striving to complete the runway by May, after which it will be capable of accommodating light aircraft that can carry about 10 passengers and four or five crew.
Frontier has learned that MAF has also applied to the authorities in Myanmar for an air operator certificate and plans to base its operations at Mandalay International Airport.
MAF Myanmar said the Lailenpi airstrip will complement the aerodrome being built at Falam by the government and is one of a series of small airports planned for Chin under the state's five-year development plan.
MAF chose to build the build the airstrip at Lailenpi because its location means that, with feeder roads, it will serve about 50,000 people, or nearly a quarter of the population of southern Chin.
HHM's contribution to healthcare at Lailenpi is a clinic that provides a free service to villagers, who often show their gratitude by bringing gifts of fruit and eggs for the staff.
HHM is also working to develop educational facilities and plans to build a college in Lailenpi. It has signed memoranda of understanding with the union government for a series of tech-based healthcare projects, some of which are unprecedented in Myanmar, such as using drones to deliver medicine to remote villages.
As well as medical emergencies, air travel from Lailenpi will enable the area's residents to travel to cities such as Yangon, Sittwe and Mandalay in less than 90 minutes; saving up to four days of overland travel.
Sakie said the opening of the airstrip would also support the development of business opportunities.
"For example, Chin State has good soil for growing coffee but we haven't been able to grow it because of bad transportation; people will be able to use the airstrip to transport coffee beans to other parts of the country," he said.
The opening of the airstrip will also make it easier for the government and NGOs to implement programmes and projects in the area.
"Light aircraft offer an appropriate way of bringing development to Chin State," said Sakie. "The airstrip at Lailenpi is just the beginning; we have to develop more airstrips not only in Chin State, but also other remote areas of the country."
TOP PHOTO: A cross marks a hill near Lailenpi in Chin State's Matupi Township, near the border with India. (Kyaw Lin Htoon | Frontier)