The wildlife trade and habitat destruction for logging, mining and agriculture in Myanmar threatens the survival of several native animal species. 
By OLIVER SLOW | FRONTIER
The devastating impact of illegal logging and the illicit trade in wild animals on wildlife in Myanmar is attracting increasing attention from watchdog groups amid concern that some species are threatened with extinction.
A diverse environment that includes snow-capped mountains, rain forests and a vast river and delta networks has helped to give Myanmar has one of the highest levels of wildlife diversity in Southeast Asia. The country has 11,824 species of plants, 1,056 species of birds, 252 species of mammals, and 295 reptile species, found a survey in 2014 by the Forestry Department, under the Ministry of Environmental Conservation and Forestry.
Reptiles account for the highest number of endemic species, with 29, followed by plants, eight and birds, four. The only endemic mammal is the Golden Deer.
A report last September by London-based Environmental Investigation Agency found that Myanmar lost a total of 1.7 million hectares of forest cover between 2001 and 2013. It called the deforestation rate "among some of the highest in the entire region."
Another threat is the trade in wild animals and their body parts.
"Wildlife trade is on the rise throughout the Southeast Asian region, not just in Myanmar," said Chris Shepherd, regional director for Southeast Asia of the wildlife trade monitoring group, TRAFFIC. "People generally have more buying power or more disposable income [and] infrastructure is always improving, and getting faster and more efficient, making the movement of wildlife and wildlife products much easier," he said.
A recent TRAFFIC report highlighted the trade in Myanmar of pangolins, a nocturnal mammal described as the most illegally trafficked animal in the world. The report found an increase in the sale of pangolins at Mong La, a town on the border with China that Mr Shepherd said was "the largest wildlife market I have encountered or heard of in Myanmar."  
Pangolins are sold elsewhere in Myanmar, with a source in Lashio telling Frontier that they were regularly sold in the town's market. A Myanmar-Chinese website, md-zw.com, regularly carries advertisements for pangolins, which are used in traditional medicine.
"There are not even any estimates for pangolin populations," said Mr Shepherd. "We have no idea how many are left. What we do know is that pangolins are becoming increasingly difficult to find, illegal shipments are getting smaller, and as Asian pangolin species decline, pressure from the Asian market on Africa's four species is on the rise," he told Frontier.
The global illegal wildlife trade is said to be worth US$10 billion a year and to be the second-biggest threat to species preservation after habitat destruction.
The most severe penalty under the 1994 Protection of Wildlife and Protected Areas Law for "killing, hunting, possessing, selling, transporting, wounding or exporting" protected wildlife is seven years in jail and a fine of K50,000.
In its 2014 report, the Forestry Department documented 129 reported wildlife crimes, with most occurring in Shan State (37), followed by Mandalay Region (22) and Sagaing Region (10).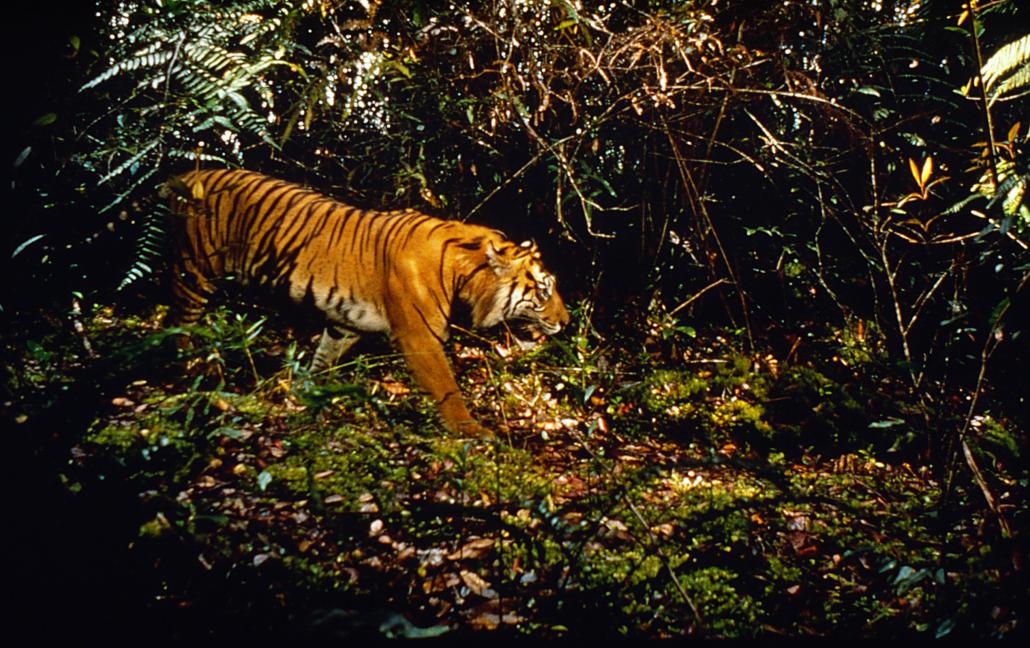 Most cases involved elephants and elephant parts, orchids, pangolins, deer and turtles.
The report made no mention of tigers or tiger parts, but the decline in the population of the big cats in Myanmar is linked to illegal poaching, said Mark Quigley, a programme director at Flora and Fauna International.
One of the most recent surveys of the tiger population was conducted for the Tiger Action Plan released in 2003 by the Forestry Department and the New York-based Wildlife Conservation Society. It found that "probably not more than 150 tigers now exist in the wild in Myanmar and the population is rapidly declining. The tiger might soon be on the verge of extinction in Myanmar if action is not taken immediately."
Habitat destruction in Kachin State caused by illegal logging or land clearing for plantation crops threatens a region with the highest tiger population in Myanmar.
"Their numbers are not good," said Mr Quigley. "There's more evidence that the number is going down. They're just worth too much money. They're quite habitual in their behaviour and if you know what you're doing, then they're not that difficult to find," he said.
Mr Quigley said he believed that government officials responsible for tackling the illegal wildlife trade were dedicated, but were completely under-resourced.
In 2004 the military government created the world's largest tiger reserve when it designated 6,500 square kilometres in Kachin's Hukaung valley as a wildlife sanctuary. In 2010, the junta expanded the reserve to cover the entire valley, an area of about 22,000 square kilometres.
The remote areas of north and northeastern Myanmar play a major role in facilitating trade in tigers and other endangered species, said Mr Nicholas Cox, conservation programme manager of WWF-Myanmar. "Specifically on tigers, Myanmar needs to prioritise conservation interventions in landscapes where there is the greatest potential for tiger recovery," he said. 
There have been success stories for the tiger in other countries. In January 2015, India said its tiger population had risen 30 percent in four years. Nepal said in 2013 its tiger population had increased more than 60 percent in the previous four years. The increases followed concerted tiger conservation programmes, without which Myanmar could see its population of the big cats disappear.
Title photo: Vendors sell various animal parts at an open air market in Mong La, Shan State. (TRAFFIC / EPA)