Auxiliary firefighters had a bad reputation under military rule, but these days, communities celebrate their heroics as they battle blazes and the pandemic.
By NYEIN SU WAI KYAW SOE | FRONTIER
The public address system blared into life and triggered a burst of activity among the five volunteer firefighters. "Level 2 fire! At Myaungtagar, Hmawbi. Go now! Go now!" ordered the Fire Services Department.
The team on duty in the community hall in Wei Lu Win ward that doubles as the headquarters of the Sanchaung Township-North Auxiliary Fire Brigade rushed to put on their protective clothing and load equipment into two ambulance vans before speeding off with the sirens wailing at about 3pm to Hmawbi on Yangon's northern outskirts.
It was a battery factory up in flames; a 15-deep pit shot up fire and spat out acid. About 100 firefighters, including members of two volunteer brigades, used foam and water to drive back the blaze. After eight hours, they deployed sand to soak up the heat of the smouldering wreck. Two full-time firefighters were treated for dehydration; everyone was exhausted, and the Sanchaung volunteers headed home.
In Yangon, when a major fire breaks out, a volunteer usually shows up to help put it out. Often risking their lives for no compensation, auxiliary firefighters are not only tackling blazes these days, but also a new and more concealed enemy: the coronavirus.
Playing a frontline role transporting patients, disinfecting roads, and in rescue operations, they are praised as local heroes who rescue the vulnerable in their time of need. Their bravery might also be playing a part in overcoming memories of a time when the recruits were used as henchman by the military.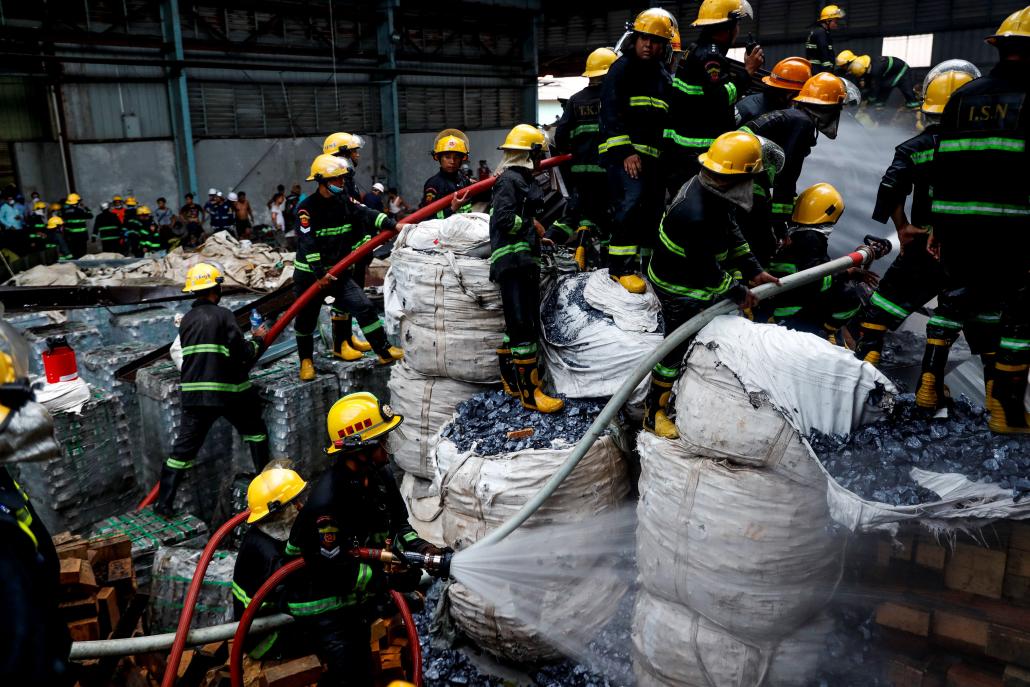 'I don't complain'
"What they are doing is admirable," said Ma San San Wai, whose grandfather was taken to the hospital by the Sanchaung volunteers after he developed heat stroke. "They took care of everything."
When Yangon was under a semi-lockdown over the Thingyan traditional new year holiday in April, the reduced number of taxis on the roads led to an uptick in calls from residents to auxiliary firefighters when they needed transport for an emergency.
Sanchaung volunteer Ko Ye Thu Rein, 24, was one of thousands who answered the call, which has sometimes meant transporting patients with COVID-19 symptoms in what he admits are nerve-wracking rides.
"We recently received a call at 3am and when we went to the address, the patient had a very high temperature. We were nervous because we did not know if the patient was infected by COVID-19, but we took him to hospital," Ye Thu Rein told Frontier.
Despite cars clogging up the roads again, some taxi drivers refuse to accept passengers who they suspect might be infected with the virus, he said.
"We help to take them to hospital because we help as much as we can, but it's been pretty busy during this COVID-19 situation and we are tired," said Ye Thu Rein, who has been an auxiliary firefighter since he was 18 and is the leader of the north Sanchaung volunteer brigade.
Yet for some volunteers, handling a suspected COVID-19 patient is preferable to tackling a blaze.
"I don't mind working in this COVID-19 time; it's a piece of cake compared to fighting a fire," said Ko Ye Hein, 29, a member of Ahlone Township's volunteer brigade.
"When we are called out to help fight a fire all my family members are worried and pray that I won't be hurt. Sometimes I am injured, but I cover the cost of my treatment. I don't complain. All we want is to be regarded as creditable firefighters."
Ye Hein's sentiment rings true for many of his fellow volunteers, who share a commitment to helping others regardless of the obstacles put in their path. Some want a taste of life as a firefighter, others follow in their fathers' footsteps, but most simply want recognition for their contribution.
Ye Hein, a professional photographer, who was a volunteer with the Myanmar Red Cross before he donned his firefighting gear 13 years ago, said he wasn't interested in profiting from his role.
"This is my hobby and I do it in my spare time; I don't want any profit from it," he said.
Because his parents strongly opposed his risky pursuit, he would hide his second-hand uniform until a fire broke out.
"I would put on the uniform and go to the fire after lying to my parents about why I was leaving the house," said Ye Hein, adding that volunteers must buy their own gear.
Another Sanchaung volunteer, Ko Htet Naing Lin, 20, who works in his family's teashop, likened auxiliary firefighters to other kinds of charitable volunteers.
"I'm still young and I want to help others," he said.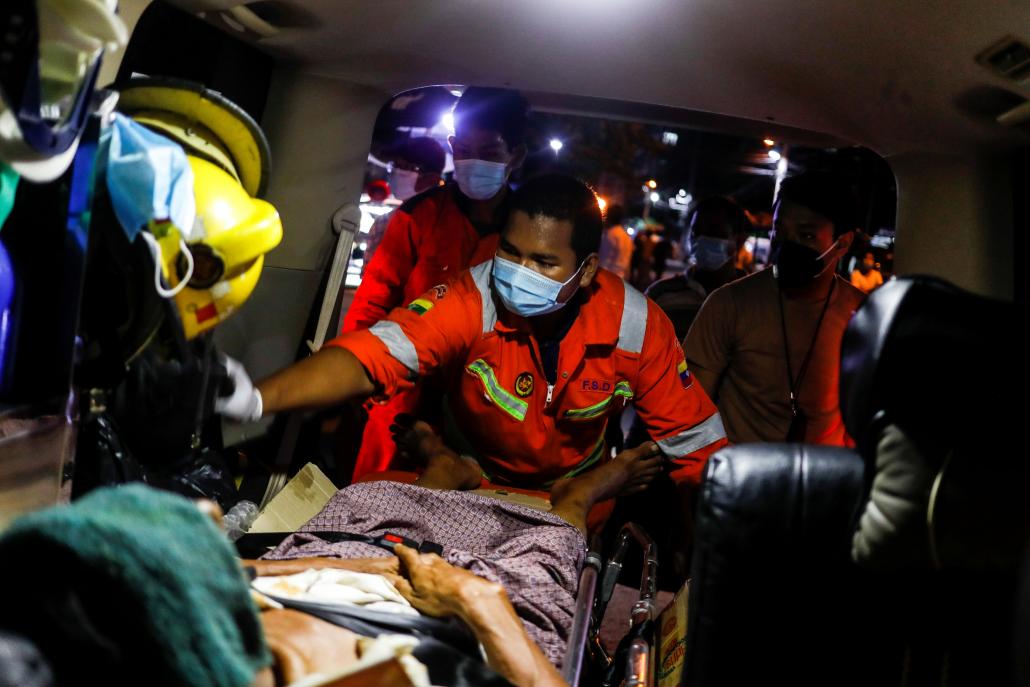 'We work like a family'
Each township has its own auxiliary force, which is under the command of the township Fire Services Department. The equipment and the size of the brigade varies from township to township – sometimes the number of volunteers tops 1,000 – while roughly 35 firefighters comprise a professional brigade.
The FSD's website says Yangon's first fire brigade was formed as a volunteer force in 1885 when the city, then called Rangoon, was under colonial rule. It was professionalised in 1947, a year before independence from Britain. The FSD, also known as the "Than Tay force", now has about 25,000 salaried personnel and operates under the military-controlled Ministry of Home Affairs.
The volunteer brigades are known as the "Ah Yan force" and answer to the FSD, while the firefighters employed by private sector businesses, such as hotels, are known as the "Thee Thant force".
Ko Tay Zar Win, 30, aka Shwe Pyi Lay, is the captain of the No 4 Shwepyithar Township volunteer brigade, which he proudly started in 2017. It has 24 of the township's 1,018 volunteers, who work with 37 career firemen.
"My dream was to establish a fire station with my people," said Tay Zar Win, who added that the auxiliary brigade's members include carpenters, trishaw drivers, factory workers and bus drivers.
Tay Zar Win owns a restaurant that had to close because of COVID-19 restrictions and has been using his spare time to arrange disinfectant spraying and train the brigade's five new recruits.
"I always remind my team that if they are injured while fighting a fire, it's because they were careless," he said. "Before we enter a burning building we must check the kind of fire, the type of building and what's inside it that might be hazardous. We can't be reckless when we're fighting fires; if we are badly hurt it's the end of our hobby."
The members of his team include Ma San San Win, 46, who has been a volunteer for ten years.
"Ko Tay Zar inspired me to become a woman firefighter; I wanted to be like him," San San Win told Frontier.
"As a married woman, I have free time outside of my household chores and for some activities it's better if there's at least one woman firefighter in a brigade, so I joined," she said.
However, San San Win said Tay Zar Win only lets her play a supporting role, for instance by operating water pumps, which keeps her a safe distance from the blazes.
"I can't take risks because I have four children, but as a woman, I help as I can," she said. Despite this, she insisted that "there is no gender discrimination here".
"Maybe these firefighters and my sergeant are younger than me," she said, "but they respect me and we work like a family."
'I just can't stop'
Their feats covered in popular Facebook posts on the FSD and brigade pages, the image of volunteer firefighters has come a long way from the time when they were regarded as little more than thugs deployed by the military to repress dissent.
"Sometimes we were ordered to take off our uniforms and were commanded by the military to beat people," said Tay Zar Win, without elaborating on the violence.
"At that time I was disappointed that we were being used by the military against political activists," he said. "I understand why local people hated auxiliary firefighters in those days."
Community perceptions of auxiliary firefighters began to improve in 2016, said Tay Zar Win, when a government of retired generals handed over power to the National League for Democracy after the party won a landslide election victory.
But despite sometimes sustaining life-changing injuries, the volunteer firefighters still receive scant government support.
One Shwepyithar volunteer fell from a roof while fighting a fire recently and injured his spine, leaving him crippled, said Tay Zar Win. Without any compensation from the FSD, volunteers carried out a cash collection to help him.
"It's just us by ourselves when something happens," said Tay Zar Win.
U Aung Lwin, 54, a taxi driver, has 25 years' experience as an auxiliary firefighter, and his service was recognised under military rule when he was presented with the Ye Kyaw Thu prize for courage in 2010.
The government award, which is named after a term for bravery in Burmese, is usually given to emergency service members who make sacrifices in the field.
"I had to go to Nay Pyi Taw at my own cost to collect the prize and they gave me a badge and a medal," said Aung Lwin, who was awarded the prize because his hands were badly burned by a gas explosion at a fuel station in Mayangone Township in 2005.
"I was one of five auxiliary firefighters injured in that explosion and taken to hospital, where the nurses did not treat us well," he said. "I spent 18 days in hospital and had to cover the cost myself."
"People think we earn a good salary, which is so funny. All we have is ourselves and our hobby."
Aung Lwin hopes that the volunteers will receive some kind of support from an organisation or individual, especially to cope with injuries.
"It's depressing sometimes," he said. "But when there's a fire, I go. I just can't stop my hobby."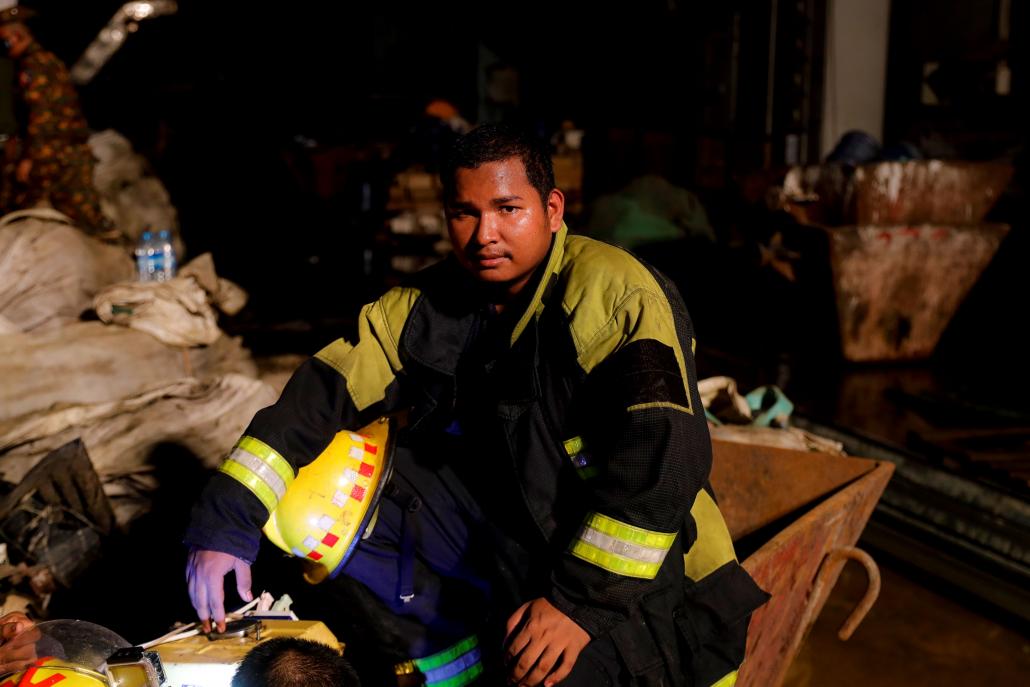 Top photo: About 100 firefighters, including members of two volunteer brigades, drive back the blaze at a battery factory in Hmawbi Township on May 17. (Nyein Su Wai Kyaw Soe | Frontier)