A retirement home in an outer Yangon suburb is providing free accommodation for a privileged community of elderly citizens in need of care.
By JARED DOWNING | FRONTIER
Photos MARO VERLI
Daw Thway is three years from celebrating her centenary. When the British left Myanmar in 1948, she was married and working as a midwife. When her husband died she spent her retirement at a monastery, helping with the chores. Eventually, the monks had to take care of her.
Now, Daw Thway is the oldest resident at Yangon's Twilight Villa free retirement home. From her bed, next to a wall covered in photos of famous pagodas and Buddha images, she likes to meditate, watch prayer shows on television, and chat with her friends. They are like her, with little money and no family, but a spirit that outpaces their mortal coil.
Twilight Villa, tucked away in a quiet corner of East Dagon Township, has been accepting people like Daw Thway since 2010. It has more than 80 live-in residents and provides them with food, medical care and, perhaps most importantly, a community.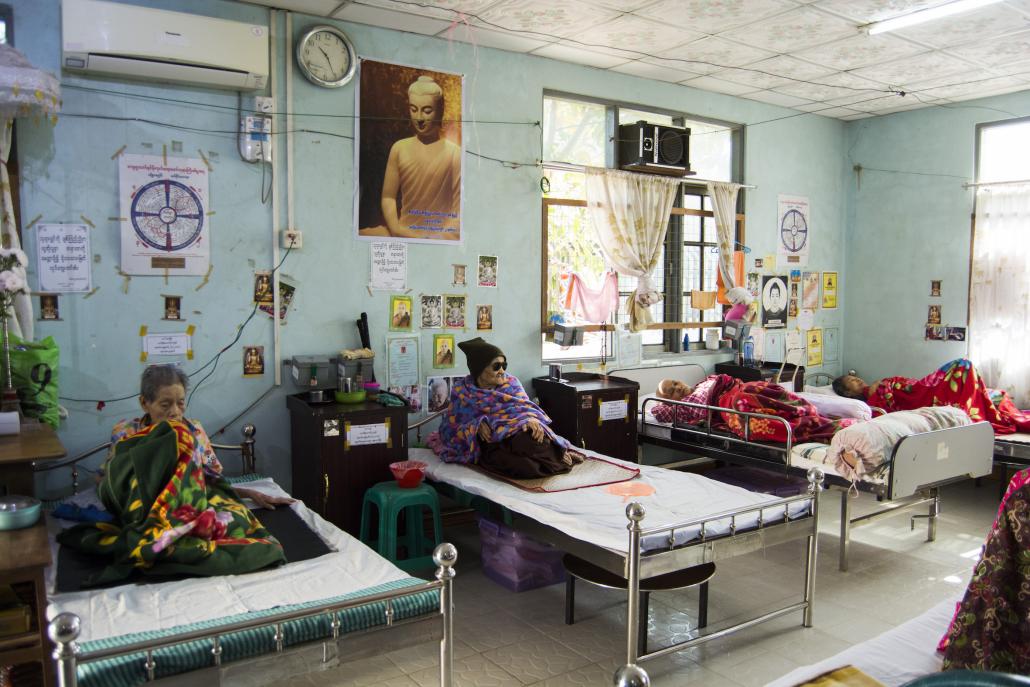 The Ministry of Social Welfare, Relief and Resettlement is working to develop safety nets for Myanmar's ageing population. "Although Myanmar is not facing tremendous problems of ageing like other countries, it is going to face a serious problem in the coming decades," one report states.
Although the ministry recognises 70 homes for the aged nationwide, accommodating about 3,000 people, the best care for the elderly, especially outside the cities, continues to be provided by an informal combination of neighbours, local monasteries and other community members. It is a centuries-old welfare system deeply rooted in culture, tradition and simple human decency; but once in a while someone falls through the gaps.
"I saw all of these old people, not healthy, poor," said Twilight Villa director Daw Than Myint Aung. "Everywhere we can meet these older people, poor, diseased, so many kinds of diseases."
Daw Than Myint Aung was a volunteer with the Free Funeral Service Society, a highly-regarded civil society group that provides free funerals for the needy. Once, after helping to bury a man who lived in a rural area, she met his mother, left alone and without anyone to support her. Daw Than Myint Aung decided to focus on those left behind.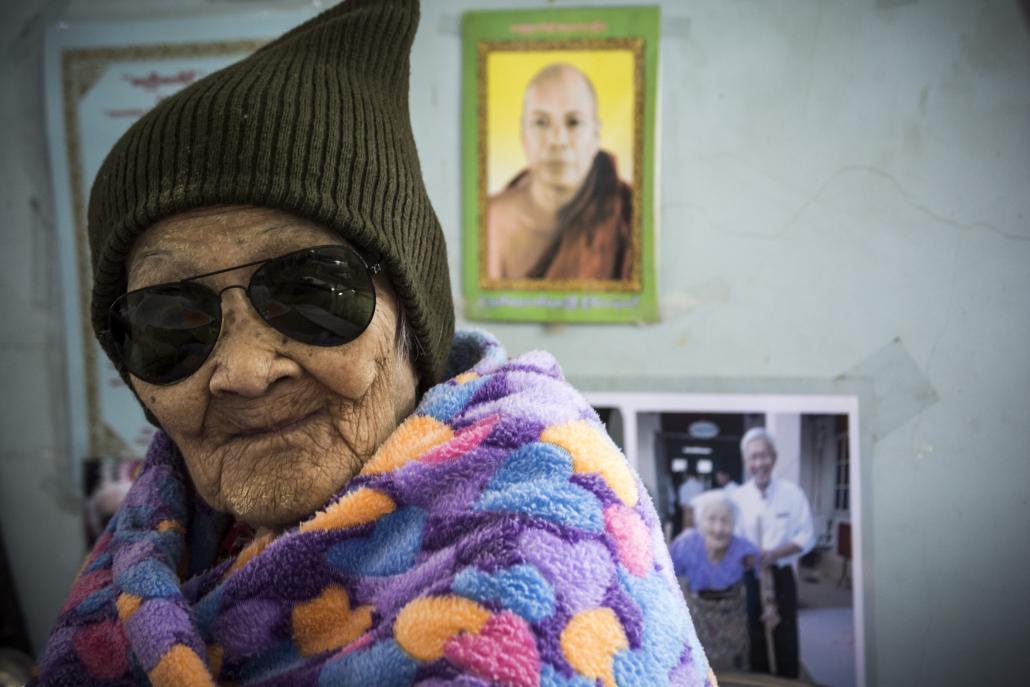 Twilight Villa accepts those who are aged at least 70 and have a disease or physical infirmity and no capable carer. The residents' ailments include hypertension, diabetes, blindness and sometimes, as in Daw Thway's case, the frailty of having lived for nearly a century.
Retired policewoman Daw Khin Thein Nyunt, 83, moved to Twilight Villa after living with her sister's family in Yangon's Mayangone Township. Twilight Villa provides a quality of life that was impossible at her sister's tiny, overcrowded apartment.
Daw Khin Thein Nyunt, who draws a government pension of K100,000 a month, likes the food – especially the mohinga – and watching television, especially South Korea soap operas. She has decorated the area by her bed with photos of pagodas and other images.
Asked what she most enjoyed about staying Twilight Villa, she said: "I like my friends."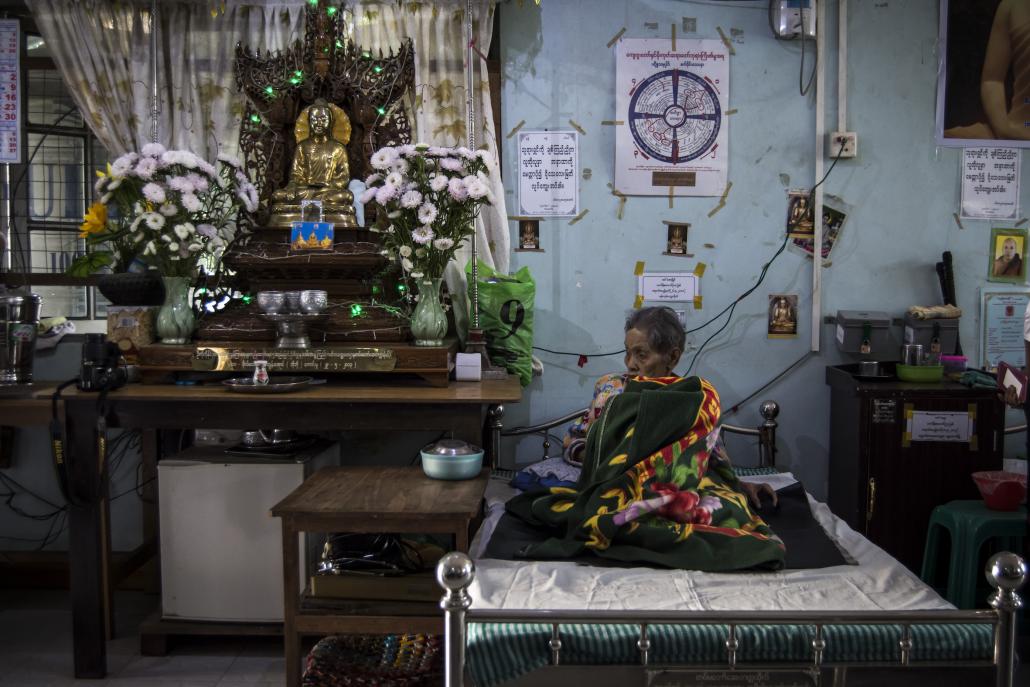 Yet Daw Khin Thein Nyunt must watch as her friends die with each passing year, sometimes each passing month. "Nothing," she answered in English, when asked how she felt about the passing of friends. "Men are mortal…If [my friends] go first, I'll go second, or third, waiting for my dying day."
The same stoical acceptance – from Buddhist teachings, perhaps, or simply a consequence of growing old in Myanmar, or anywhere – pervades the residents of the dormitories, prayer room and medical ward. It even seems to affect the volunteers and staff, but perhaps a certain amount of acceptance is necessary to work at a facility that not only helps those in need, but must also turn them away.
"We have a waiting list of over 50 people," said U Thit Lwin, a geologist who serves as an executive board member. Only when someone dies can a new resident be admitted, he said.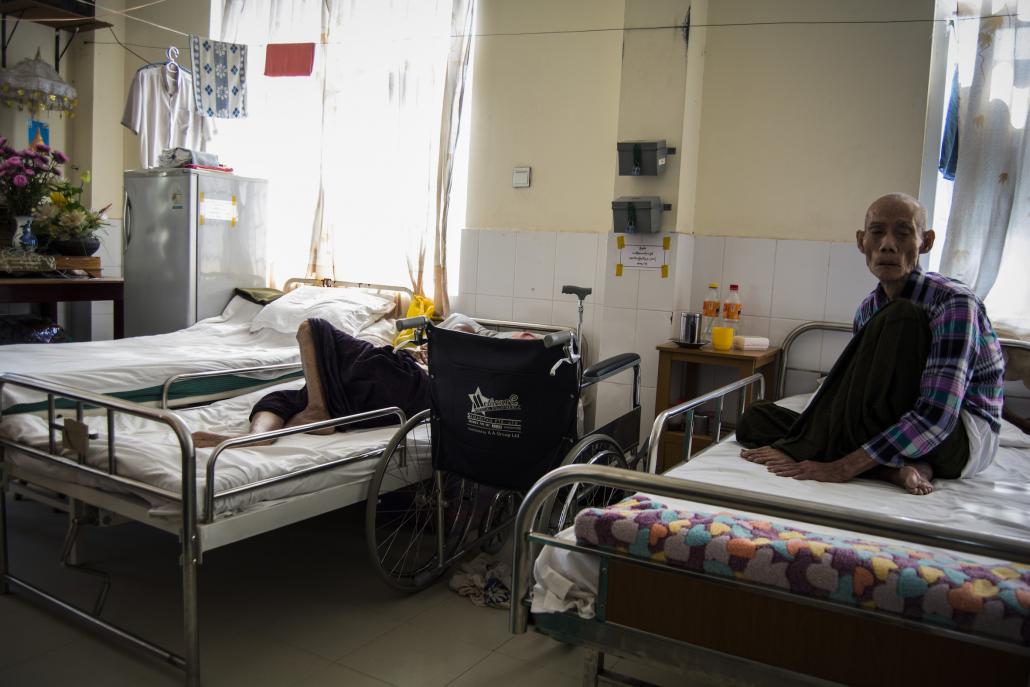 Fortunately, soon there will be more space. Twilight Villa is expanding one dormitory and finishing work on another, both of which will nearly double the home's capacity. U Thit Lwin said it also hopes to increase the salaries of the staff doctors and nurses. The home can only afford to employ new medical graduates, and there are no experienced doctors to guide them.
Until that happens, the medical wards, including the intensive care and stroke units, are a tableau of contrasts, with 20-something doctors and nurses caring for residents four times their age.
"I am happy to work here. I can learn about the old time I have never seen," said Dr Hnin Ei Ei Khin, 23, who has been on staff for one year. "They ask about my husband, I tell them where I am from. They are more interest to talk about daily life."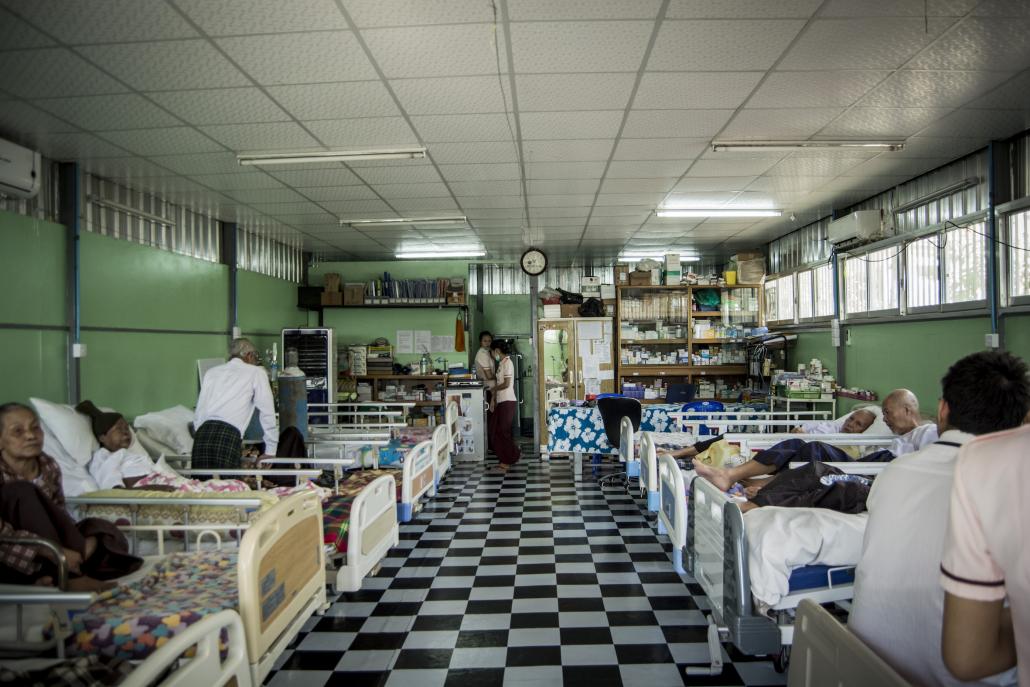 Twilight Villa is Dr Hnin Ei Ei Khin's first job since she graduated but she said working with the residents had not been too taxing. The young woman also credits her Buddhist beliefs with helping her to deal with mortality each day. She said the home partners with medical specialists and hospitals to handle any healthcare emergencies.
As the doctor attended her patients, Daw Than Myint Aung was busy at a sewing machine, making sheets. She hopes that by the time the home's young staff reach old age, facilities such as Twilight Villa will not be rare. Resources, public and private, needed to care for the aged were growing in Myanmar, she said. Only gradually, but growing nevertheless. "Our society must stand for them," she said.