Frontier meets the migrant labourers from rural Myanmar who have been put to work on an upgrade to the Yangon Circular Railway.
By NAW SENG | FRONTIER
Photos RING NU AWNG
Yangon's rapid expansion is fuelled by cheap migrant labour, with men and women from impoverished areas of the countryside pouring into Myanmar's commercial capital to find work.
Amid the dust and noise of construction sites where they toil during the day, and in the squalid shanties where they sleep at night, many of these internal migrants long for the faraway villages they grew up in and the family members who remain there.
Ko Thant Zin Oo, 31, says he was severely homesick when he left his wife and children in Ayeyarwady Region's southeastern Dedaye Township in 2015 to find a job in Yangon. He still finds it difficult to live apart from his family, a sacrifice he makes to ensure his family has adequate food, shelter and clothing.
"Everyone wants to live with their family," said Thant Zin Oo, adding that he longed for a visit to his home in Dedaye, but has not been able to return for months. "I want to see my children's faces and embrace them," he told Frontier on November 6 at his worksite on the rail tracks close to Kyimyindaing station.
Thant Zin Oo is among a number of internal migrants who have found work on the upgrade to the Yangon Circular Railway, also called the "circle line", where they toil in the heat and rain on a meagre wage to make life easier for the city's commuters.
The project was inaugurated in a ground-breaking ceremony in May, and is being largely financed by an official Japanese Official Development Assistance loan.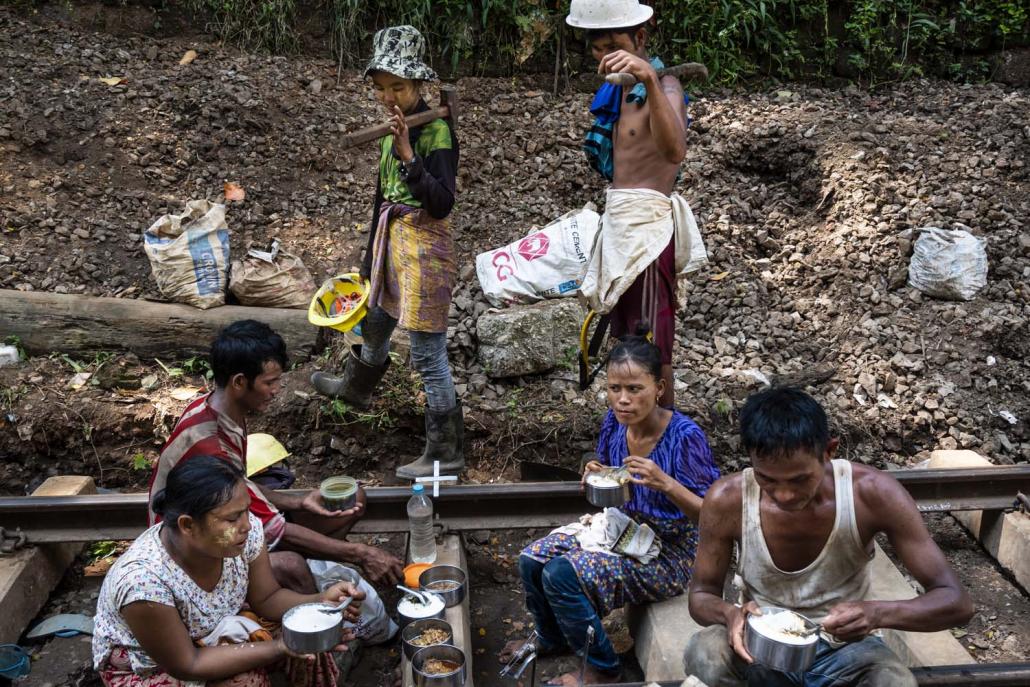 "There are few job opportunities in rural areas and it's not easy to earn enough to buy food," said Ko Than Zaw, 46, who like most of the workers that Frontier encountered on the circle line upgrade is also from Dedaye.
He had worked on the upgrade for four months and was previously employed on rail tracks in other states and regions of Myanmar. Like many of Yangon's migrant workers, he had landed the job through a personal contact.
Than Zaw is employed by a consortium formed by Myanmar's A1 Group of Companies and China's Sinohydro, which was awarded a contract to upgrade the western side of the line. The eastern section is being upgraded by another big Myanmar construction company, Shwe Taung, in partnership with Tokyu Construction.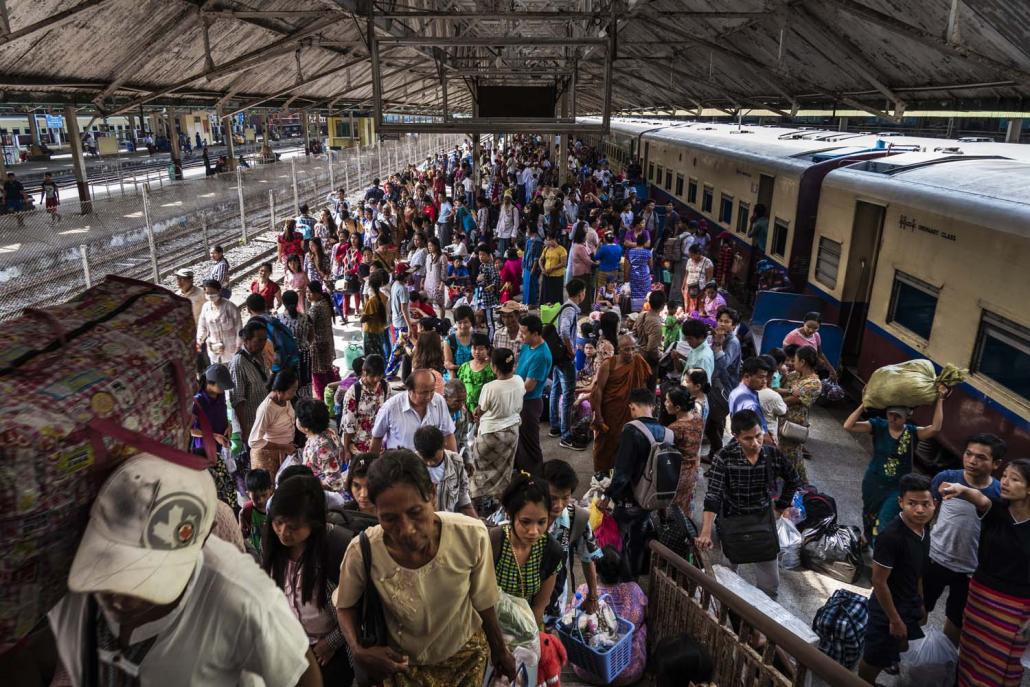 Japan is providing about US$270 million for the $301 million project to upgrade the 47-kilometre, 39-station loop line, which began operating in 1954. Work is due to be completed in 2022, after initially being expected to finish next year.
The upgrade is intended to cut travel time for the full circuit from 170 to 105 minutes, and to triple the number of daily passengers from the current 90,000.
A1 provides its workers with accommodation but the workers must pay for their meals, which are arranged by the senior worker on each team, referred to as the labour leader.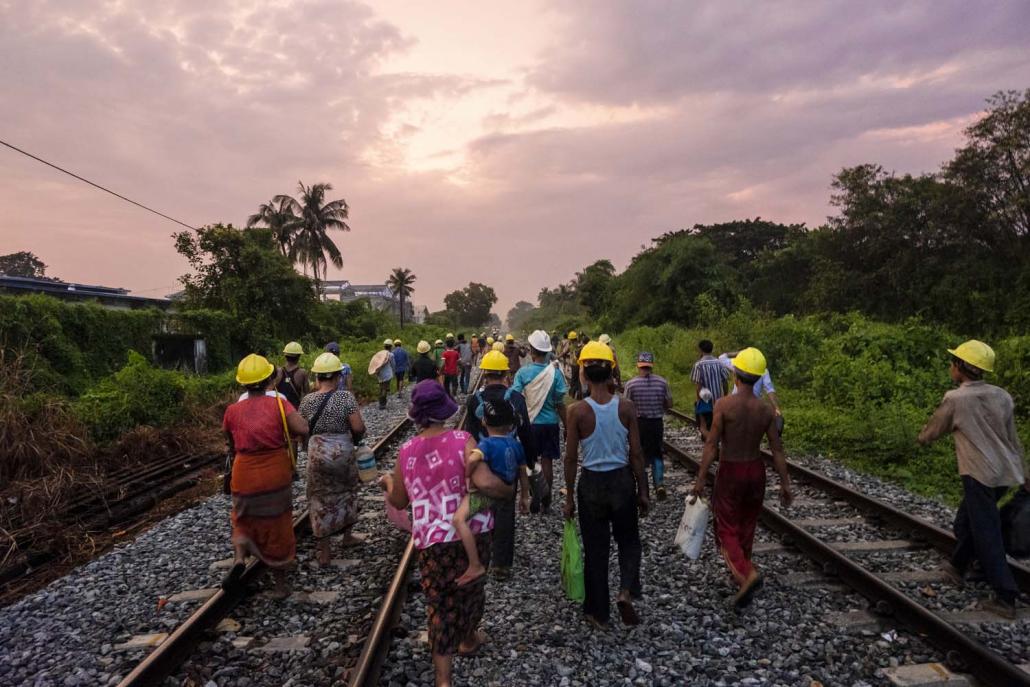 Labour leader Ko Zaw Maung, 42, told Frontier that he received fixed sums of money directly from the company and divided it among the workers, who could earn up to K10,000 a day but frequently made less. The daily minimum wage in Myanmar is K4,800.
Several of the male workers that Frontier met had their wives working alongside them. With their work on the circle line due to finish in mid December, A1 planned to transfer the workers to the Yangon-Mandalay railway, which is also being upgraded with a Japanese ODA loan.
However, Zaw Maung said the company would not allow women to work on this other project, which was also inaugurated in May, and whose first phase consists of a re-fitting of the Yangon-Taungoo section of the line.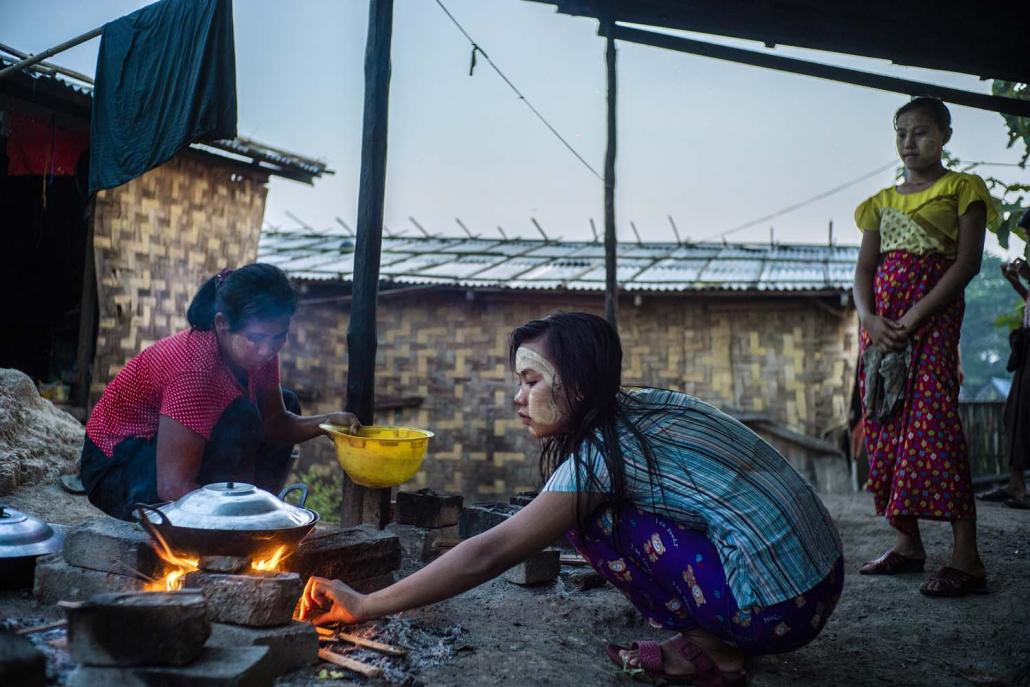 Zaw Maung, whose wife is also working on the circle line upgrade, was unsure of the rationale for the decision to bar women from the Yangon-Mandalay railway project. A1 did not respond to multiple requests for comment for this article.
Zaw Maung said the male married labourers were now reluctant to join the Yangon-Mandalay project because they didn't want to work apart from their wives. He explained that many migrant couples purposefully seek out work on sites where both are able to work and live together.
The workers, who numbered about 100 on the western side of the line, were living in a huddle of shacks right by the rail tracks and close to Gyo Gone station in Yangon's northern Insein Township.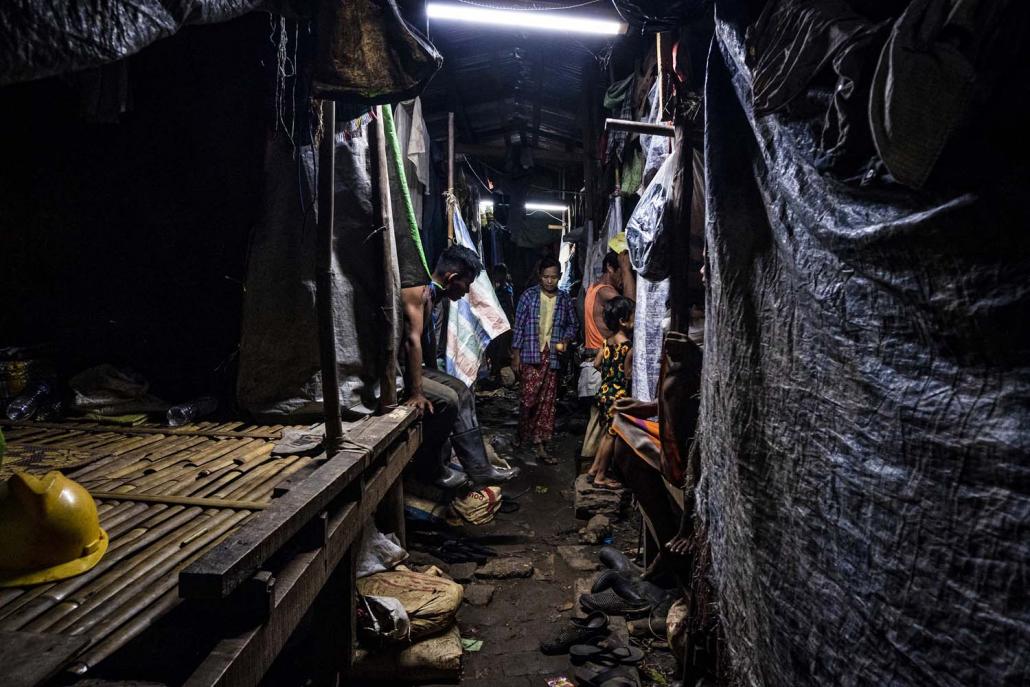 The outer walls of the shacks were made of bamboo thatch, their roofs were corrugated iron, the floors were dirt and the inner partitions were loose sheets of plastic, making for a noisy, insecure environment with little privacy.
When Frontier visited, the children of several of the labouring couples were playing happily in a stretch of bare ground outside. Nearby, men were washing themselves at a pump in full view.
"For worker families such as ours, both the husband and wife need to work," Zaw Maung said. "If a husband earns K5,000 a day, a wife can earn K4,000, and if K3,000 is spent on food, they can save some money left over."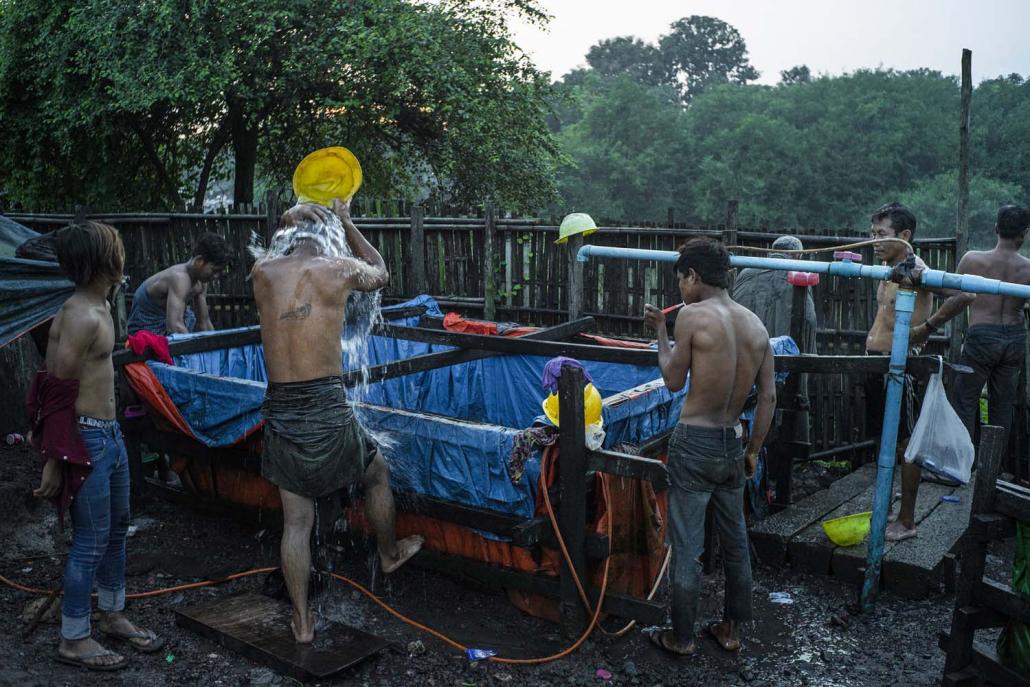 Female labourer Daw Nwe Ni Htay, 31, said she would return home to Dedaye if prevented from working on the Yangon-Mandalay railway. Though she was unsure whether she could find a job in Dedaye, she would be able to care for her mother and daughter.
She told Frontier she wanted to ensure that her daughter graduated from school and passed her matriculation exam, so she could have more opportunities in life than her mother.
TOP PHOTO: Ring Nu Awng | Frontier