Ward and village-tract administrator elections have been mostly peaceful but activists say that in some areas competition between political parties and other groups has caused conflict – and even resulted in some participants being attacked.
By HEIN KO SOE | FRONTIER
U WIN ZAW pushes an iron cart loaded with a table, plastic chairs, hand-held loudspeaker and ballot boxes past homes in Dawbon's Myo Thint Ward.
He stops on the street and sets up the table, chairs and portable polling booth, and picks up the loudspeaker. "Please take your household registration and come to choose your 10-household leader," he says.
Eight people – six women and two men – emerge from the 10 homes and fill in a nomination form. After U Win Aung, the head supervisor, checks the forms, he announces that there is only one nominee. The ballot box will not be needed this time.
"We only received one nominee. Because there are no competitors, I declare U Zaw Myo Gyi the 10-household leader."
Over the course of the day, U Win Aung and his team supervise 34 more "elections" for 10-household leaders in Myo Thint Ward.
Some are actually decided through voting. In one batch, two women have been nominated; Ma Phyu Phyu Khine, a housewife, emerges victorious with five votes. It's the first time she's been a 10-household leader. She describes herself as a National League for Democracy supporter, but is not a member.
"Our ward residents were able to vote freely for whoever they wanted, including in the supervisor election," she said, referring to the selection of five supervisors for the ward, which took place on November 19. "We have more chance to directly elect our administrator than last time [in 2012]."
In Myo Thint, 10 people had been nominated to oversee the vote. Residents whittled the list down to five, including U Win Aung and U Win Zaw.
The ward supervisory team answers to the township supervisory committee, which is led by the township administrator and comprises officials from the police force, and immigration and finance ministries.
As far as democracy goes, this is as local as it gets. Right across the country, similar scenes are being repeated in many of the 3,133 wards and 13,620 village tracts.
In late October, President U Htin Kyaw issued a verbal instruction to state and region governments to hold ward and village-tract elections by March 2018. The chief ministers then issued formal notices to the General Administration Department.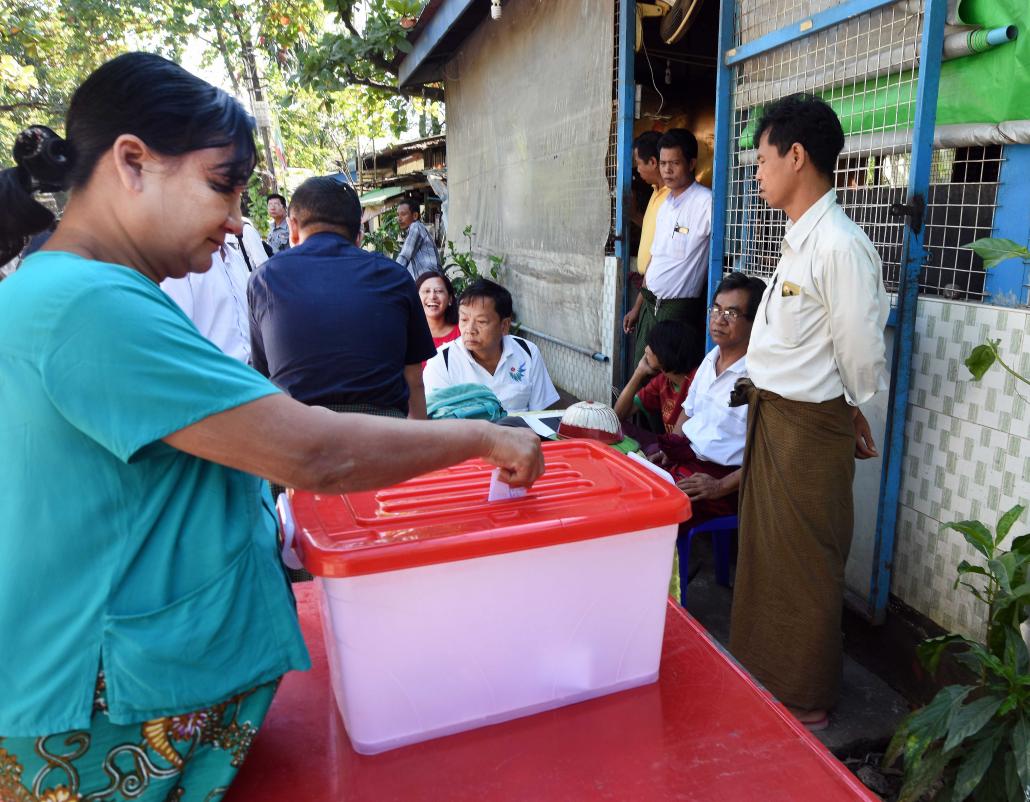 In some parts of the country, voting has already got underway. The process is convoluted; under the amended Ward and Village-Tract Administration Law, eligible residents can vote four times, for the ward or village-tract supervisory team, 10-household leader, 100-household leader and then ward or village-tract administrator.
The 100-household leader is chosen from among the 10-household leaders, while the ward or village-tract administrator is chosen from the 100-household leaders. In Myo Thint, residents chose their 100-household leaders on December 9 and were to vote on the administrator on December 16.
The electoral begins with the township administrator forming a committee to oversee the election of the five ward supervisors. This committee comprises township-level government officials and local lawmakers.
In 2012 – the first election held under the Ward and Village-Tract Administration Law – residents voted only for the 10-household leader; the 10-household leaders then voted among themselves for the administrator. The township GAD hand-picked the supervisory teams.
While the election has gone smoothly – so far – in Dawbon, in other places there has been conflict, even violence, as NLD supporters and other political and interest groups seek to wrest control from incumbent officials, who are mostly linked to the Union Solidarity and Development Party.
The selection of ward election supervisors has been particularly sensitive, as they oversee all voting and have the power to influence the result if they are partial.
In Mandalay's Amarapura Township, two women were attacked on November 22 after they submitted a complaint of ballot stuffing to the township GAD office.
Earlier that day, residents had gathered for the election of supervisors in Yin Taw village tract. Ma Khin Thu and Ma Khin Myo Htwe, who are both NLD supporters, said they heard from local observers that ballot stuffing was taking place. When they confronted the current ward administrator, who was overseeing the vote, he allegedly dropped a load of stamped ballots from his longyi and couldn't explain why he had them. The election was then halted amid accusations that the administrator was trying to stack the supervisory team with his supporters, who are from the USDP.
The women went to the township GAD office to complain. As they returned in the evening, they were stopped by a group of people and attacked.
"The women pulled our hair and some of the men punched us," said Ma Khin Thu.
Both had to seek treatment at Mandalay General Hospital. Khin Thu said she has not submitted a complaint to police because the NLD told her and Khin Myo Htwe that it would handle the case.
In Yangon Region's Kungyangon Township, the election of supervisors in Taw Kayan Lay village tract had to be halted on November 18 after disputes erupted between four groups, said Ko Sann Oo, founder of Shwe Chanmyae Network Association.
"Political party supporters, GAD supporters and supporters of rich men were competing to win power in the election. The conflict was over the selection of the five supervisors," Sann Oo said. "But ordinary people were not interested to come and vote for the supervisors."
But the battle between political parties is happening only at an unofficial level, for the Ward and Village-Tract Administration Law forbids participation by political parties, including their members.
National League for Democracy lawmakers said they were trying to stay away from the election unless specifically asked by their constituents to help.
"I already instructed our ward and village party members not to contest the election. They're following my order, but some people are untruthfully accusing the party of trying to influence the election," said Yangon Region lawmaker U Thant Zin (NLD, Dawbon-2).
Pyithu Hluttaw lawmaker U Aung Zaw Myint (NLD, Amarapura) said he had also warned local party members not to influence the outcome of the elections.
Ward and village-tract administrators are at the bottom of the administrative rung, taking their orders from the township administrator. They are not civil servants; instead, they receive an honorarium from the GAD.
But that doesn't mean they lack power. U Min Thura, co-founder of Pace on Peaceful Pluralism, a Bago-based civil society group working on civic education, said administrators are important because they are often called upon to resolve conflicts or complaints.
"Because of that it's important that they stay away from the influence of political parties, the township GAD, and other stakeholders," he said.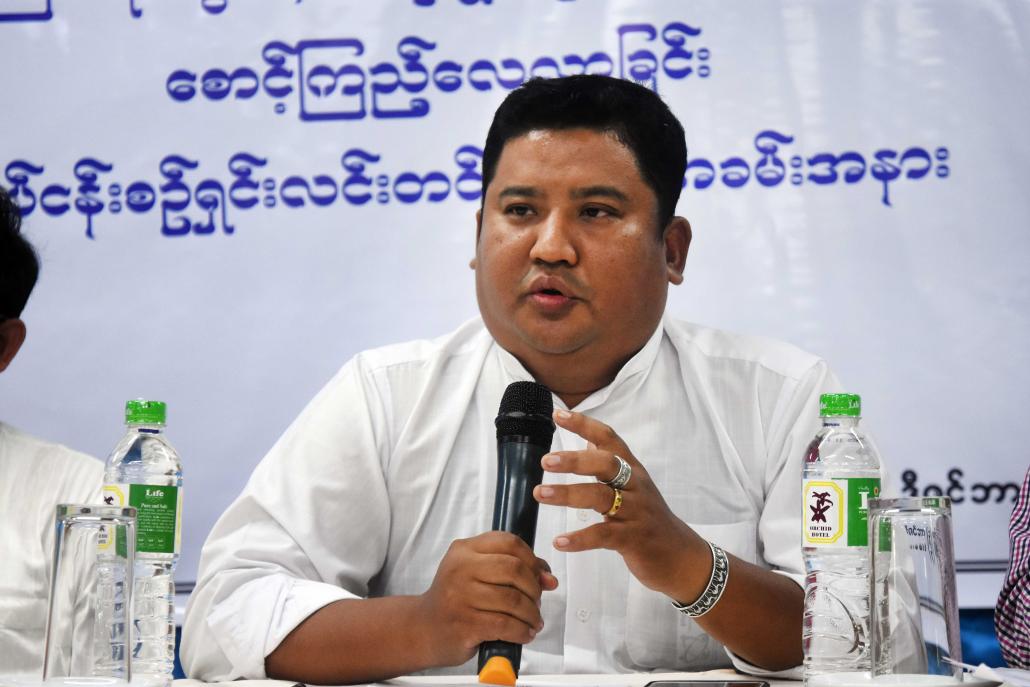 POPP has been monitoring ward and village tract elections across all 28 townships in Bago Region to see how communities participate and whether the elections are free and fair.
It is employing 280 short-term observers, who will observe the final round of voting for 400 ward and village tract administrators, while 28 long-term observers will monitor the entire process in 56 wards and village tracts.
Some problems are already emerging, Min Thura said. The most common is that incumbent administrators are seeking to influence the election outcome.
It's not POPP's first time monitoring elections; in 2015, it worked in collaboration with the People's Alliance for Credible Elections to observe voting in that year's general election.
Once POPP completes its observation, it will send its final report to lawmakers and share it with the public to draw attention to weaknesses in the electoral process and encourage improvements for the next time voting takes place.
Other civil society groups and activists are also focusing on the elections. Ma Thinzar Shunlei Yi, an advocacy coordinator at the Action Committee for Democracy Development, said she had been educating communities about the vote and encouraging youth participation in recent weeks.
"We've heard so many problems about the influence of political parties and GAD on the outcome, and there have been conflicts," she said.
She said while more competition was positive the complicated process and lack of voter education meant that people could be easily tricked into voting for particular political factions without realising.
The lack of uniform guidelines on some aspects of the election, such as the timing of voting, gave township administrators the power to potentially shape the outcome. This was exacerbating tensions within communities over the outcome of the elections, she said.
"There are so many conflicts already, and we've only seen the first step of election," she said. "We're worried that when they elect the administrator, people might even try to kill each other."
TOP PHOTO: U Win Aung (seated at table) oversees the nomination of a 10-household leader in Dawbon Township's Myo Thit Ward on December 2. (Steve Tickner | Frontier)