Daw Aung San Suu Kyi says Myanmar needs to improve services in Nay Pyi Taw to entice foreign embassies to shift from Yangon, but even government officials admit that the move will be a tough sell for many years.
By SU MYAT MON | FRONTIER
THE GOVERNMENT is moving ahead with plans to encourage the transfer of foreign embassies from Yangon to Nay Pyi Taw – a move that gained some momentum last week when Brunei Darussalam signed an agreement that would, in principle, see it shift its diplomatic presence to the capital.
A deal for the "reciprocal exchange of land for the construction of diplomatic presences" between the countries was signed on February 14 by Brunei's ambassador to Myanmar, Mr Abdu'r Rahmani bin Dato Paduka Haji Basir, and Ministry of Foreign Affairs permanent secretary U Myint Thu.
The agreement "aims to support the relocation of the Embassy of Brunei Darussalam to Nay Pyi Taw Diplomatic Zone", said an article in the state-run Global New Light of Myanmar on February 15. Brunei's embassy in Myanmar is currently in the Golden Valley area of Yangon's Bahan Township.
Basir told Frontier by phone afterward that a timeline on the move had not yet been decided. "This is the first stage of our move, and it is not confirmed yet when the move will happen," he said.
On February 16, State Counsellor Daw Aung San Suu Kyi chaired a meeting at the Ministry of Foreign Affairs in Nay Pyi Taw where she urged foreign governments to move their embassies to the capital. She said that the move would make it easier for countries to deal with the Myanmar government, which has most of its offices and senior staff there.
She said Myanmar must focus on improving the quality of communications, transport, education and health services in the city, which the military junta established as the capital in November 2005, when it replaced Yangon.
Basir said that before moving the embassy to Nay Pyi Taw, he wanted to ensure that the city had facilities such as "international schools and hospitals".
"I was informed they are planning to open an international school in Nay Pyi Taw, which is good," he said. "These are things we need to be in place before all the diplomatic missions in Yangon can move to Nay Pyi Taw.
"We have expressed our requirements all along, and I think the [Myanmar] government is taking notes and making due consideration to fulfill all the requirements. I think this will happen in the future."
The government has set aside space for 120 plots of land in Nay Pyi Taw's Dekkhinathiri Township, each measuring 2.3 hectares (5.7 acres). The land is located behind the Junction Centre Supermarket on Yaza Thingaha Road.
Up to 100 people are living in the diplomatic zone, despite repeated attempts by officials to drive them out. U Aung Ko Lat, 48, moved to the area from Einme Township in Ayeyarwady Region 10 years ago.
He said that about five years ago, the authorities came and destroyed his house without warning. He rebuilt it but some years later the authorities came and told him to move, so he just shifted to another area of the diplomatic zone.
"For the time being, I've not been asked to do anything," he said. "If I was asked to move, I would have to."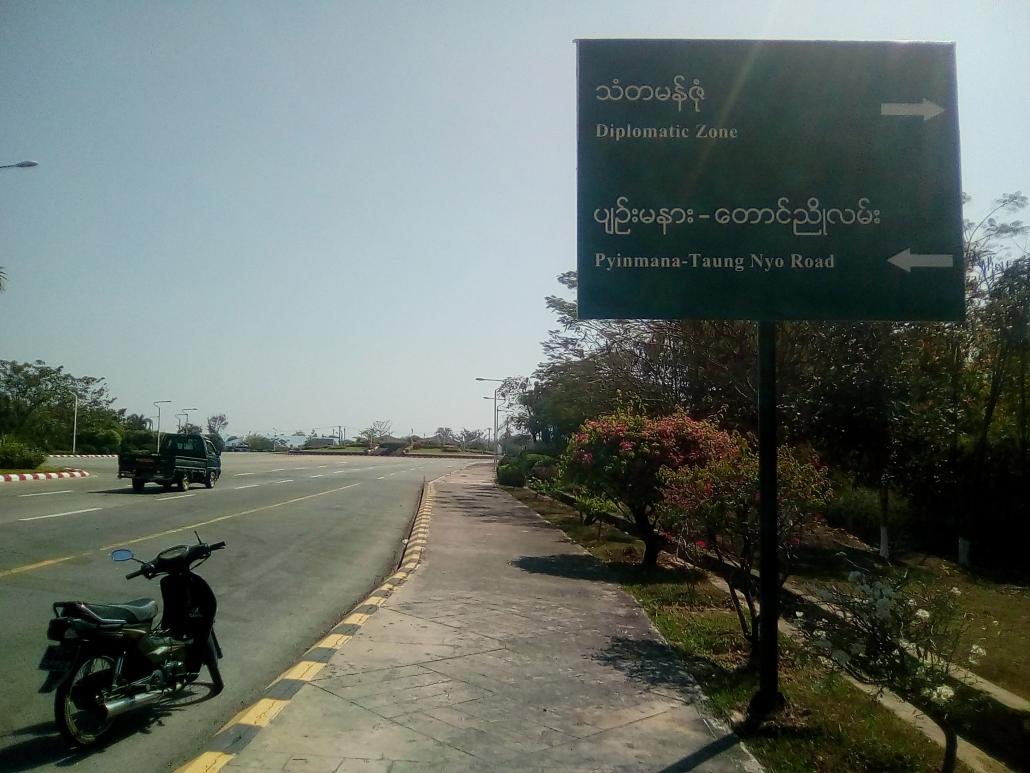 U Thant Sin, director general of the Diplomatic Affairs Department, under the Ministry of Foreign Affairs, said that the government has set up infrastructure in Nay Pyi Taw that would allow embassies to move there, including land, roads, and water and electricity supply.
The International School of Yangon plans to open a branch in Nay Pyi Taw and diplomats can access healthcare services at Nay Pyi Taw General Hospital, he said.
A spokesperson for ISY told Frontier that the school is "very interested" in opening a campus in Nay Pyi Taw.
"We have not made a decision regarding this as we are still in discussions with the government," the spokesperson said by email.
Thant Sin told Frontier that the key benefit for embassies that move to Nay Pyi Taw would be better access to the government, but he acknowledged there would be challenges.
"To completely set up the new embassies, it might be quite difficult for them," he said, adding that embassies would have the option of renting properties rather than buying them outright.
"We understand it is difficult for them to move from Yangon because everything is easily accessible there."
Bangladesh and Malaysia have also signed agreements to open embassies in Nay Pyi Taw, said U Min Thu, a member of the Nay Pyi Taw Council, the capital's municipal authority.
Mr Mohammed Reyad Hossain, first secretary of the Bangladeshi embassy in Yangon, told Frontier that his government had purchased a plot of land in Nay Pyi Taw in 2012 but no decision had been made regarding a move. The Malaysian embassy in Myanmar could not be reached for comment.
Min Thu said that proposals have been put forward by 11 other countries to move their embassies to Nay Pyi Taw, namely Russia, China, the United States, India, Saudi Arabia, Qatar, the Philippines, Indonesia, Thailand, Turkey and Kuwait. The government also hopes that organisations such as World Bank will move their headquarters to the capital, Min Thu said.
"The Myanmar government stands ready for the embassies to move to Nay Pyi Taw," he said. 
Additional reporting by Nyan Hlaing Lynn.