Exports of animal products have risen dramatically since the government lifted a ban on the export of live cattle and buffalo in October 2017, but new regulations have taken some of the shine off the trade.
Words & photos by KYAW LIN HTOON | FRONTIER
CATTLE AND buffalo exporters enjoyed a profitable year in 2018, after the Ministry of Commerce lifted a ban on live exports the previous October, but regulations introduced in 2019 have taken the shine off the trade.
The lifting of the ban saw more than 260 companies apply for export permits by mid-2019, of which more than 90 were approved, and exports of animal products rose from just $10.627 million in the 2016-17 fiscal year to $366.359 million in 2018-19, Ministry of Commerce data shows. China is the largest importer of cattle and buffaloes from Myanmar, followed by Thailand.
But traders grumble about delays in issuing the licences they need to send livestock across borders and say the government could do more to support live exports by simplifying regulations. Other challenges facing the cattle export industry, say livestock specialists, include the need to upgrade the quality of livestock.
Most of the nation's cattle farms are in Mandalay, Sagaing and Magway regions. Many of the farms are small plots owned by traders, who do not breed livestock but buy on the domestic market and keep the animals until they can be exported at times of high demand.
Frontier met cattle traders at Latpan village, in Mandalay Region's Kyaukse Township, who said they were unhappy at not being able to get export licences in 2019.
Ko Aung Than, 39, manages a cattle farm at Latpan village that is owned by Taw Win Min Khant Myanmar Co Ltd, which was among those allowed to export live cows to China in 2018.
However, starting from last year the government began requiring companies that raise cattle to change their land use registration documents in order to qualify for a livestock export licence. Changing the land use registration has been causing delays, as has the requirement that properties must be re-registered every year if they want to export cattle. An export licence is needed each time cattle are sent across the border.
"We have faced a lot of trouble because of delays in the registration process; we cannot receive an export licence if we do not have the appropriate land registration," Aung Than told Frontier.
U Annawar, 35, managing director of the Naing Htoo Aung Co Ltd's farm at Latpan village, said it was unable to change its land use registration in time and had to borrow export licences from cattle trading companies in Ayeyarwady and Bago regions to make two deliveries to China.
"The problem was that because of the delay in registering the farm and then having to borrow the licences and provide animal health documents, I could not sell the cattle at the best time and lost about K200 million in 2019," he told Frontier, adding that his expenses included the cost of feeding more than 100 cows for longer than anticipated.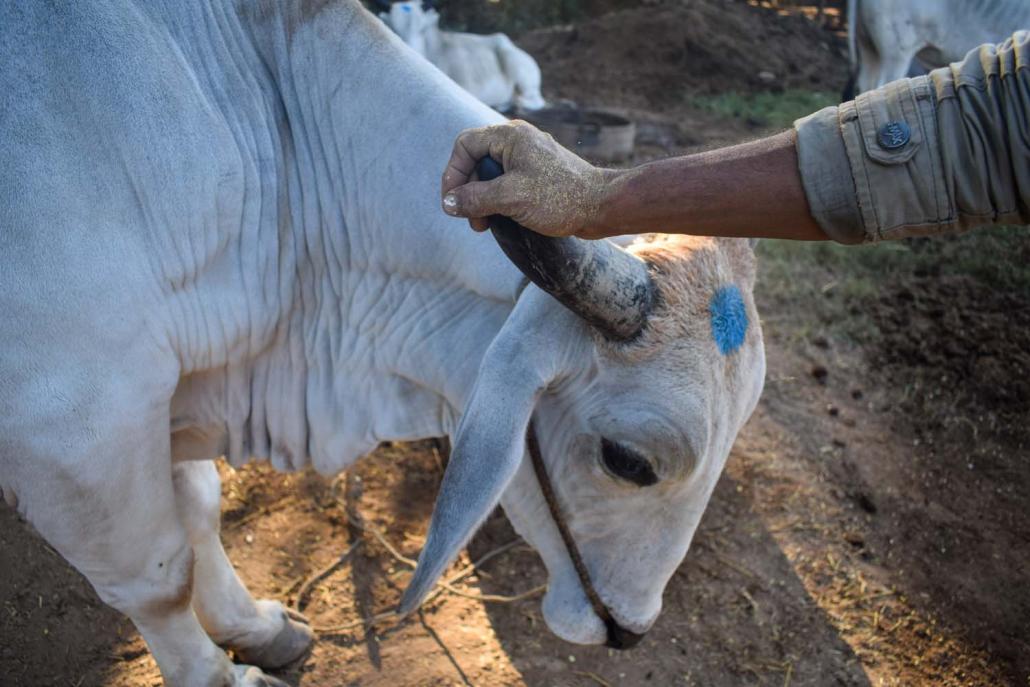 However, livestock companies and cattle farmers who have re-registered their land, acquired the necessary veterinary health documents and received an export licence, have a competitive edge.
The government says it had good reasons for tightening procedures after it allowed live exports in 2017.
"After our government allowed farming companies and traders to export, there was a large increase in the number of companies wanting to send animals across borders, but most lacked adequate preparation," said Dr Ye Tun Win, director general of the Livestock Breeding and Veterinary Department under the Ministry of Agriculture, Livestock and Irrigation.
The latest available ministry figures show that the national cattle herd totalled 17 million in fiscal 2016-17, up from 15.5 million in 2015-2016.
However, a National Livestock Baseline Survey released in January 2019 and conducted by the United Nations Food and Agriculture Organization in collaboration with the Livestock Breeding and Veterinary Department put the nation's cattle herd at 9.5 million. The survey result raised concern about a decline in cattle numbers.
Cattle traders hoping to cash in on the market in China have faced another challenge, in the form of an increase in the number of animal health and quarantine rules and regulations demanded by the Chinese authorities since the ban on live exports was lifted.
U Khin Maung Lwin, a permanent secretary at the Ministry of Commerce, said Myanmar had been able to meet only 11 of the dozens of rules and regulations set by China.
One of the regulations requires cattle farms and the surrounding area up to a radius of 50 kilometres to be free of bovine diseases. "That's why we needed to introduce the licensing process," Khin Maung Lwin said.
Cattle traders and livestock specialists say that as well as the tighter regulations in Myanmar and China on live exports, the two other biggest challenges for the sector are a scarcity of land for pasture and the need for farmers to upgrade their animal husbandry knowledge and proficiency.
Dr Wai Mon Htet heads the Livestock Breeding and Veterinary Department at Kawlin Township in Sagaing Region and is also a cattle farmer.
She established a cattle farm at her home town of Mohnyin, in the township of the same name in Kachin State, three years ago. She was transferred to Kawlin from Mohnyin, about 180 kilometres to the south, five months ago.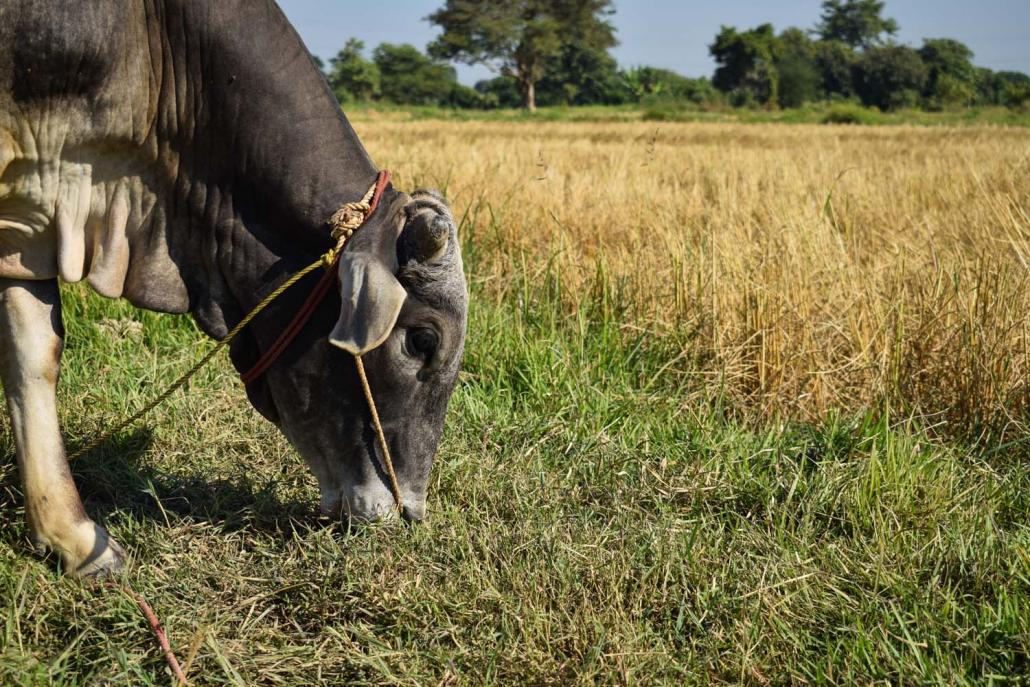 A veterinarian, Wai Mon Htet has built up the herd on her small farm by using artificial insemination, or AI, which eliminates the need and the expense of keeping a bull. "I found that it is an effective way to breed good quality livestock without incurring a major cost," she told Frontier.
AI also enables farmers who do not own a bull to avoid the inconvenience of having to borrow one to impregnate their cows.
Wai Mon Htet says the department encourages farmers to use AI to upgrade the quality of their livestock, or produce breeds new to Myanmar, in order to attract better prices.
Farmers are often conservative and persuading them to accept breeds with which they are not familiar is difficult, she said.
"The obsession that Myanmar farmers have is that they don't want to raise foreign breeds, such as Brahmins," she said. Brahmin cattle, which originated in India and are a mainstay of the beef industry in North and South America and Australia, have a high tolerance of heat, sunlight and humidity, and are ideally suited to tropical conditions.
Livestock experts say cattle farmers also need to use more nutritious feed. Most cattle farms follow tradition and feed their animals straw mixed with water or allow them to graze on unimproved pasture.
The experts advise farmers to grow Napier grass (Cenchrus purpureus Schumach), also known as elephant grass, a perennial native to tropical Africa that has low water and nutrient requirements and also improves soil fertility. Napier grass enables cattle to gain weight faster than unimproved pasture.
"Farmers who have relied on traditional methods need to adapt to modern ways of breeding and raising cattle to make good profits, otherwise big agribusiness companies will dominate the market in the next few years," Wai Mon Htet said.
U Hla Tun is a cattle farmer at Kanbalu Township, Sagaing Region, who is reaping the rewards of embracing change. Two years ago he began using AI and feeding his herd of 15 cows on Napier grass.
"I discovered that it was wrong to rely on local breeds; using AI to improve quality and changing to Napier grass enables us to produce animals with more meat that are easier to sell," he told Frontier.
Hla Tun said he has had no trouble fetching good prices for his livestock.
Dr Moe Myint, deputy chair of the Myanmar Livestock Federation and a secretary of the Cattle and Buffalo Trade Association of Yangon Region, says traditional Myanmar breeds cannot compete on the international beef market with other breeds.
"Of course, consumers in Myanmar may consider local breeds to be more delicious than foreign breeds, but the latter achieve faster weight gain and can earn more in a shorter time," he told Frontier.
Moe Myint said there was a need in Myanmar to produce more value-added beef products.
"When we can produce value-added products such as canned beef and dried beef to international standards and tailor our products to suit consumers in China, the beef industry will earn more [income]," he said.
Moe Myint said the government needs to provide support and encouragement to farmers and make it easier for them to deal with rules and regulations.
Annawar from the farm at Latpan village said cattle exports to China are also affected by the extortionate demands of armed groups that operate from the outskirts of Pyin Oo Lwin to the border town of Muse.
"When we send cattle to Muse for export to China we have to pay at least three armed groups," he said, adding that the payments are based on the number of animals on the truck and the usual fee is K10,000 for each animal.
On one trip his company's truck was stopped by three different armed groups and had to pay a total of K2 million in bribes, Annawar said.
Another problem is unscrupulous buyers in China.
"We have to trust the buyers if they promise to pay us, but sometimes they take the cattle and disappear," Annawar said. "I hope that one day we will be able to export to China with smoother procedures and without concern for our future."
TOP PHOTO: Livestock experts say that Myanmar farmers are often conservative and persuading them to accept breeds with which they are not familiar is difficult, and hampers export growth. (Teyza Hlaing | Frontier)