A Yangon government minister says he is 'saddened' that housemaids do not have better protection from exploitation and abuse after calls for an overhaul of child labour laws.
By SU MYAT MON | FRONTIER
A YANGON REGION MP has called on the Union government to enact legislation aimed at protecting young workers from exploitation and abuse.
Many children from poor households leave home to work as housemaids, waiters or factory workers but do not know how to seek help if they become victims of abuse, said U Yan Shin (National League for Democracy, Mayangone-1).
"Whenever the news about child labour emerges, it is only after they have already suffered," he said.
Yan Shin proposed that committees be established from township to ward level to regularly monitor the health, welfare and working conditions of child labour, including those in restaurants and factories as well as domestic staff.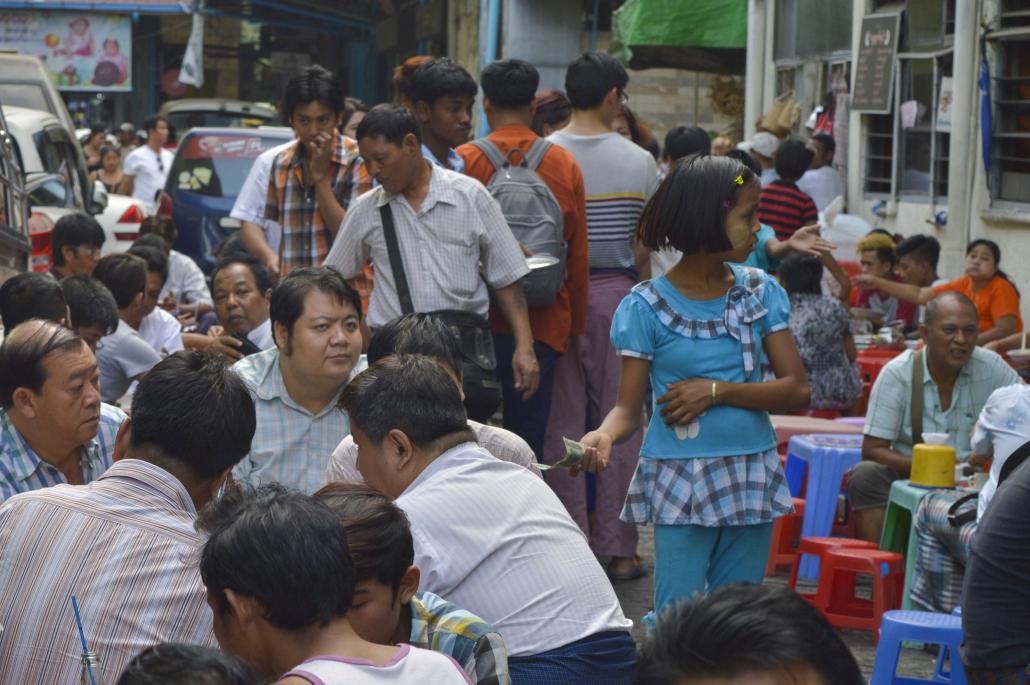 Committee members would need to include representatives of the township administration, women's advocacy groups and NGOs, he said when he raised the issue in the regional assembly on September 5.
U Zaw Aye Maung, regional Minister for Rakhine Ethnic Affairs, told the chamber it "saddened" him that Myanmar was yet to enact a law to provide workplace protection for housemaids.
Zaw Aye Maung said he would urge the Pyidaungsu Hluttaw – Myanmar's national legislature – to draft such a law, which would need the input and approval of the ministries of Labour, Immigration and Population, Relief, Social Welfare and Resettlement, and Health.
"Such a law is needed to protect the basic rights of housemaids," said the minister, who cited the case of girls aged 16 and 17 who endured horrific physical abuse at a downtown Yangon tailor shop where they worked for five years with little or no pay.
Response to abuse allegations
The exposure of their abuse by independent news agency Myanmar Now a year ago led to charges against five members of the family that owned the shop. It also resulted in the resignation of four members of the 11-member Myanmar National Human Rights Commission after it was revealed they had encouraged the two abuse victims to accept a cash settlement from their employers rather than push for legal action.
Housemaids are covered by the 2016 Payment of Wages Law, which introduced a minimum daily wage of K3,600. Housemaids, most of whom are live-in, also benefitted from provisions in the law stipulating that accommodation and meals are not considered to be wages.
Zaw Aye Maung said young workers were also protected under the 1993 Child Law, which is the responsibility of the Ministry of Social Welfare, Relief and Resettlement. The law is partly aimed at ensuring children are not overworked and provides for ward officials to report suspected breaches to regional governments for legal action.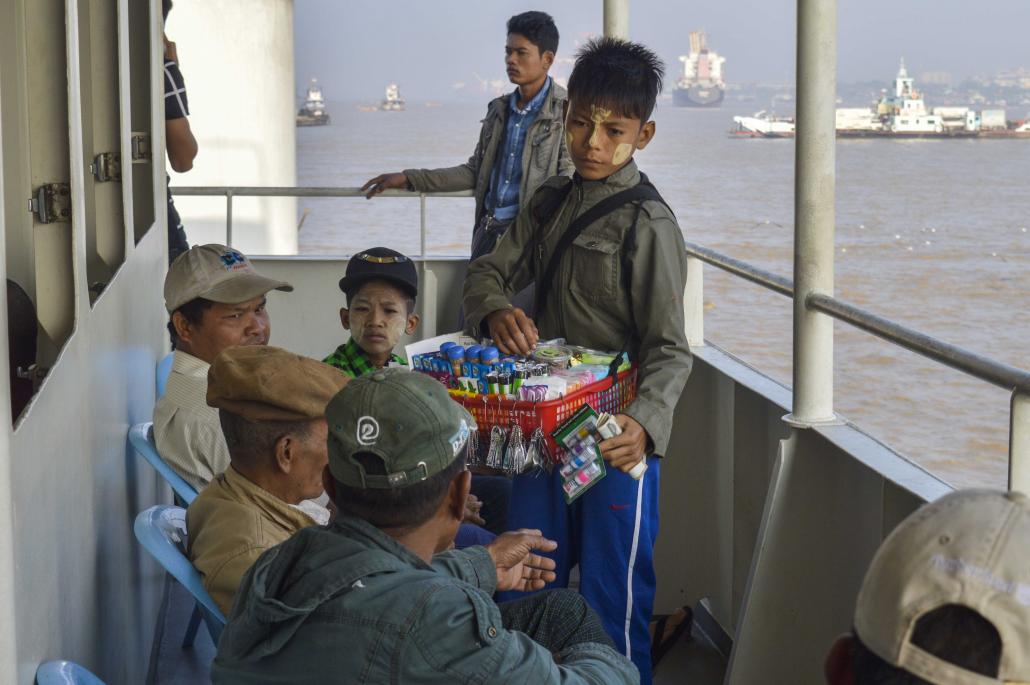 The minister said the Yangon Region offices of the General Administration Department, the national bureaucracy under the Ministry of Home Affairs, had established teams of local administrators to "raise awareness" about child labour.
Yan Shin responded by saying it was not enough to disseminate information and repeated his call for the Pyidaungsu Hluttaw to pass a law that addresses the issue.
U Yu Lwin Aung, a member of Myanmar National Human Rights Commission, told Frontier there had been no child labour complaints submitted since the four commissioners resigned over their handling of the tailor shop case.
"Perhaps children do not know how to take legal action if they are abused," he said. "Also, there are few people who are working to ensure these cases are brought to light."
Vocational training
In 2016, the Yangon Region government formed a Child Rights Committee to address a range of issues, including child labour. Director U Myo Set Aung said the committee sought to protect the rights of working children as well as those living on the streets.
The root cause of their plight was poverty, Myo Set Aung told Frontier.
He said the government had established a "child friendly" centre in Kamaryut Township that was helping street children to build new lives by providing them with vocational training.
The centre supported up to 50 children at a time, most of whom were boys who had been taken there by the police after falling foul of the law.
The boys receive training in hairdressing, car maintenance and carpentry, while the girls are taught to work in the hospitality industry, Myo Set Aung said.
Myo Set Aung said many of the children were not interested in acquiring a vocation because they preferred to continue supporting themselves and their families by begging.
He said the parents of street children often asked that they be returned to their care so they could send them back to school. The government had to let the children go, even though the parents were often lying and likely to return their offspring to the streets to beg.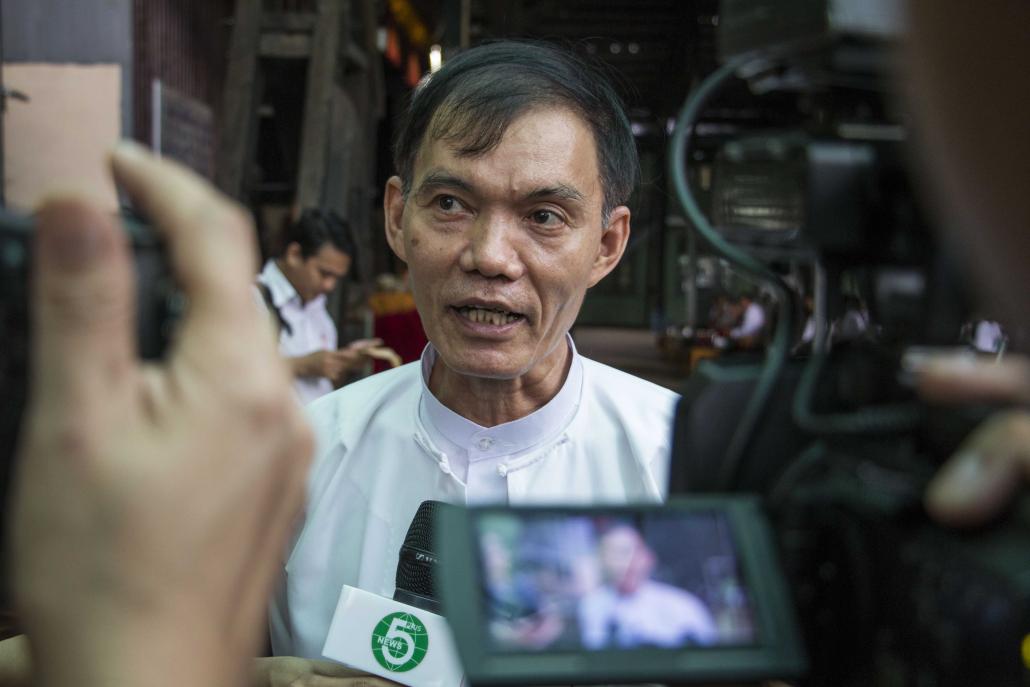 "This is the situation we face no matter how much training we provide," said Myo Set Aung, adding that some children had been in and out of the centre seven times.
Meanwhile, there has been disappointment for children who trained at the child-friendly centre under a pilot government project to become chefs or pastry cooks in restaurants and hotels.
Despite receiving high grades from their trainers, many of the children had to work as waiters when they found jobs at restaurants.
"When we ask the restaurant owners to hire the children as chefs or pastry cooks they readily agree, but once the children start work they don't keep their word," said Myo Set Aung.
"Why can't the restaurateurs try them out as chefs or pastry cooks?" he said.
'A kid sometimes wants free time'
At the eastern staircase to Shwedagon Pagoda, eight-year-old Rakhinema – Ma San San Htun – sells plastic bags for pilgrims to carry their shoes in. She's just one of many young children who earn money for their families from the steady flow of local and foreign visitors to the landmark.
Rakhinema is the third-oldest of eight children and the only one attending school; she's in grade three. But when classes finishes for the day, she has to sell bags to help cover the cost of her schooling, including stationery, tuition fees, textbooks and pocket money.
Asked if she wants to pursue a particular career, she responds only, "Sister, I just want to sell things."
Her mother, Daw Kyi Kyi Win, 41, sits nearby, nursing her 12-day-old son. She sells caged birds to pilgrims and other passers-by, who earn merit by setting them free. Kyi Kyi Win's husband is unemployed.
"She doesn't want to sell [bags] all the time," Kyi Kyi Win says of her daughter. "After all, a kid sometimes wants free time. So, as a parent, I have to let her go."
TOP PHOTO: A child works at a small restaurant selling sticky rice at the Chinatown night market in downtown Yangon. (Nyein Su Wai Kyaw Soe | Frontier)